First Id like to say I am NOT a gun guy. Firearms are to me simply another tool in the survival tool box. I don't fawn over them or use them as anything other then a tool. I speak from my training, experiences and my opinions that I use to guide me in the best direction I see fit for ME. People question and ridiculed my choice for an Ak74 as a bush weapon years ago- My experience and researched backed choices saved my life.Do as you like for you- Ill do the same.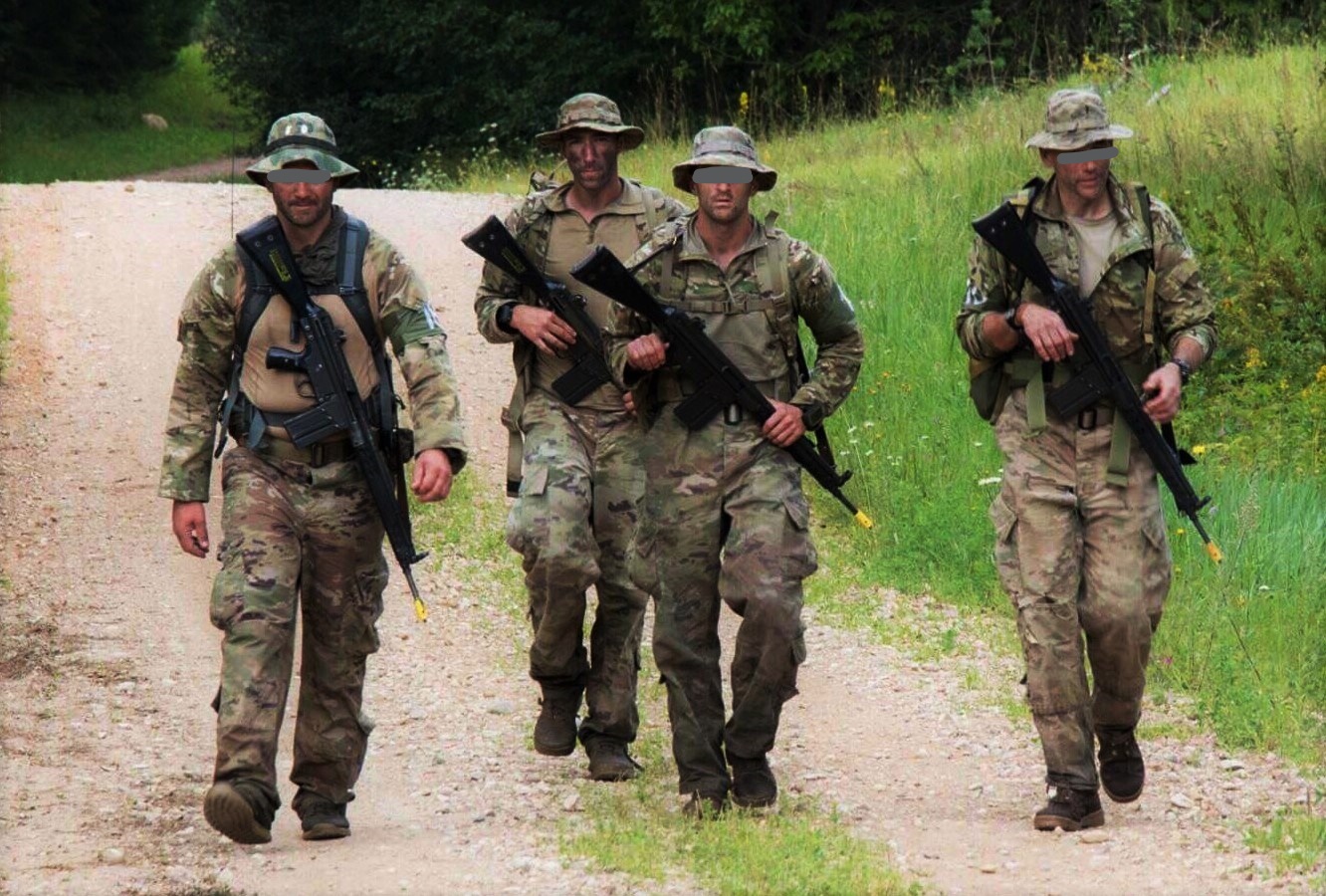 US Soldiers training with the AK4 (Swedish G3) recently in Estonia. I know the guy in the center rear. He liked the Ak4 but was suprised by the hefty weight being what it was.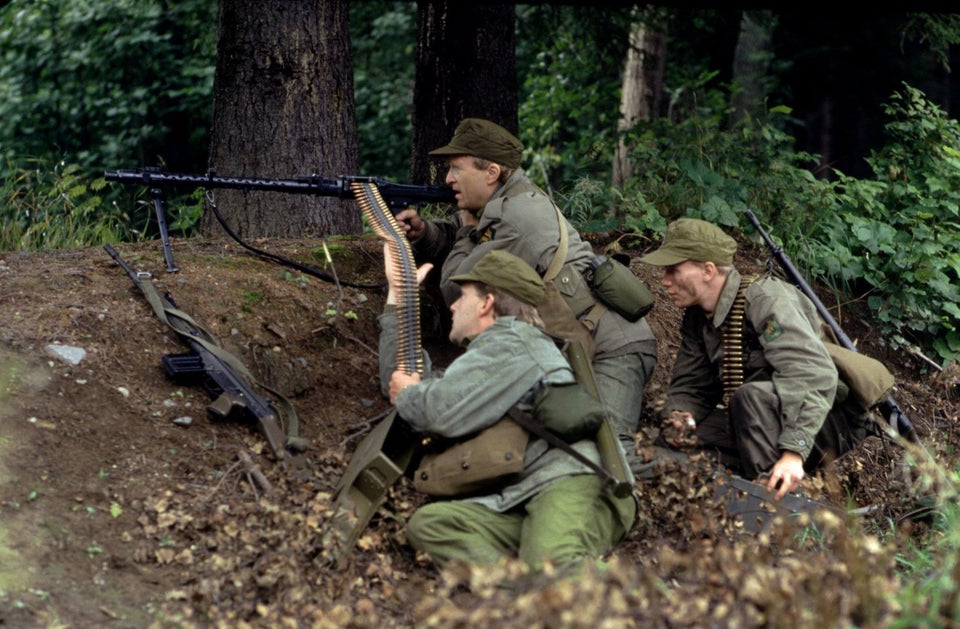 Norwigian Home-Guard. Armed with AG3 Battle rifles. Thier version of the G3. (1987)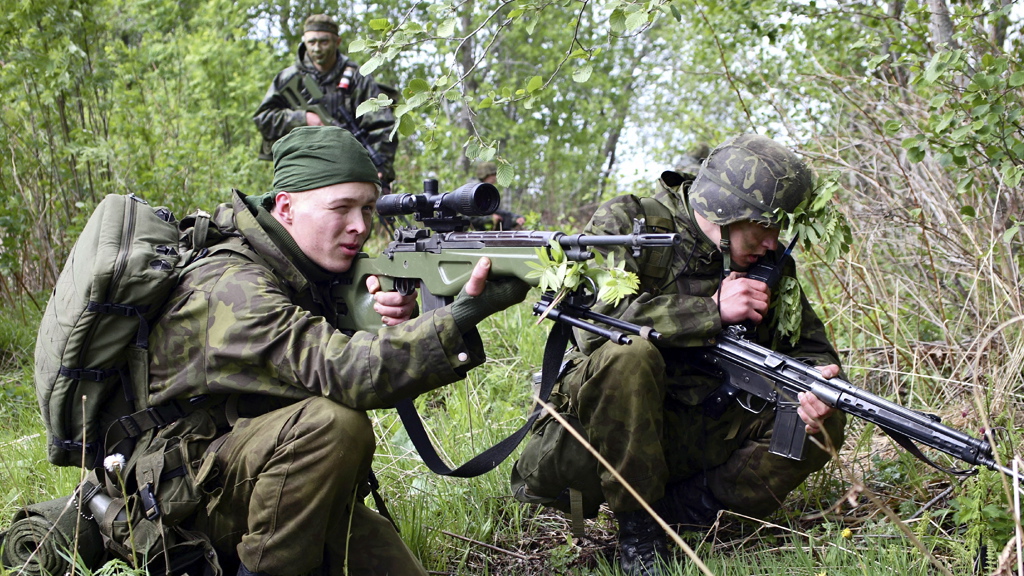 Estonian Militia armed with a glassed and modernized M14 and an AK4 (Swedish G3)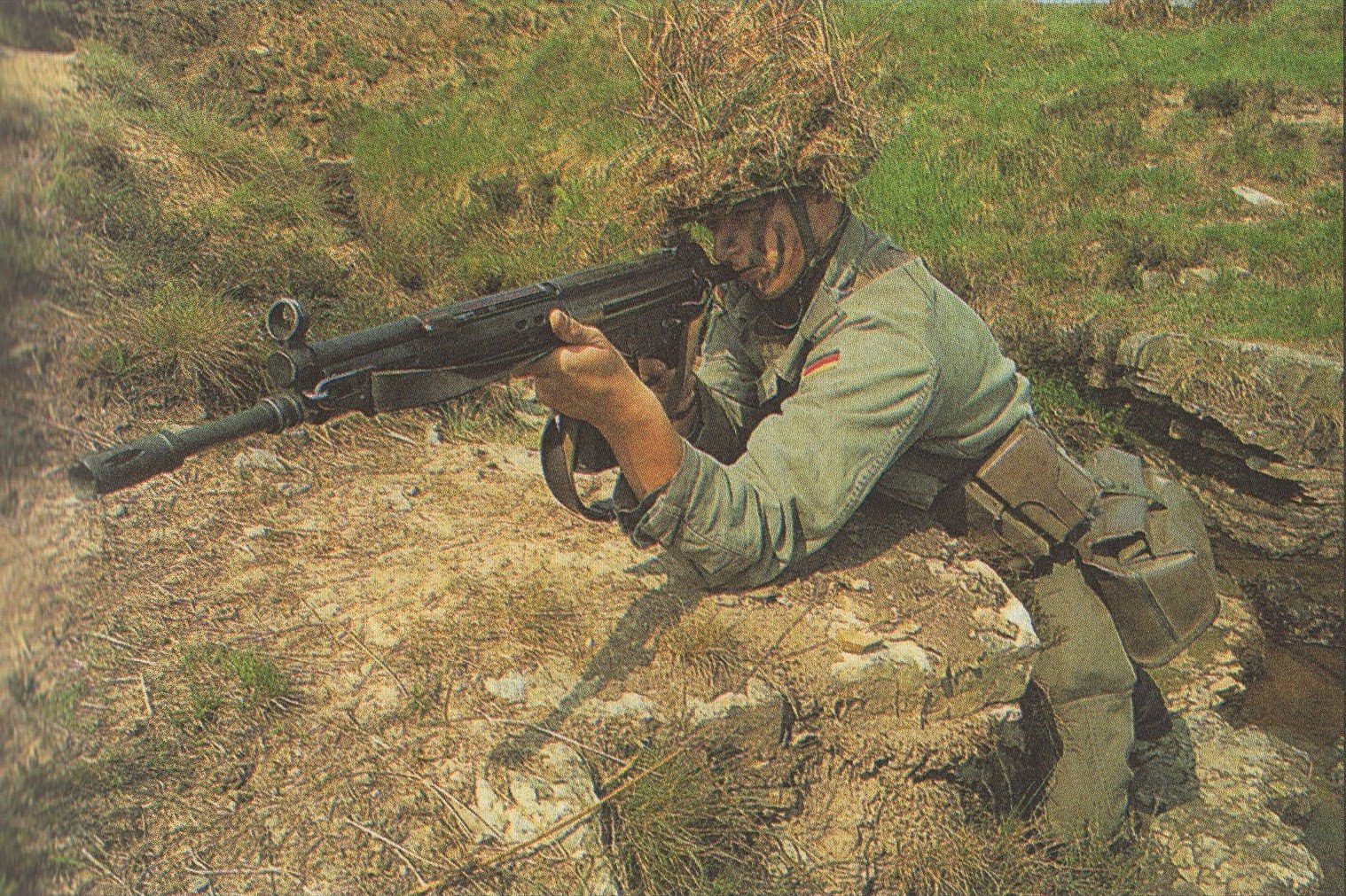 Old School, sliding stock G3

I wanted a high power, semi-auto WINTER WEAPON. !
The G3 rifle has been used for decades in the wintry conditions of the German Alps and in the strait up extreme Arctic conditions of Scandinavia by the Danes, Norwegians and Swedish. Though now replaced from front line service for the modern weapons that eat NATO 556mm, it can still be found in specialized units and in the hands of Reserve type units in most of their armed forces. Whats more is that it still saw modern active service with the German and Norwigian Armies (and others) in Afghanistan as well. This weapon has a reputation for reliability and durability when manufactured correctly. With that being said it was this weapon being used in extreme Arctic conditions that attracted me to it as my 308 semi-auto weapon to seek out to purchase. The M1A was also considered, however an M1A was well out of my price range and availability up here There was also the AR10 with its excellent M4 pattern ergonomics, however the reliability of an AR10 in extreme weather was to me-dubious at best and since i knew next to nothing about them and research about the AR10 in such conditions was nowhere to be found, it was out of the run down. The FN-FAL was also on my list but again I couldn't locate one anywhere in my area of Alaska that I trusted or that wasnt at an ass rape price.
I found what I needed.
This weapon is not perfect but its fits. It has shortcomings and limitations like anyother survival tool.. In survival perfection doesnt exist. This weapon was intended to be used  as a battle rifle in teams and shortcomings like a bolt -hold back- after the last shot are one of many testaments to this, when the users time and reaction are compensated by sheer group numbers, ergonomics like that can take a back seat to manufacturing cost and operations. Most AKs also suffer from such economic design philosophies but to a lesser effect. Its length and weight are, in my opinion, also prohibitive to this being a race car gun. The user friendly ergonomics simply are not there when compared to modern weapons. For an Evader this weapon suits me well though. Its stout and robust-and when manufacture correctly offers legendary reliably to be delivered to the user. Its no secret that I have a deep attraction to older designs in my kit run down- when its applicable and reliable for my use here. In my opinion things were made better back in the day. The G3 fits into this train of thinking as well. Regardless, If it didn't reliably fit into my plans I wouldn't have added it. The 308/762x51 is a very common caliber that is used in both military and law enforcement applications in the USA. It will sit down any bear I come across, whether its a Panda Bear, Red Bear or another Grizzly Bear, or a Dump Truck- The G3 will help it stop and have a seat. This stopping power was a deciding factors, a very ideal factor, that lead to its selection. The 762x54 might arguably be a better round and I found a number of semi-auto DMR in this caliber in my area but in the end the 762NATO won out because it fit.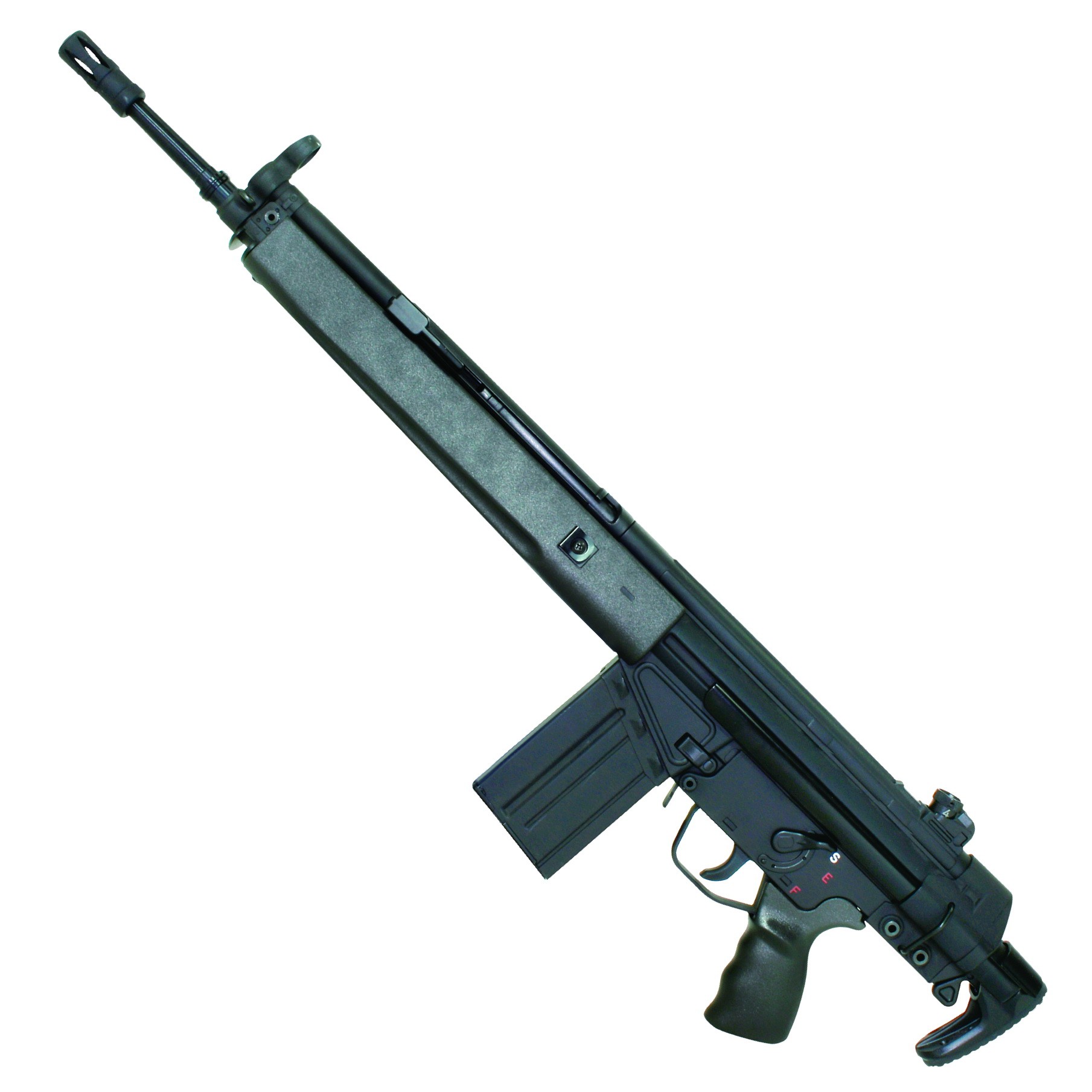 Though Im just getting use to the G3 after roughly a year of owning one-It was just recently returned to me from PTR after nearly 6 months- It has seen winter use before i found out how badly it malfunctioned and it went back to them. Anyhow Ive come to appreciate and also to curse it in all its full length glory. Im a small guy and its a huge weapon to carry. In time, and as fiances permit, I hope to have mine looking something like this above picture with the addition of the wide fore-grip and sliding stock which will make it much easy to handle in Alaskas brutal terrain. As its stands Im happy with it as is. I'm just grateful to have my G3 and to have it returned to me FINALLY. (Fuk you PTR!)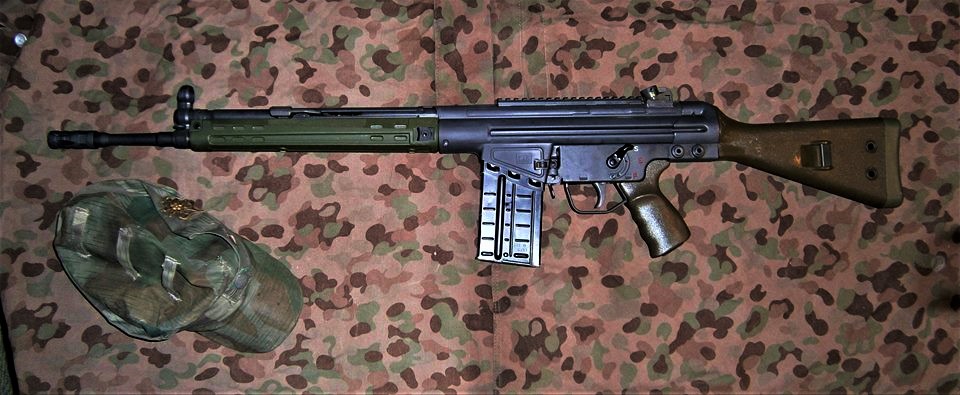 This is my G3 as it stands now
.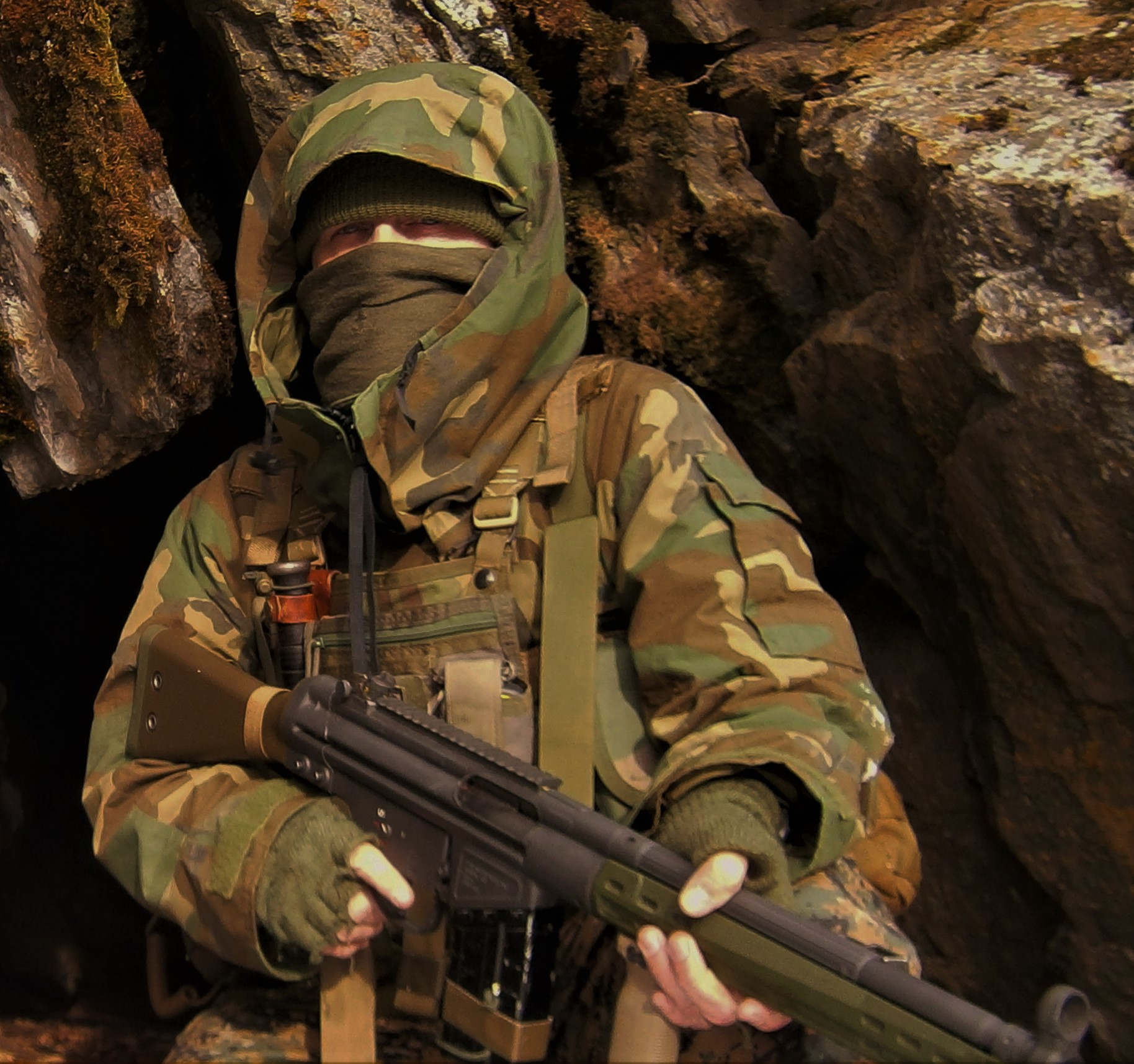 The G3 was added to my inventory
  Here in Alaska its not always easy to find what you want at a reasonable price. And a reasonable price here will be more expensive than elsewhere in the US if you can even find what you want on the shelf. I know its easy to order guns from the net and have them sent to your fav FFL holder but I'm old school and I don't like paying for high end items that are not in my hands. I simply don't have time to dick around with sending things back (The irony!). So i looked and I looked and I looked until I finally found what I wanted in exactly the style I wanted. So I did the paper work and NICS, and I was on my way.I was then the owner of a G3 clone. In the civilian world things are fluid.  Its as simple as that. There's no super structure of a uniformed SOP that puts a weapon and everything you need to run it in your pocession. Real life doesnt work like that. Firearms are an intimate choice like anyother piece of kit and should be seized upon with great thought as to how it will fit you now and your life for after the hammer drops. In a perfect world we would all be rich, owning the ideal weapons and suppplies we will need, and have a fully stocked gun-shop right next to out home-perfect dont happen and that's life.... Just do the best for you because our best is all we can do....

Several factors go into me deciding to add and retaining a weapon to my firearms list. The G3, in this case.

*Overall Reliability: Extremely reliable (? PTR?)

*Research: Lots of useful information to be found.
*Proliferation: Global.
*Cost: (Over all retail price in the gun shop) Within my budget.
*Accessories:  Within my budget. Magazine procurement was a priority for whatever i decided on and mags were still super cheap for the G3.
*Weight:   Acceptable/As expected. Crushing at times but it is what it is.

*Length:  Acceptable/As expected. At times Infuriating in dense bush but it is what it is.
*Accuracy: Excellent 

*Operational Costs: Minimal-As expected. Eats anything I feed it
*Post Collapse Ammo Acquisition: High
*Post Collapse Parts Acquisition: Low- Outweighed by other factors.
*Resistant to Elements: Extremely High
*Ergonomics: Basic and acceptable/ As expected.

NOTE: Research and reputation are not always withstanding to reality. I am NOT recommending a PTR G3 to ANYONE. In fact i would say stay way from them if asked. The entire odyssey is a post for another day. Suffice to say the weapon is back. Ive poured X amount of ammo through it and have not had a single issue. Winter is coming and the bear are heading to bed. Relatively speaking its a safe time to get it strait before next Spring is on me.

Ivarr
(Some spec info is posted below)

 Thanks goes out to my pal "J" for donating the pic for me to use..(J below)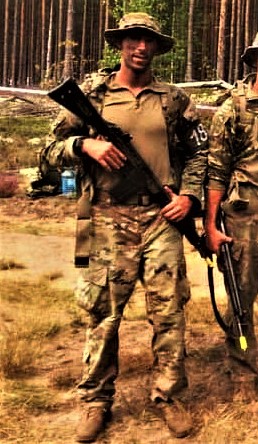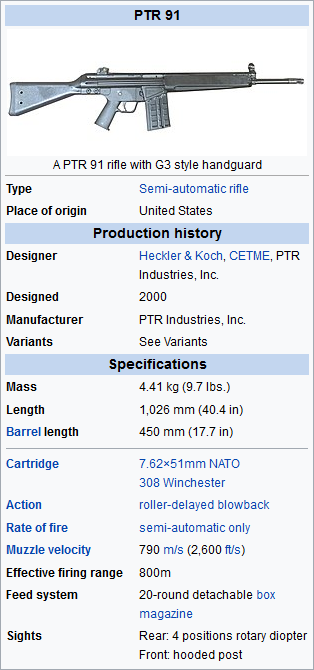 Categories: Kit Posts