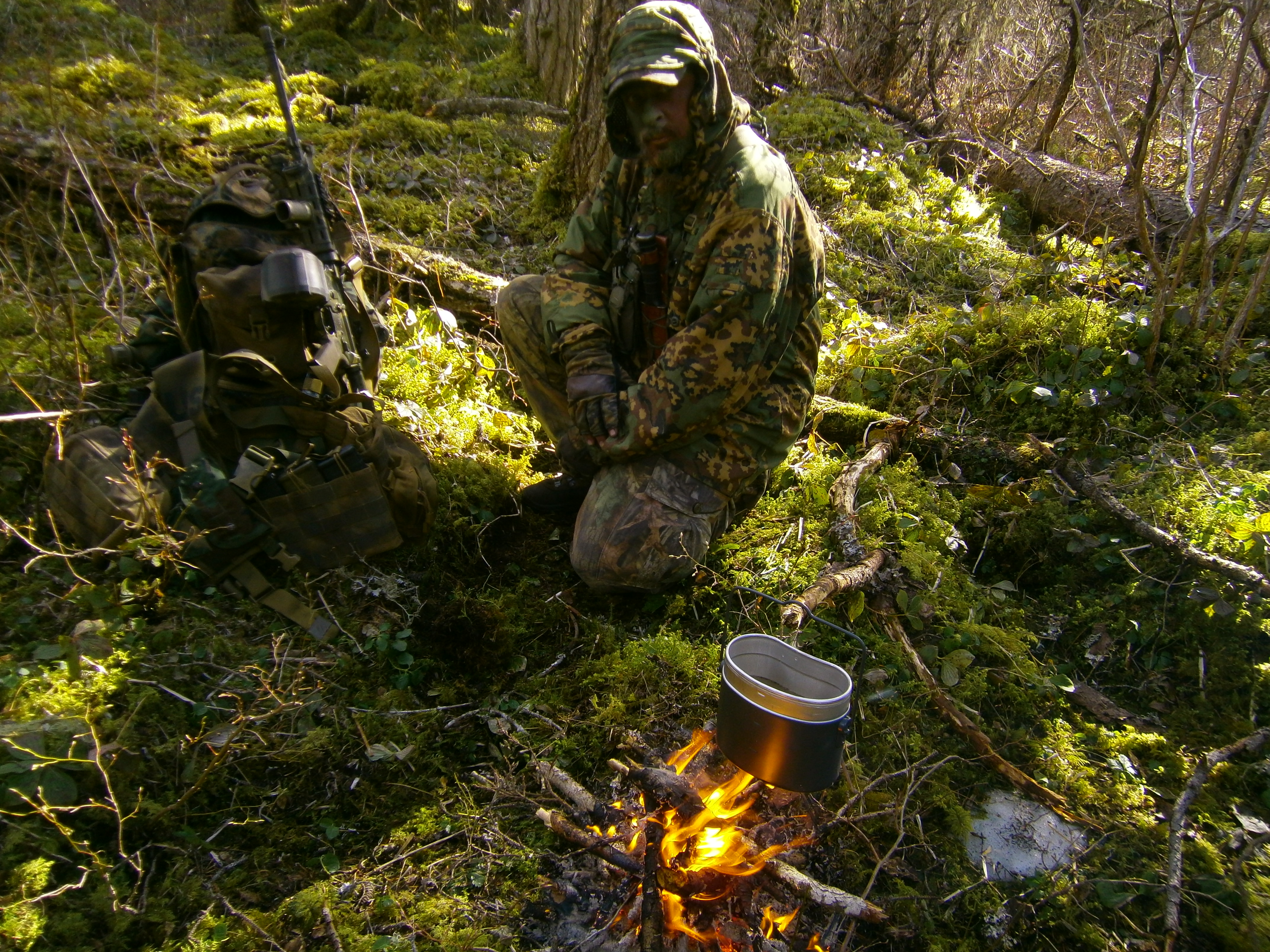 These Mess Tins are another old world item I have used exclusively for more then 20 years, going back to the 80s.. In my experienced opinion these are the most practical design Ive ever used. Ive used quite a few others from time to time but no matter what the Old World European design is a winner for me and makes up the complete compliment of my mess kit items in my Patrol-Ruck, Existence-Ruck and my emergency Car-Rucksack. These are a basic design that can be found from Finland all the way to Hungary that dates back to the late 1800s and that are still in use today. The generally consist of a main pot- inner bowl-and the lid pot. As a general rule i toss the inner pan in favor of more room to store cooking items or food that may be soiled or crushed inside the rucksack. I can generally fit my stove, knife/spoon combo utensil, a small coffee cup and some cleaning rags inside. The cleaning rags are not just for cleaning the kit after use but are also for keeping the rattle eliminated when moving about.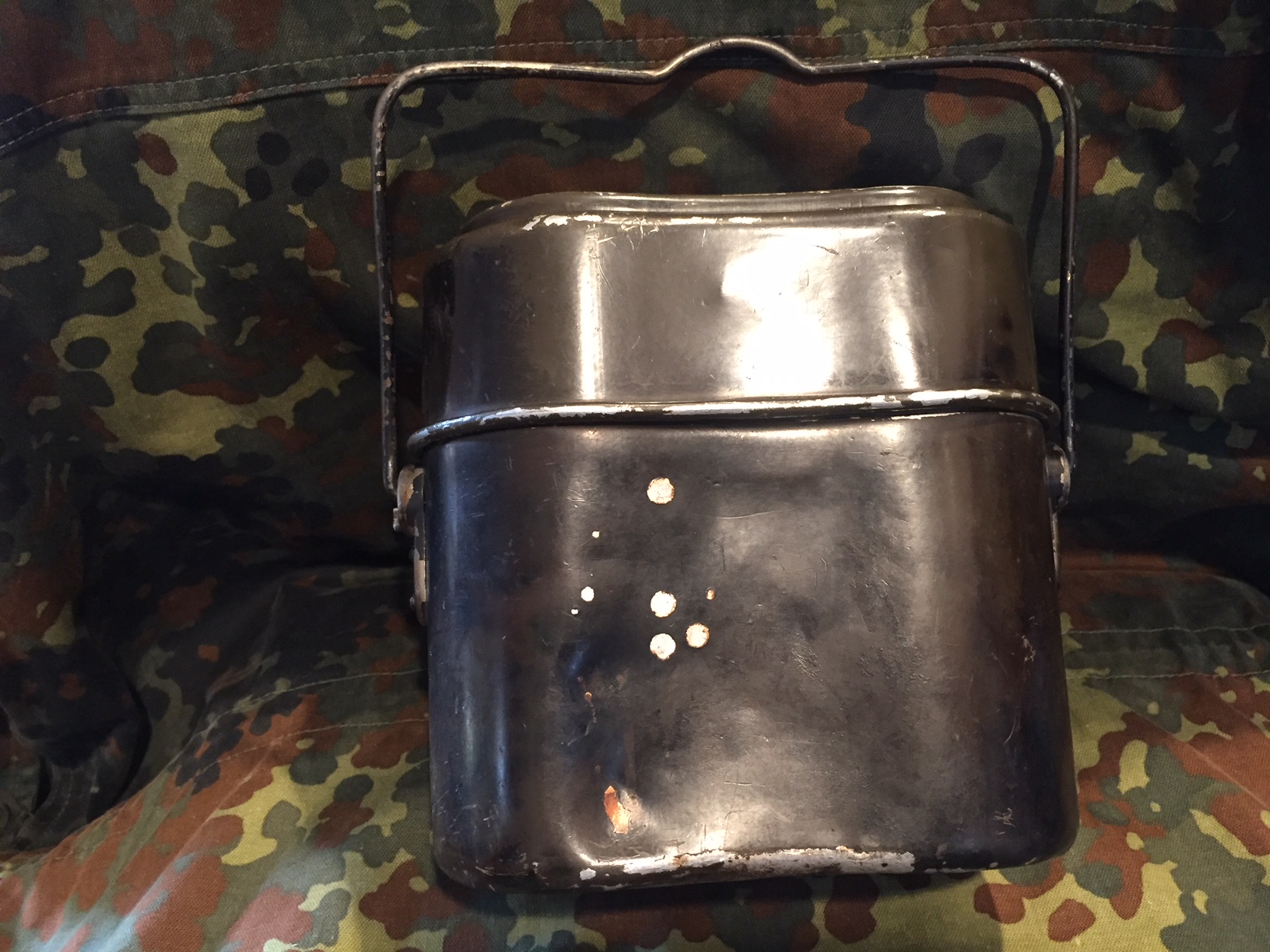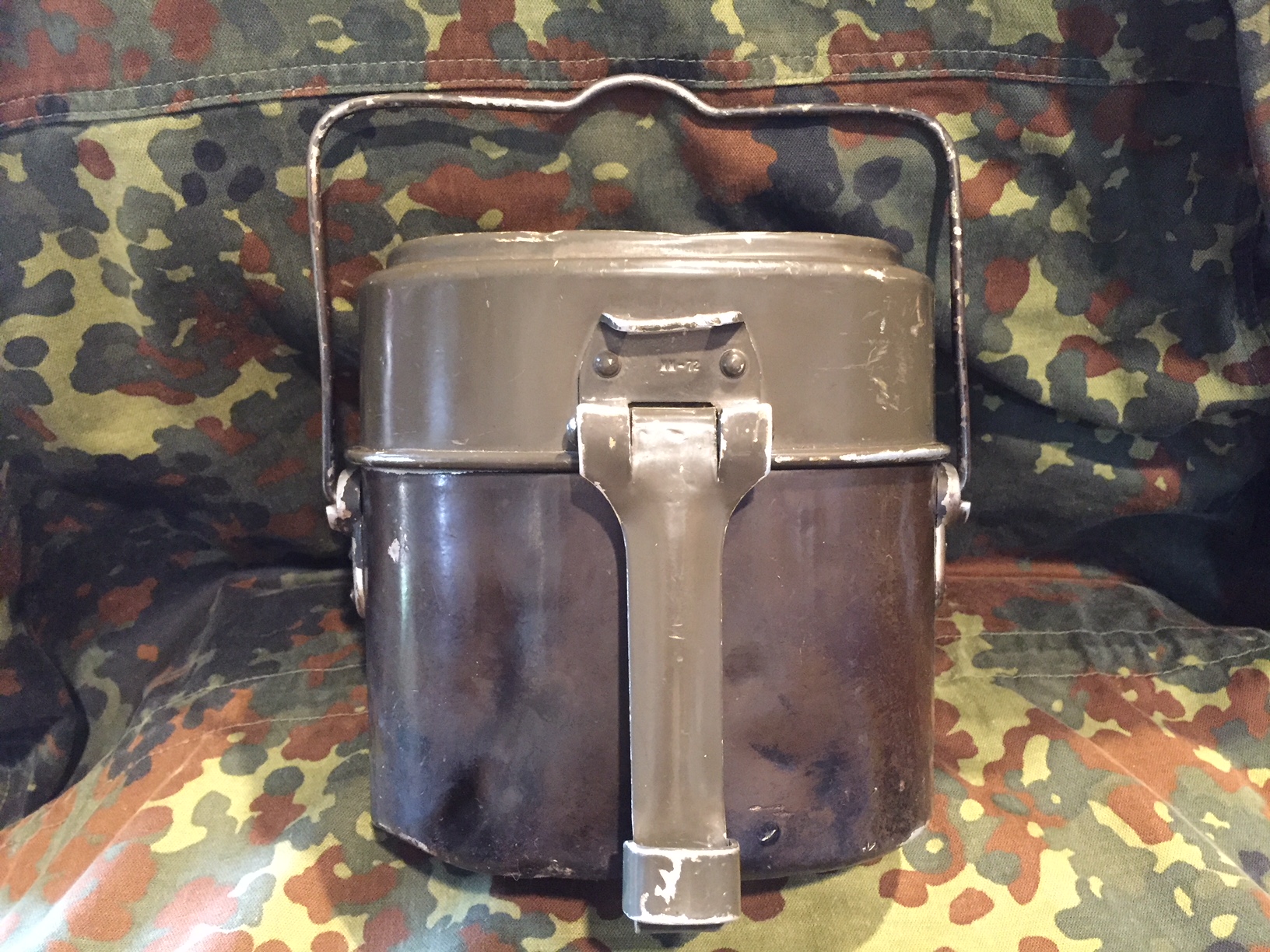 This Austrian example. The German and Austrian examples are nearly Identical. I have both. Its roughly about 6x6 inches. Its gets scrubbed and cleaned after evey use,. All my Mess tins are cleaned and scrubbed of soot.  This helps save the paint and keeps the filth from getting on the rest of my kit. Keeping thinsg clean and in order is just good drills. I also practise rotation of my mess tins so one does not get used all the time. This is to save wear and tear..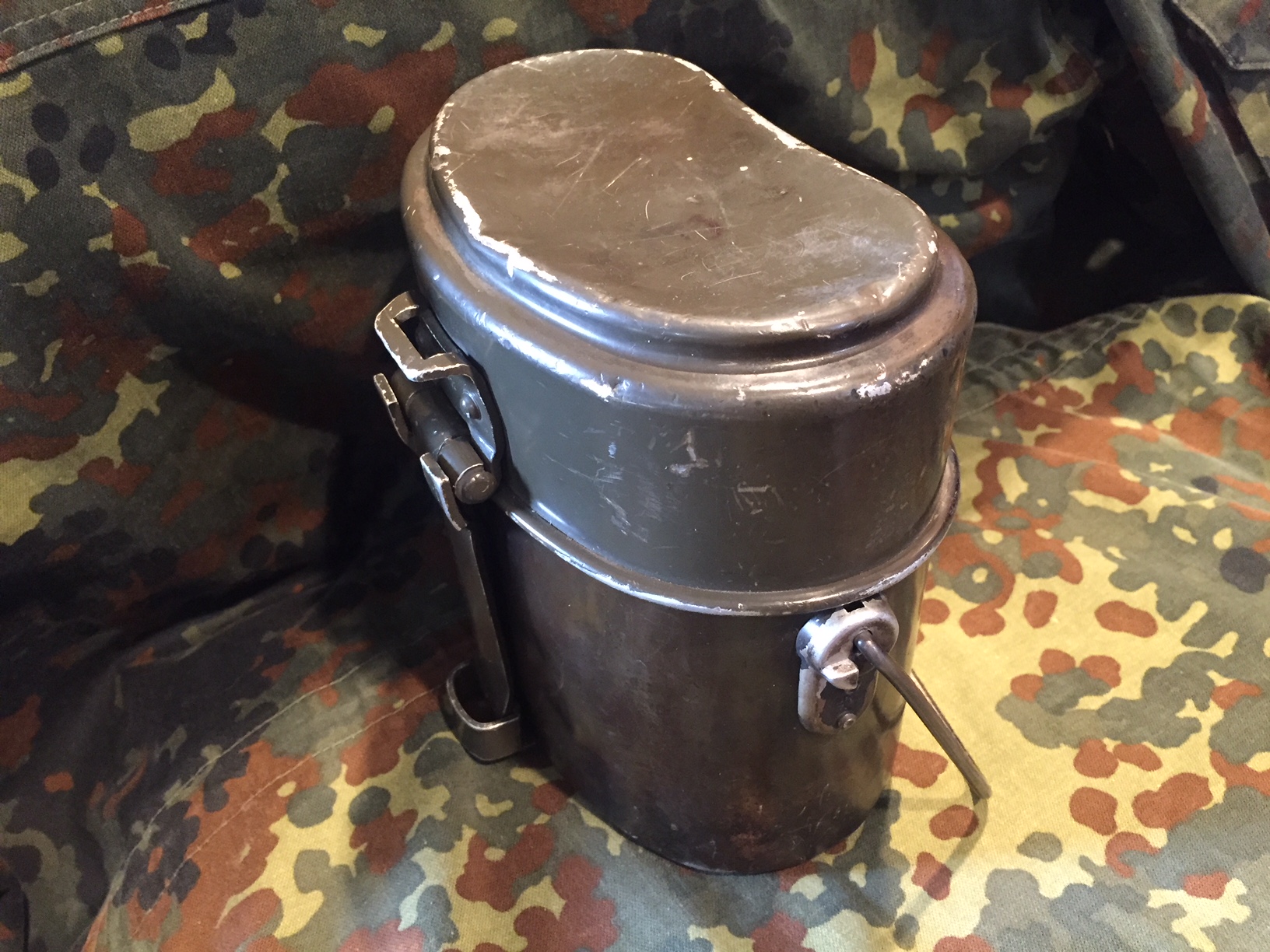 Its kidney like shape is about 4.5 inches at its widest with the handle hinge on the lid pot added into that.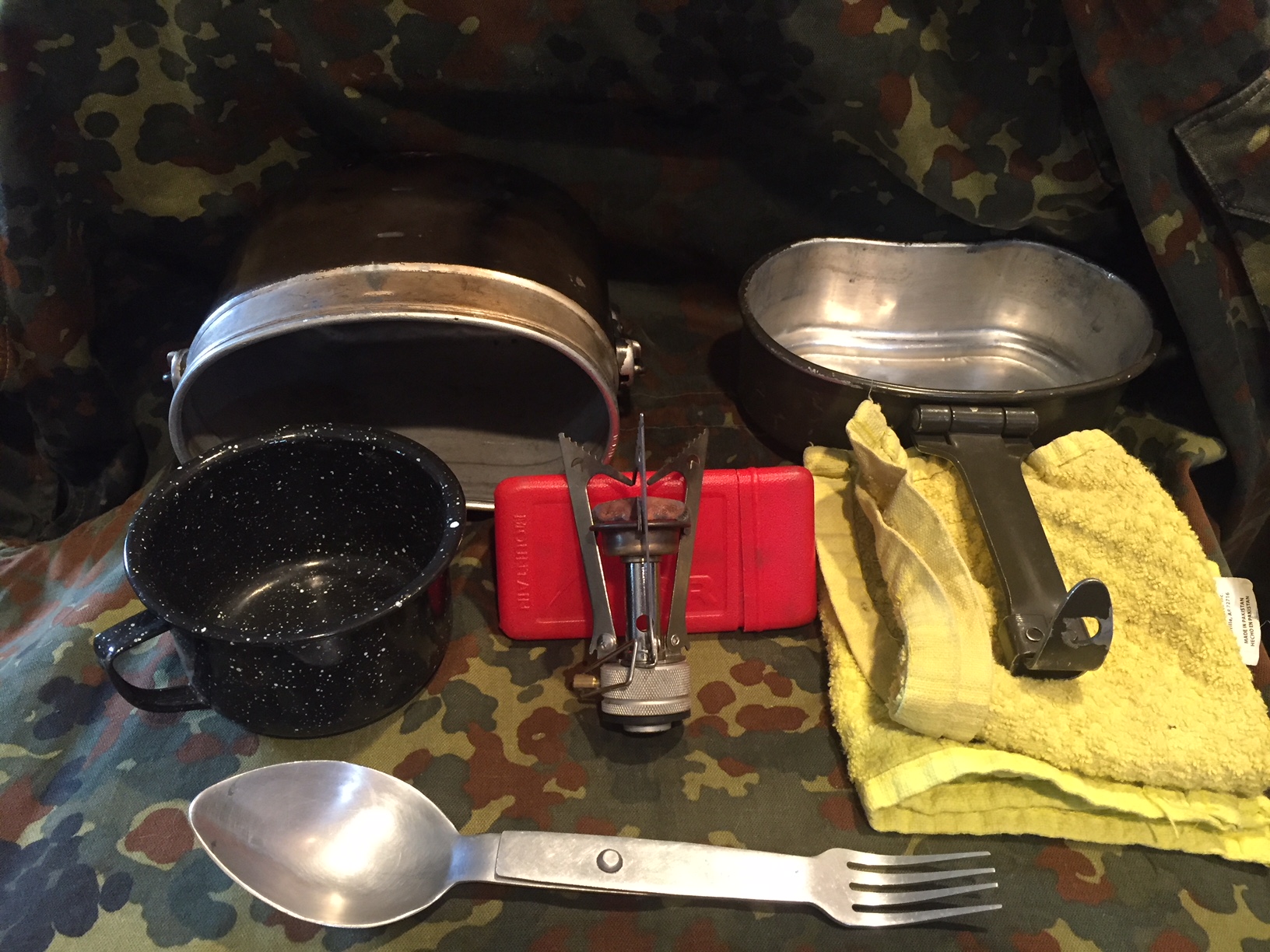 Generally I keep a coffee mug, MSR Stove, 2 wash rags and my fork/spoon combo inside. It all fits nice and snug. This hasn't changed in forever. Its a go to that works in a perfect orchestra to hold all the items i need in one spot. So this means it all comes out and goes back in at the same time w/o disrupting other kit. Makes for a nice organized way to not lose shit.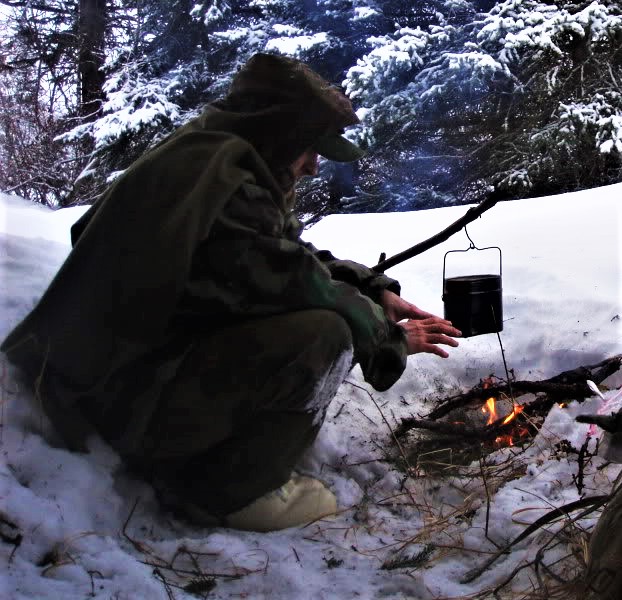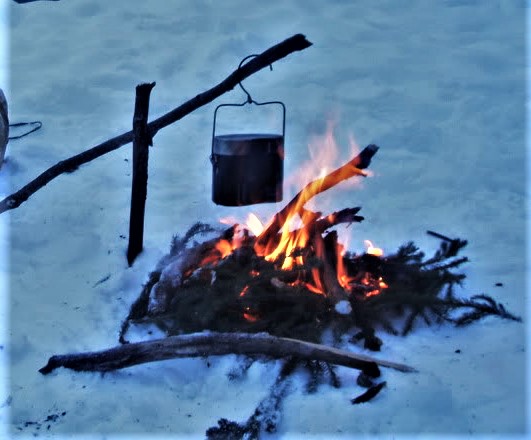 This is a very basic mess tin. It needs no mods or fancy shit added. Though at one point years ago I scavenged a hook from the handle of a Swedish Mess Tin. The Swedish Tin was made of steel and was about 3x heavier then the Austrian version, and no quite as large, so all it was good for to me was its hook. Soon though the hook proved a pain in the ass when stowing the kit . Though it was super handy when cooking over a fire, its practicality was canceled out by it just being a pain in the ass when i took the tin in or out of my kit.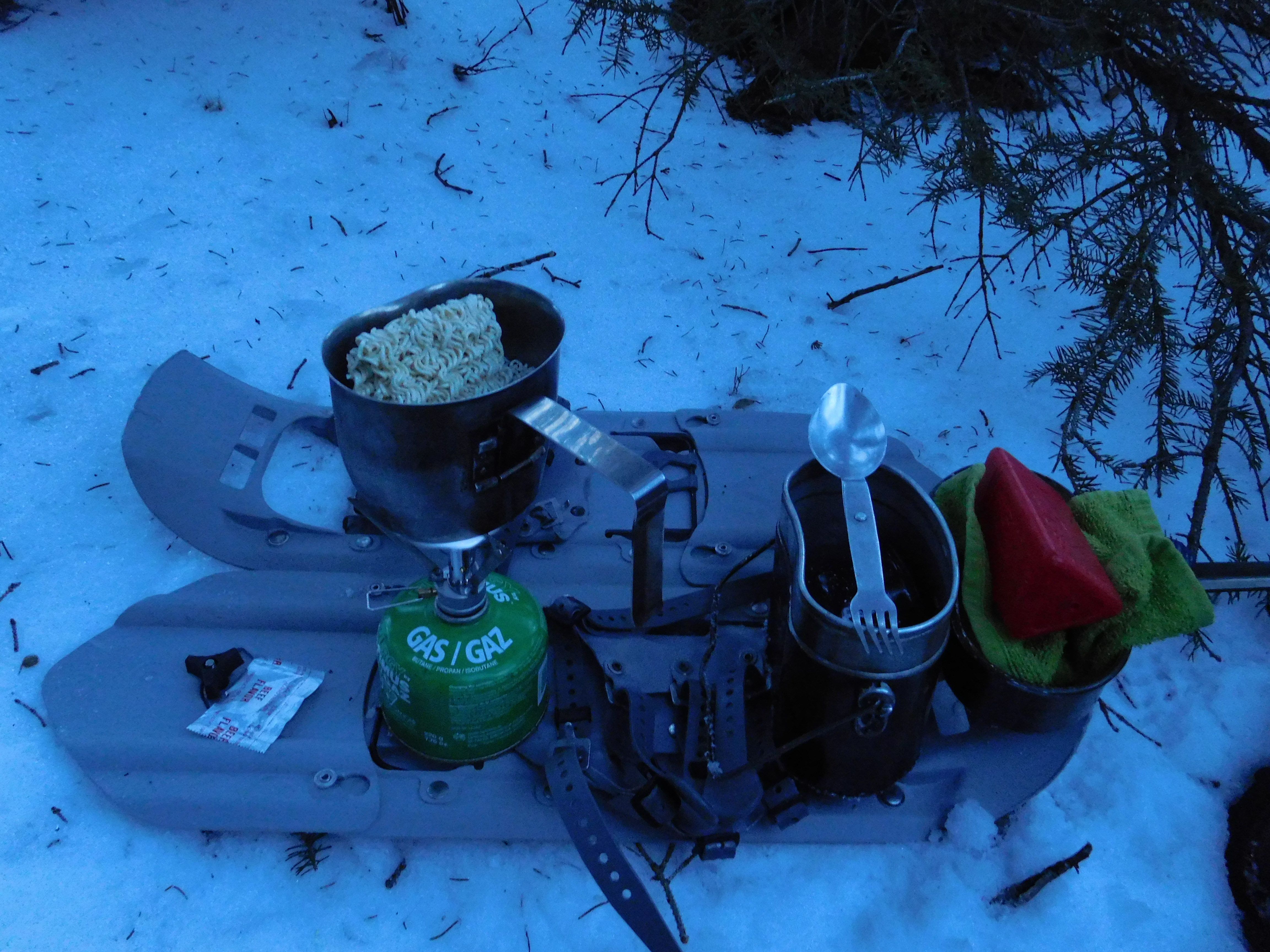 Im not afraid to carry a canteen cup AND a mess tin. Though lately I have been trying to lighten my load-Alaska made rules I simply cannot get around, as it would seem, so things are still being worked out in that dept.. Having a couple items splits my kit with a cup in my webbing and something in my ruck should i end up being separated from either. There's not much trash in the wilderness to find things to improvise with in terms of an improvised cooking pot and such. Plus in a base camp the more containers i have the faster the chore of cooking or making water is done.... Readiness and preparation are good drills.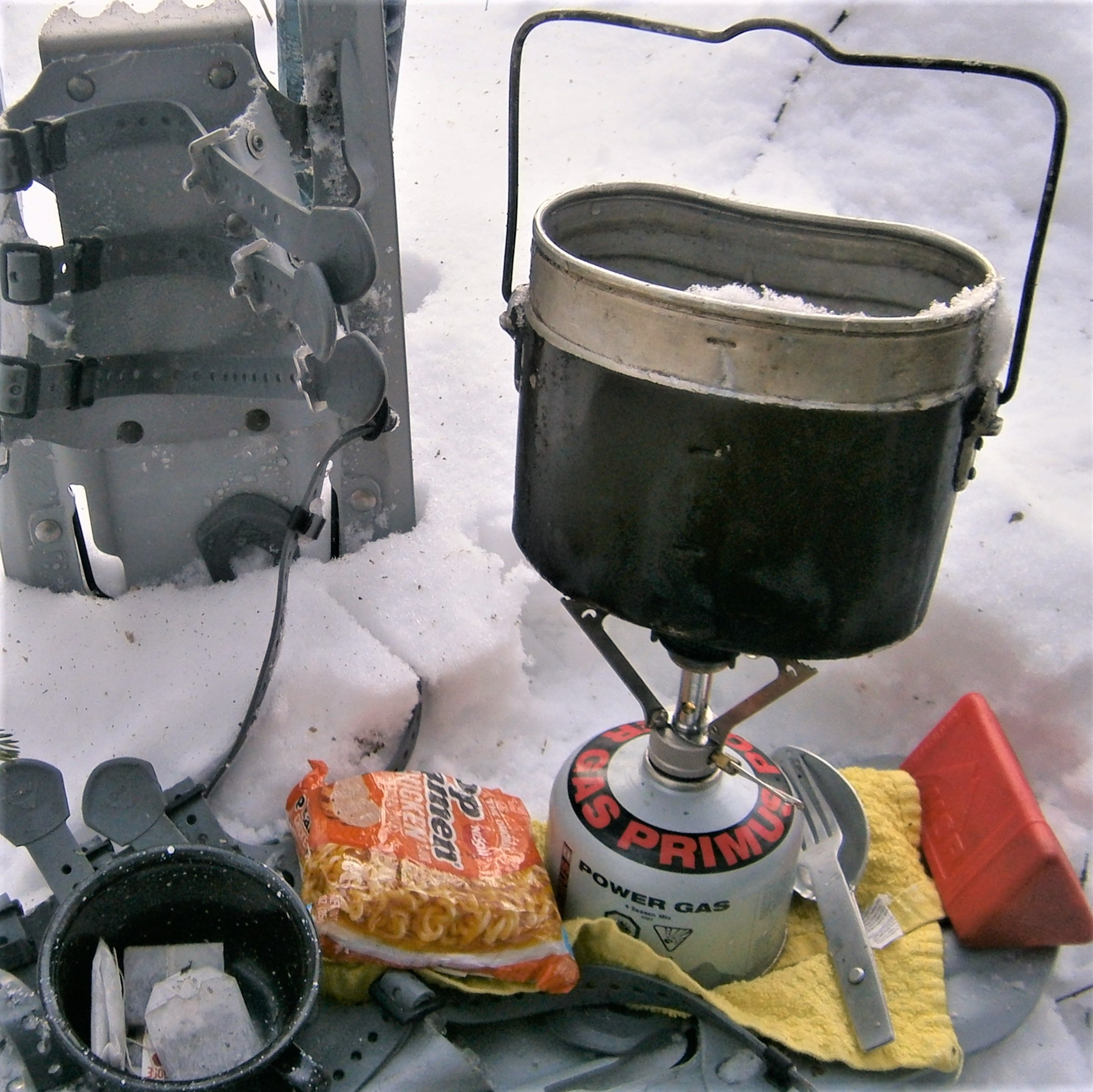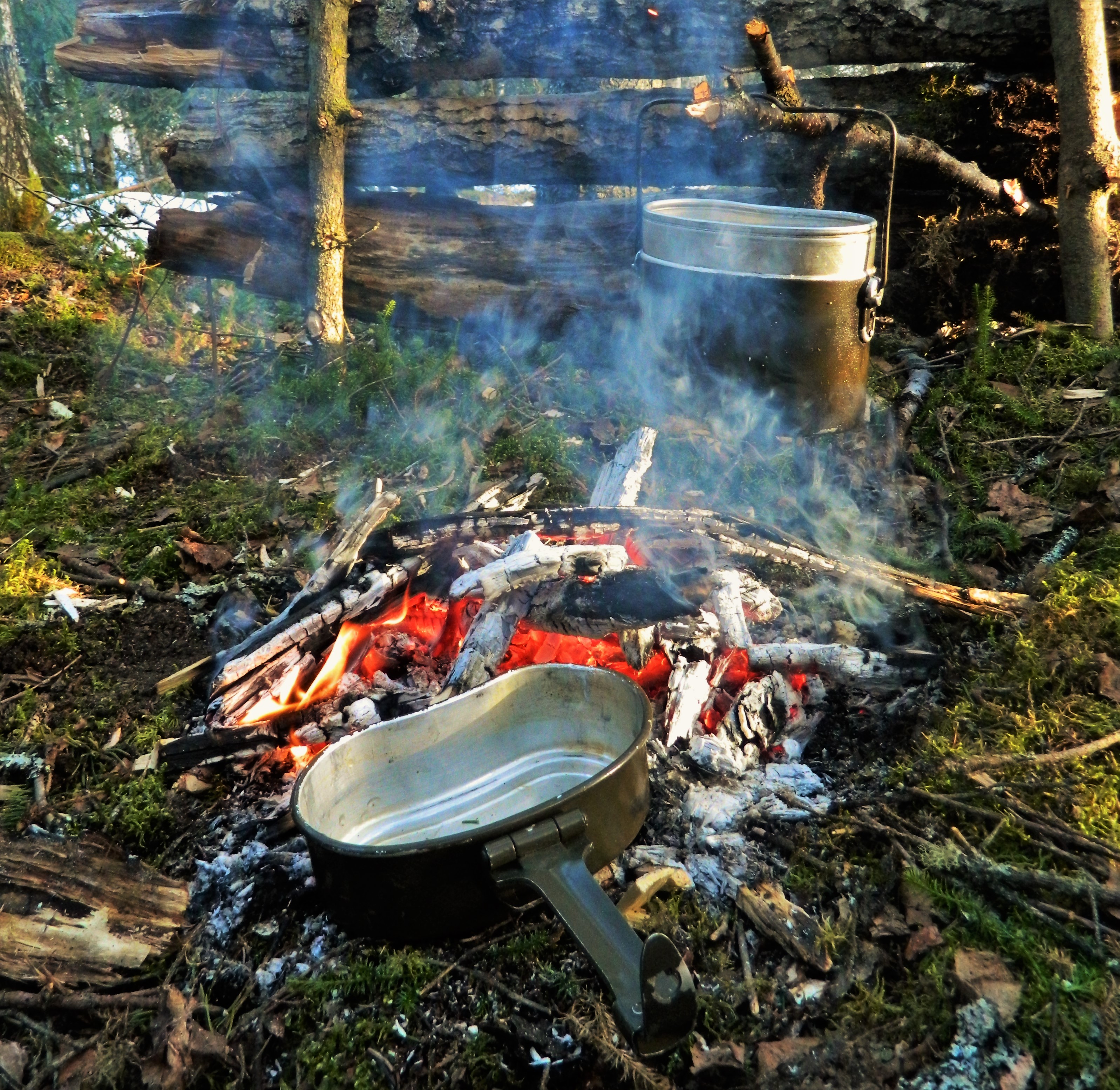 The main pot holds about 2 liters of water. Its depth and capacity is perfect for me to cook in, boil water to make it safe or to melt snow. Plus it makes a great storage bin as mentioned above. It works just as well for me over a fire as it does sitting on top of one of my burner stoves. For the evader this is very important. You will need a way to make water or  heat something EVEN in times of threat. You need a method that will not betray you, or that will at least lesson the threat of being betrayed by fate. SHIT HAPPENS... Emergencies make no appointments-and hypothermia doesn't ask before it joins you. You will have to eat or make water safe at some point and a cooking kit like this is important. These tins I have were originally designed to use with solid fuel stoves called "Esbit" stoves but Ive moved on from that long ago to an Evaders POV.. The solid fuels are dirty and stink to hell. The stoves are still quiet common as is the wide variety of solid fuels on the market. I. however, prefer bottles gas to stay hidden or a camp fire when its safe.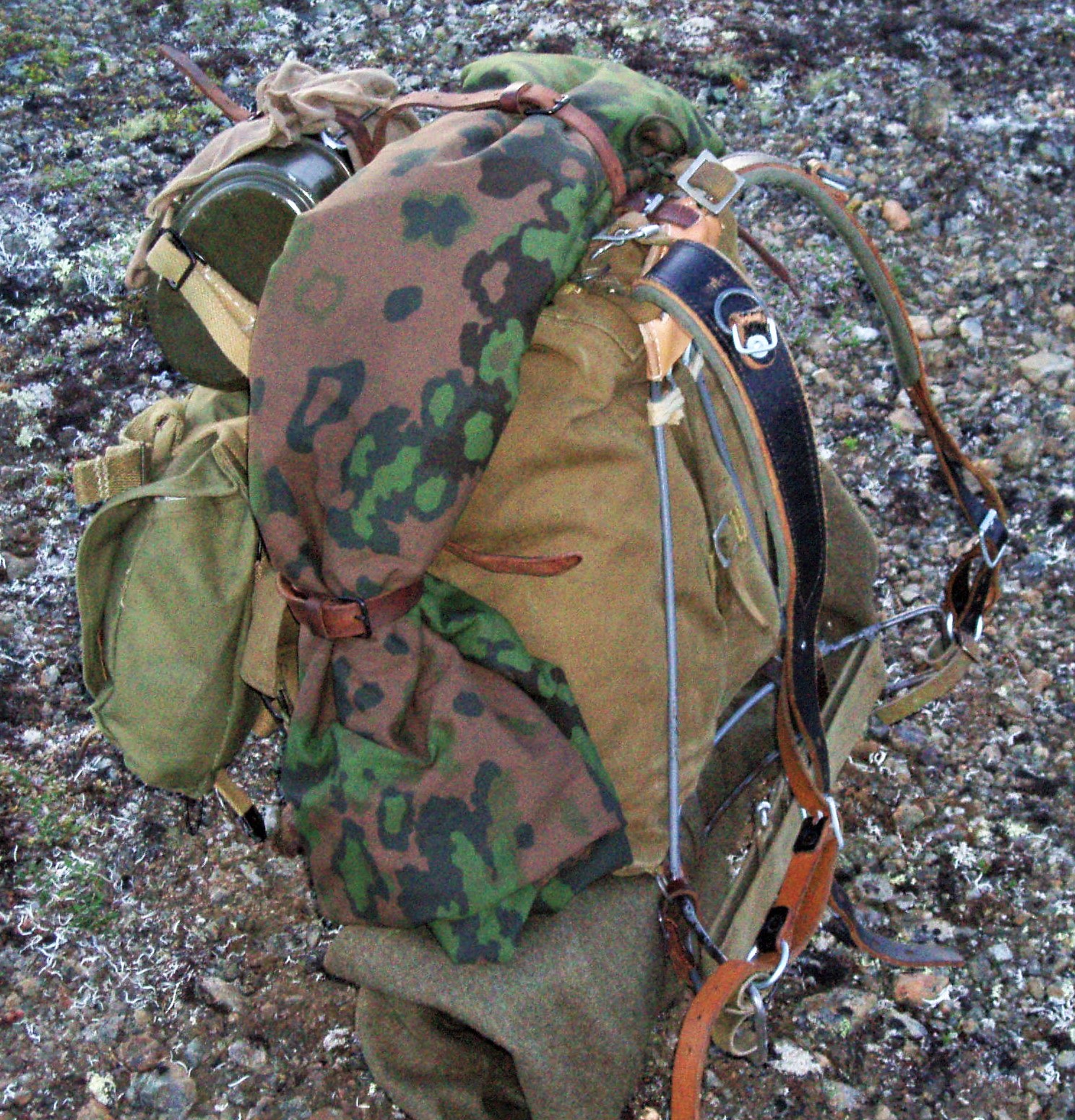 Another given aspect for me that I think is worth mentioning is these stow really well. These days I keep them in a side sustainment pouch on my Existence Rucksack and my Patrol Rucksack. They also strap nicely to the outside of kit by means of the slot and loop located on the Handle. Above on the right is old picture of a homemade rucksack system i made from Czechoslovakian rucksack, Swedish frame and a Czech Bread bag (on the outside with food items inside) straps securely and with ease of access in mind. Ive also kept them inside M240 ammo pouches. They fit in them as if the pouch was made for it. I generally will always keep my food and cooking kit located outside of the main rucksack. So i don't have to pull anything out or open the main compartment of the ruck. If i get made eating a meals and live to tell the story later chances are improved that I get away with a lot more intact kit as opposed to pulling out a load of shit thats sitting all over the ground and not properly put where it belongs. This goes for all kit that should be orginized in such a way..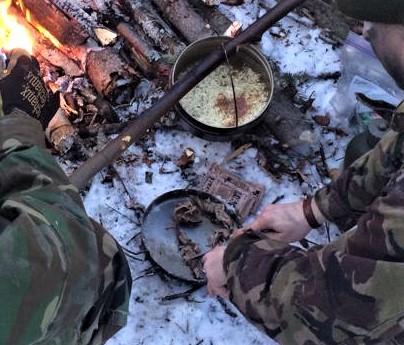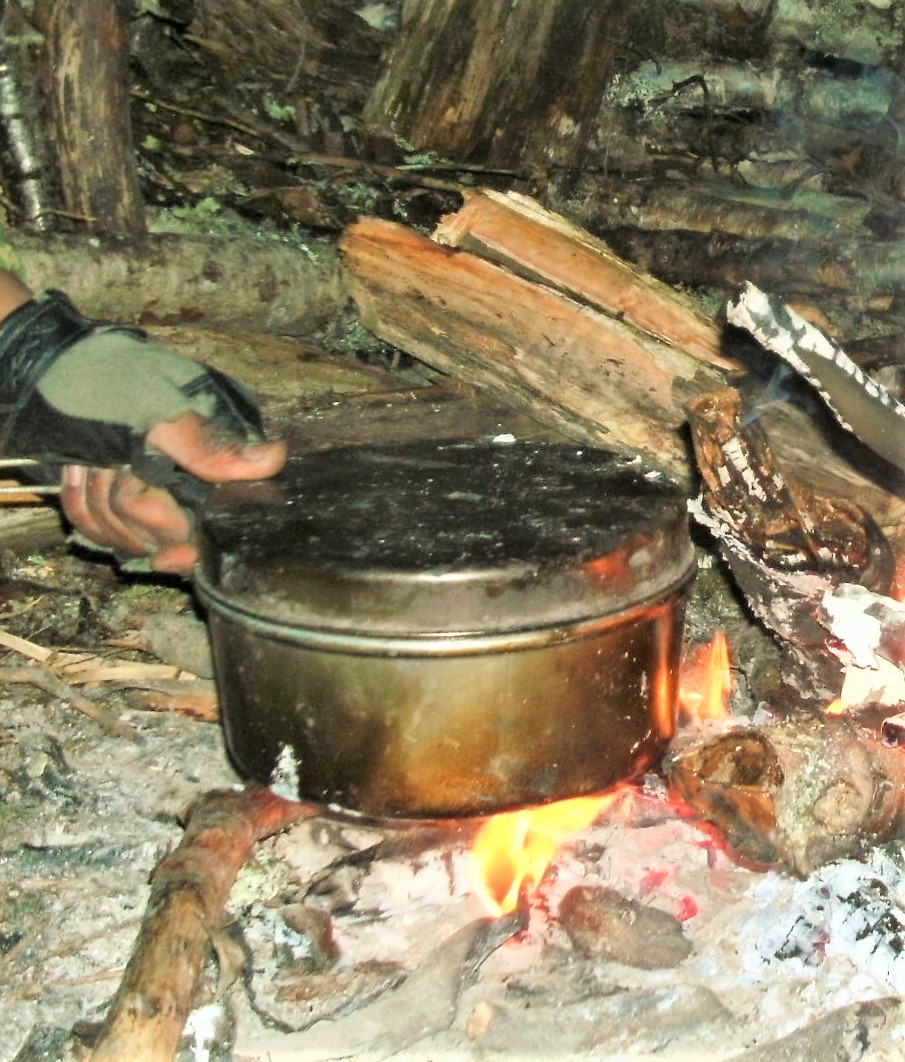 All in all this is Mess Tin kit is another bit of kit I see no point in ever changing up from. My second fav Mess Tin would be the US Mountain Kit as pictured above. I had one years ago but passed it on to someone who had nothing to use of thier own. It was a good kit with great storage capabilities with a huge pot for all the mentioned above reasons that I like a large pot. It also had a large pan like lip that I'm using there on the left picture to cut up some squirrel to add to the pot for supper time. I'm not actively searching for one though, but I would recommend one along with The German/Austrian as go to. I'm happy with the German/Austrian mess tins in my compliment.  I wont lie though, these mess kits do stroke my historical foible as well as filling a practical application for my E&E plans...
From the 1980s till now- it works great so why change it? I will 100% recommend these European type of kit to anyone that would ask "what Mess Tin to get?"...Beware of copies made in China and vendors selling "German Style" made from mystery metals. I've also heard bad things about the metal that former DDR-East German ones are made of.
Ivarr..

Categories: Kit Posts