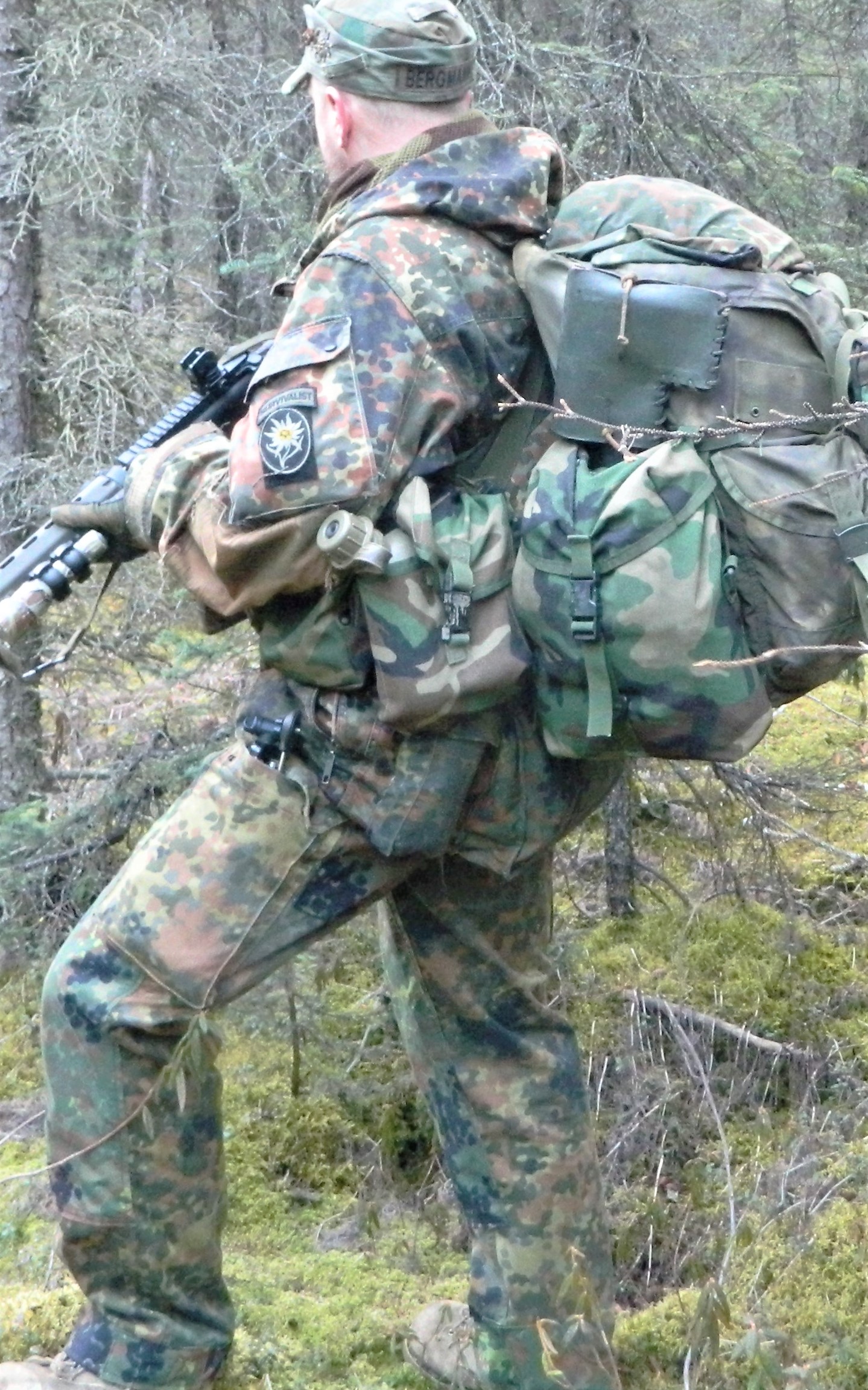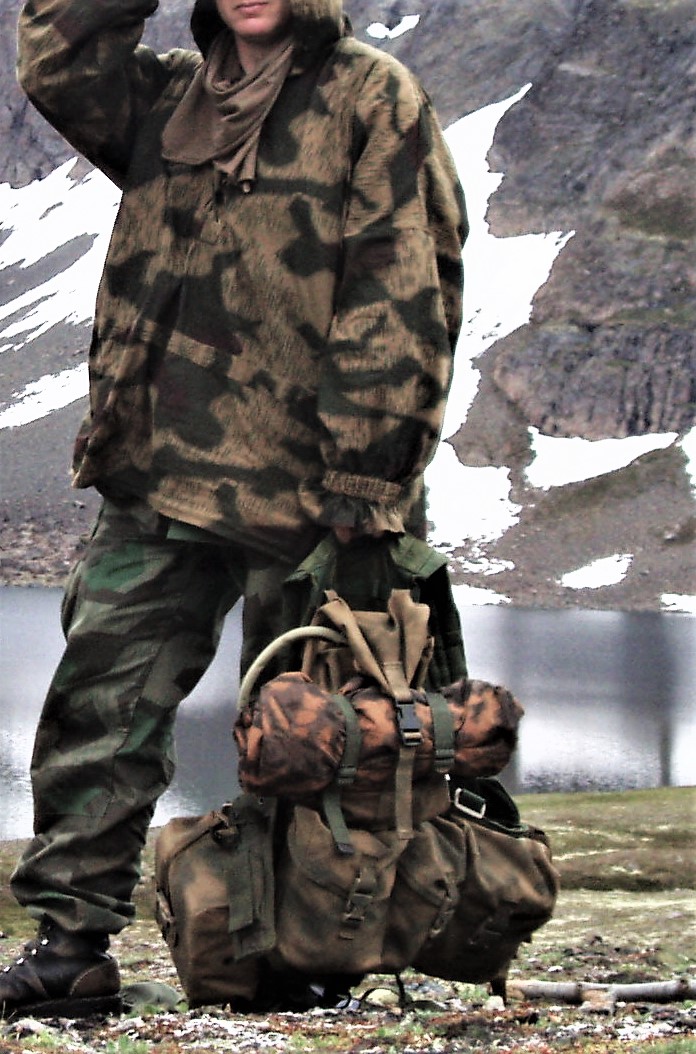 For years now Ive been using US issue sustainment pouches in one form or another on various rucksacks and rigs. I hate them. IMO they are sloppy, , floppy, unstable, narrow mouthed, thin skinned and the lid is an utter POS with a crappy draw string cinch closure design. Sadly there are few options available for replacing these pouches. They serve a specific purpose and other options are generally a commercial solution that come with a hefty commercial price attached. So over the years I never gave much thought to replacing them so I just tolerated them and got on with it. They worked and were good enough for the purpose they served because there was no real alternative. So I just stayed with them and put the thought of replacing them in the back of my mind, save a few temper tantrums about them that generated searches for replacements but a replacement never came to fruition. I was stuck with them.

Below are advertisement picture of the sustainment pouches. They look quite robust and fit. The reality is somewhat different when it comes to these pouches..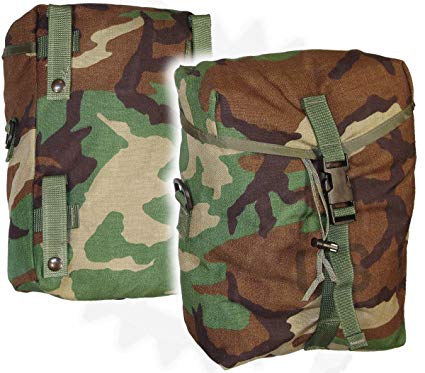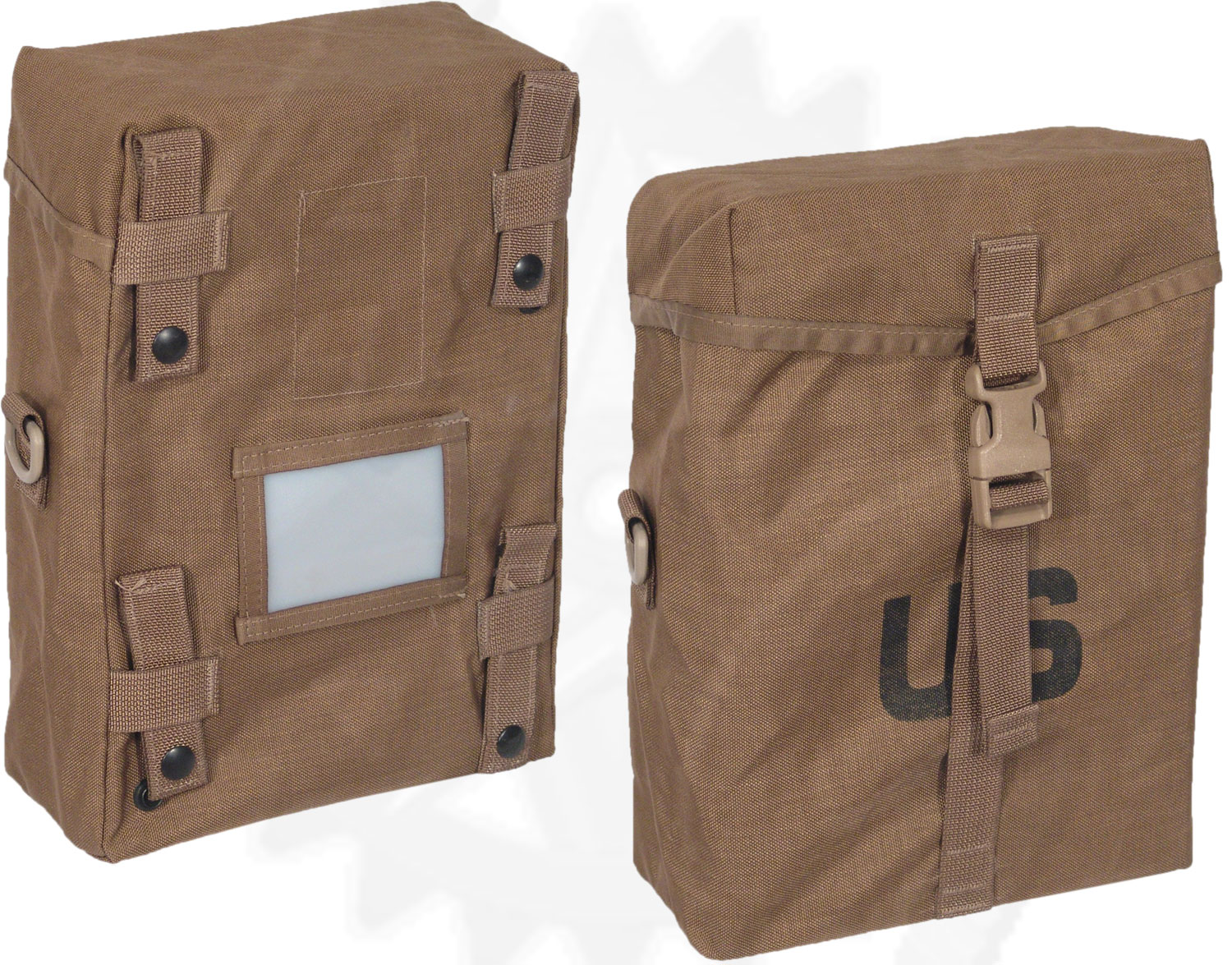 The cure.......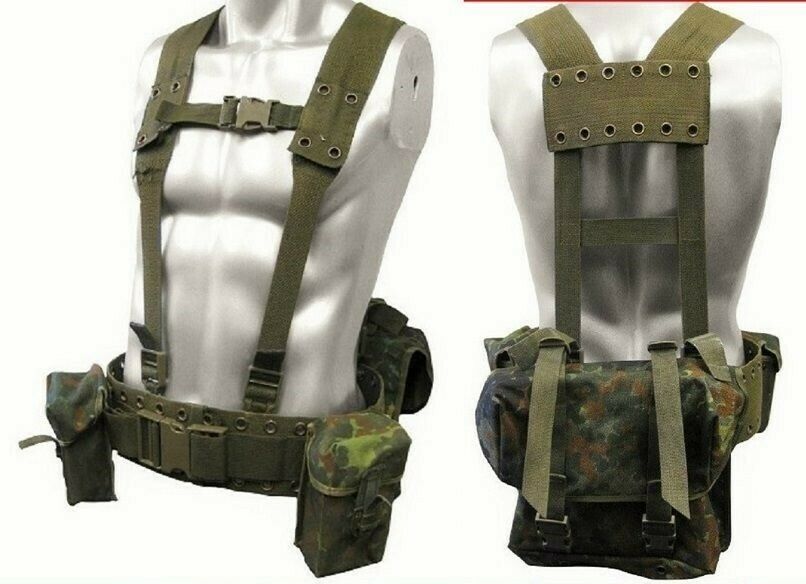 I was recently presented with an opportunity to upgrade to a better type of side mounted sustainment pouch. The problem with this solution was that they are German in origin and are notorious for not marrying to anything but specific type of German gear kit-namely German issue Webbing as picture above. I just happened upon this all by accident. In my seemingly never ending quest to get a servicable and reliable rig to suit my G3 and survival needs together I made an order for one of those ugly ass surplus G3 web sets you see above. The plan was to chop it up and modify it into another sort of rig-and I did- but that another story- The original set was lost in the mail so after letting them know they sucked for using a shit service to begin with the company sent me another. When the replacement order set arrived the original set showed up as well. So I had two full sets that in total included 8 G3 mag pouches and two of those huge butt-pack type pouches. This was very serendipitous for me. My imagination was buring to make something of all this.. so it did..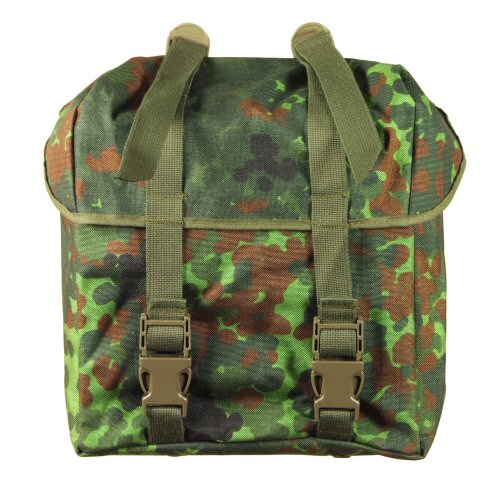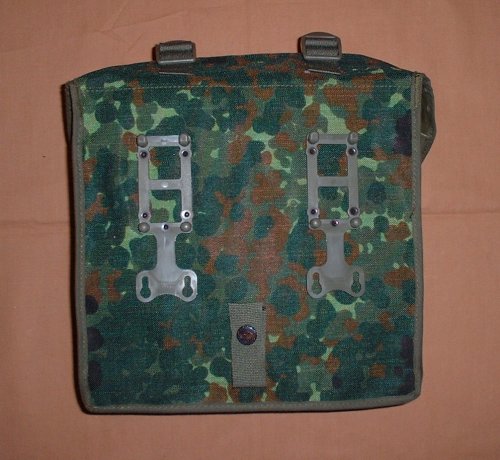 These German pouches offer a stable, sturdy and easy to access pouch option. They also offer outside straps on the lid to roll and hold kit on the outsdie as well.The material is a woodland camo pattern, thick vinyl type material that was super weather resistant.(Actually made this way in a vinyl like material for easy cleaning after NBC contamination). The lid is effective and closes quite securely with two fast-tex type buckles doing the job.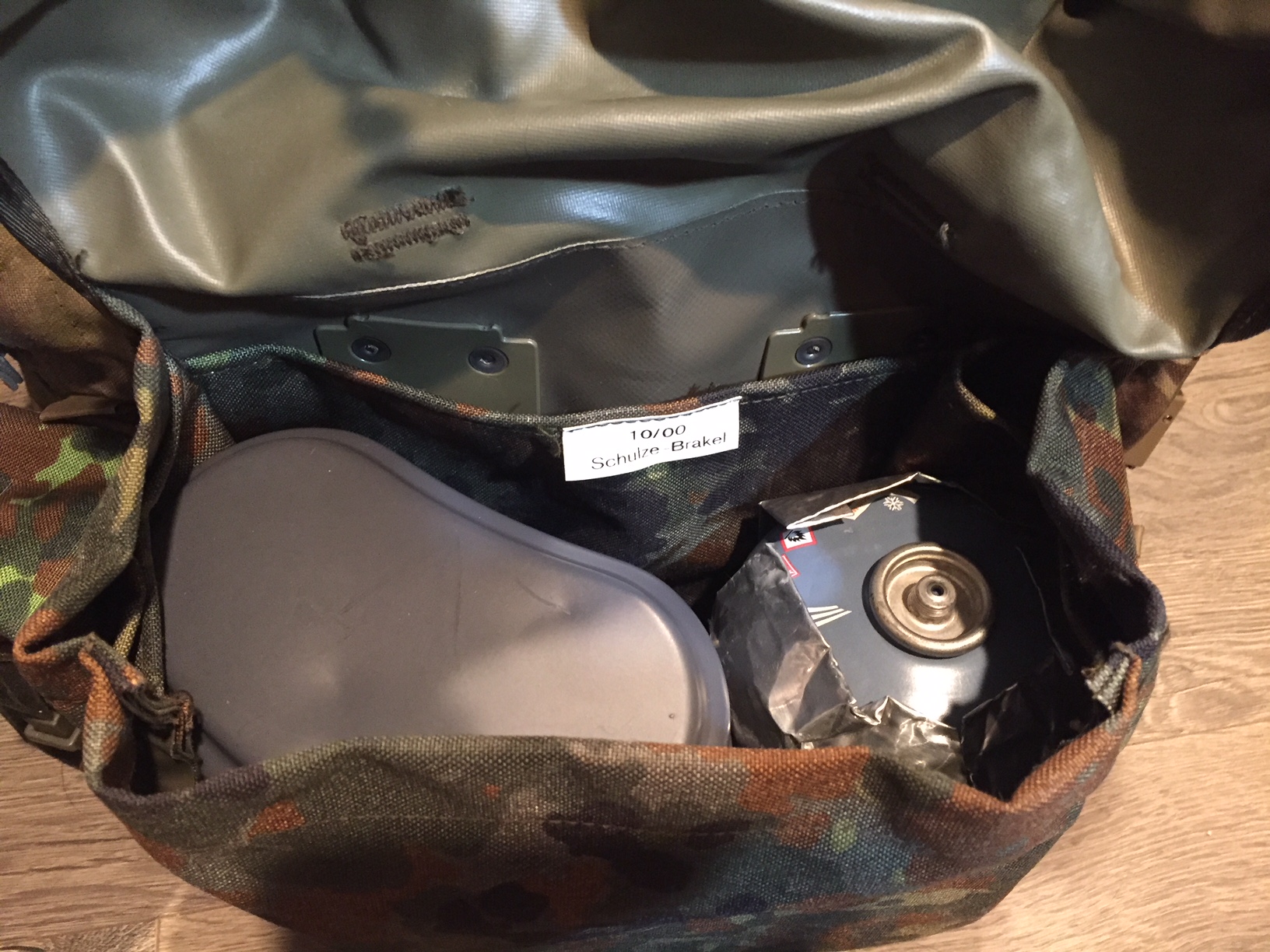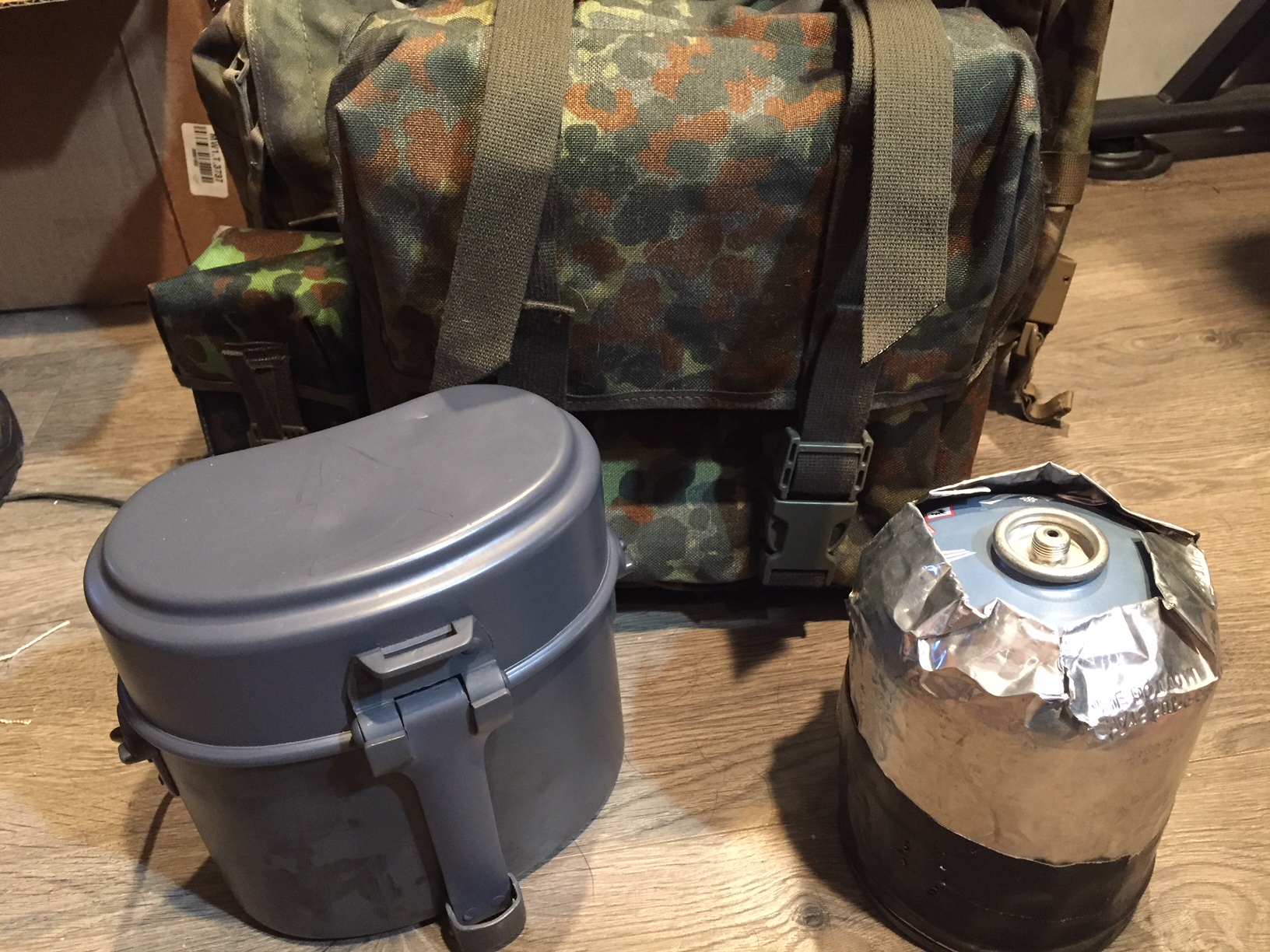 To give you a rough idea of the size one will hold a German mess tin and a full sized butane gas bottle without issues. They are big but not too big. I see no liability or burden offered from the use of these packs. The problem was that they are made with those buckles that will only marry to German webbing. In size a total rough measurements of the pouch is about 10x10 inches and about 5.5 inches thick. .So the size and specs fit the bill very well and IMO go a bit further beyond any beifits i was getting from MOLLE sustainment pouches. However there was the issue of attaching these to a rucksack to properly replace the current sustainment pouches. How do you marry these two different approaches to attaching gear together?
Like so..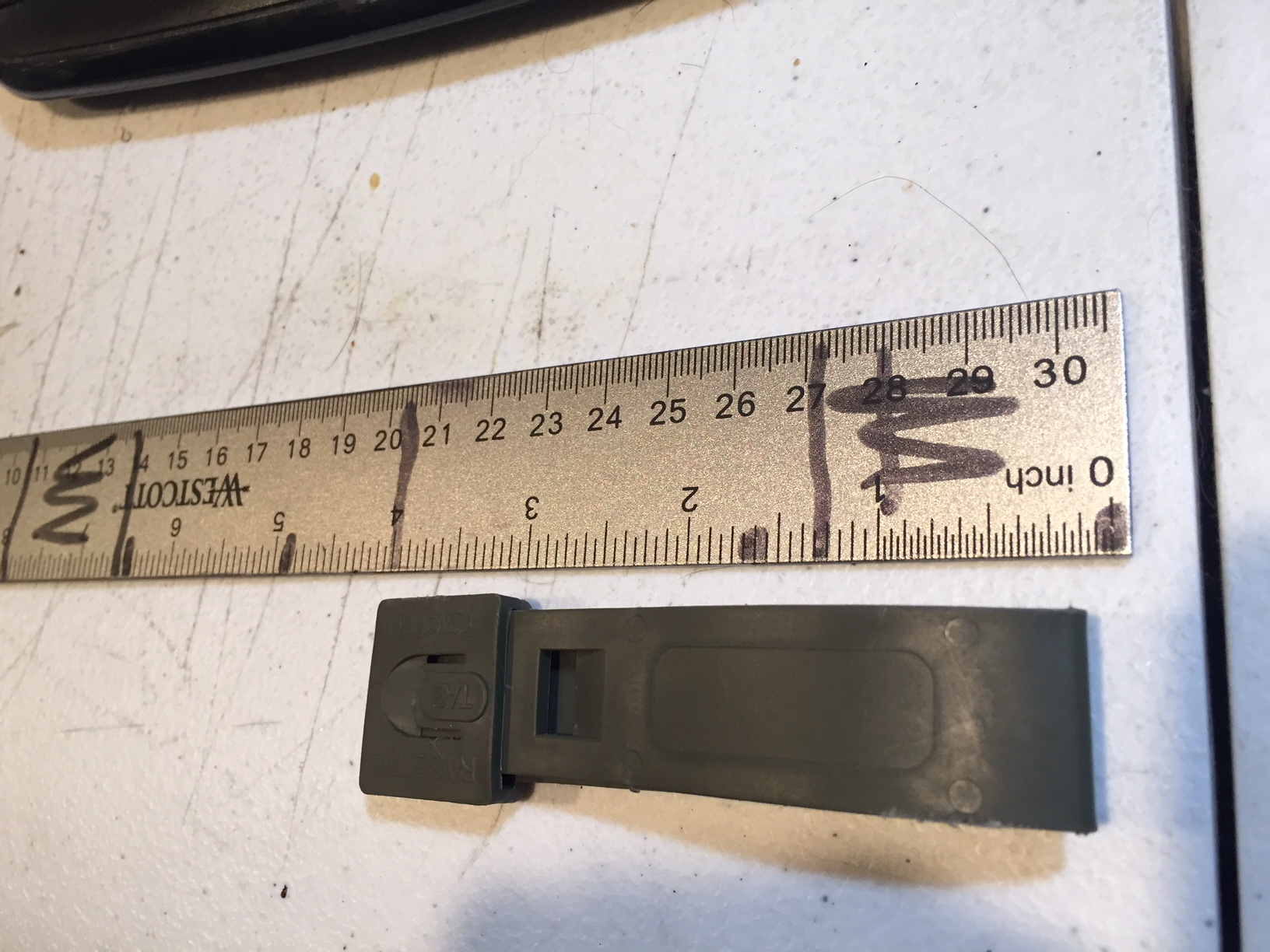 The solution was painfully obvious and staring right in the face. I used a simple 4 inch PALS (?) strip to superimpose over the existing buckle. This works and whats more is that there is no need to removed or alter the existing buckle should I want to use it later on something German in design.
How to.. step by step.. This should count on any MOLLE pouch attachment/anchor point but Ive only used it on my Medium MOLLE framed pack thus far..

First.......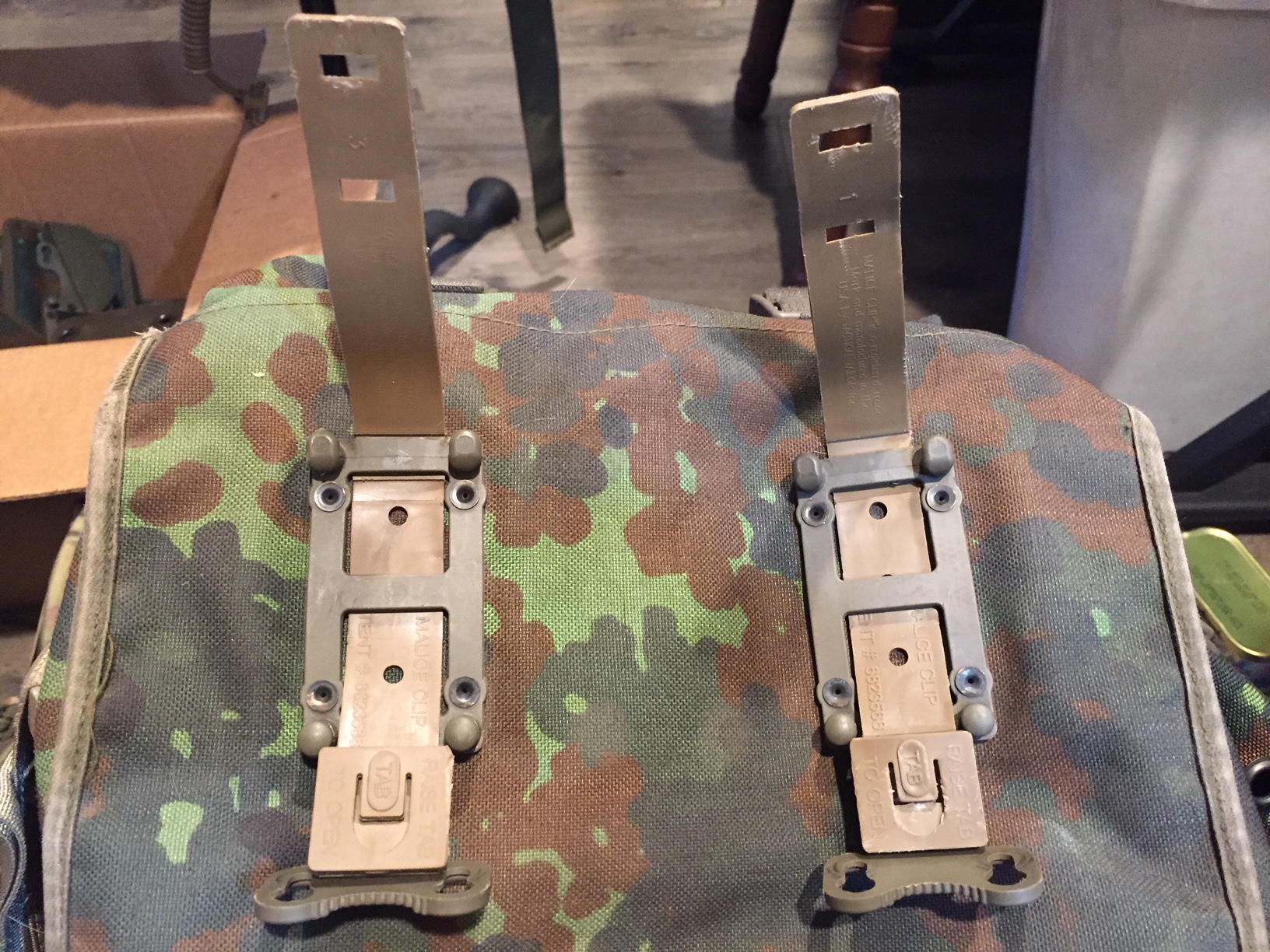 As you see above one must slip the strip under the existing buckle between the buckle and the pack. Its NO SIMPLE task and Ive found that no two are the same. Some are quiet simple to get under and other stubborn and pressed firm being quite difficult. You can only get it through/under the center and top vertical bars of the buckle unless you remove the rivet on the botton of the buckle. I chose not to do that. My prefered tool was a butter knife to get under the buckle and then to push the buckle under. A needle-nose set of pliers would also help in pulling then strip through with some buckles. They will rest with the fastener just under the lower set of plastic studs. Resting them on top and somewhat snapping them in place will ensure the buckles on the pack will no slide down the strip. There seems to be tension enough for it all to stay in place.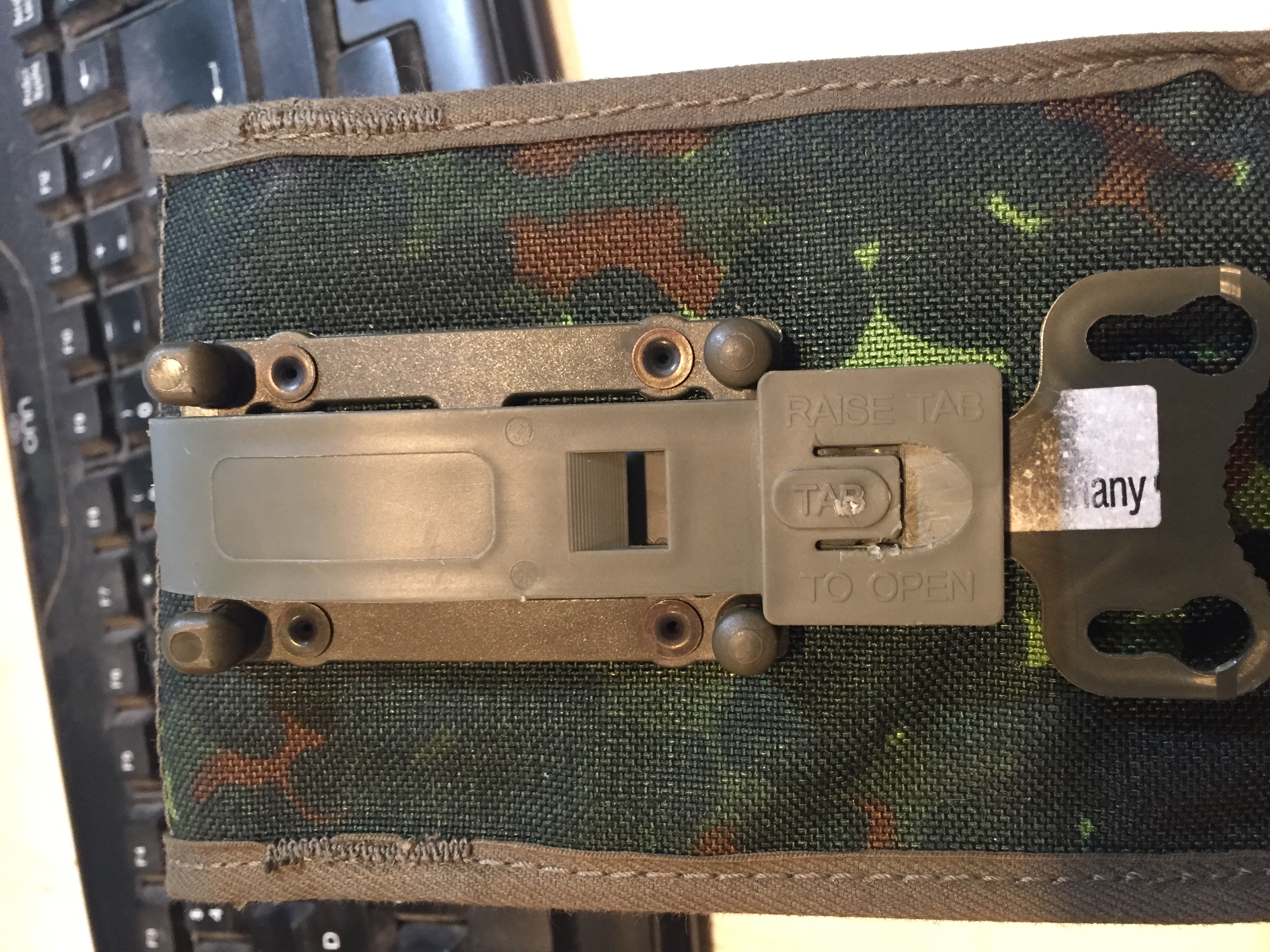 Notice how the fastener on the strip is seated below the studs? This is important in keeping the buckle from sliding down on the strip. This is an G3 magazine pouch. This method will also work on them as well as the German water-bottle pouch (not pictured in this entry) all sharing the same sort of buckle device. All have snapped into place and stayed without the buckle sliding down on the strip. However I added a zip-tie that ill show later with an explanation of why.

Second  Step.....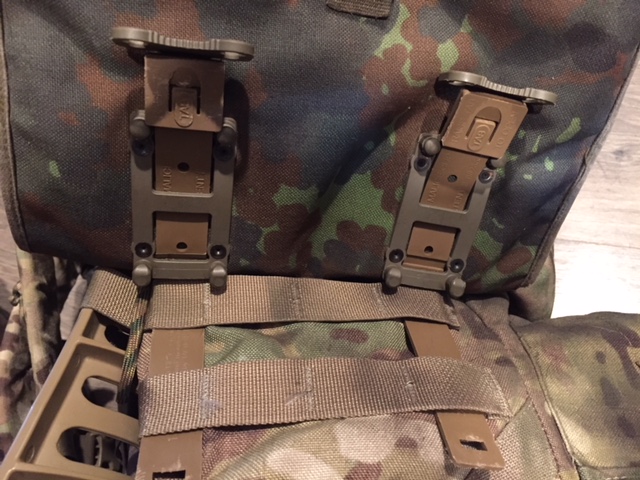 Simply slide the strips through the MOLLE pouch anchor points...

Thrid step........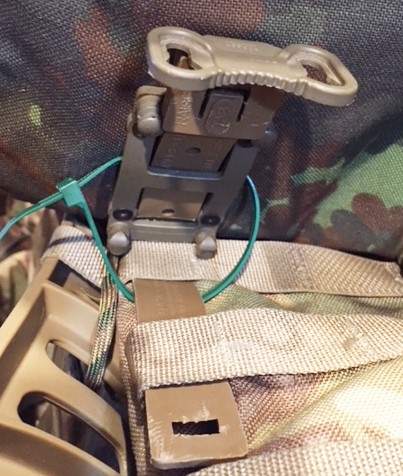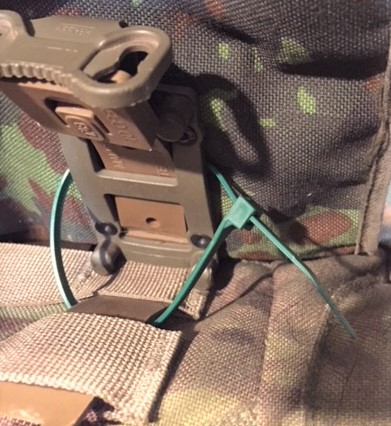 .  You will need zip-ties as you see them placed and where you see them placed. They will slide under the BUCKLE and the PALS strip with very little effort. ALSO note the direction and head location of the zip-ties. Placing them as you see them will ensure you can tighten them securely and cut off the remaining  tie once its secured in plce. I DO NOT TRUST zipties for any sort of real load bearing jobs but here they simply pull in the slack created in the strip from the absence of a center webbing strip that would be there on a MOLLE pouch.
Forth Step.....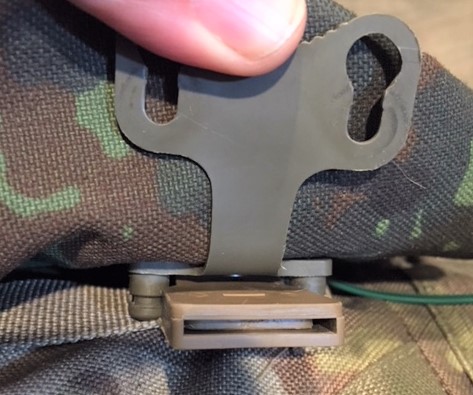 Simply clip the strips closed as normal. BE SURE to snap the fastener head below the studs as you see here. All of mine have snapped and stay snug. The zip ties help but are really there to pull in the slack from the absence of a webbing loop on the pouch. Otherwise it may BOW out. Also after this step be sure to pull the zip-tie tight and if you placed it just how I described you can reach the excess zip tie to cut with scissors..
Fith and final Step...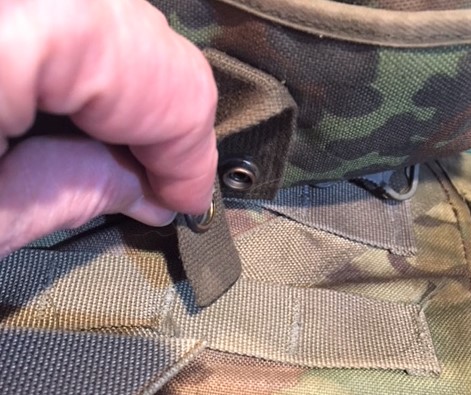 Use the provided webbing and snap on the pouch to join it at the reciprocating MOLLE webbing. Snap it and you're done. It will stay put. All in all the end product is much better then the alternative. Ive mentioned the benefits above.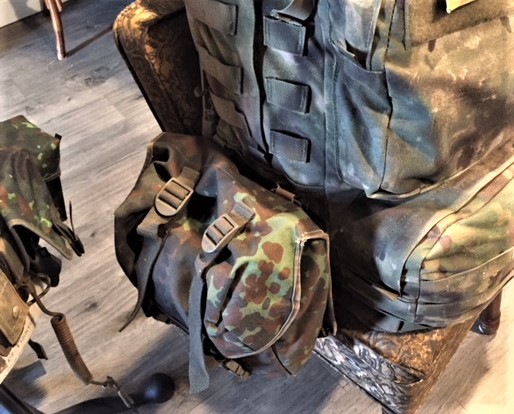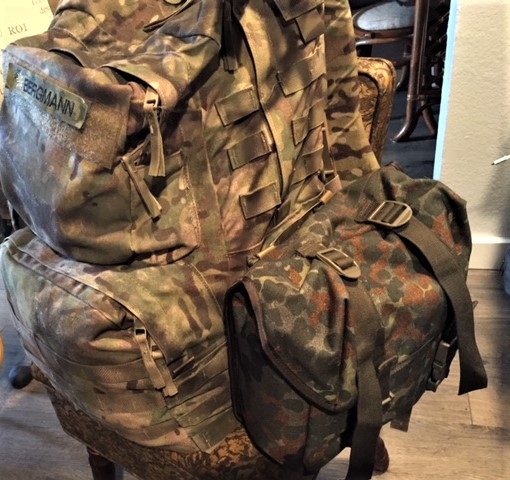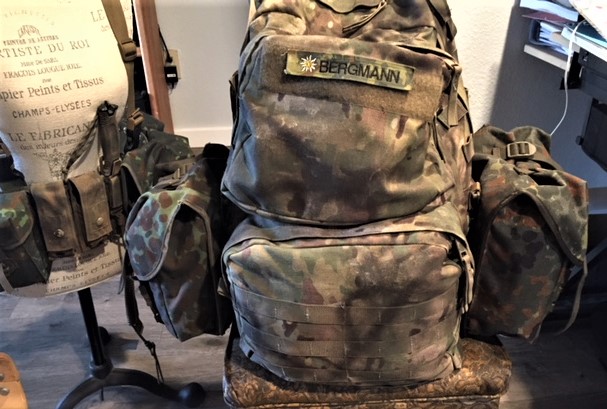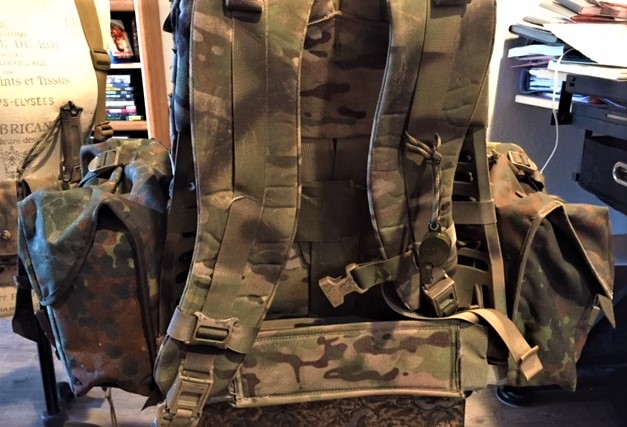 This method will not hurt the rucksack nor the pouches. There is no cutting or altering anwhere on either. Its the simple application of things on hand put together to serve a purpose. I do not miss the US issue sustainment pouches in the least. These are better for me in every way possible, thius cannot be overstated..

Ivarr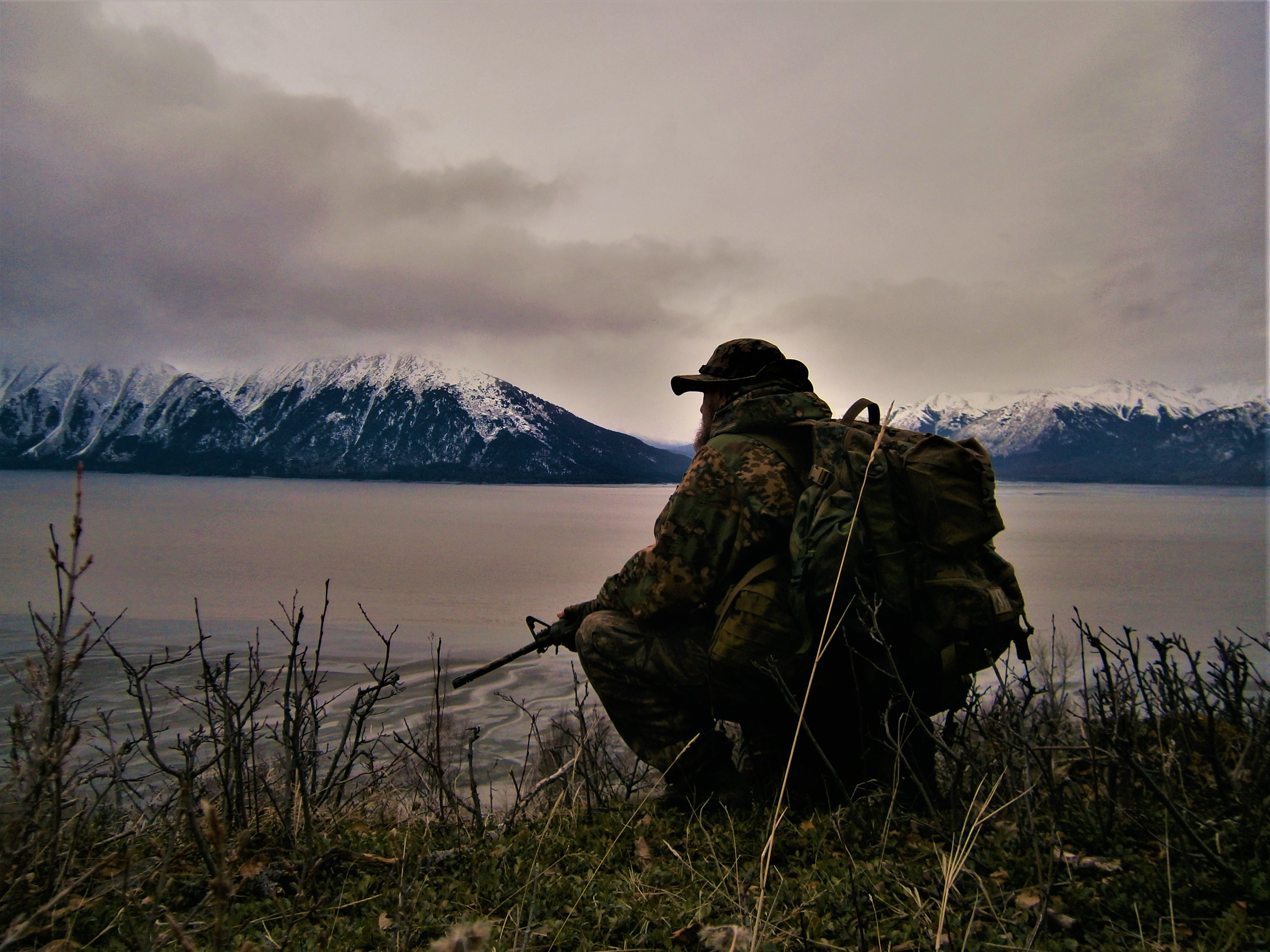 Categories: Kit Posts