Step off time was 0700/7AM before sun up. The expected temperature was about 10F but much to our surprise it was every bit of 20 below 0F. We un-assed our kit, strapped on our snow shoes, wrapped ourselves in our webbing and slipped our rucksack over our heads. Then with kit sorted and weapons in hand we gingerly followed a utility trail into the frozen dark forest for about a mile, all the while keeping a keen eye for moose feeding in the tree line and out in the tall dry grass. The hike in was uneventful-just cold and silent. With the sound of the snow crunching under our snow shoes, the hisses and crunch of ice and snow were cutting through the silence for all the wilds to know were were there.. Once off the utility train we broke off into the edges of a frozen marsh into the thick pine-trees that were well packed tight and close like the beams from a 1700s Stockade Fort. The ground was deep and soft with snow and many trip hazards hidden in its depths let us know they were there. There were no shortages of falls in the snow but there were no tempers to be aroused on this creep.. Its the name of the game until you get your snow legs sorted.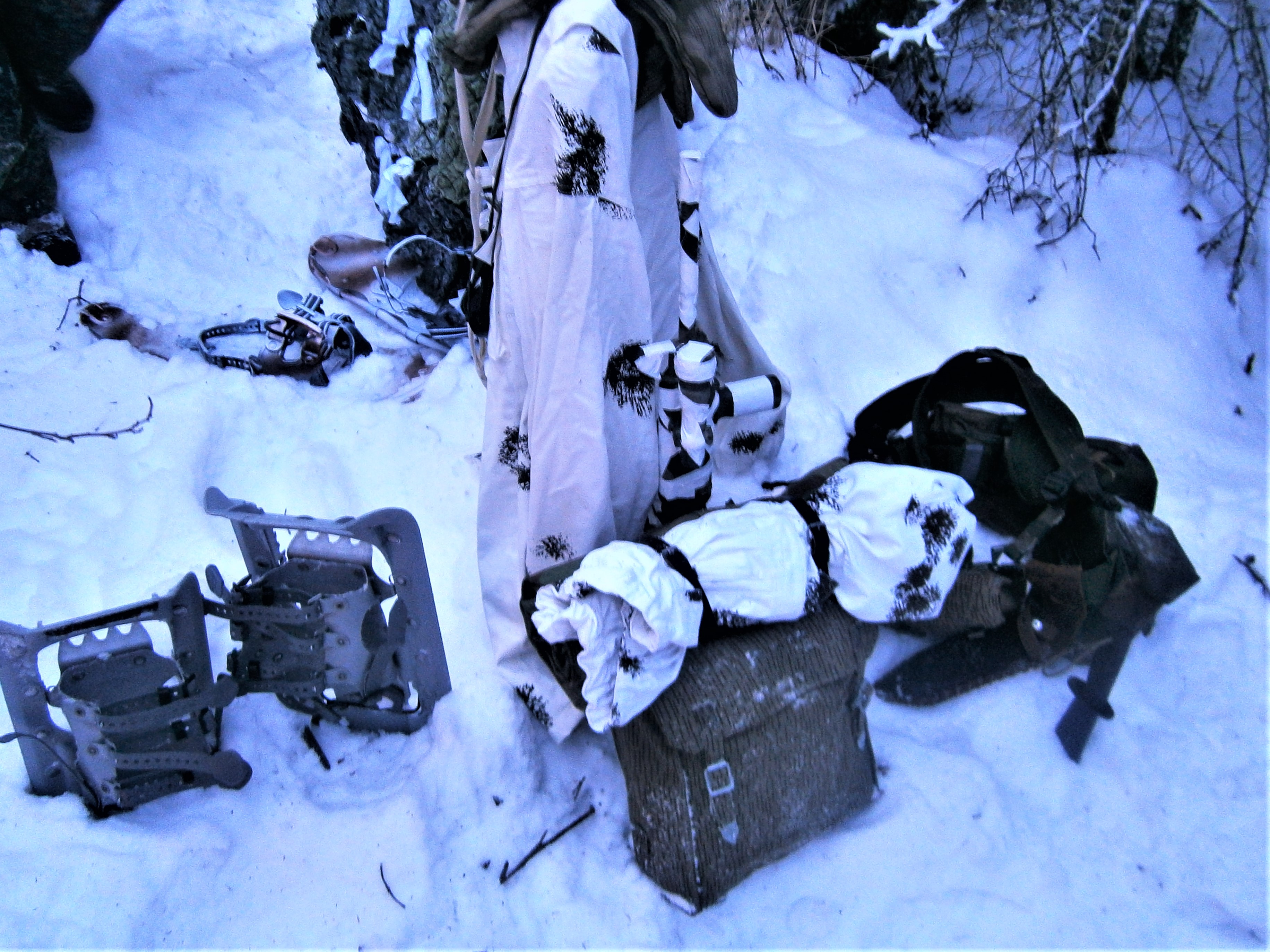 Kit for the day was simple as always:
*Belt Kit
*Patrol Pack
*Rifle and Side Arm.
*Snow-Shoes/Poles
Ill save you the details. Basic kit content never changes but sometimes the rig itself will. I opted for the PLCE belt kit and an old East German Shit Bird Rucksack. Bear had a rucksack and webbing of Russian origins. As a team seems to be forming with the new fella we started to agree on a few standard items. One being the caliber 308. This discussion made agreed upon that 308 is now the preferred standard caliber of the new team. This vastly improves our firepower in this vast land of wilderness. On this day, however, Bear had his Russian 308 and I had my M4. I opted for the M4 this day because I knew I was totally out of my PT routine and I didnt wanna spend the day looking at my boots. It turned out this was a sound choice as I was not low on energy for the vast majority of the day. Bear hauled his 308 w/o issues. We also both carried Zeltbahn and these seem to be also becoming a standard item for the newly forming team.

There has been no shortage of winter this season. nearly a month or more of sub-arctic/below 0 temps and remaining below 0 with lots of snow. We had one pause in this, and a week prior to this drill the forest had experiences a hard thaw only to be followed up with the deep sub-arctic temperatures returning to freeze the wet forest back into suspended animation. I had seen this happen many many many season over the years and it makes things quite interesting. Some branches shatter like glass while other resist  the slightest pressure with the power of tempered steel making movement difficult in strength and stealth. You also run into various types of snow at various depths. On this morning I had to make fire to make water and it was a adversary to be reckoned with but one I knew well. There are times here when you simply cannot get a fire going- Its as simple as that.
Our original plan was a tactical creep across the forest. Bear had made a winter werewolf suit from an old Czech camo net and I was set with what I had at the ready with snow over-whites, so we were ready to do just that. Maps, GPS, compasses were readied. We had even taken the time to break up the rifles with white tape Sadly in the forest-however the temperature was ass bite cold. How cold is "ass bite cold"? Very dangerous cold- MUCH too cold to expose the face to the cold and use face-paint. Our first objective before getting into creep mode was to get a simple fire going to make water. I do this probably 90% of the time i go out as to keep my fire skills fresh and honed. On this day Alaska tested this with its frozen forest not cooperating in any sense of the word. We had stopped inside this frozen marsh and it was cold, dark and the snow was very deep. The deep snow and temperature really REALLY conspired to slow us down to a near stop trying to gather materials for this fire. Whats more is there was nearly 0 birch trees to harvest bark from and the ones we found were totally frozen on the outside. All the pines had gotten wet and then froze as well so tiny tinder was near ruined and usless... It was impossble to use our touch sense to read what any of the gathered material was like- it was just too cold to tell ice from just cold.  Pealing the birch trees was beyond difficult- to impossble at best. The bark was frozen and the trees we had were not giving any pull tabs to help harvest the bark...It was like pealing paint from a car. It took forever and we had got the reality of just how cold it was during this time. We eventually did get the fire rolling. I bet it took 2 hours or more. Bear got it started with his fero rob and I preformed CPR on it for the majority of the time. We took turns gathering what we could that we thought was able to burn. Most of it just thawed out in the heat and steamed but eventually it did get hot enough to flash dry the tinder's and roll on by itself-thus water was made. I could have simply used my stove but if i was really out in the wilds after the hammer had dropped i may have to conserve my fuel or it may be that I had used it up..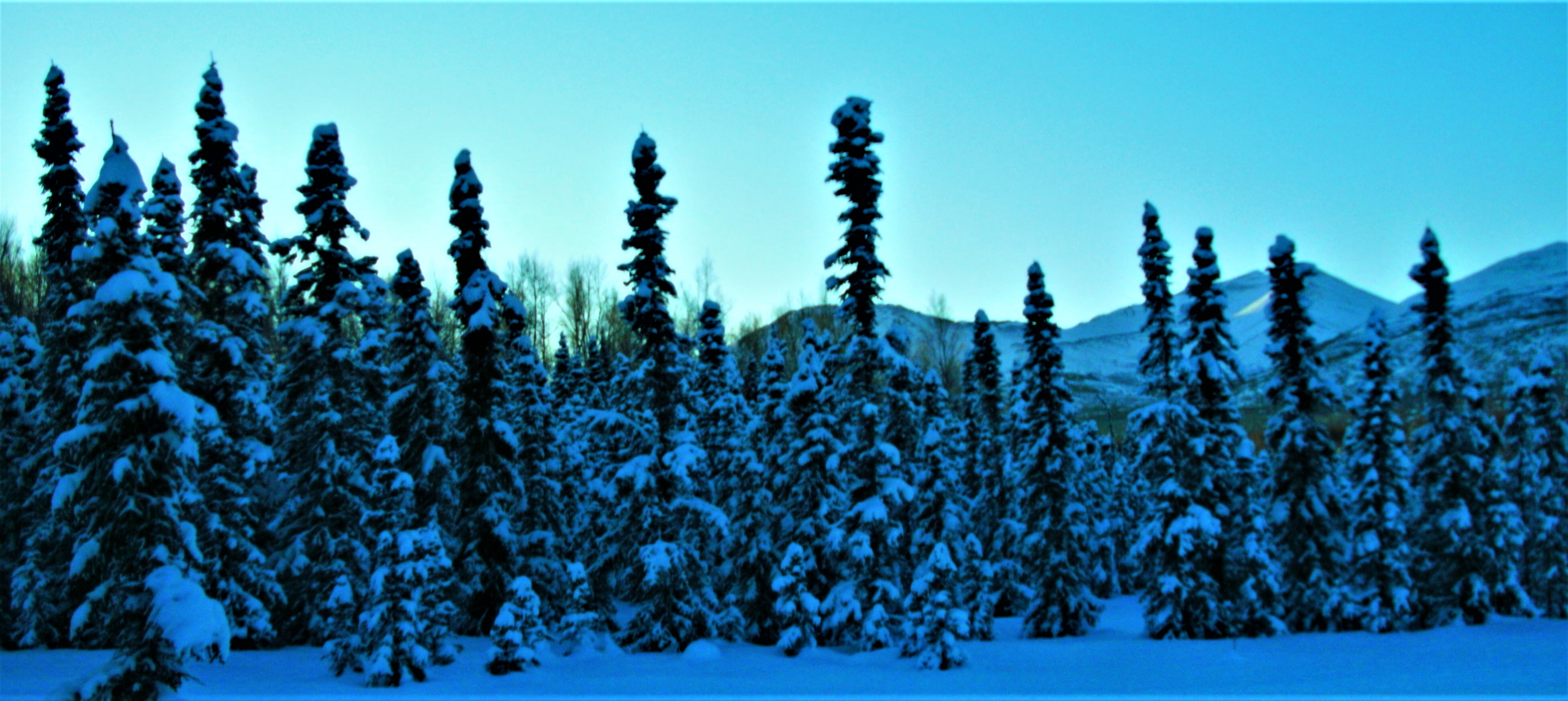 After making water we assed up once again and simply picked a direction to explore and we set off. We alternated breaking the snow. Bear was very eager to improve his snow legs so he took point much of the time. I had no issue with this. I trust him in that respect and it was nice to just let someone else do some thinking while I'm out there. We did have to continue to keep and eye out for moose though- That was our OPFOR- A very real OPFOR.  It was cold and the sun wasn't even up yet. It was just a glow behind the mountains for a while. I longed for it. Even on a cold day of this degree the sun will warm you to a very tolerable level. At times it can warm you too much if you're on the move. We did keep moving until the sun was well over the tops of the mnts. I don't think the temperate went up very much when the sun had been in full view for a while but I know my homemade wool had sure got warm on top. So much that my head was sweating, later the rest of me start to sweat too and Bear. sweating too, suggested we have a break and slow down. We had not been in the sun very long at all, relatively speaking so the tempo of the day had been set at that moment....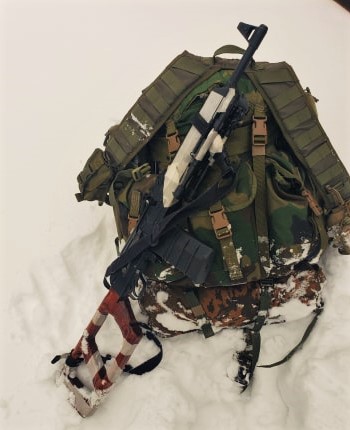 The terrain varied and changed as the day went on. There were more stretches of thick pines that eventually opened up into relatively open hilly forest. The trip hazards and voids under the snow did dramatically increase as we hit the open forest, and more so as we neared a large stream we eventually crossed.. At this point no one fell over in the snow and -snow leg equilibrium- had been obtained. Bear was carrying his Saiga 308 (with a homemade stock he made himslef-Above) with ease and how it best worked for him and I was doing the same with my M4 and kit. The difference being he used one pole and I used two. He preferred just one because of the length of his weapon, and his prior experience had, at that point, coupled with what he was learning and it showed in a positive light. I was used to using two poles with either weapons (G3 or M4). I always keep my weapon relatively loose and at the ready stowed to my side. Neither is wrong- This isn't the military and we are free to build our own SOPs as we see fit and as experience dictates. As long as the Evader is smart enough and trains enough to know with absolute certainly he is not creating a liability- its not wrong! Training enough and being smart enough brings this possible team to a new avenue- We both are vastly experienced in what we do and have loads of skills to pass to one another- We both look forward to this. Ill speak more to this as time goes on. Suffice to say I'm beyond impressed with the commitment he has shown strait out of the gate.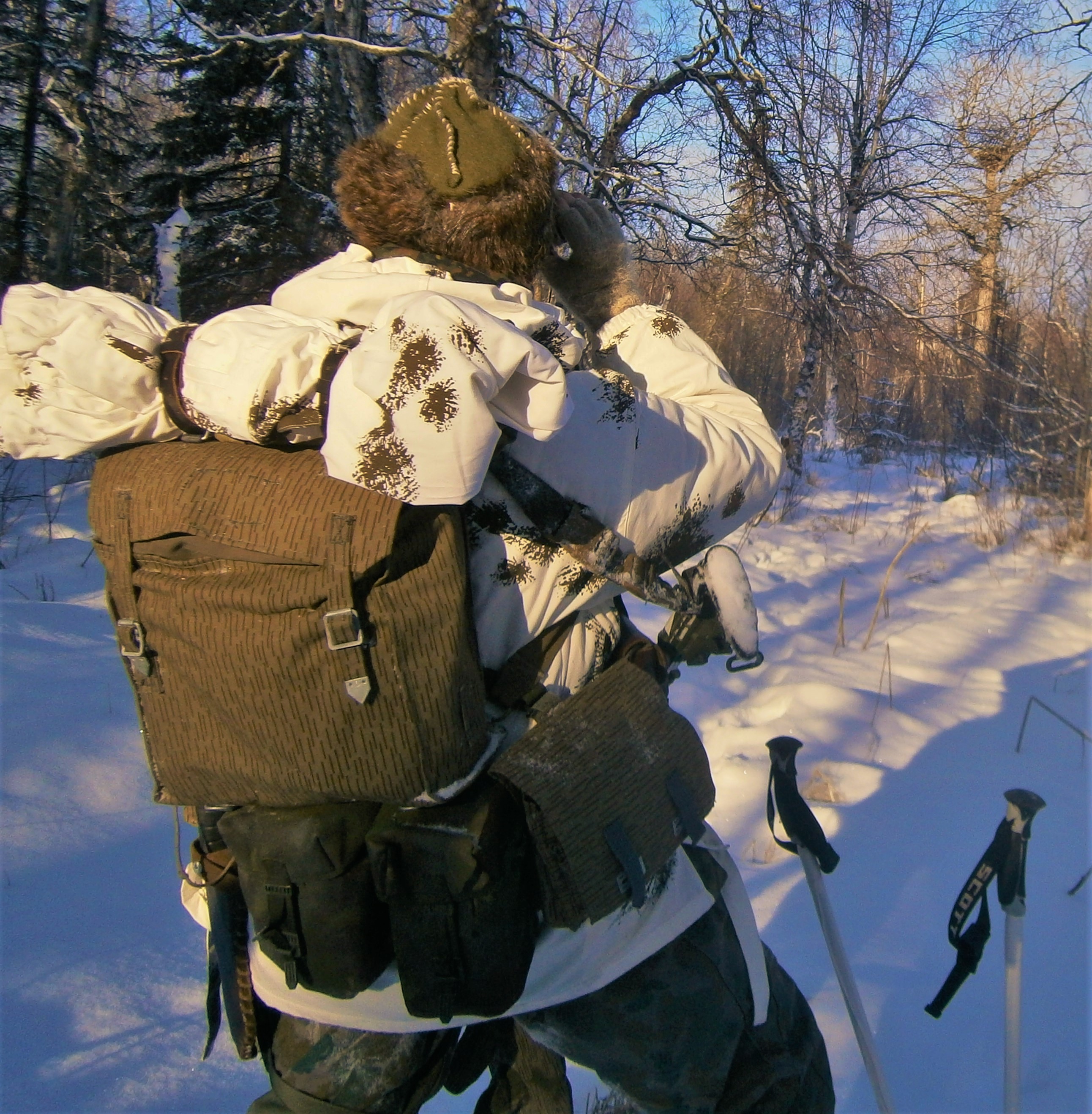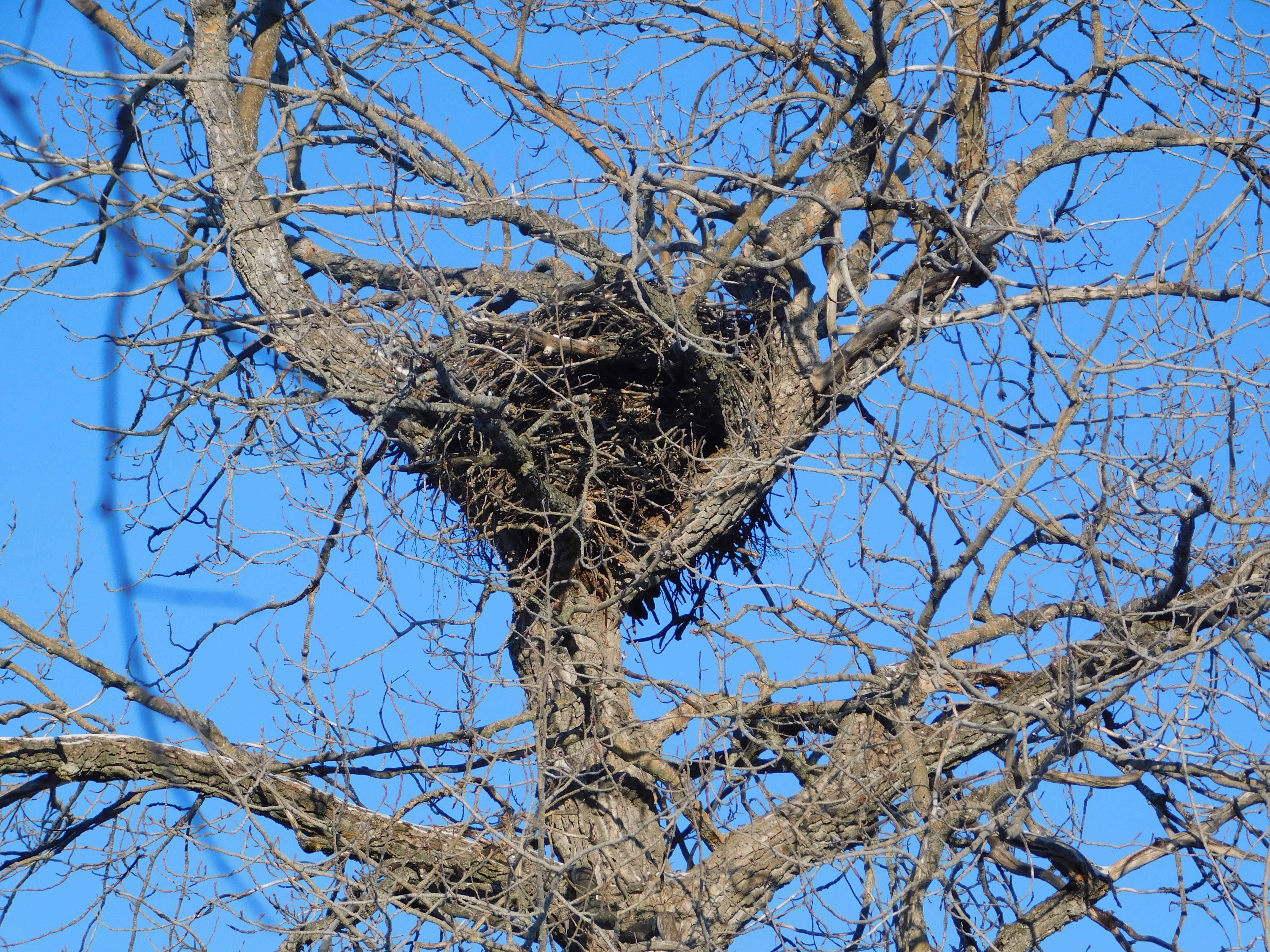 Me glassing a gigantic eagles nest. I estimate it was probably 5-8 feet across. It was truly an amazing sight to behold. Sadly it was empty However it was a good sight to see, none the less.
Eventually we came to stream that needed to be crossed. It was just a few feet feet at the most and a few inches at the least. We we had to slide down was just over a foot. Alone I have never fuked with water. I know better-especially on a day like this. However having another person adds resources and a safety net to training so we simply crossed it. We did this by simply sliding down the short slope, landing feet first in the water and exiting. We opted to keep our snow shoes on since they have cleats and could grip any hidden ice under the water. The short slide allowed this as did the risk versus reward factor. Sadly you.ll have to wait for the video to see us doing this but it wasnt a bug deal and we preceded w/o incident, gin on our merry way just after crossing.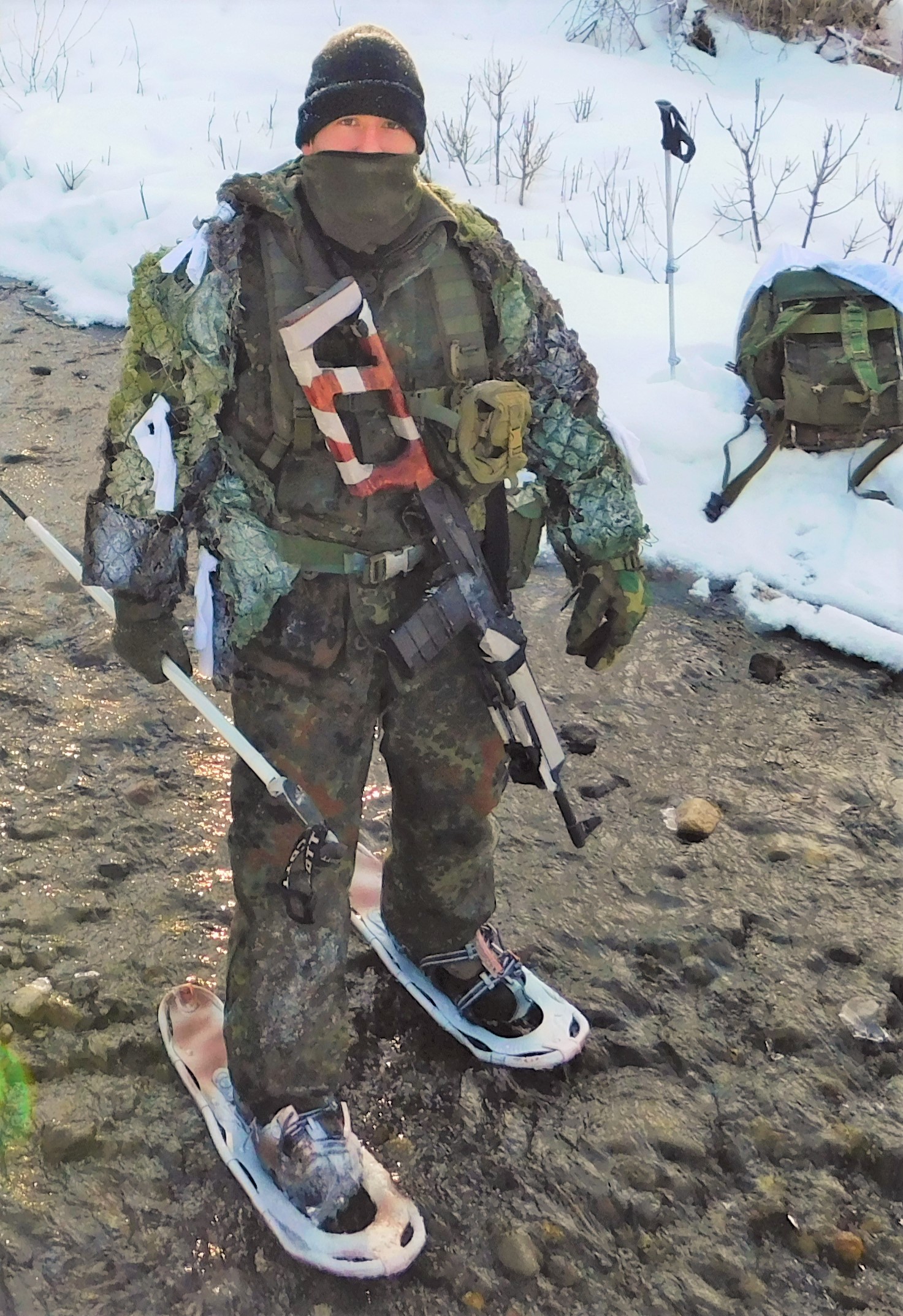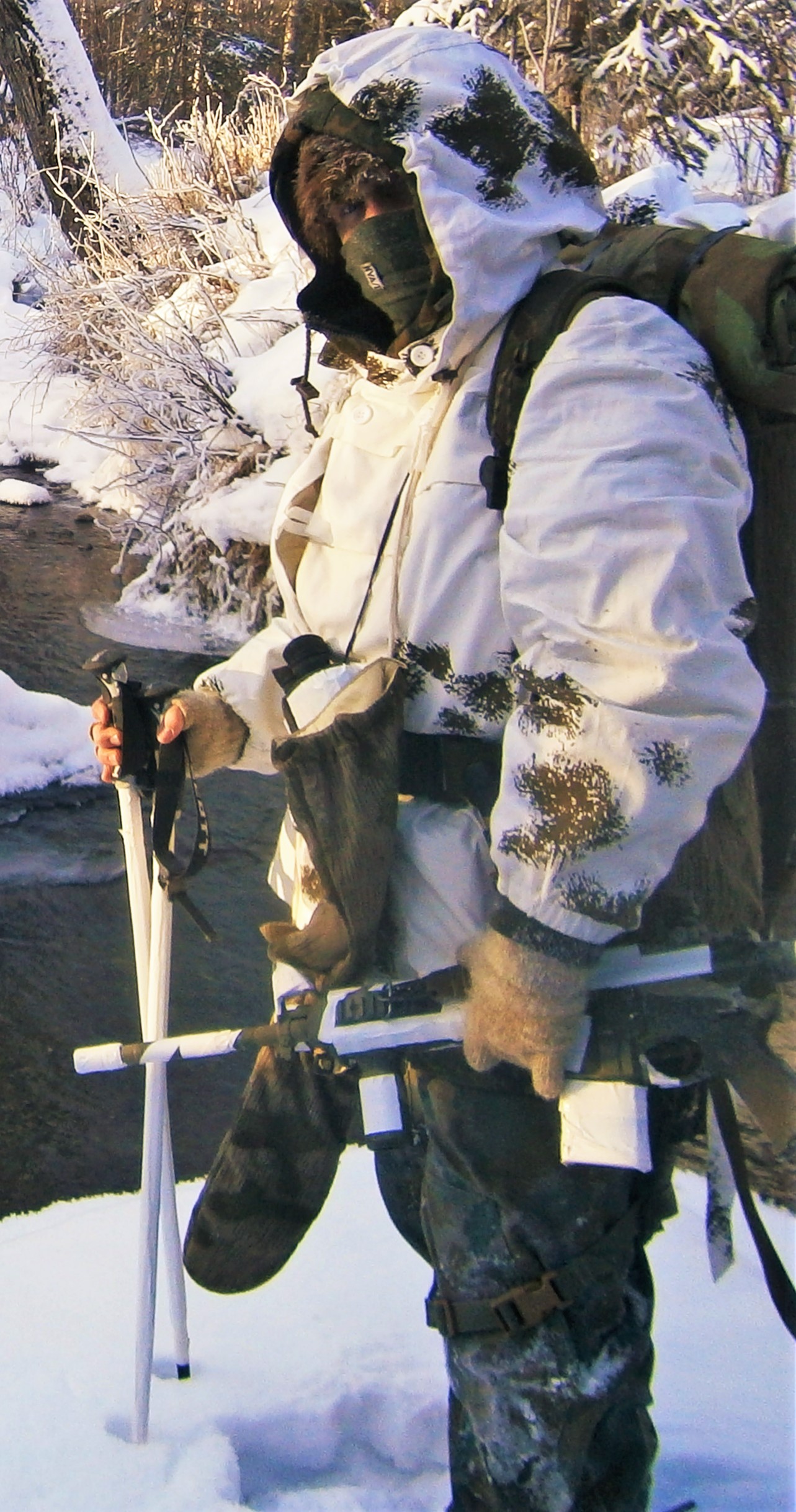 Our legs had got soaked but as far as I could tell neither of us had water penetrate to our insulating layers. My gators protected me as i thought ,so for that Im thankful. Later our legs did freeze solid on the outside. You'll have to wait for the video to see the result of my deep freeze. It was quite amusing and a relief that my layers held up. Oddly though (or not so much) it was so cold on this day my toes did get cold later but not because of the water. After 10 years I think I may beed new liners in my boots- The current ones have become compacted and lost loft. This day was a special kinda cold I seldom get out in do to timing and real life getting in the way . It was cold. The deep freezing mountain air was flowing from the mountains right into our area. I expected this but I did not expect such a constant deep freeze. It was unrelenting and thoroughly had our attention throughout the day. We adapted and moved on. No pussy dicks we exposed..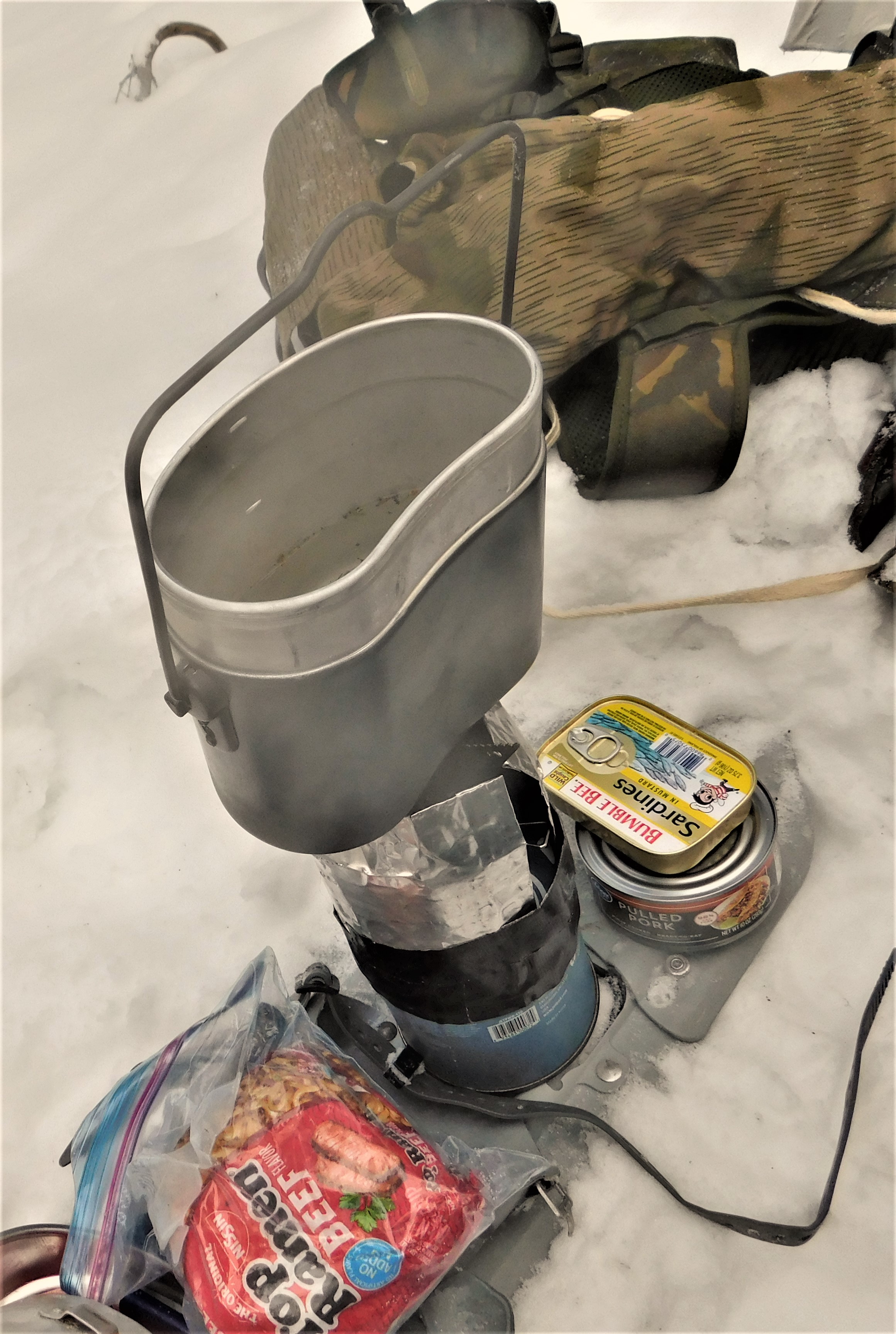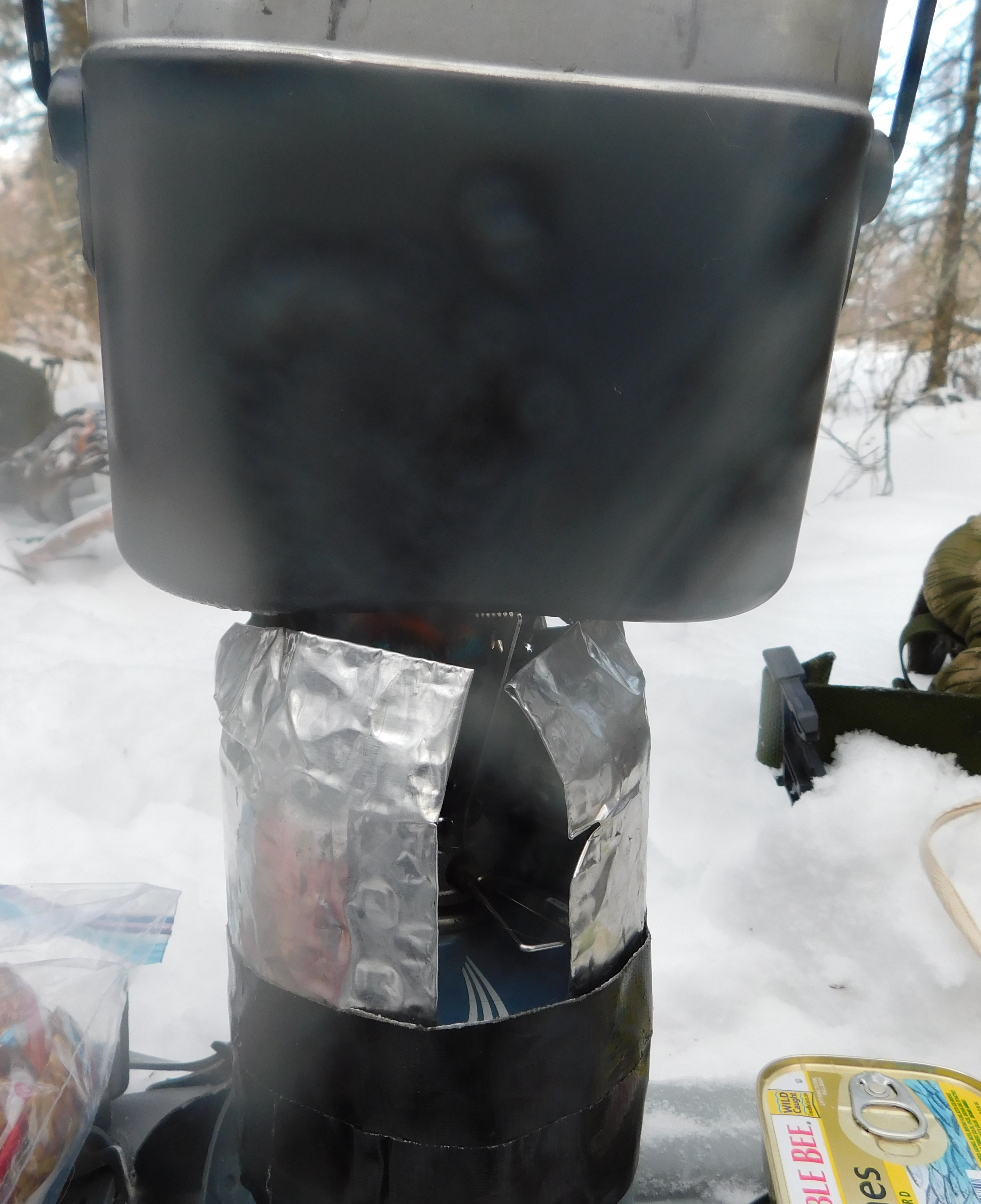 Eventually it was lunch time. We had both worked up a furious appetite, and with many miles still ahead of us we were ready for some hot food. No fire this time. We used our burner kit- or what I like to think of as our "silent sustenance readiness apparatuses". If you plan to evade you better have a way to warm food or water w/ as little signature as possible.
I was ready to mix up some of my "tasty tasty" Ramen and pulled pork ass combo.I utilized my heat shield on my burner. I tore it on the bottle and simply slide it into place when I cook. It slides back down when not in use and is super easy to stow when Im done. Using this shield cut the cooking time by a third when compared to Bears burner, as we started at nearly the same time. This shield idea is nothing new. Ive used it for years. I think around 4 or 5 years. I may have  mentioned it in the past- I really cannot remember at the moment. The entire idea of a shield is not new but the idea of having it stored around a bottle was something Ive never seen before. It works amazingly well to conserve heat and fuel. Bear immediately wanted to use this idea for himself and that is what this is about- Learning.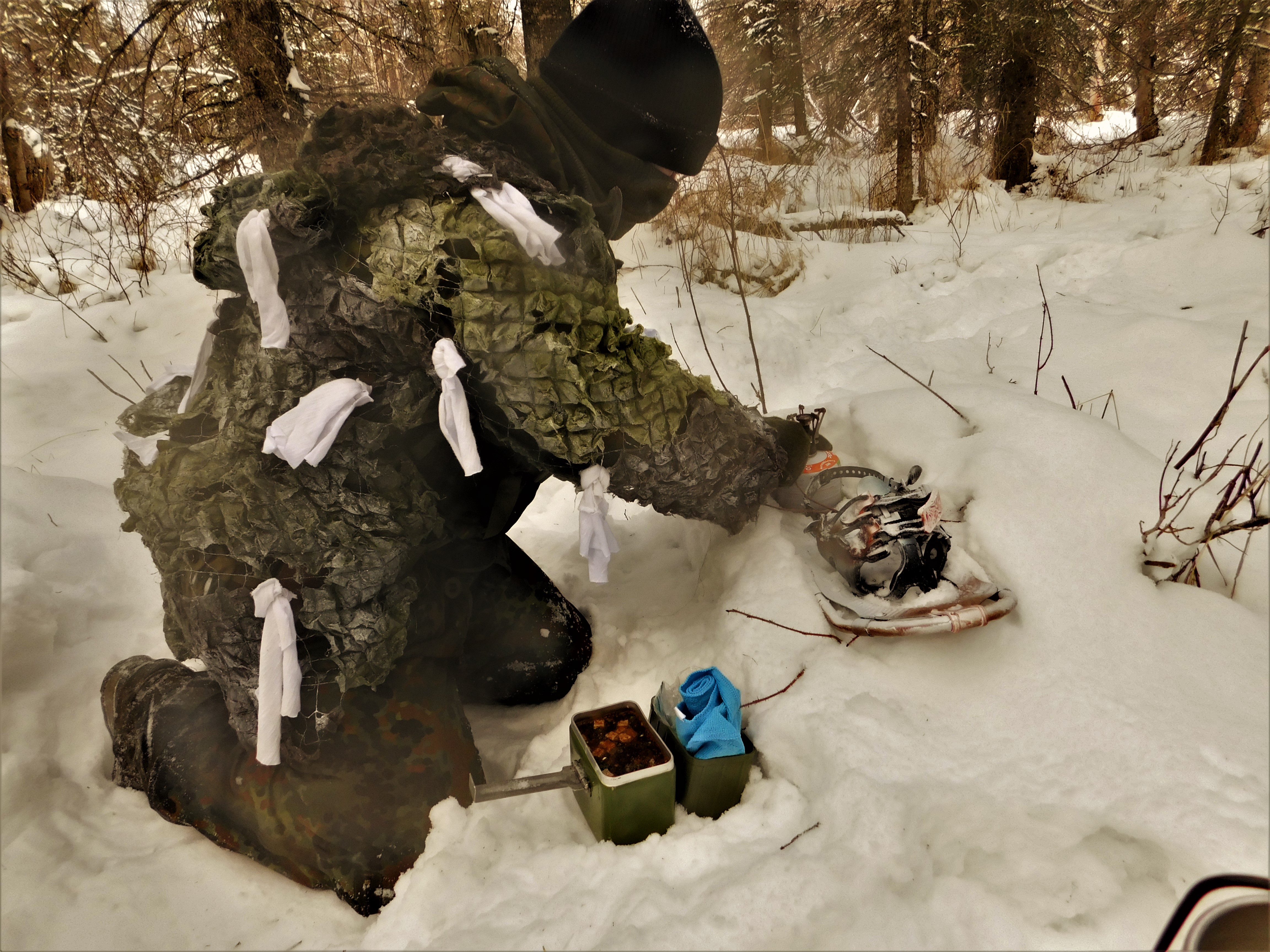 Bear ready to suck done his lunch.. However thats is not the entire point of this picture. Whats is, and will escape most readers at first glance is that Bear is still wearing his camo, and his webbing under his werewolf suit. This is of his own accord and a testament to his prior training long before he came to Alaska. This was not mentioned by me as a standard practice of Evasion Survival Alaska. His readiness has been top tier exemplary when he arrived, and to be honest shined a light on a few of my bad habits i have let creep in over the years. Its refreshing and revitalizing. Not just to have such commitment around me but to give me a nudge back on course after so many recent pitfalls over the past couple years. This readiness and commitment is something I have tried to send home with nearly everyone I have ever trained with, but you cannot get a tempo with ppl who do not want to keep pace with the preset training theme of a group. Bear has come prepared. Now If i can just get him to ditch the black hat.. haha ;-)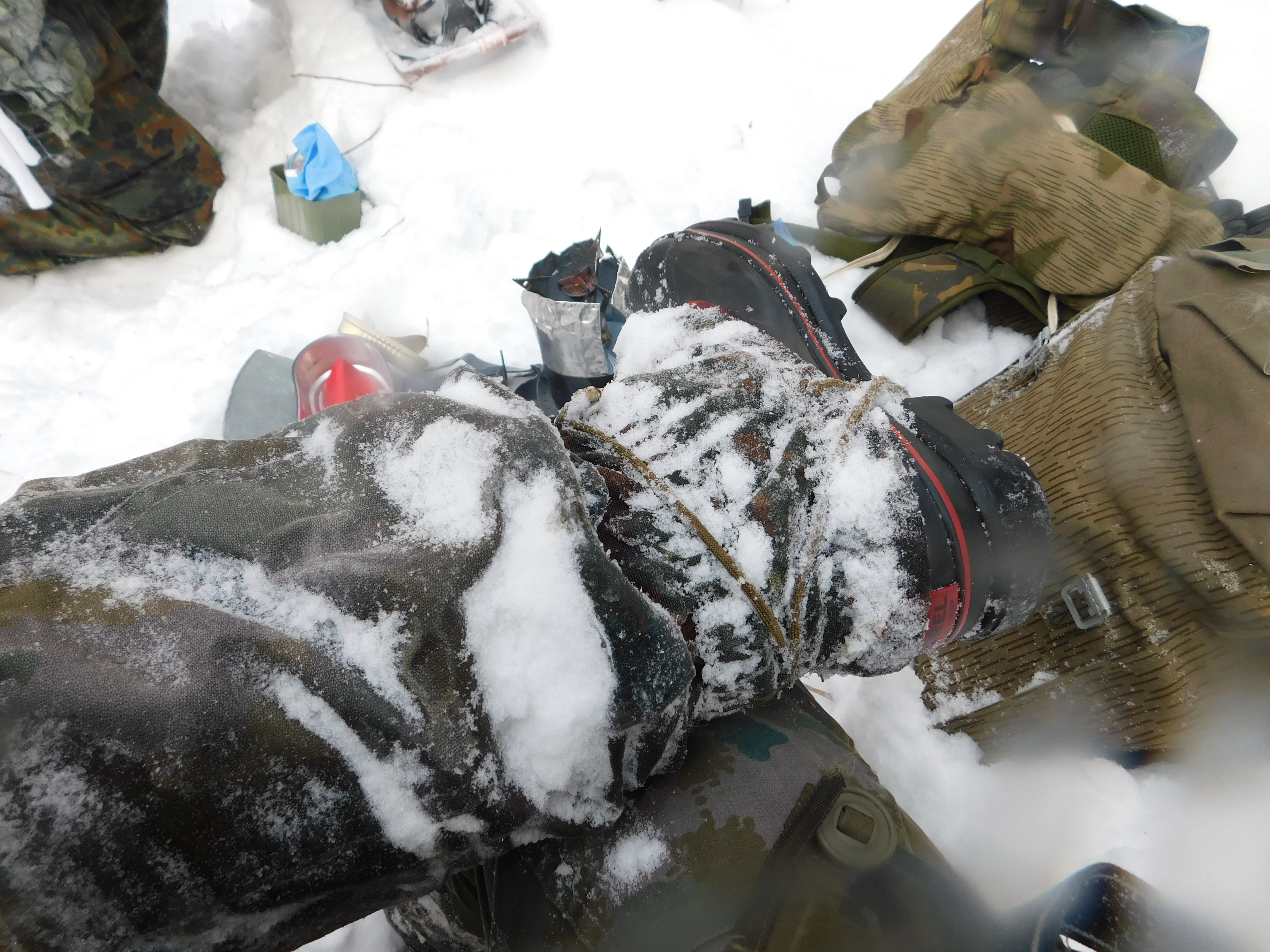 My leg frozen solid on the outside. it was quite a surprise. It was a kin to a panel of wood without exaggeration.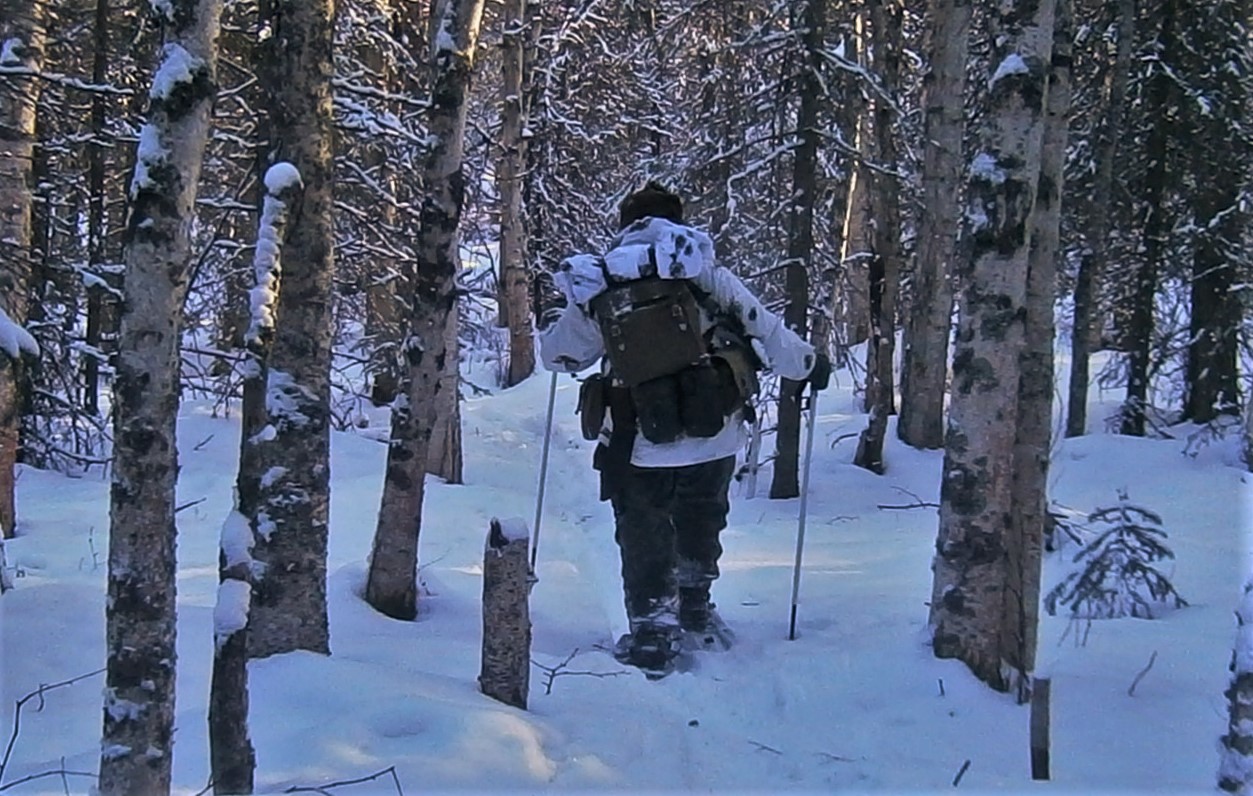 Lunch was done.. roll out time..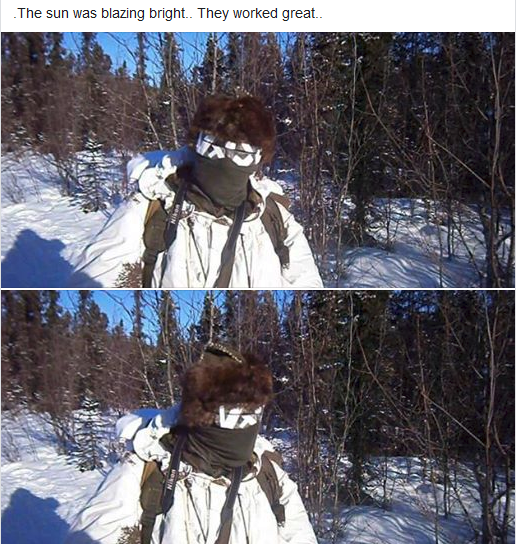 After lunch we eventually made if from the forest to the the open areas of the frozen marsh and swamps. The sun was blazing at this point. We had to seriously pace our movement as it was getting easier to over heat regardless of the ass bite cold temperature we were operating in. It was so bright i had the opportunity to use my homemade sunglasses one more. I made these last year and they worked great. Ive since added some camo to them as well. The homemade cap and homemade eye protection gave me a comforting sense of self reliance just knowing they were created by my hands and worked as intended.
We stomped snow for hours and hours. I think we got back 10 hours later. All in all we slayed 8 miles. Thats strait measured miles and measured on the bases of flat ground. It was not measured by taking in account the deep snow, with snow-shoes, heavy boots, heavy kit and terrain. All in all i bet we killed 20 miles worth of calories and engery. In the end leg we cut across frozen bogs catching some old ski tracks and following them for a few miles. We both were doing great but we both could feel the days expulsion of energy was going to meet a reckoning soon.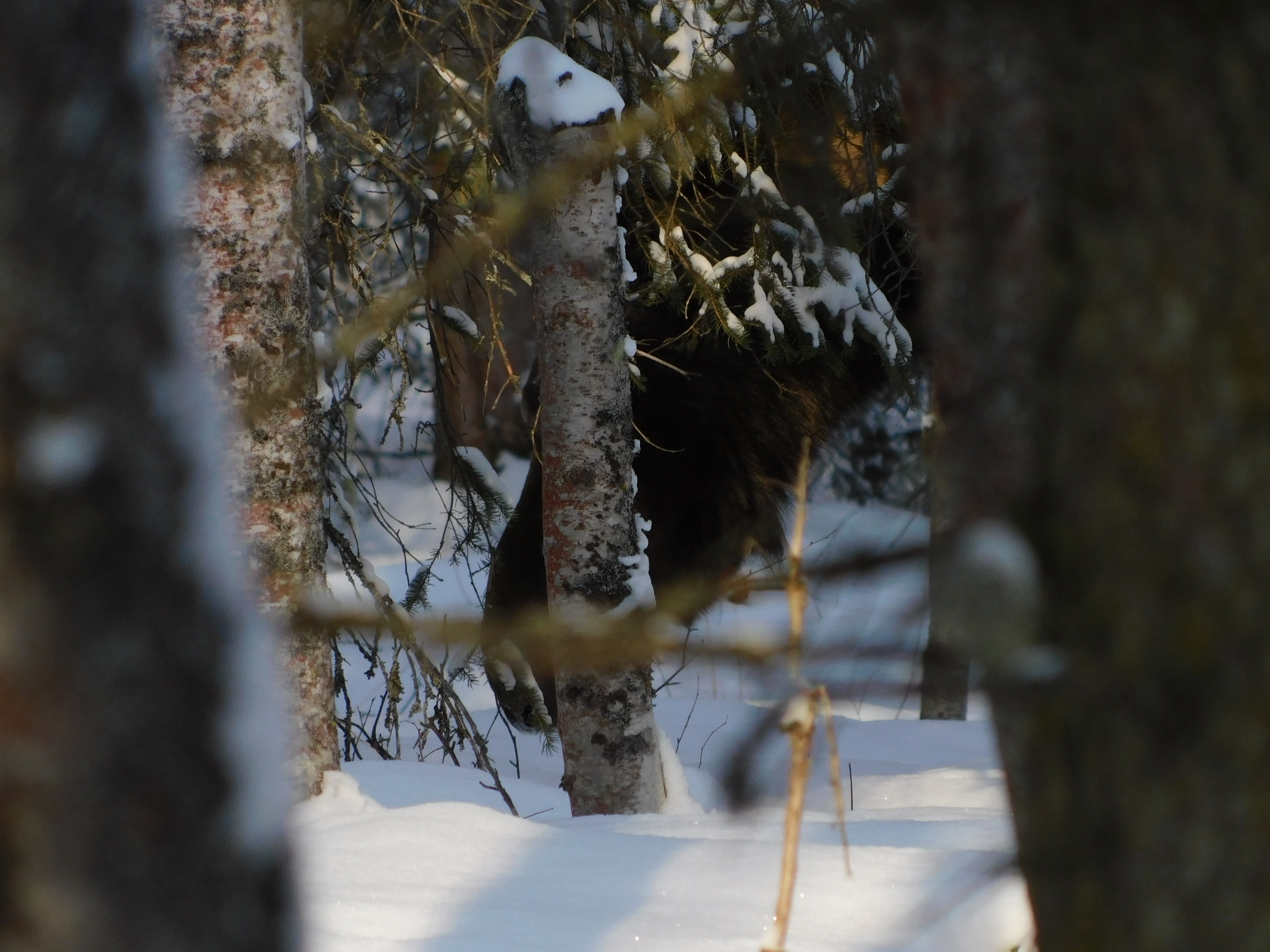 On the way back we were about a mile or so before we were back at the utility trail to head another bit of distance to pick up and we had a bad run in with a moose. This moose had not one fuk to give that we needed to pass his immediate area. In fact he was outright defiant about it. We tried to give him a wide birth and it still didn't matter. Its a shitty feeling thinking your going to get charged and stomped by a moose with snow-shoes and kit on- You simply cannot move and fight as freely as you think you will be able to. Its impossible.. To say I felt constricted and claustrophobic was an understatement. Moose move through deep snow like a breeze over a pond. He had every advantage should he had have decided to stomp one of us. At one point he went right at Bear, stopped and just glared at him with a 'fuk you- Im gonna stomp you into the earth' look on his face. Almost like he was daring us to get any closer though we went out of our way to get away from him... I thought for sure a shot was going to be needed and at that point we were both drawn and ready as we headed in the other direction. It was no joke. He was Mr. Pissy pants and outweighed us by about 600lbs or more. I got a bit of it on video but yull have to wait for that..

Ive left the pictures below quite large so to give the reader of better view of what Kit we took that day..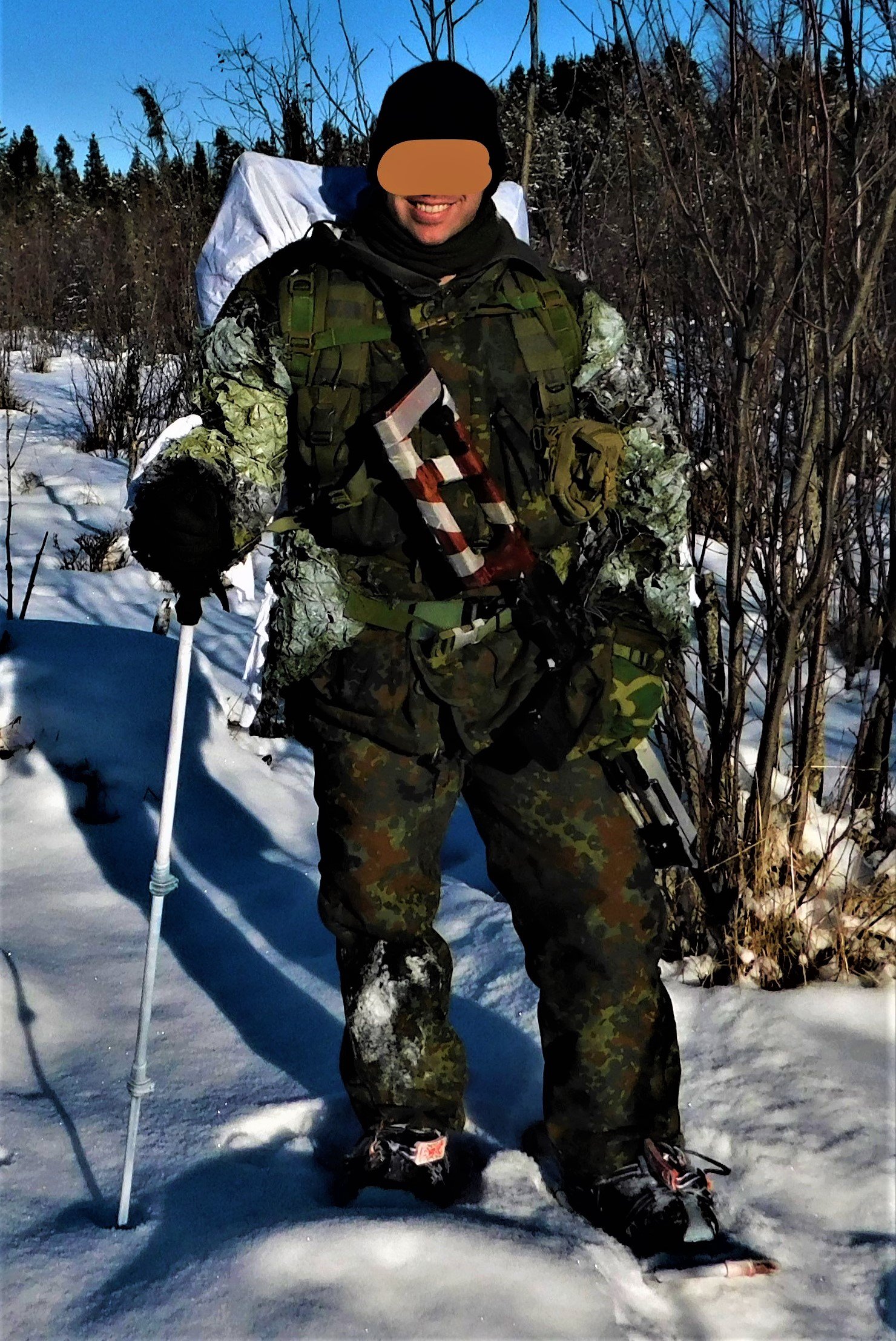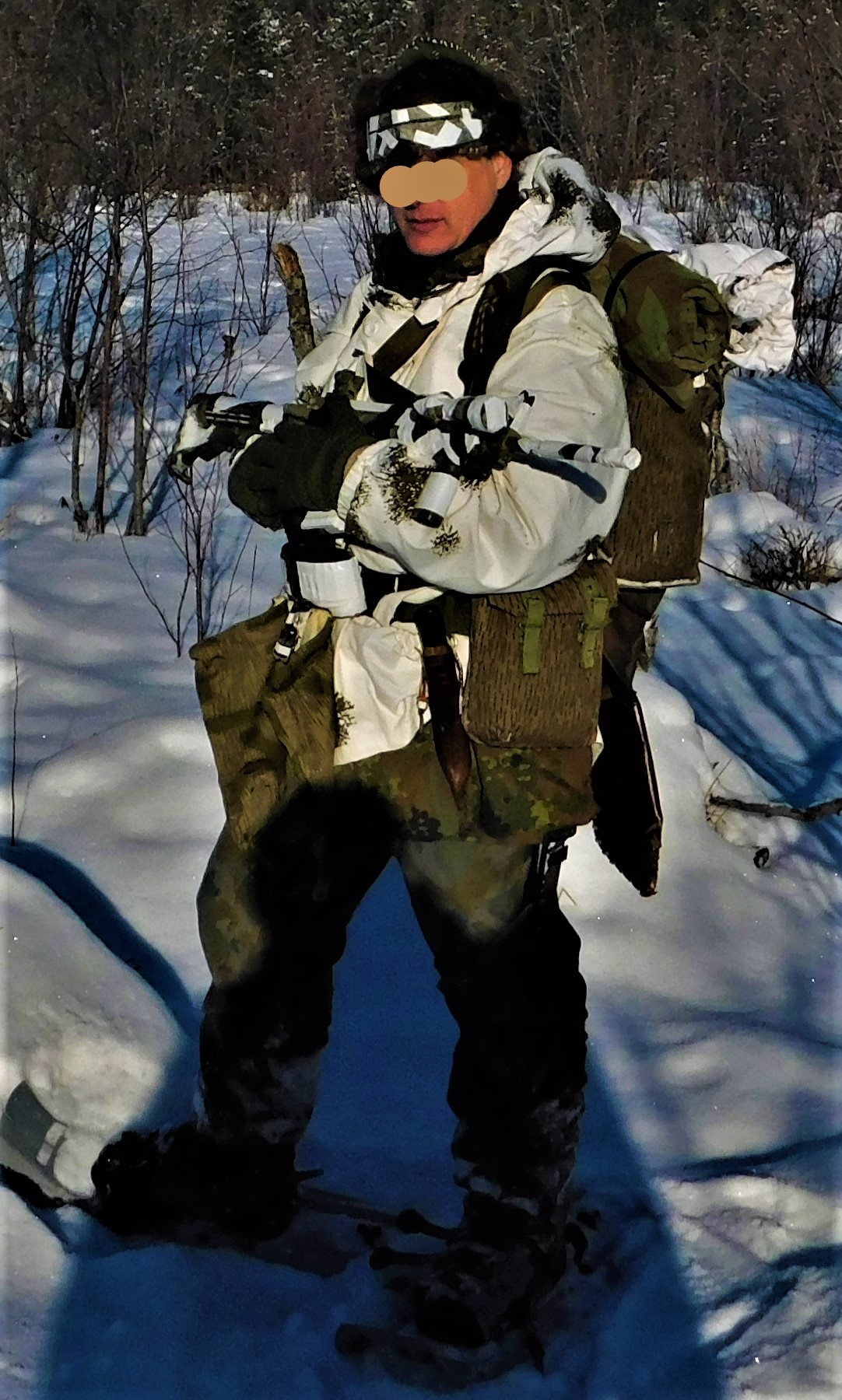 The day drill was a complete and total sucess regardless of the change of plan and circumstances we were handed. We adapted and both gained valuable experiences. A lot was accomplished. Not just with what we physically covered over land and with our kit, but a lot of discussion was settled on the prospect of forming a team and what we expect from it. We have decided to keep it very simple.
1* All team member must have a stocked survival smock and have it with them in all seasons and weather.
2* 308 and 9mm is the preferred caliber of the Team
3* E-tool will become a standard item for patrol kit (as we plan to get into building hides this summer and as a regular skill set)
4* Werewolf Suits will also be a standard item that is included in normal patrol kit.
A few of the mentioned above items will allow us to make better plans on the fly. Alaska ALWAYS finds a way to punch a plan in the face. No plan survives first step off in Alaska. This is fact. We also plan to do rucksack raft water crossing this summer and rope work that includes rappelling when the weather clears. However none of this will happen over night. Getting to know and trust each other better is the base of success here. Time spent out in any capacity with new people is time well spent and will show you what the future brings. Past and current behavior coupled with ones actions will usually dictate what sort of behavior and commitment a potential member brings to the table. To say that I'm satisfied with my new team mate is a sound statement. Bear comes to the table with loads of experience and motivation that is fast translating into a valuable member and training partner. This is not a militia or the military. We are both adults and the theme of what I do is not in anyway obscured. So anyone thinking they will want to join the team has had the bar set high as fuk as of now..
The video link will be posted here when Im done with it. The above picture is a slight glimpse at something new it will cover along with this days drill. I took a lot away from this drill. I want to get back into leather production/making more of my own kit and I want to start using more old kit again. I tend to learn more with older kit- and I tend to trust it more. Its no more a liability to me but mores the challenge in many ways. The up-coming video will discuss that and  also future plans for Evasion Survival Alaska. Things are changing, and I hope they keep progressing to a more prosperous future that expands training that can only be accomplished with a partner (or partners). The new guy Bear is also into sewing, leather work and making do with what he has. A very very refreshing change from past experiences..
Thank you for your time..
Ivarr Bergmann
Categories: None