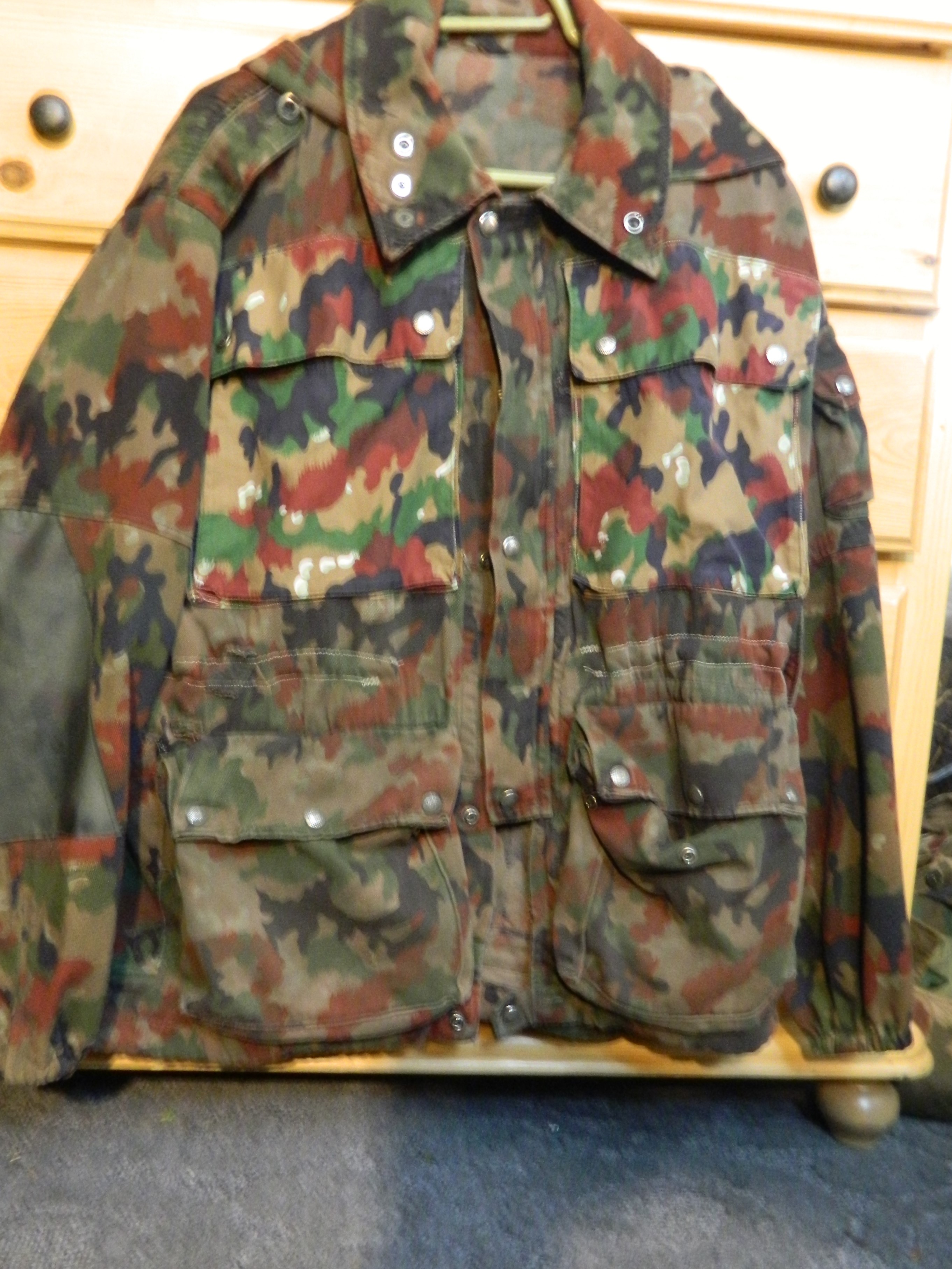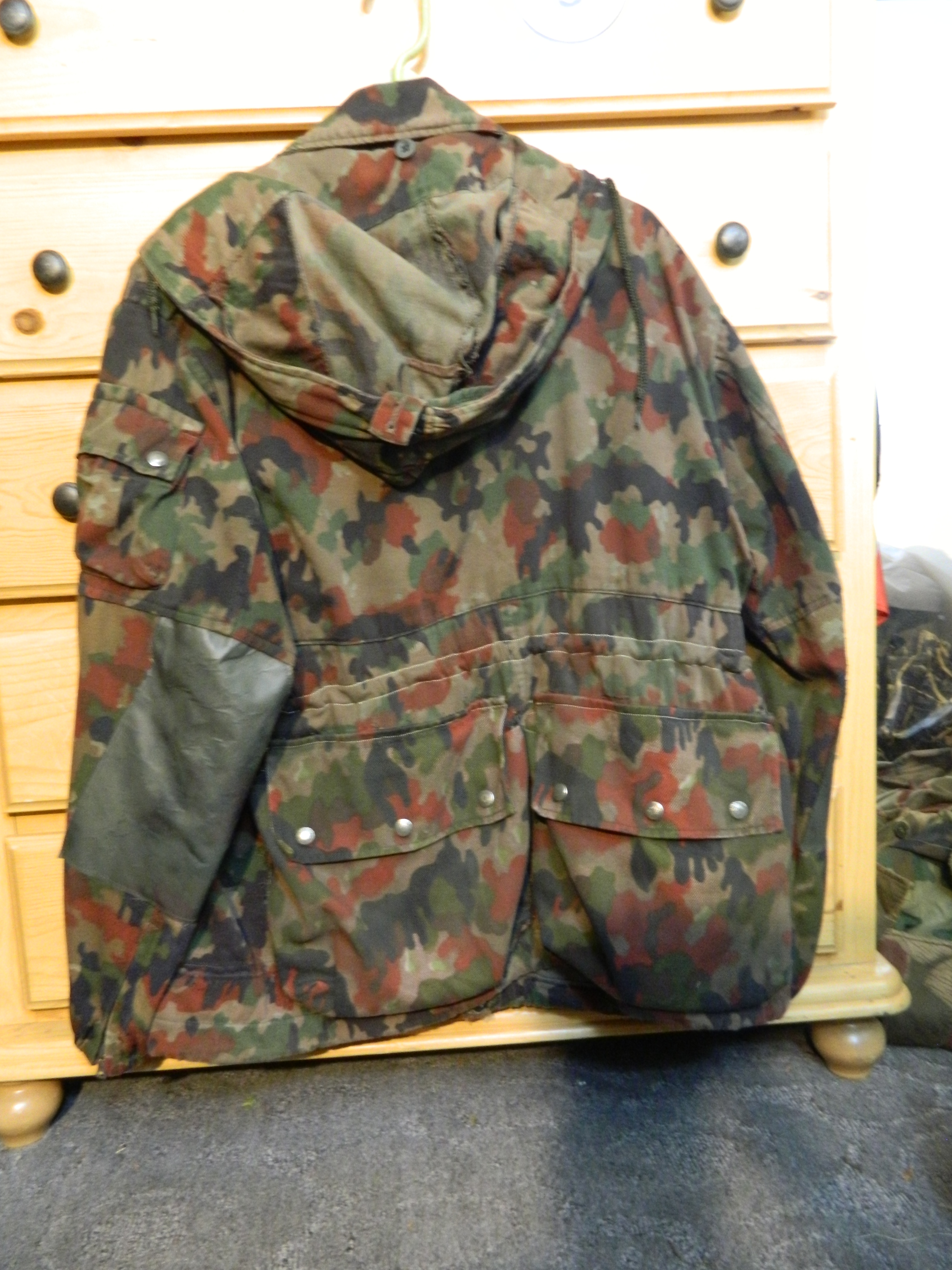 Above: A very old project- Replaced the orginal soup sandwish pockets with Liebermuster cargo pockest from Swiss Trousers.
The point of this post is not whether or not I will replace any smock, or to shine a light on anything I am using at the moment. Its simply to show you can make your own reliable kit if you want. It costs a fraction of what vendors ask for kit that is usually total shit. It doesn't have to be HSLD with all the latest BS- It just has to carry your pocket kit in an organized manner and provide a certain amount of cargo capacity should the need arise. It also has to protect you from the elements and provide appropriate CAMCON to the Evader.  Making your own kit doesn't mean you're cheap or cheating yourself. Making your own kit shows you are training and thinking outside the box of conformity trending internet bullshit.. I would take a guy that makes his own kit with me into the wilds 100x over someone who shows up with kit that looks like he watched YT and Fb ads all his life and bought what he was fed. This entire project took about 8 hours over about 2-3 days.

Its simple: When you actually use your kit-you will actually know your kit. Used kit is ALWAYS mod'ed and its always dirty. The first rule about it is that NO ONE knows what you need better then you ever will if you get out and use it. If you don't-you're just sitting in front of the computer waiting for someone to sell you solution to a problem they invented and that never even existed in the first place.. The Survival Smock is a shining example of this. Ive never seen a smock that comes as it needs to be. They always seem to be over super over engineered to the point of ridiculous stupidity, or under engineered to the point of negligence. On the over engineered end falls my two German Flecktarn-made to order for the German BW- Survival/utility smocks, and at the far end are my British s95 Rip Stop Smocks (and earlier models) that have been mod'ed properly to suit my needs. My point being that you are either adding or subtracting factory made option to get the desired performance from the garments. NOTHING comes as needed and stay that way with use for the prepared Evader who has put himself through the paces as best he can.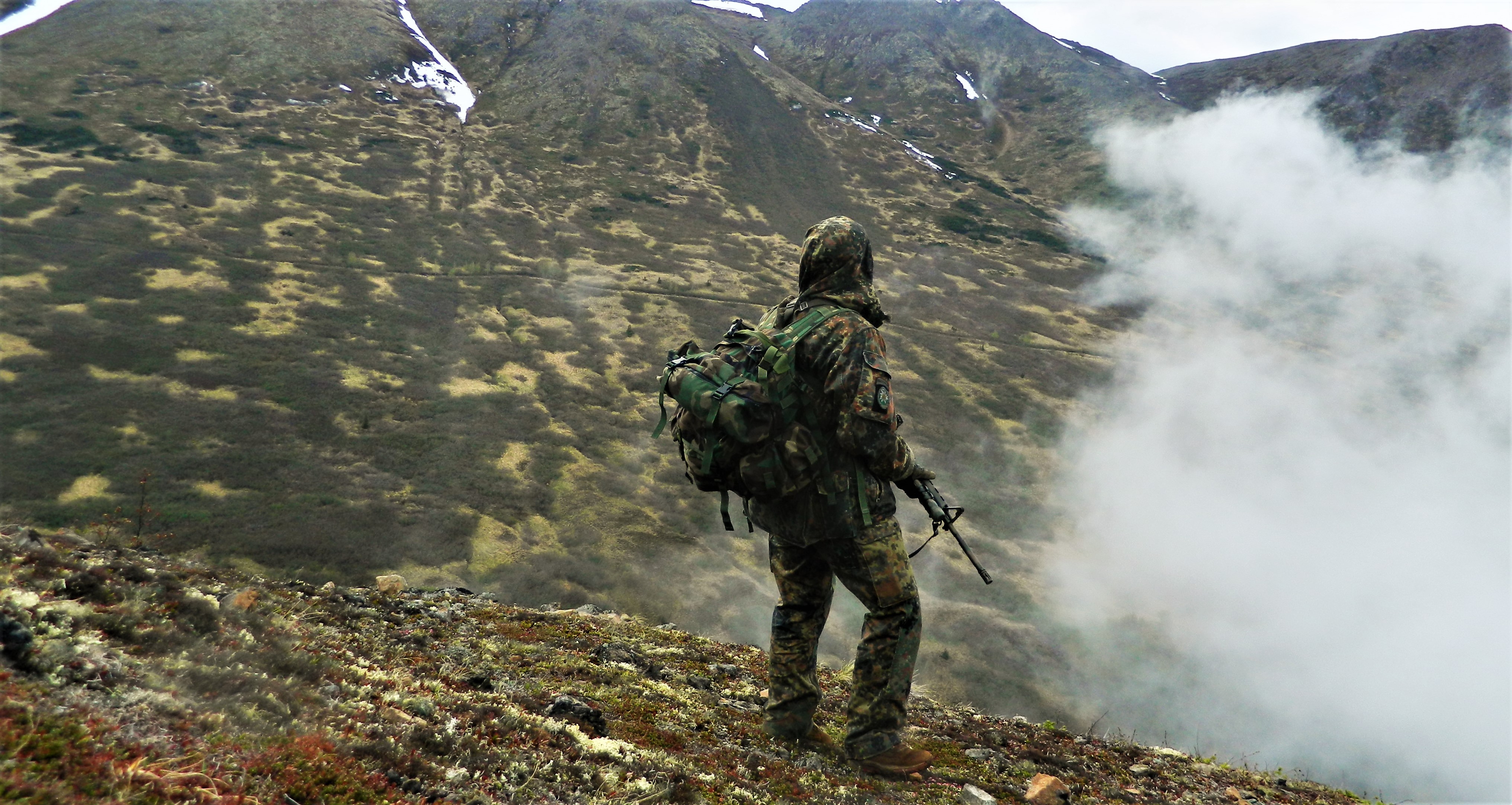 The purpose of the Survival Smock is utilitarian us and the over all organization of his/her pocket kit, and to expand pocket kit in such a way as it improves the Evaders chances of survival when he is left with just the clothing on his back-figuratively and literally. From the kit its made up with, to a certain finite cargo capability that will provide the Evader with the ability to stay mobile with as little burden as possible. Like I spoke of in one of my vids with the Rucksack load compliment- You need room for items you have scavenged and foraged, and your kit needs to be orginized and at the ready to be used without a uneeded burden or liability being created. The same rule applies for the Survival Smock.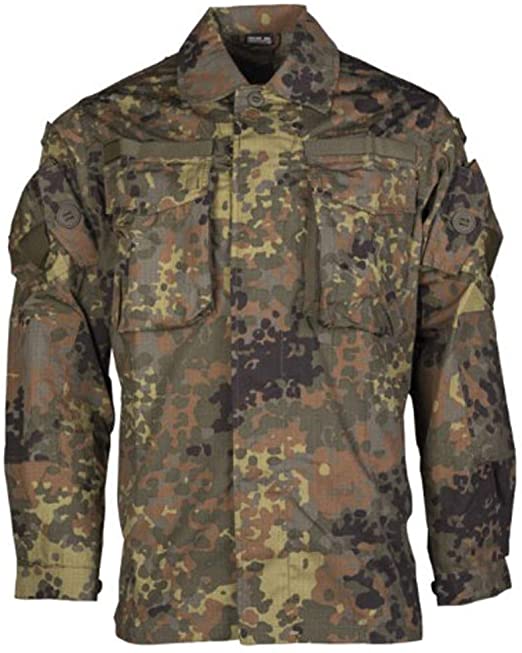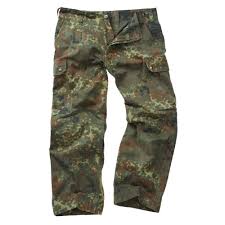 During this time of the Chinese/CCP Virus where the Peoples Liberation Army has to date killed over 21,000 US citizens, Im, like most others staying home while I can. So with that being stated I decided to build a Survival Smock with some random items i had around the house, all being added to an existing light weight Fleck-tarn parks thus turning it into a  totally servicable Survival Smock. The two items I took from where 2 simple sets of BW Flecktarn trousers. I scavenged the belt loops and pockets from both. Second was a specialty type Flecktarn shirt I got in the wrong size and tried to make work but was unsuccessful making the shirt serviceable...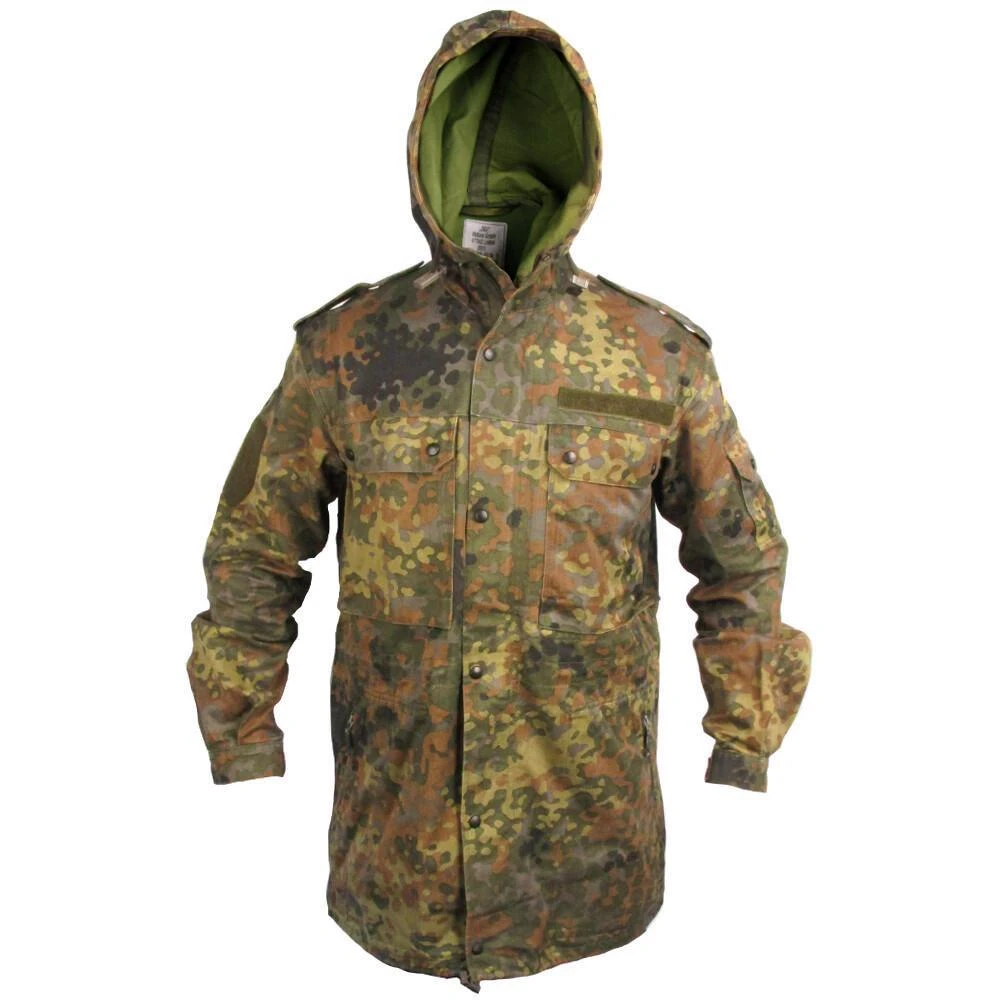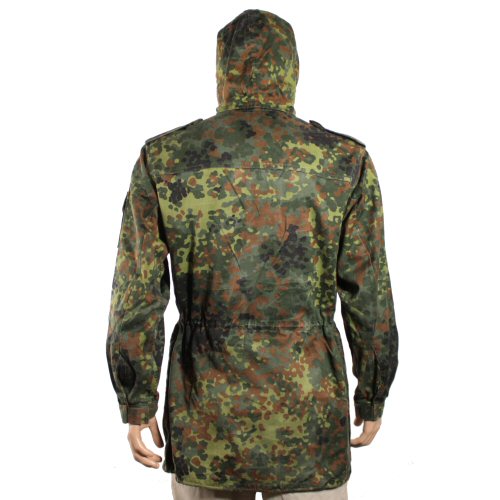 The base for the homemade Survival Smock was just a simple 4 pocket BW issue Flecktarn light weight parka. As is these parka are made for the relatively light winters of Europe. They boast 4 simple pockets and one small shoulder pocket. These mods were super easy and simple to apply and the end results speak for themselves, as you will see below. YOU DO NOT NEED TO SPEND HUNDREDS ON A SURVIVAL SMOCK. The "Poor Mans Survival Smock" approach will work just fine. You can make your own for a fraction of the cost. These parks are no thicker in weave then a temperate weight US BDU top. So they are appropriate for hot weather and cold weather use if one desired. The are single layer construction throughout so this means no redundant layers to trap unnecessary body heat. This is excellent for hot weather use and releasing heat, and equally for winter use with the addition of a liner and other layers its appropriate for winter use as well. This one is, of course, over sized to promote my rules about trapping heat and letting air flow to stay cooler in the summer. My S95s and my German ones all have redundant layering through out and this is IMO a bad thing.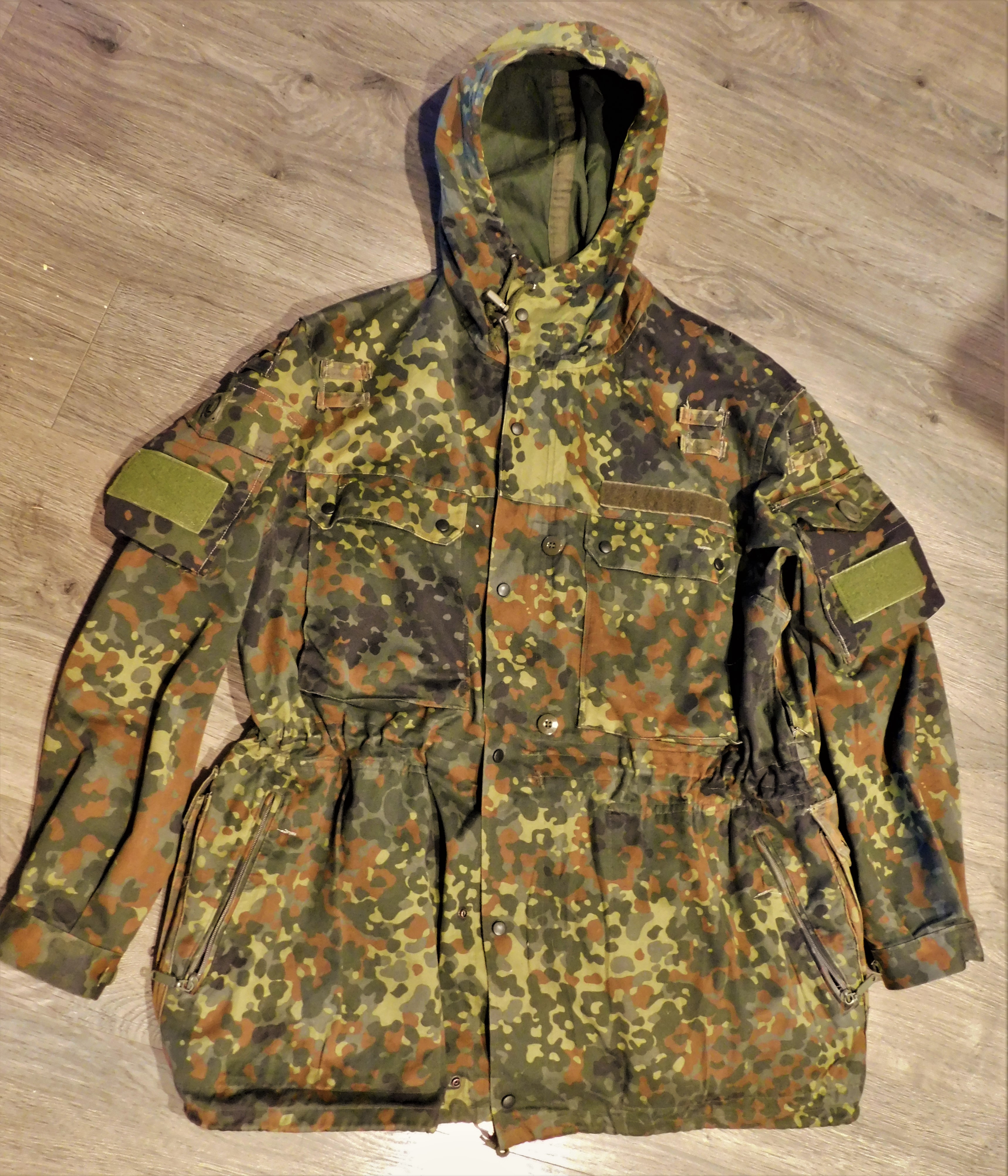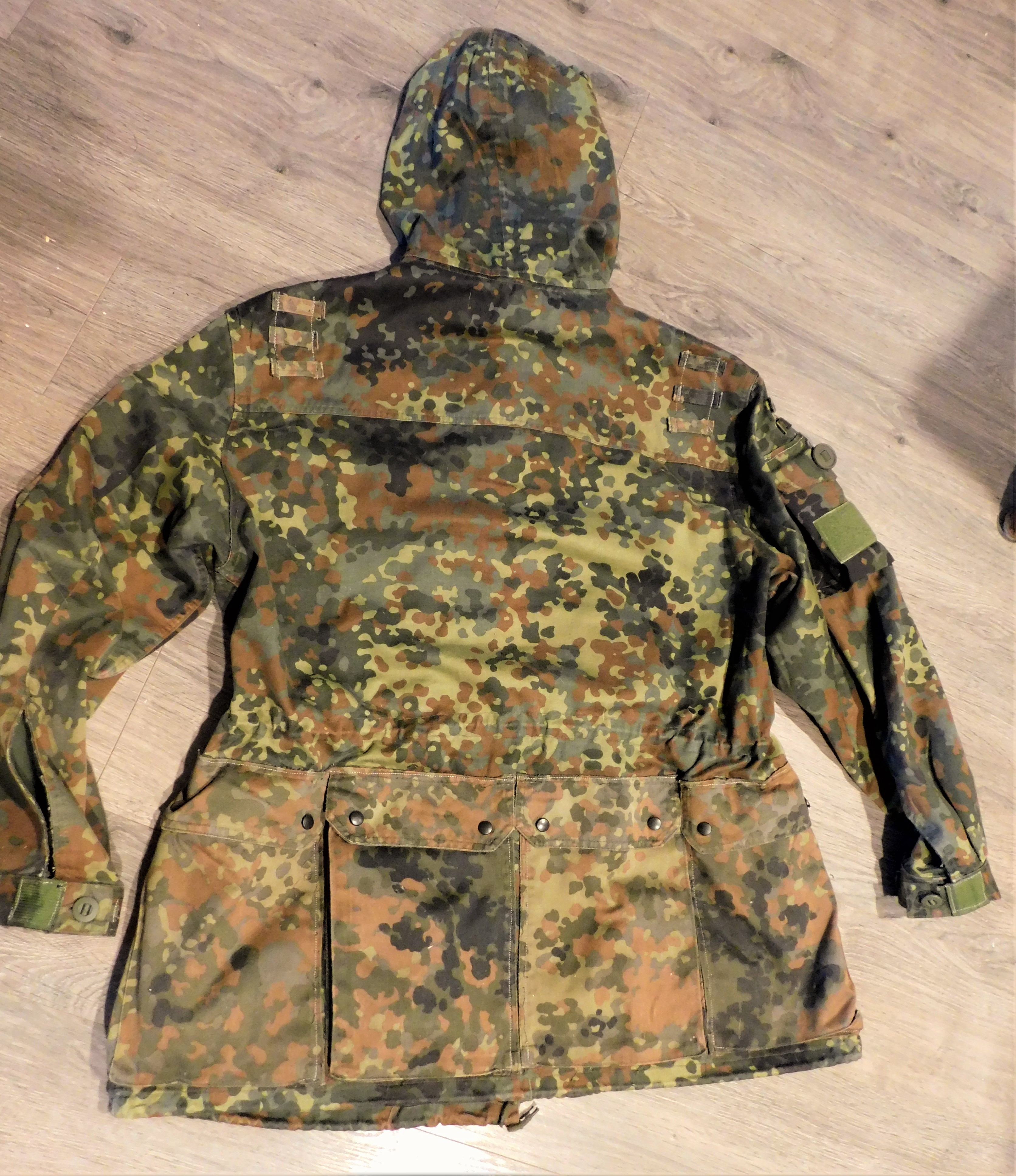 Some of the mods are very obvious, and other, not so much. I added foliage loops around the front and back of the shoulders and added two to the upper arms using the belt loops from the trousers. I added the arm pockets from the flecktarn shirt, and last but not least- I used all 4 leg pockets from the trousers to make the rear cargo pockets. Whats more I that inside the right leg or each flecktarn trousers pocket there is a small pocket inside used for a pocket knife. I removed this pocket as well and sewed them inside the cargo pocket, on either side, Thus now I have a small interior pocket on each side. One housing my small lock-blade and the other housing my Multool.. I will show these and other small mods below.
All pockets throughout the Survival Smock have a dummy cord anchor points for its respective cargo. I was careful not to add too many option and negate the purpose of the smock. I didn't want to have too much unneeded cargo area thus adding material/weight to the smock. Weight adds up fast with a smock. Experience will show you what you need.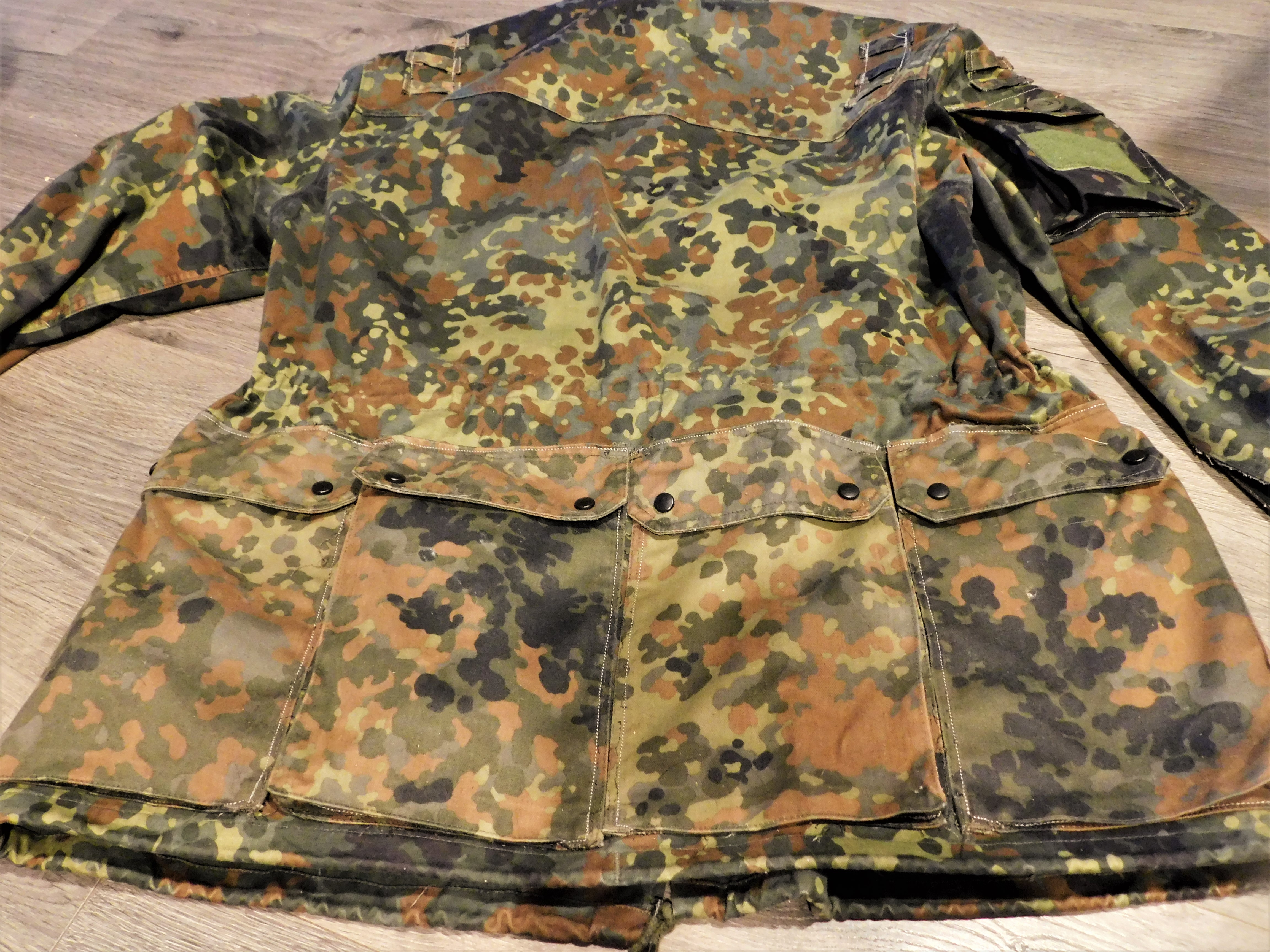 As of now the pockets just have the original metal snaps. I have confidence in them but I will be adding some secondary buttons in the even the snaps fail Howere in all my years Ive seen only two snaps ever fail.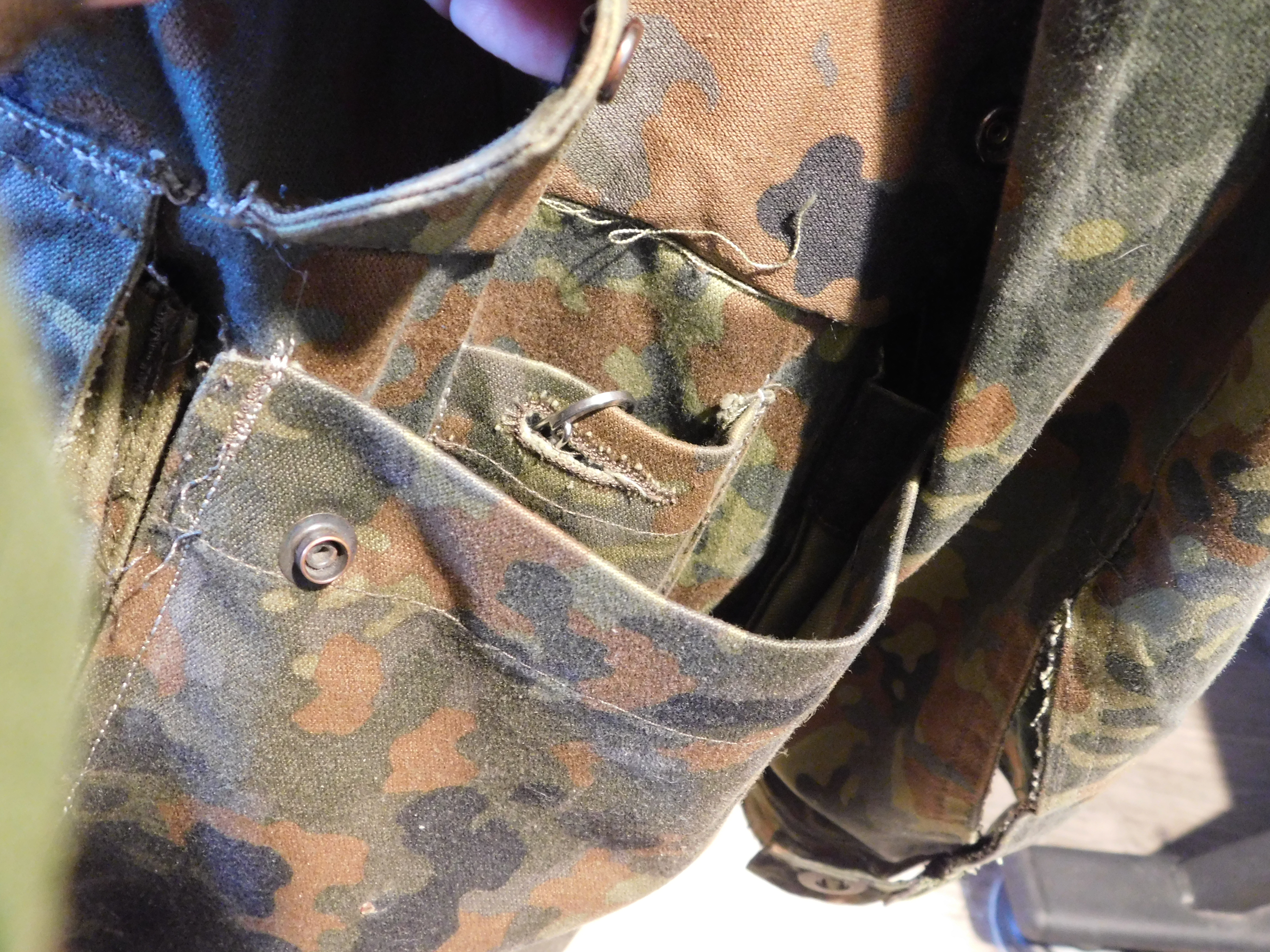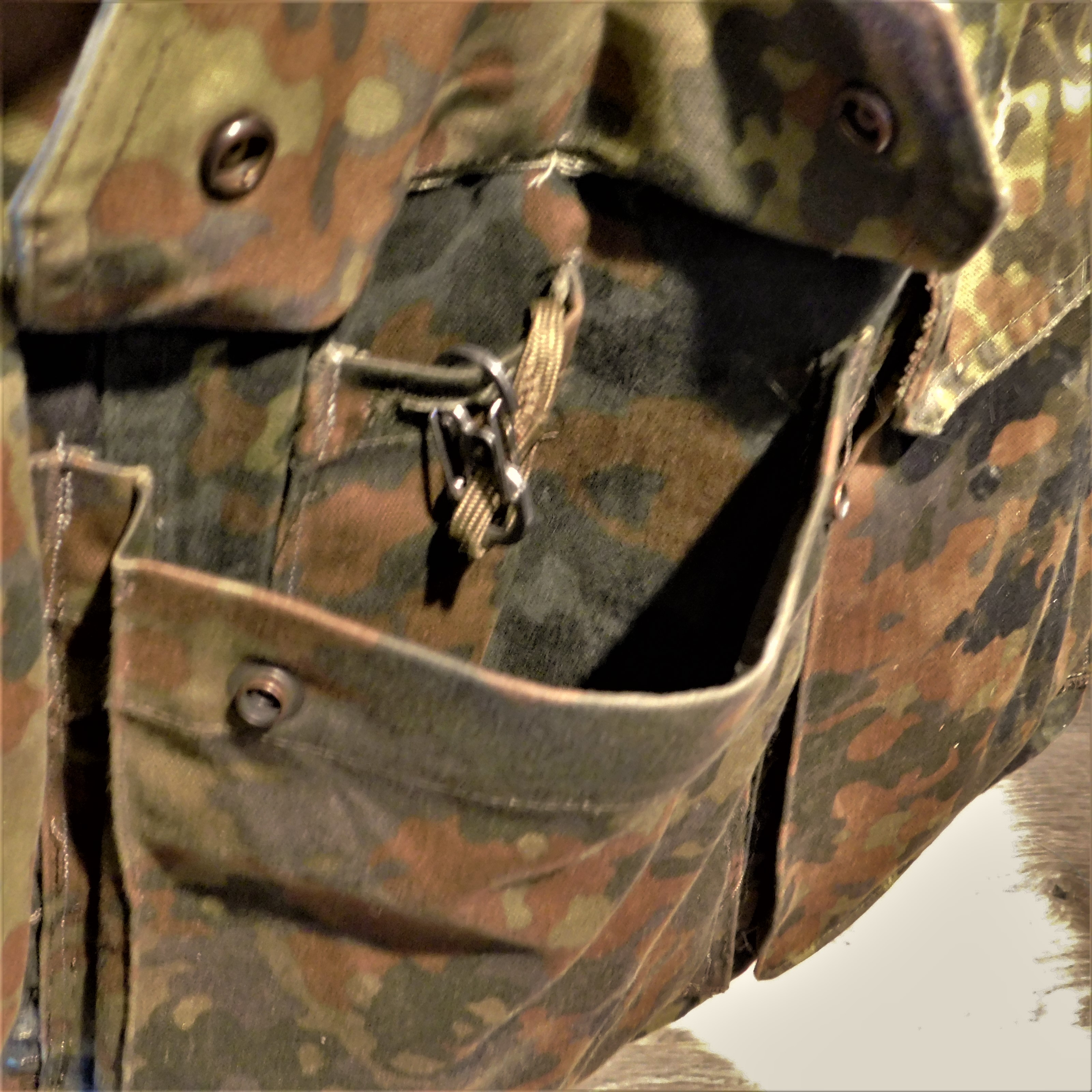 Above are the pockets within the pockets. These are a mod I did on my first homemade Survival Smock years ago and the mod proved super helpful in keeping things organized inside the main pocket.. Ive used them also to store water filters, spare mags for the pistol and Emergency flares. Here they house a Milti-Tool and my pocket knife on either side of the smock. The pocket knife and 550 cord are in the same pocket but separated. This helps keep the knife from getting tangled in the 550 making for smooth use, easy access and 550 cord at the ready with the knife and 550 stored in the same spot.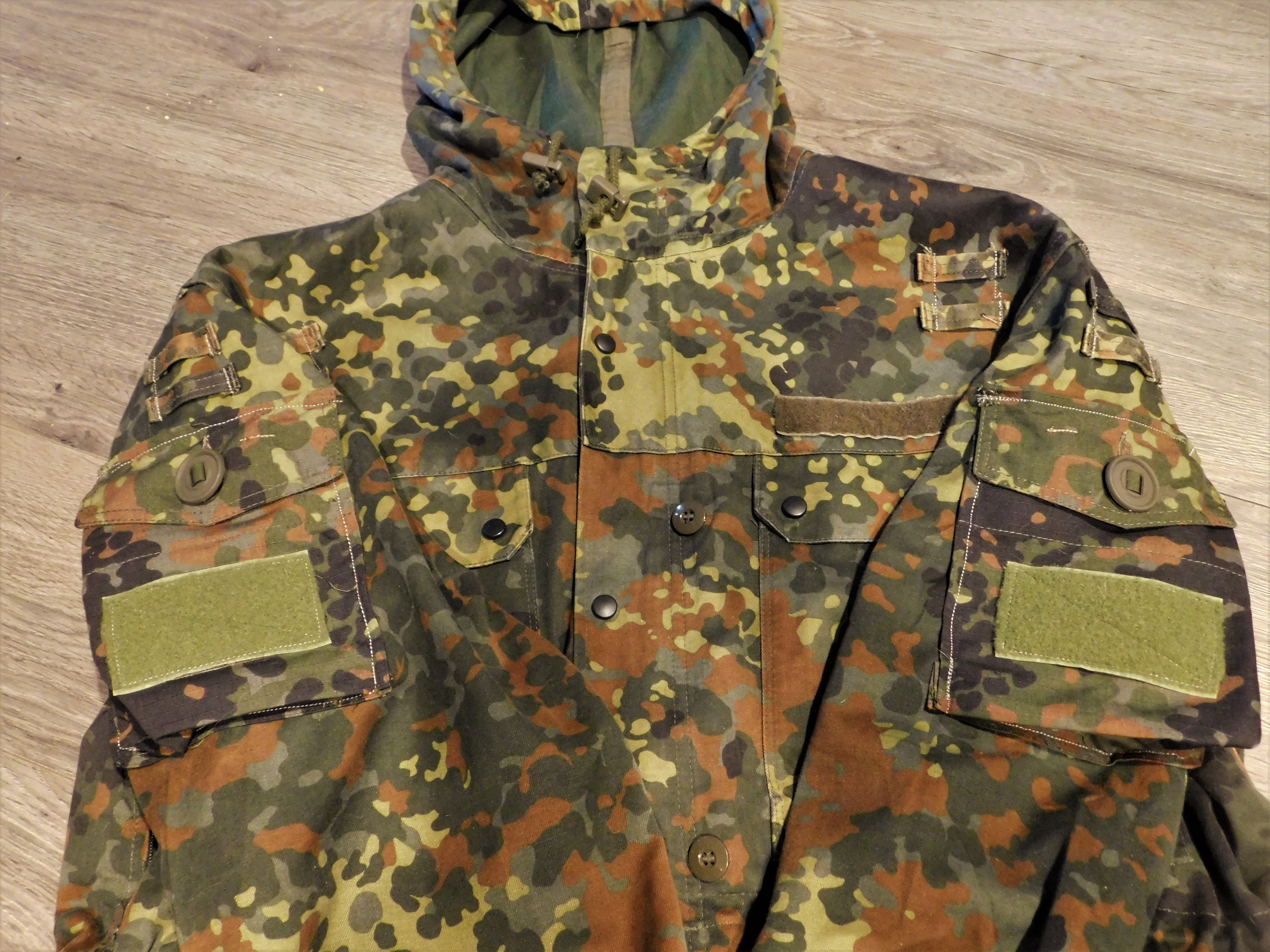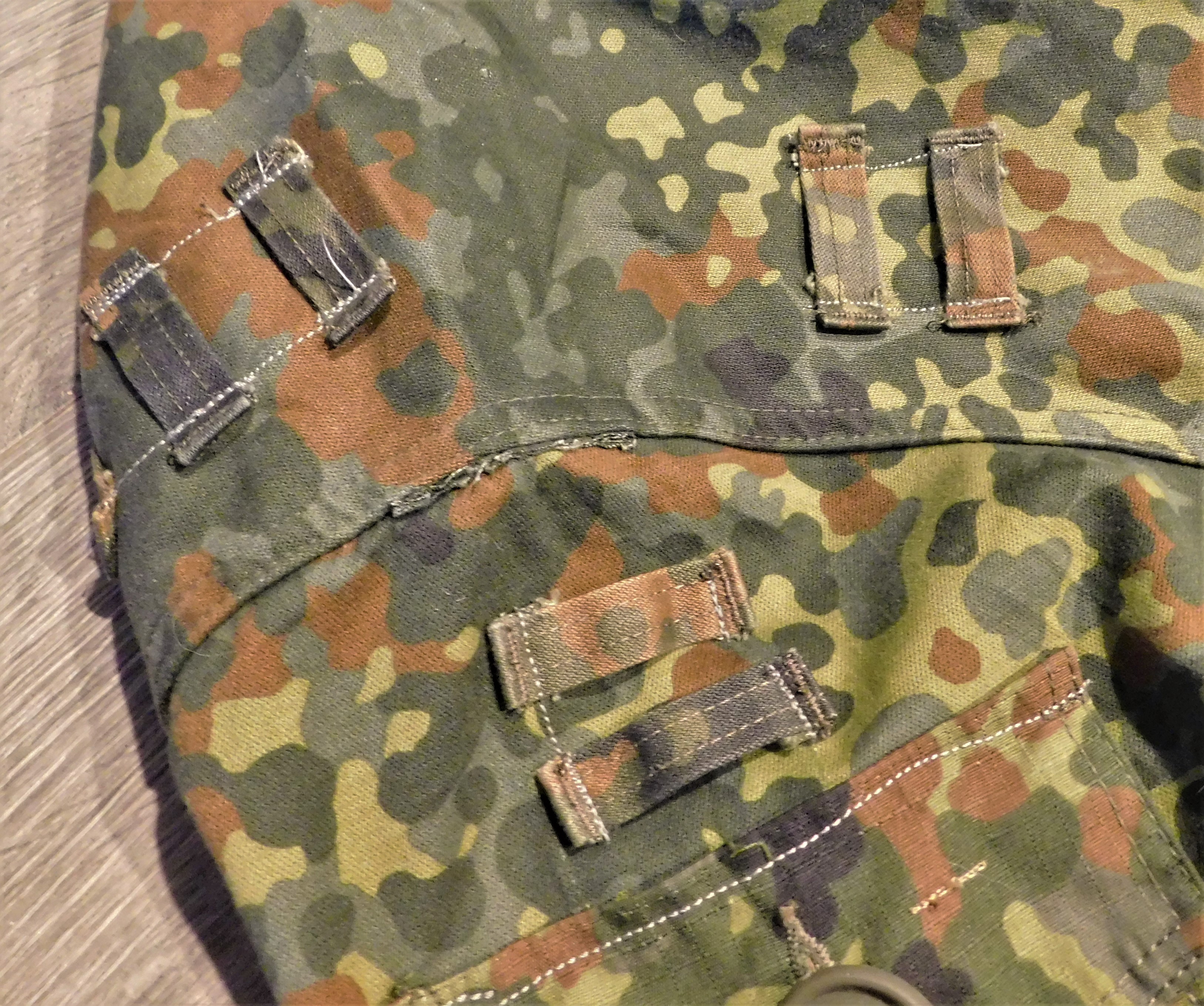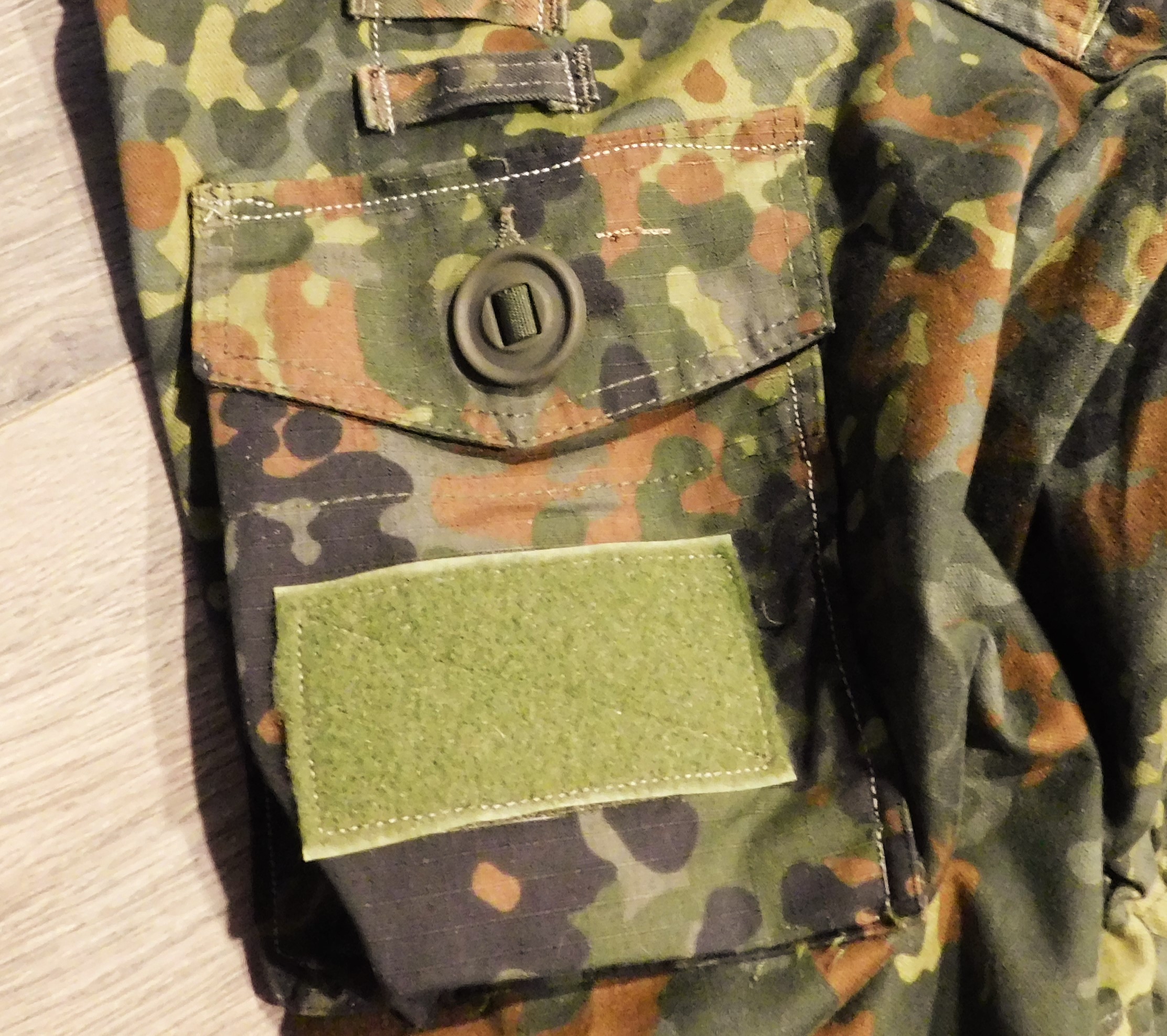 Im not a huge fan of arm pockets. The tend to get in the way of the Rucksack straps when taking it on and off. However in this case I made it a point to put them on. They are harvested from the specialist Flecktarn blouse from above. With the absence of lower front bellowed cargo pockets I needed the room.  The pockets themselves are not very invasive, and are sort of the small side of shoulder pockets. I added the Velcro and then simply sewed them on- Though its not easy getting the machine inside the arm- you can see a few mistakes, but the pockets are  solid and will not fail. You can see where I also added the mentions rows of camo foliage loops in the same area. As mentioned above there are made from belt loops on the Flecktarn trousers.The lower front zipper pockets remain and are unchanged but the cargo capacity is no that great with these. I did install dummy cord anchor loops in both. There is a GPS and a Map Compass either. I was able to harvest 16 in all. The negation of front lower bellowed pockets frees up room and clutter when the need to go prone presents itself. The tread may appear white but its in fact a grey. Its simply a hard contrast against the dark camo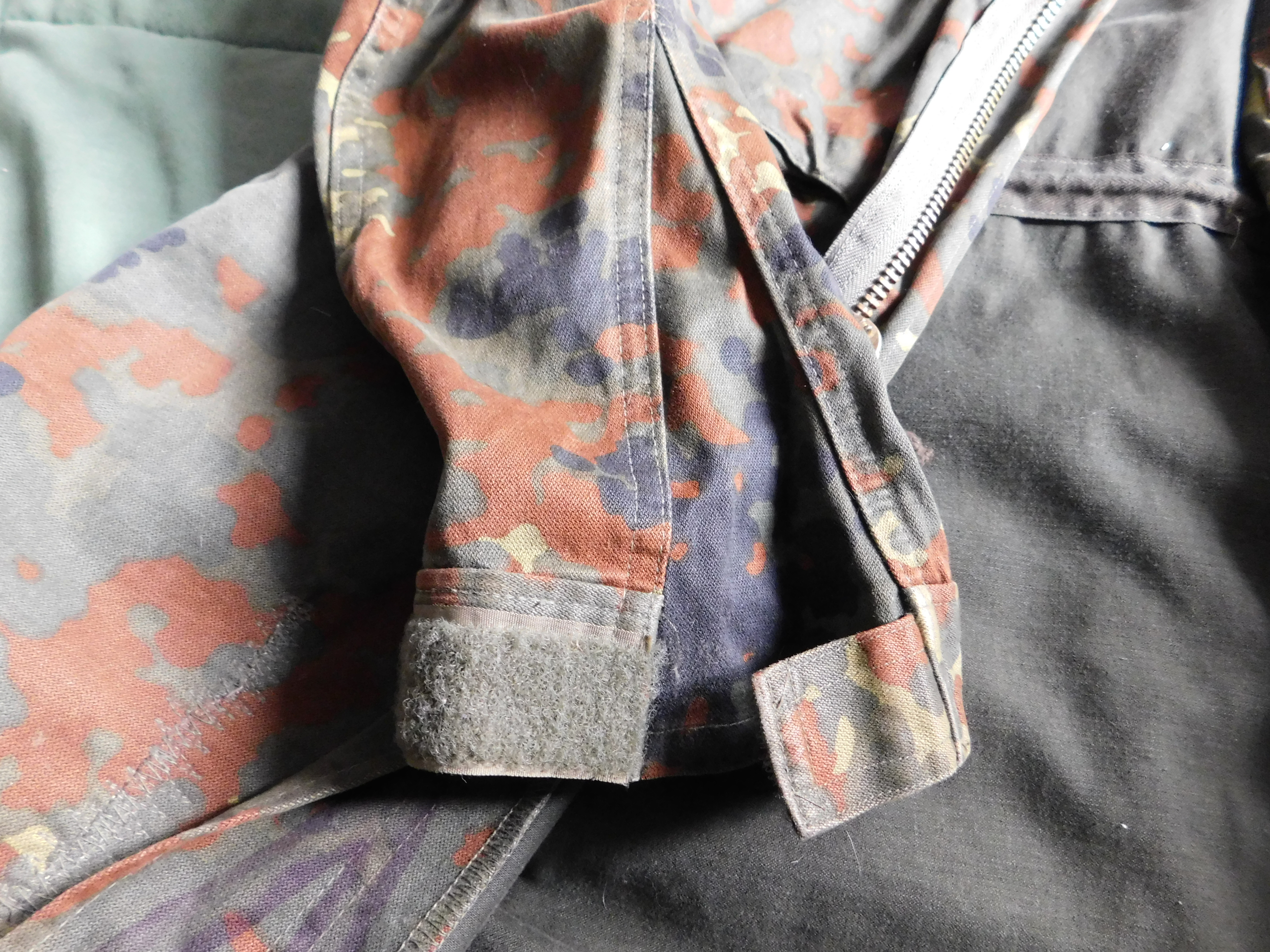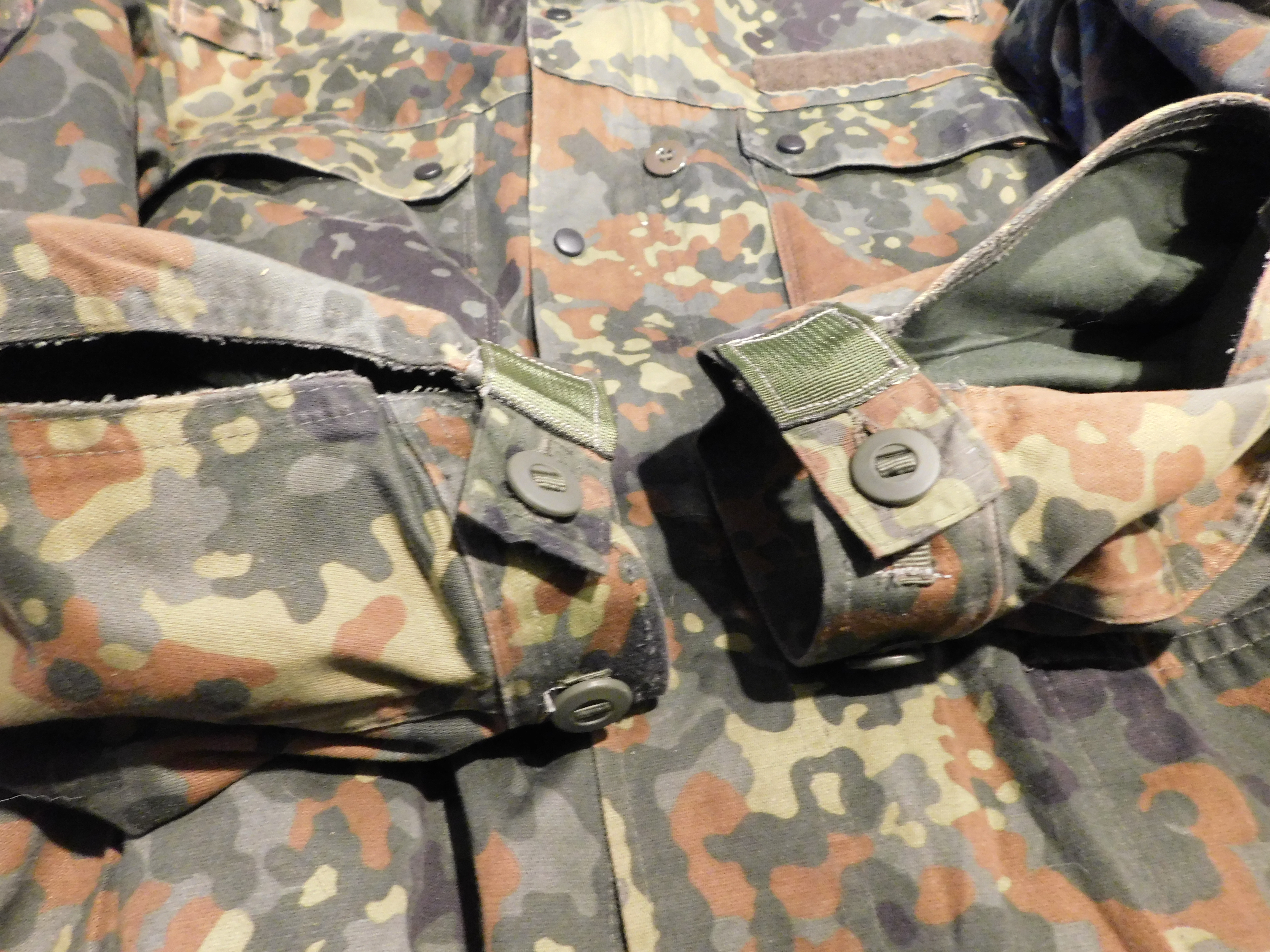 One of the other areas I fixed was the wrists cuffs. Though I have no issue with Velcro I wanted to replace them with buttons and open the cuff up to ventilation. These buttons and the button hole tabs were both harvested from the Specialist Flecky shirt. I added a square nylon webbing to shore up the tab. For whatever reason my machine was not liking the cuffs and I didn't trust the seems it produces. I also removes the gusset at the writs opening it up for ventilation and easy of rolling  up the sleeves in hot weather, when appropriate to do so. However how it was manufactures it made rolling up very difficult and uncomfortable- This open design works much better. The air flow it provides is very good. Ive already used this smock on some PT and I noticed the difference strait away. Though its not as good as the full length zippers on some smocks.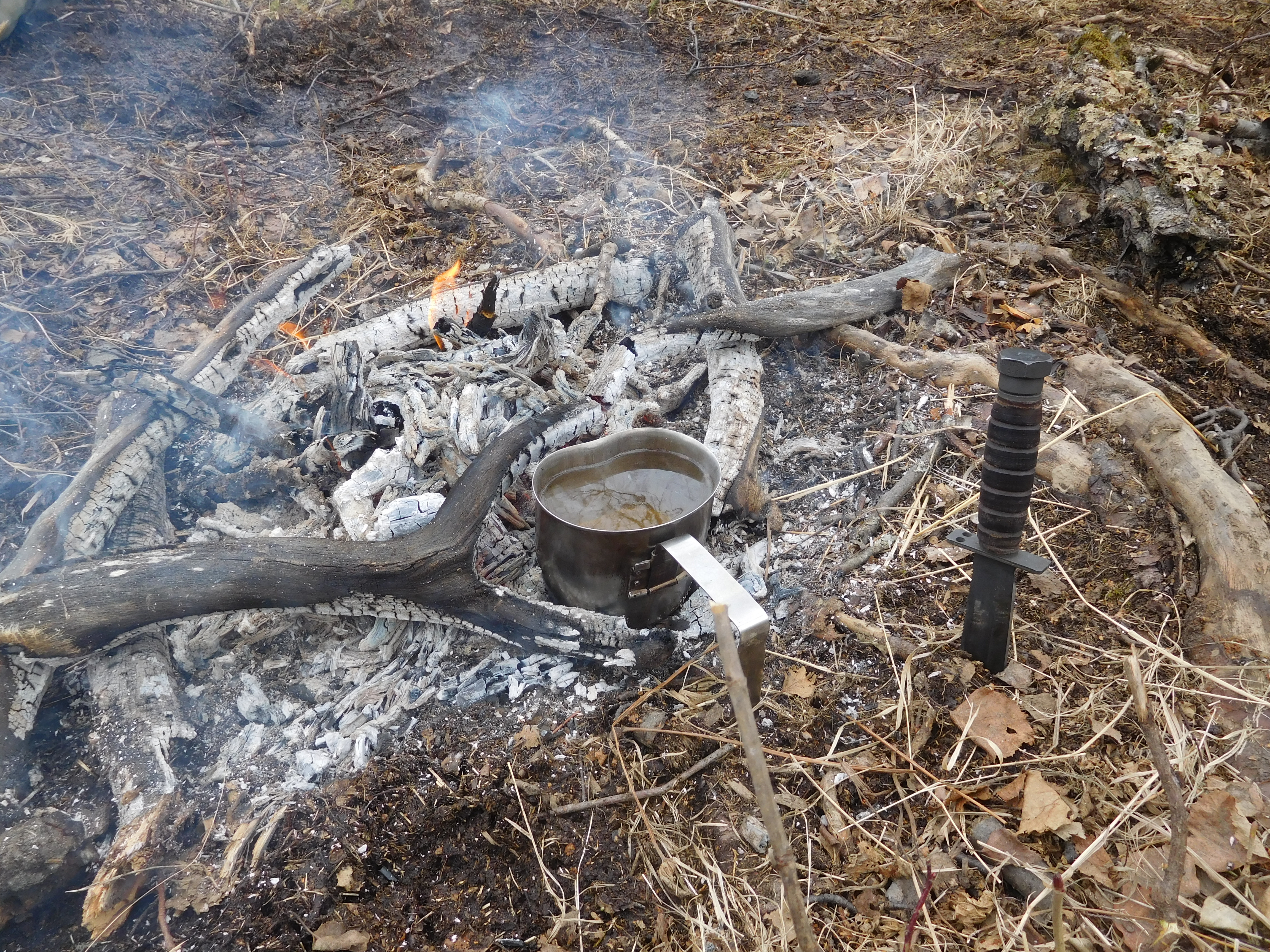 A Survival Smock shouldn't be a burden to the Evader. It shouldn't break the bank or be a season specific item. It should be a year round item that can be fattened up, or thinned down depending on the season. With some imagination, experience, proper use and some simple sewing skills you should have the ability to produce one tailored to your needs. Survival smocks are a MUST IMO. Ive tried to lighten up and get away without one. I saw liabilities open up in my plans, especially my fall back plans. IMO its as important as a god set of boots are.
Some helpful links:
*Kit Page Here:
https://www.ivarr-bergmann.com/rural-evasion-kit-set-up

Vids:

*Poor Mans Survival Smock
https://youtu.be/0rZ7XCUmA6Q
*Survival Smock Dummy Cords
https://youtu.be/85zdeJYYdQU
*Survival Smock Content
https://youtu.be/xdnoDO0UF24
Thank you for your time.. Try not to buy CHINA made goods if you can.. and if you must try to get it second hand... Starve the filthy red into submission..

Be safe and Stay Healthy!
Ivarr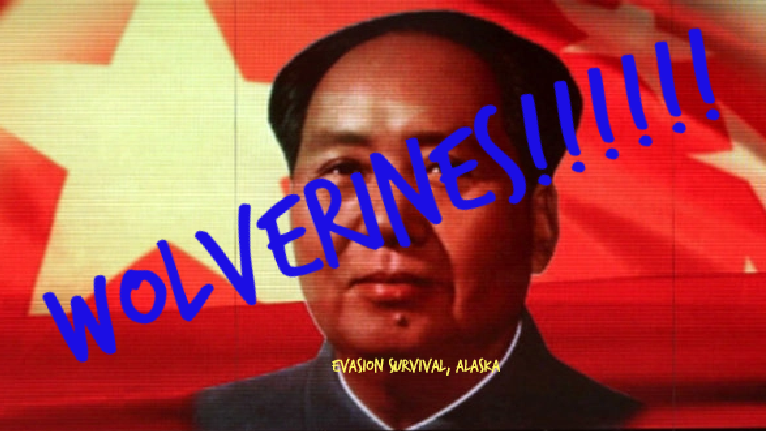 Categories: Kit Posts