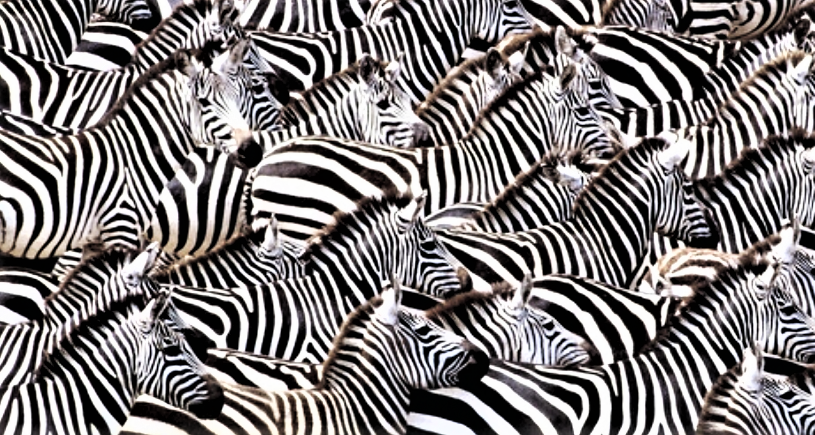 Zebra are absolutely camouflage. They all look exactly alike to blend in with one another so a predator cannot pick out one in the heard. YOU ARE NOT A FUKING ZEBRA..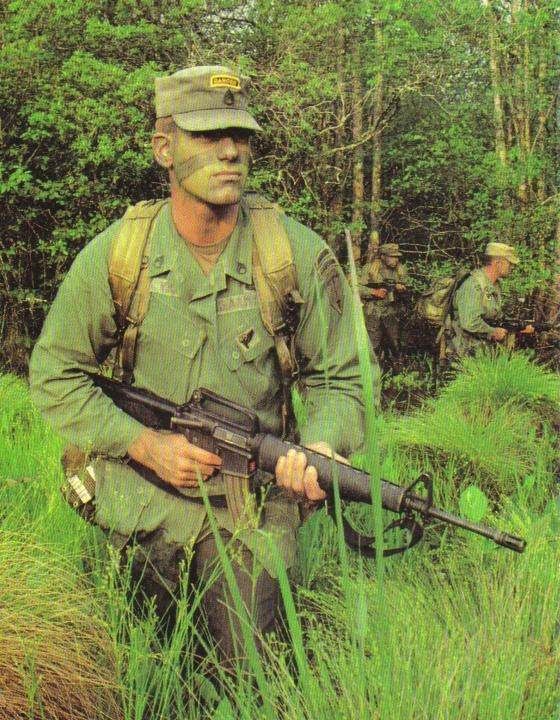 Imagine for a moment if the Rangers emerging form the treeline were all wearing different patterns, mixed match? They themselves would be a camo pattern breaking up the shape of the their group....You can almost see the different shaded on their BDUs and kit having a slight effect as overall different patterns might.

Here is the sister Blog Post to this:
The emulation is real out and so is the threat from it that it brings to the Rural Evader. Free thinking will take you far. If you're stepping out looking like your fav SF Operator or suffering from some OCD that keeping you from breaking up your silhouette/ thus the group then you're absolutely doing it wrong. The military forms up in uniform for a reason. For both the logic of it and for the rules of war. As an Evader its folly to dress in head to toe in the same manner as the Military. YOU ARE NOT THE MILITARY. As mentioned before that you've been handed the most priceless gift you could possibly be handed- and that's the gift of the freedom to think for yourself and adjust to the situation for proper adaptation..
Bjorn (Bear) and i were talking this morning and he told me he has acquired a Partizan suit, but elected to get a different pattern then my SS Leto version. I was delighted to see him once again step up with some individual effort to get the best from our time out, but most of all I strongly disagree on groups forming up all in the same camo/uniform and kit. Not just because it looks Walt Mitty as fuk, but him electing to get a different and distinct pattern was a VERY GOOD THING were CAMCON is concerned in its application to a group, or team. Granted it easier to spot one individual Evader in a group but IMO its a necessary evil whose value outweighs the hazard in the grand scale of not getting made by prying eyes. Ive never had this discussion with anyone else because I have been alone for so long but the logic is sound for the Rural Evader.. I told him how a large groups, or even two man team wearing the same patterns as the next man in the team absolutely gives off a signature when observed by sharp-determined or trained eyes. Forming up head to toe not only scream Walt Mitty conformity emulation- Its just plain fuking stupid and wrong for the Evader- You're not a fuking soldier so stop trying to look like one! (I didn't say this to Bjorn- Im saying it now). End of Story. Here's why..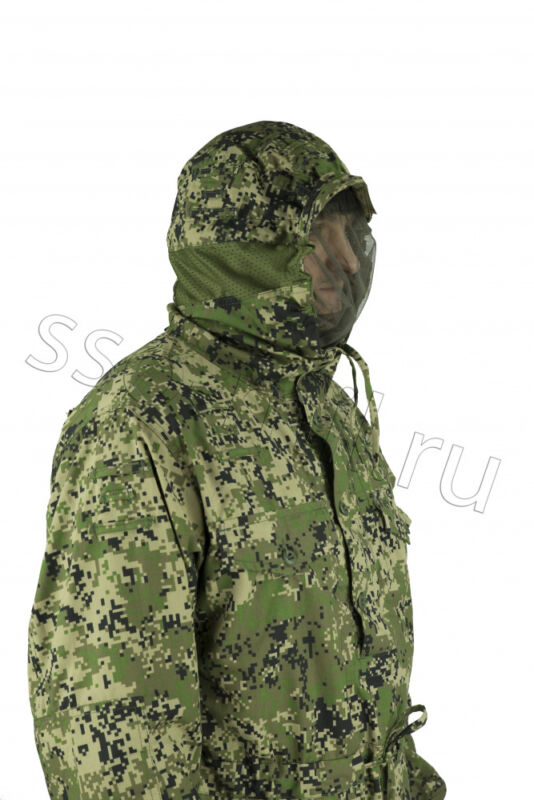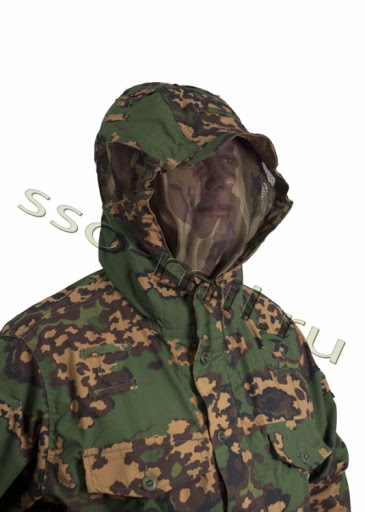 Russian "Spectre" Bjorn has... and... Russian SS Leto Partizan Scout suits I have. Two very distinct patterns.CAMCON does not stop at the individual Evader in a group. The individual makes up the whole and the whole determines the successful CAMCON of the group or team. Just like wearing different patterns on the body hides the Evader so wearing different pattern throughout the team hided the team much better as a whole. Its just simple science of light, colors and contrast. However I wouldn't even stop there with different suits. Kit, trousers, cap, gators and so on should be of varied patterns. Every aspect that can be switched up should be switched up as best as possible..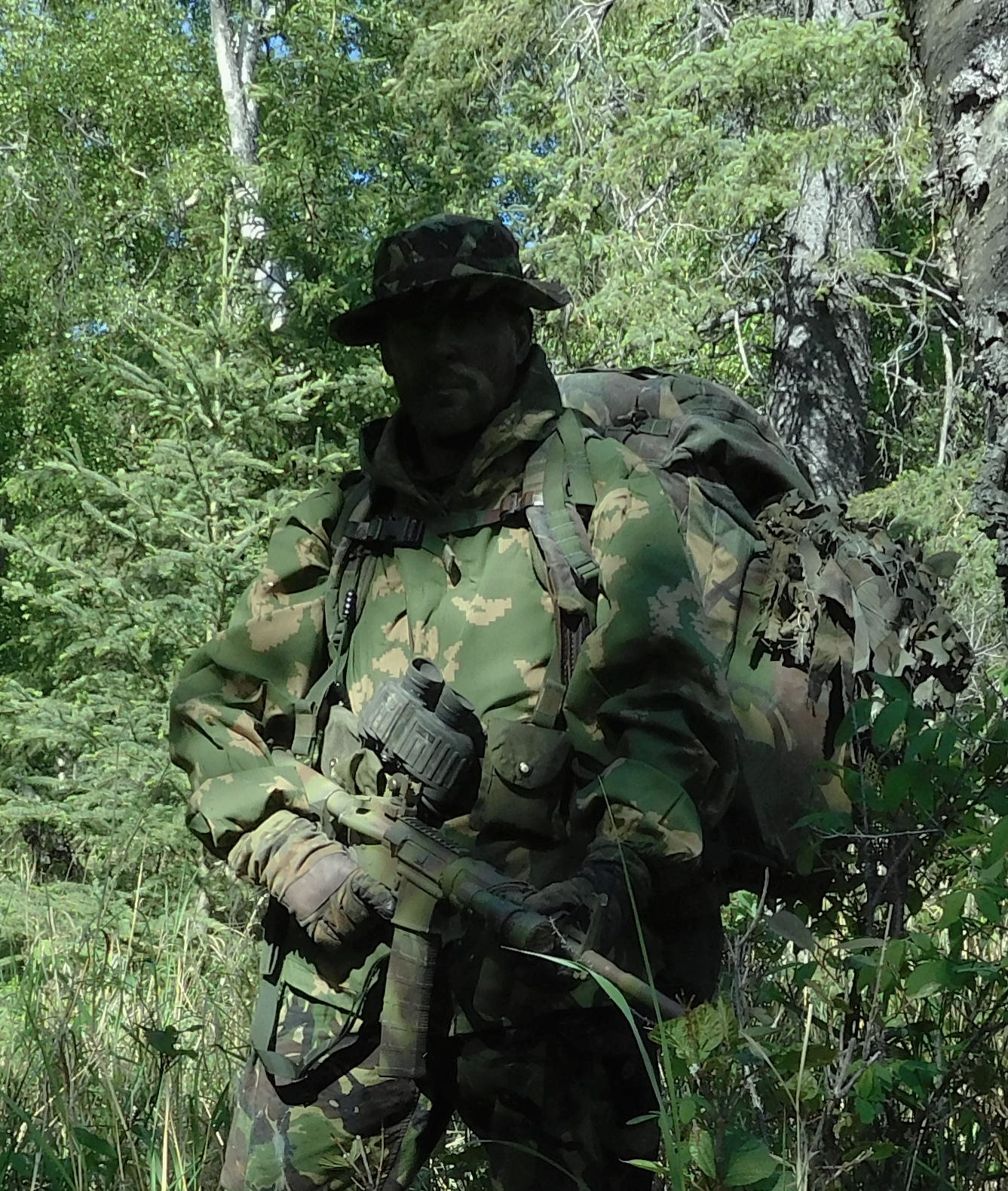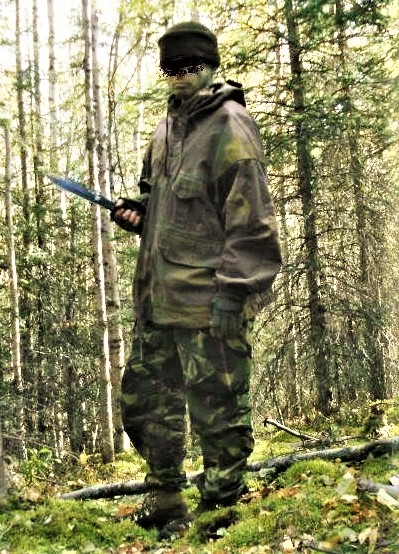 This is me a few years ago utilizing  Soviet design Birch mixed with DPM, and another shot of me mixing WWIi British Cam with DPM..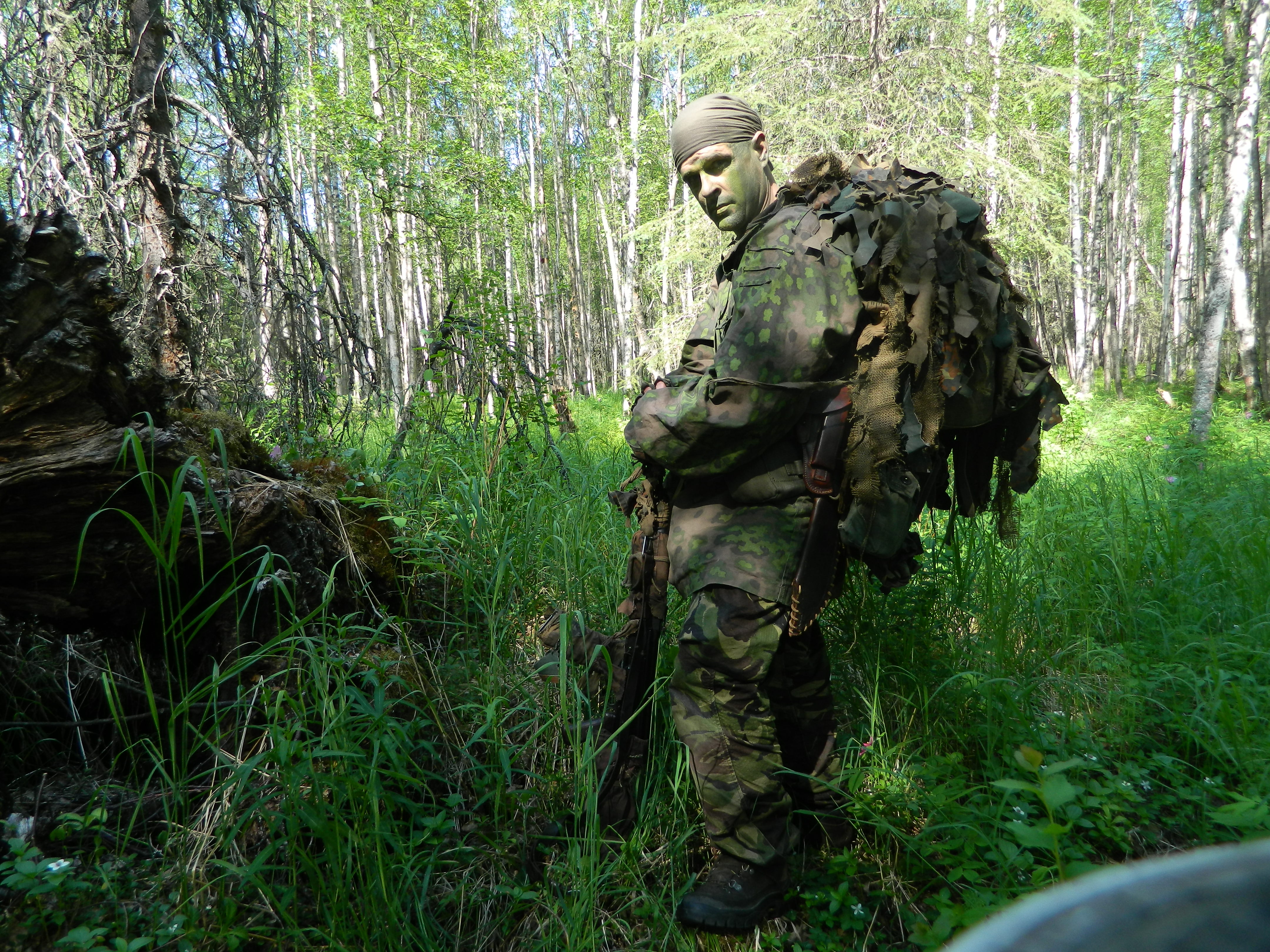 Years ago I read an article about how the orders for the Waffen SS in Russian forests. Where it stated that in groups of squads and larger operating in woodland areas of Russian were ordered to alternate from soldier to soldier utilizing the Spring and Autumn side of the helmets and smock so to maximize the best CAMCON effect of their camo over garments for the best possible results for the groups operating in mass. Example: take 4 Soldiers- one would have the autumn side out, the next would have the spring side out, and so on, thus the soldiers with autumns sides out on their helmet covers would have the spring side out on their smock, and so so and so on staggering who had what side showing. This made absolute sense to me!...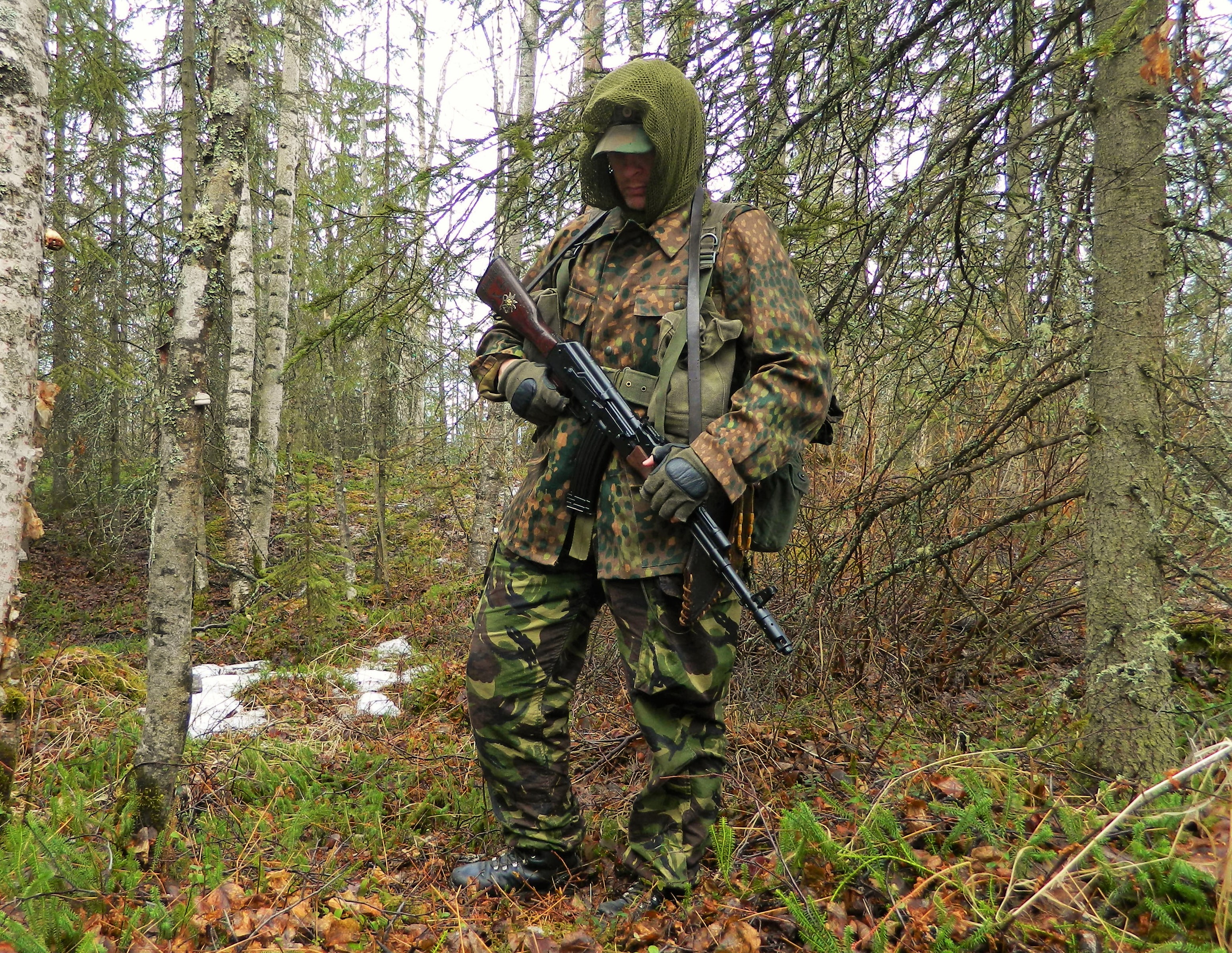 So this is just a quick CAMCON note of something to think about as the loner Evader or a group of Evaders. On another note early next month I will be closing my YT channel. I'm sick of their filthy Communist Ork tactics, and its just a matter of time until they get to my channel. I don't believe in letting the OPFOR have first strike- Im heading to safer pastures while the getting is good and I will continue to operate my information from here.. All videos there will be transferred and hosted HERE, bot past, present and future videos..
I hope you all are safe and healthy.
Ivarr

Categories: Kit Posts, Drill Posts, Shit I feel like talking about Post