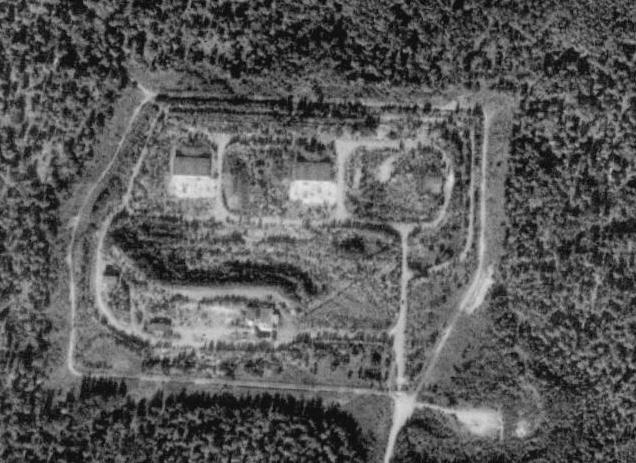 Today was very "on the fly" type Scout. Last night I decided I wanted to get out and suck up some wilderness air but before bed my kit wasn't sorted to go back to "TA: Rhodesia" so I thought Id take a smack at a place I tried to locate in October of last year. Being a first timer there I didn't go full on kit. This is my rule for whenever I check out a new place. I just go resembling something like a hiker or hunter looking over the lands as not to draw attention because you really never know what or who you might find... Anyhow last year I went in search of this old NIKE mIssle Base using a map a friend had drawn me by memory- Sadly it was off by miles and I never located the the remains of this compound and the internet wasn't much help with the few clues and rumors I had to go on at the time. And by my mistake I didn't bother to corroborate his map using satellite pictures, rather just taking his word for it and trusting his memory. It was totally unproductive.
However I wasn't put off by this- I simply went back today as I had planned to but this time by consulting some internet maps and Sat images after I found out a few more things. BINGO I found it by comparing it to his map, following some clues I gathered the last time so I went to see it first hand. ...My first concern were legal ones. I don't want to trespass and rumor had it that the land had been bought by a local university, fenced off and was posted. I saw 0 fences and 0 No-Trespassing signs- It had indeed been bough buy a local school but they soon realized the area was useless and sold it back to the state of Alaska. They in turn simply added to lands owned by Alaska and its open to wondering around if you can find it. There are lots of signs about NO SHOOTING and no DUMPING. I still saw shooters around the land area as we got there and evidence of recent shooting practice but I saw no dumping and was thrilled the place had been cleaned as throughly as it had been before Alaska made it inaccessible to vehicles.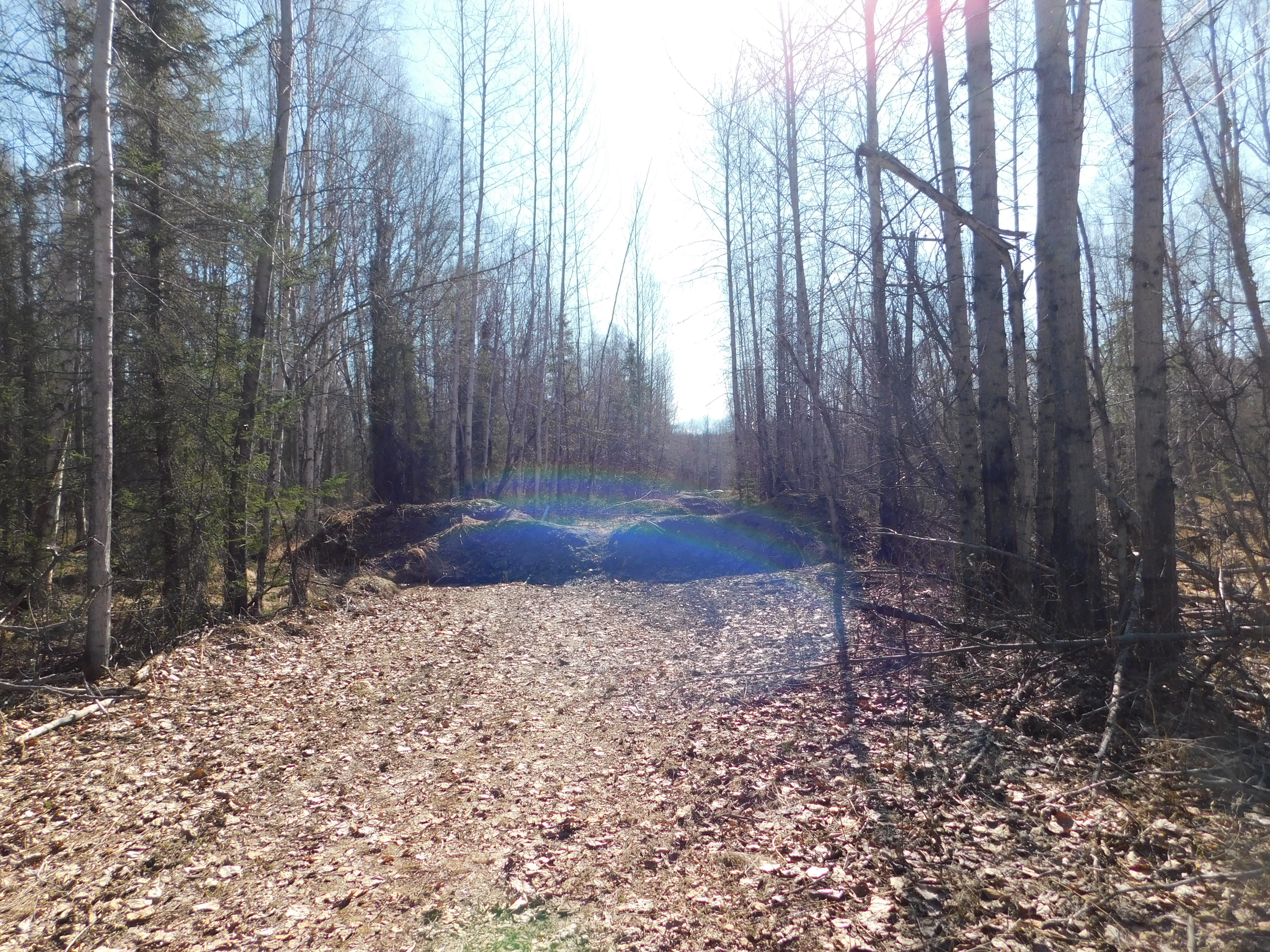 This was the condition of the road into the area that once served this Base long ago. Its a few miles just to get to the main compound. There were DEEP (8-10 feet) trenches cut in the road at about 30 foot apart that were cut the full width of the road with high burms. From what I gathered it had been years since these were build and it seems to have worked in keeping vehicles out. I suspect most ppl looking to party or to conduct acts of ill repute are simply to lazy to walk it in. The area is surrounded by swamp so its the only real way in with a vehicle.

We arrived around late morning. My kit was just a simple rucksacks with simple supplies. By simple supplies I mean my Survival Smock rolled up inside, jug of water, large knife and enough other shit to get by if something went bad, and I had my G3. My wife had a street sling bag with girl shit in it and a side arms. We looked like just normal ppl exploring and outdated and historical site of curiosity. The G3 may have been out of sorts for any hair-bun wearing, skirt dressed in, millennial vagina farmer but none were to be found way back there and i had no fuks to care if there were. The word on the street was this was the place to hang out back in the day. Airsoft and paint ballers use to us the place and trash dumping was such an issue the state spent 1 MILLION dollars to clean it up and close it off to vehicles.. Now its just really far back in the forest and the only was to get to it is by foot power, though we did see signs of sidexsides had been there but no way to tells who it was, DNR or just normal ppl.
Once we reached the compound for the NIKE Bunkers we walked right on. There were no fences or Trespassing signs. If there was I would have simply left. We walked up a surprisingly clear road for about 20 minutes and ran into our first missile storage bunker.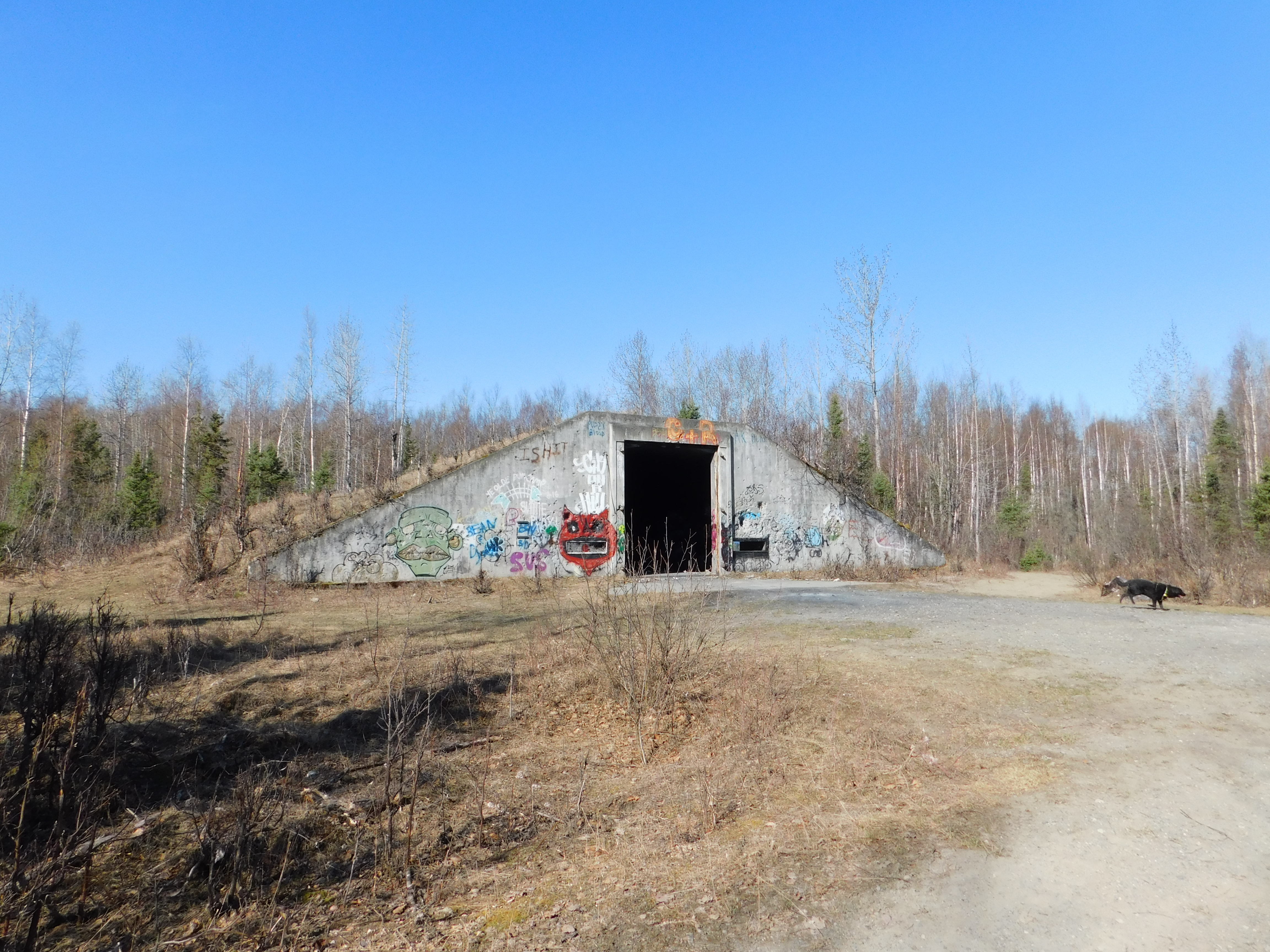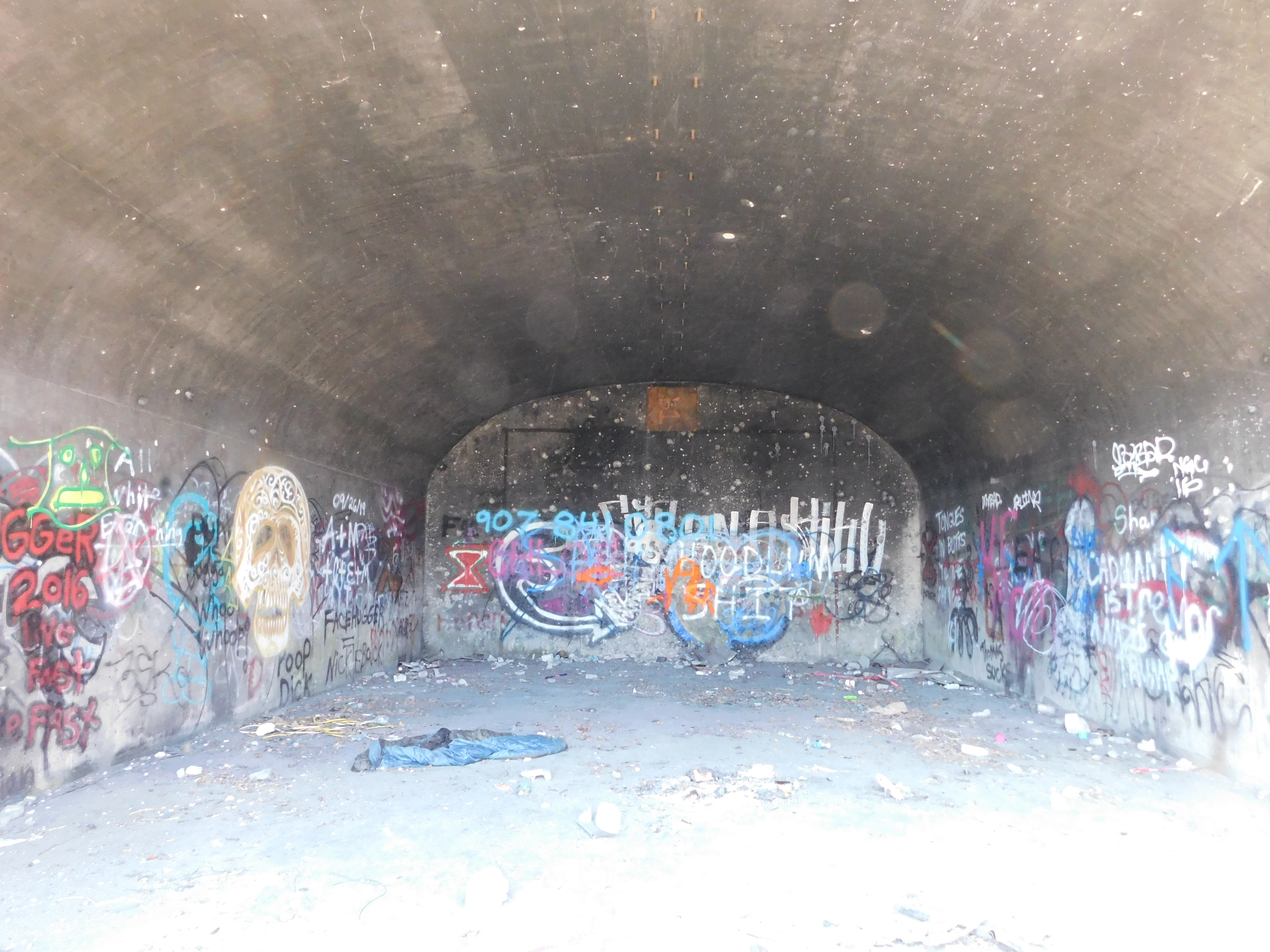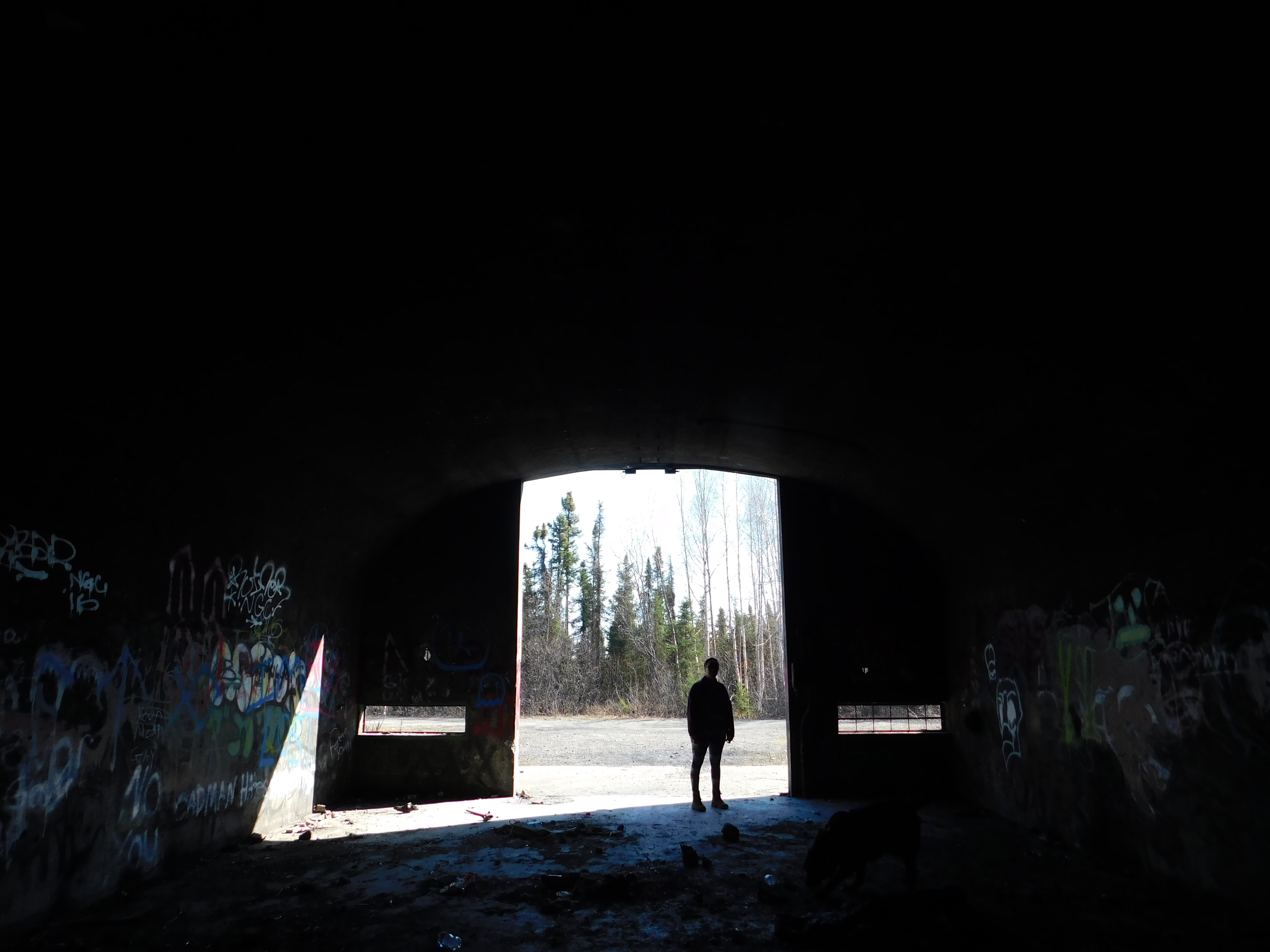 Bunker #1 had some trash, and nasty olf sleep sack and what looked like a fire with still whole hotdog buns in the ash. The area was littered with spent shell casings and bullet damage to the re-enforced concrete structure. We explored it and moved on..
It wasn't long before we found Bunker #2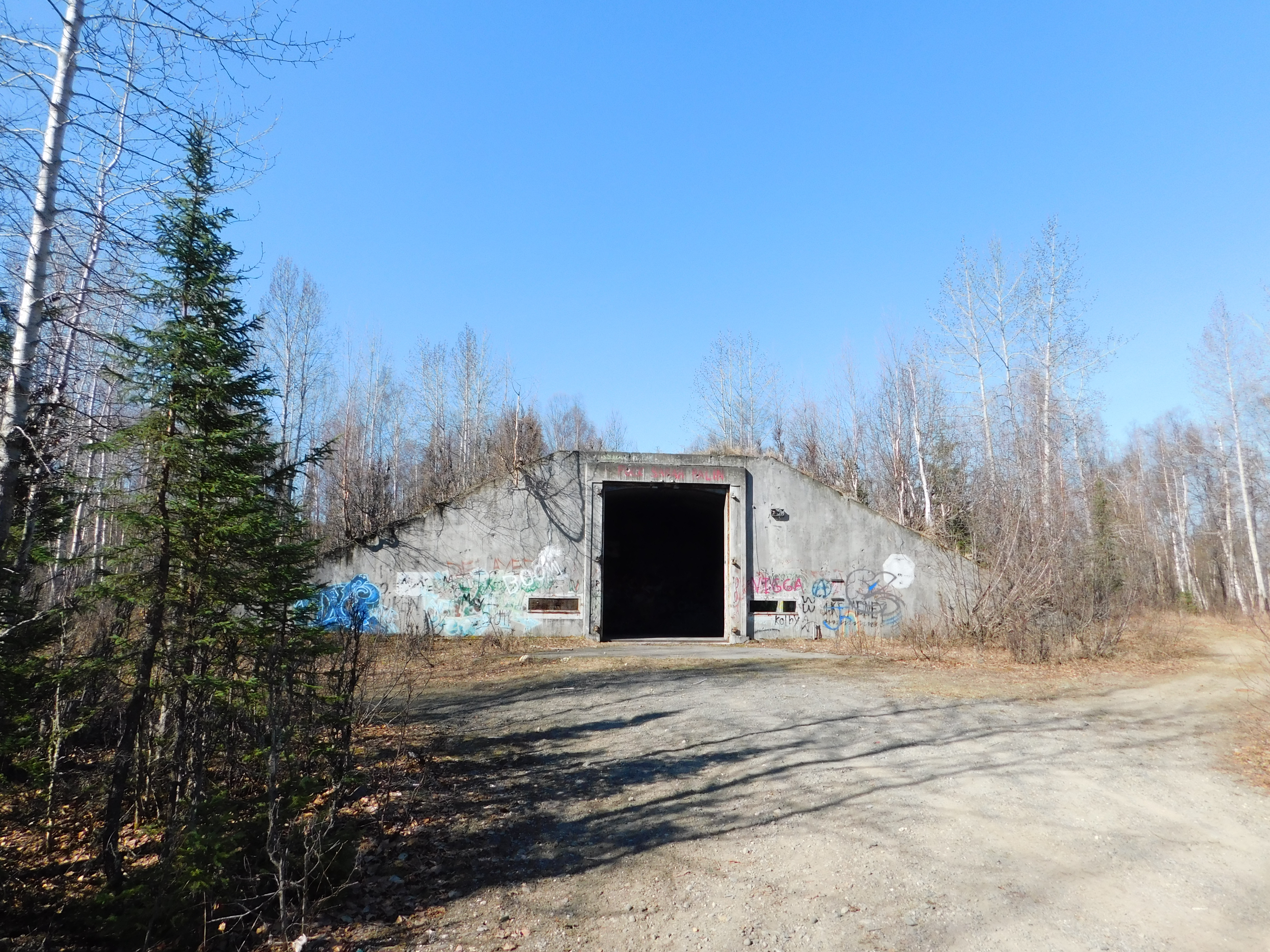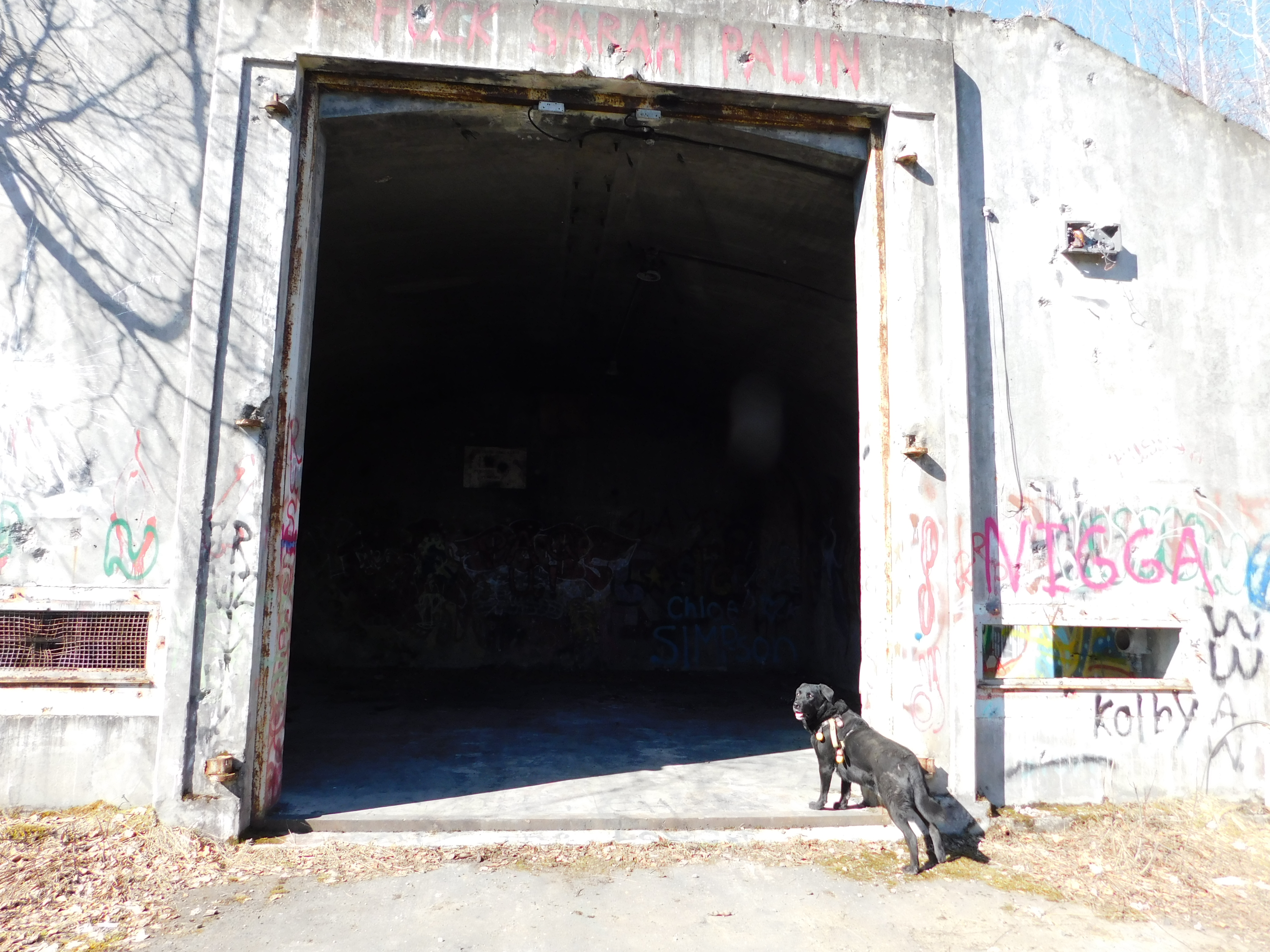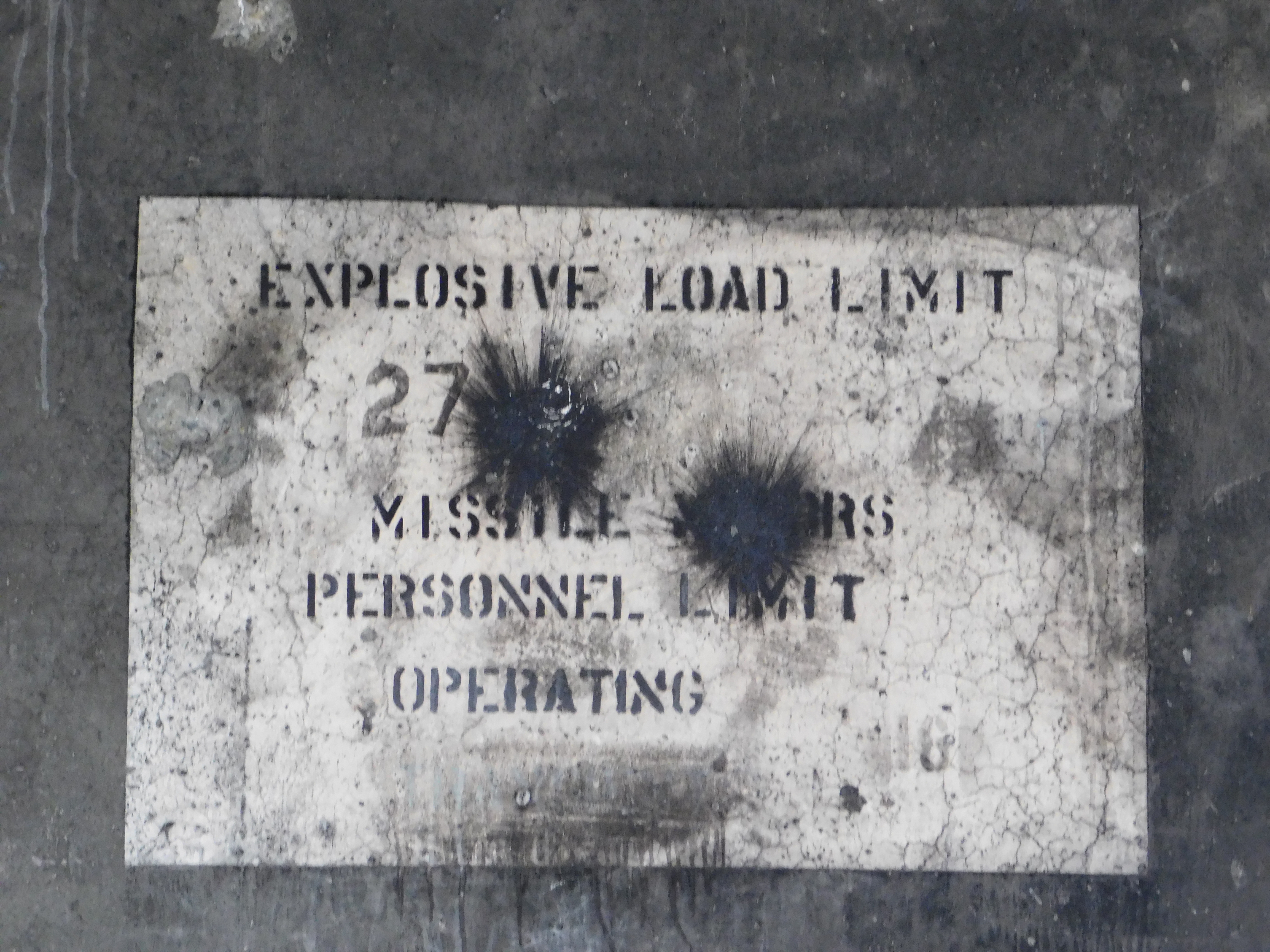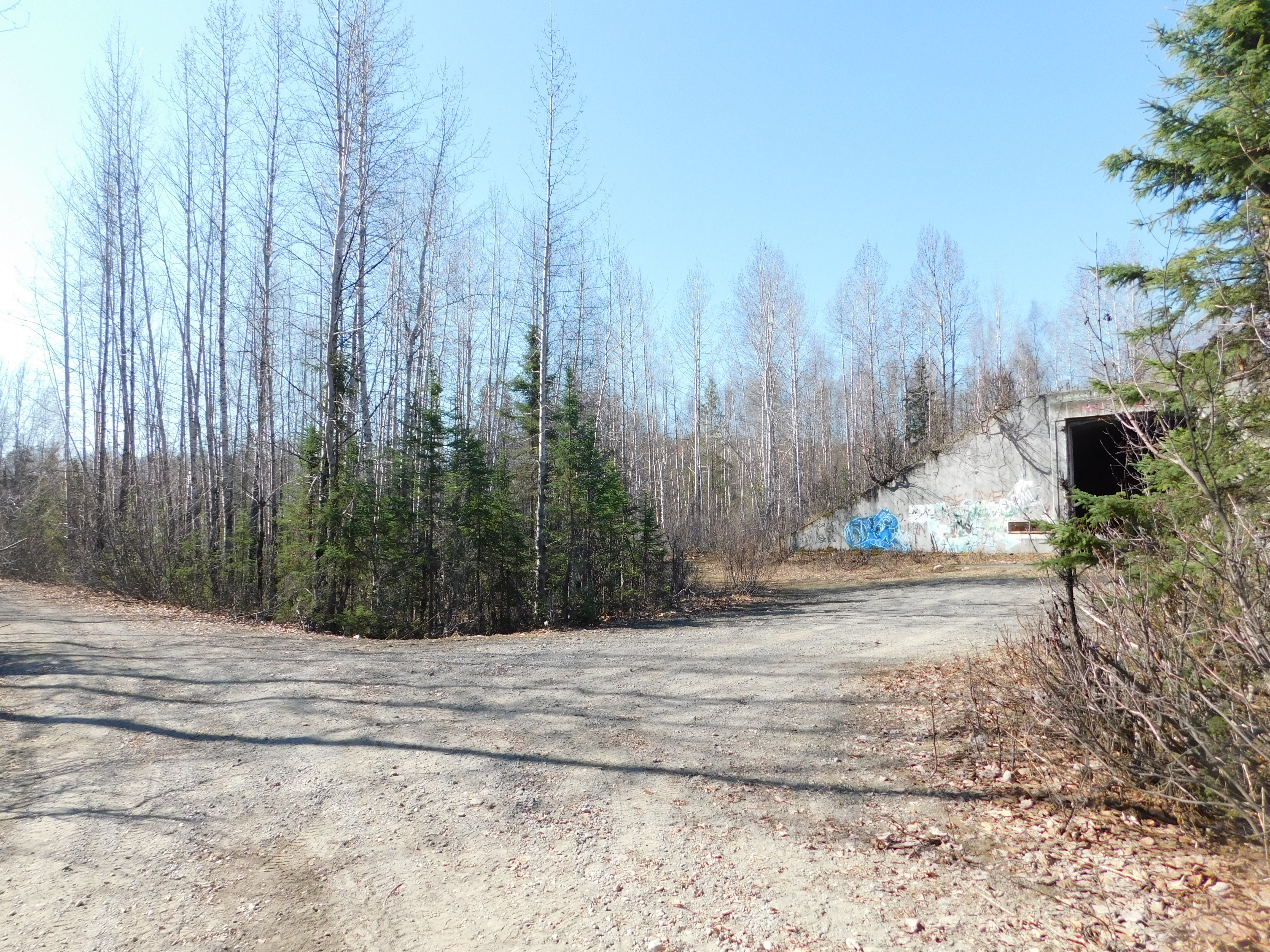 Bunker #2 was in much better shape. No trash at all and barely any empty shells casings around or in it. Lazy has it uses I suspect, being this was father from the roads..I didnt mind The Olaf wondering around inside this one. There wasn't anything he could hurt himself on like Bunker #1. These soon fed my thirst for exploring but it was time to keep going. I didn't even look around the backs or the adjoining roads because I knew I could only do so much today, plus I wanted to save some for the return trip.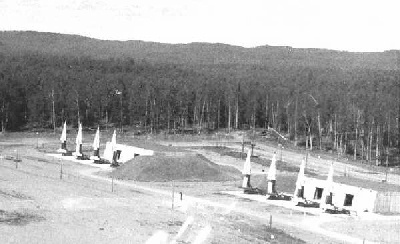 Moving on....
We set out again on the road. Up in the distance I noticed some HUGE flood lights on the poles just as the road turned to the left. I knew lights like that mean business when it came to illuminating an area so i figured that area must have been important. We set off in that direction. Rounding the bend after a while of walking we saw the first of two launch bunkers. I was amazed at how cleaned up it was. We went strait for it..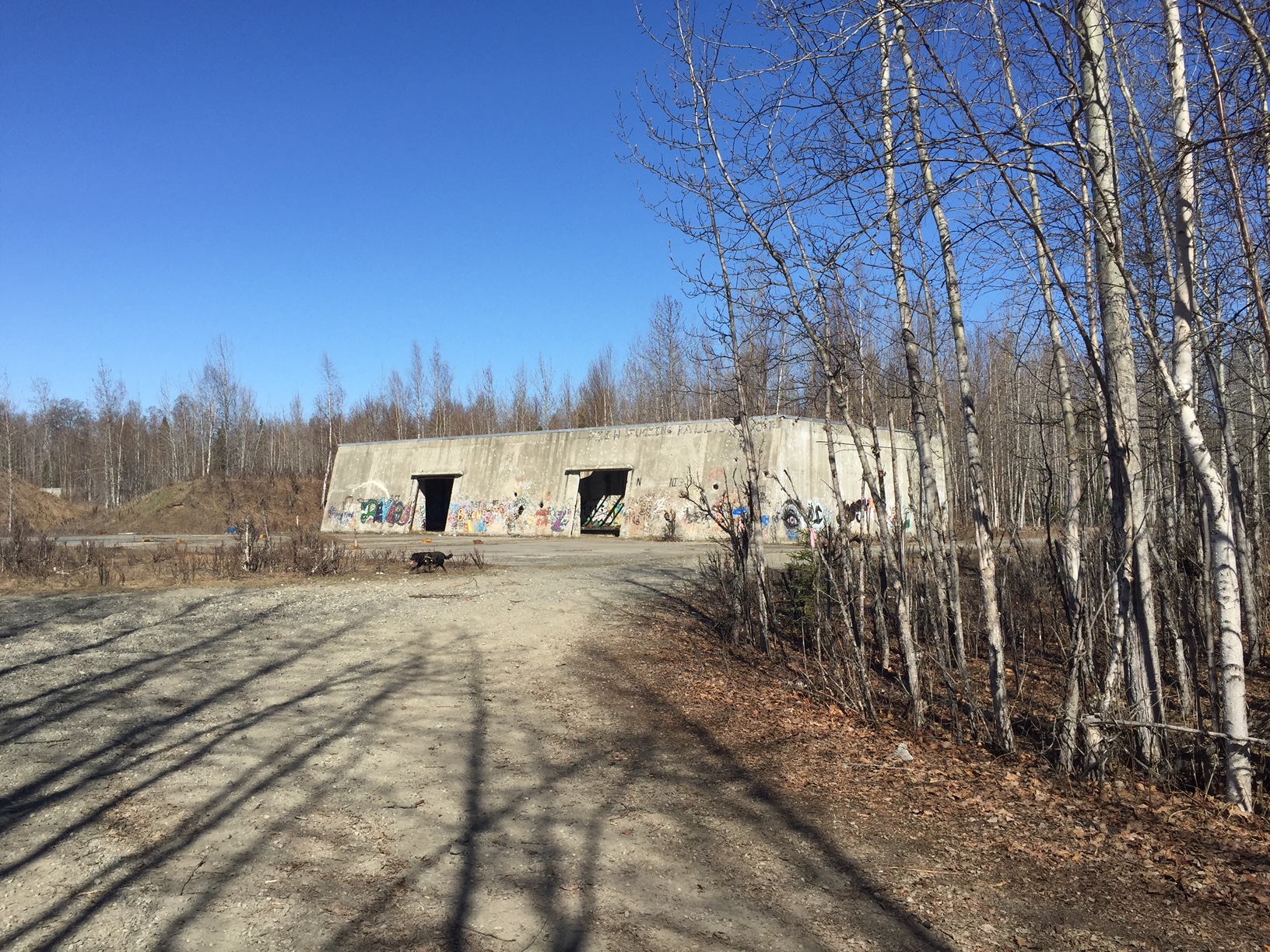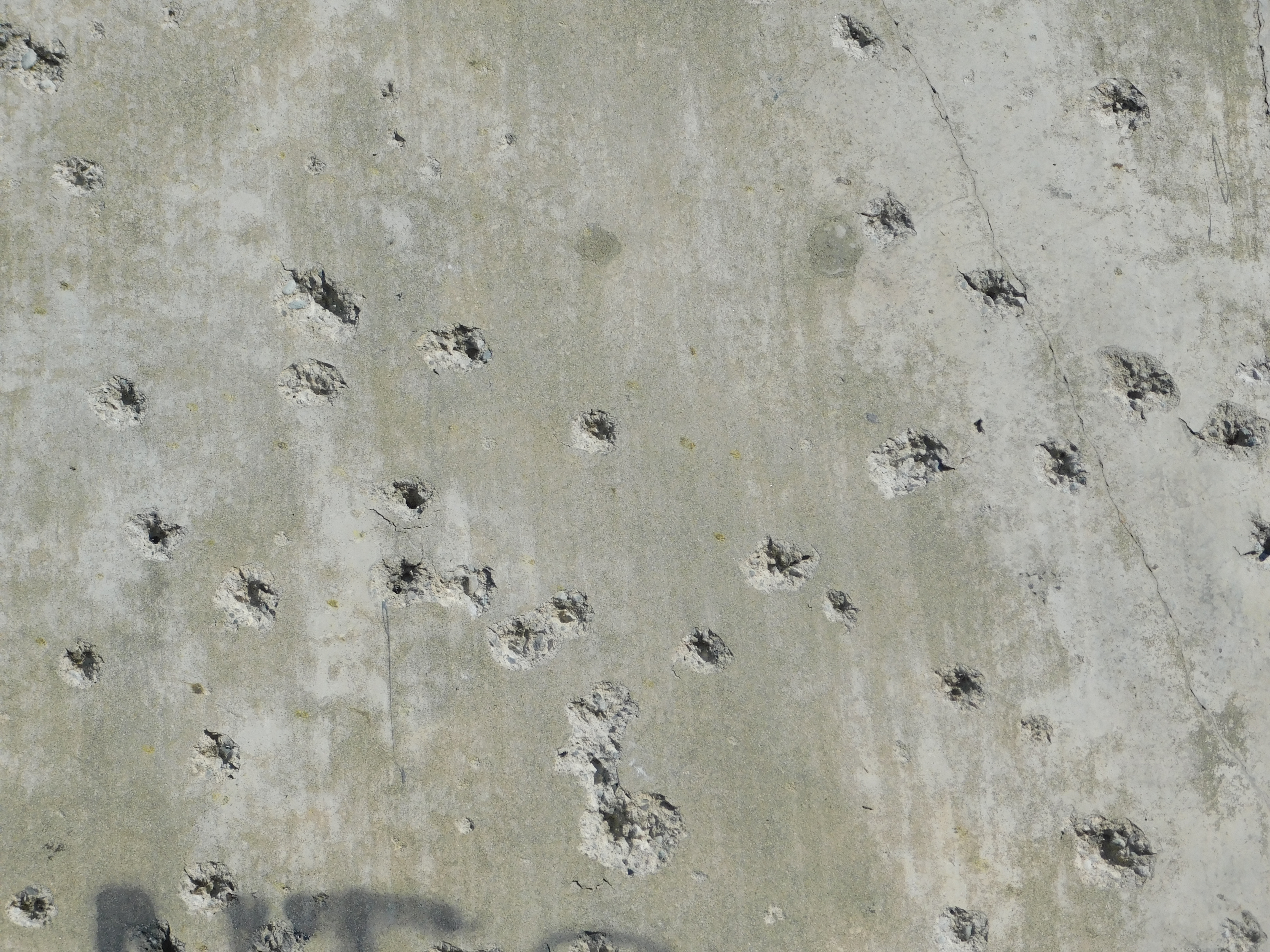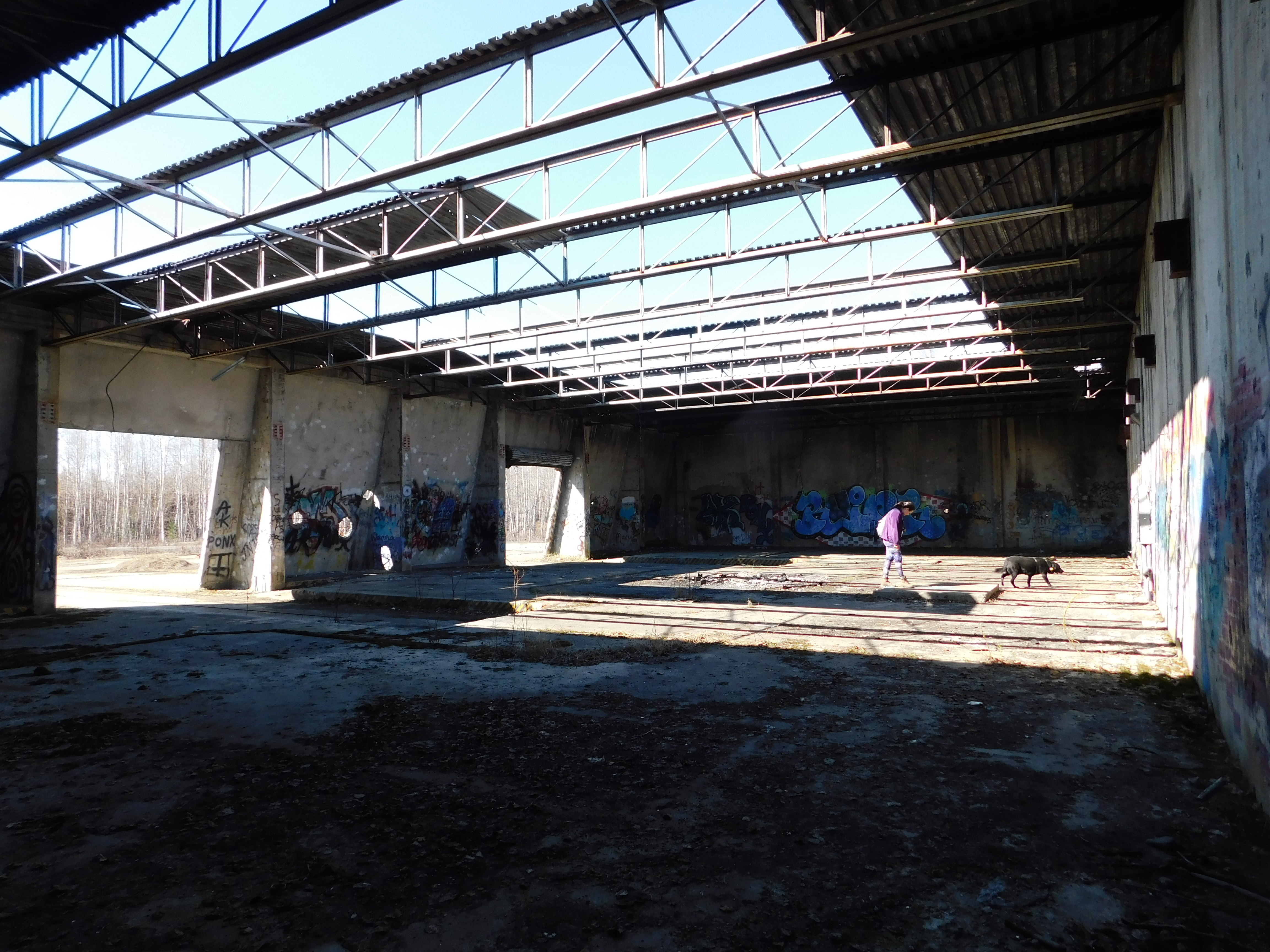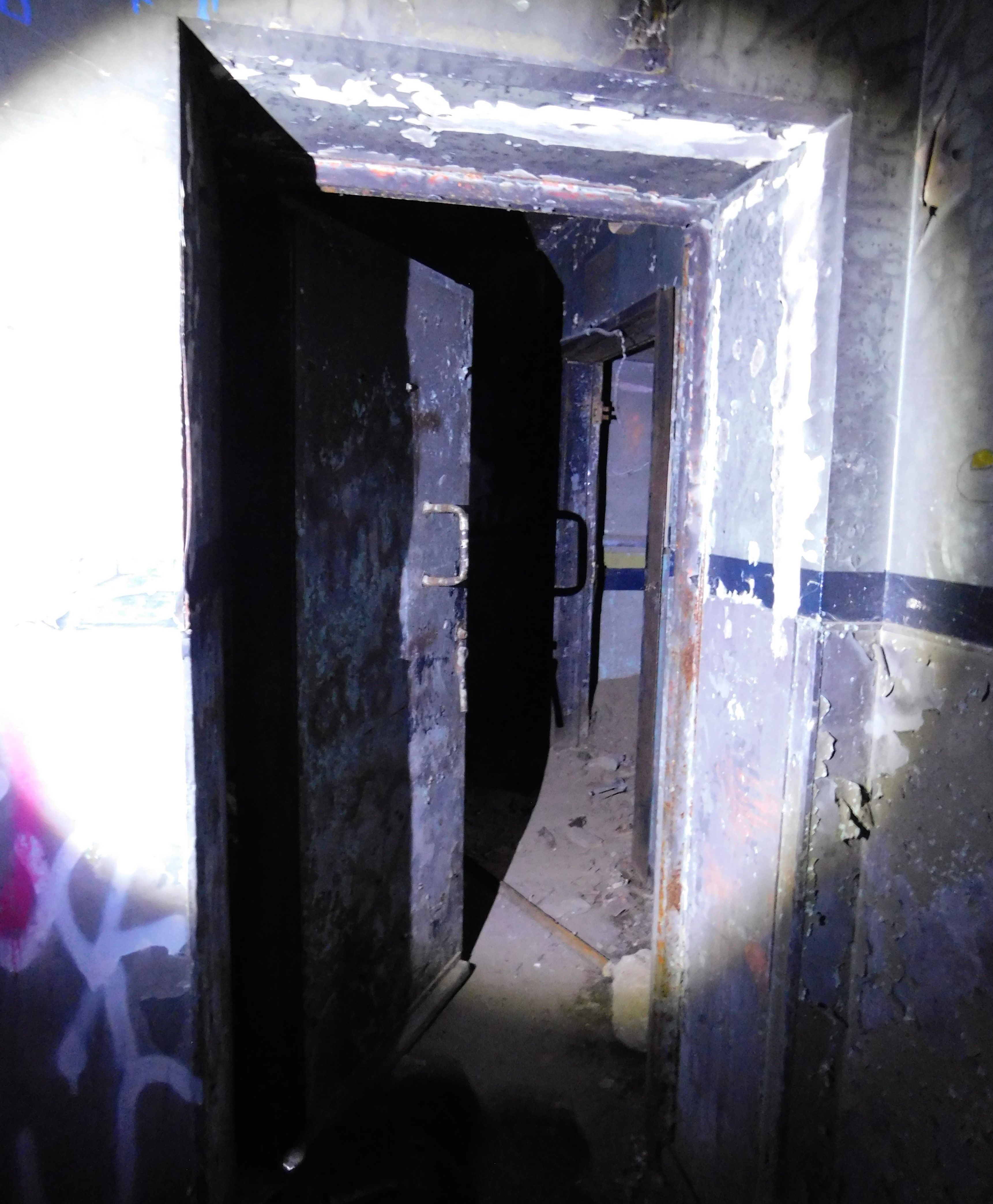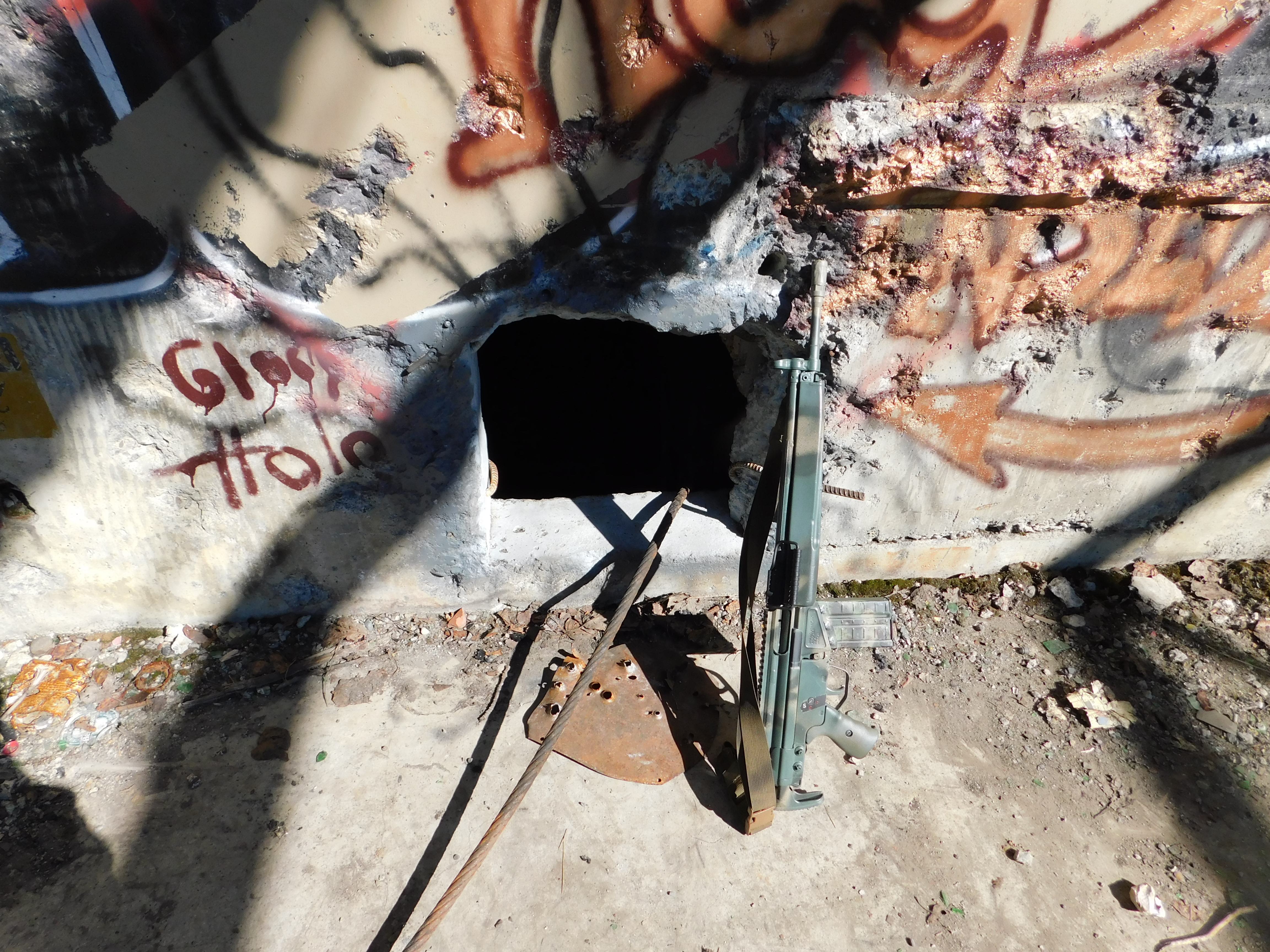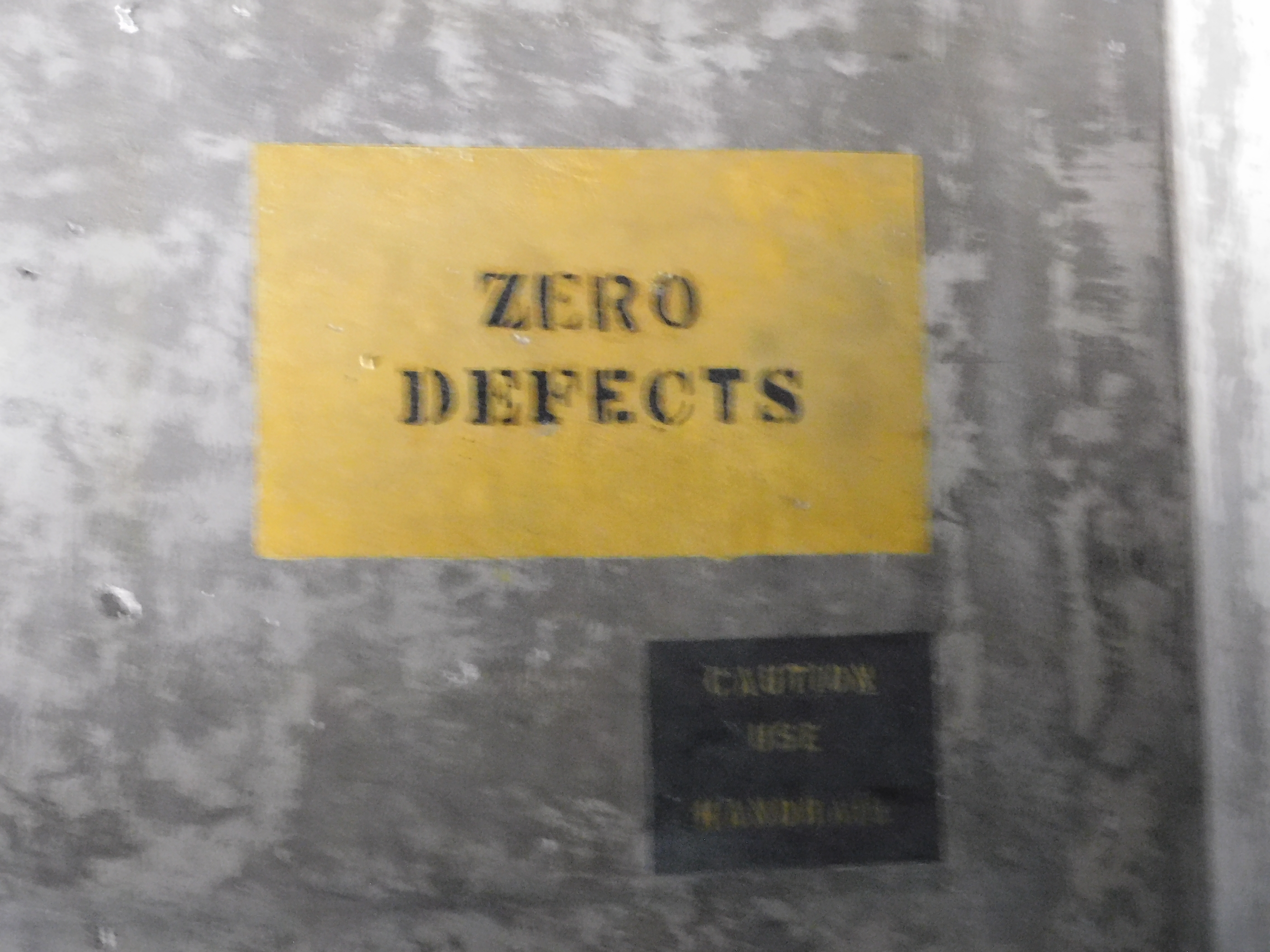 The hole in the wall with my G3 next to it was where someone busted a hole in the concrete to get to the lower levels. I have seen pictures of the lower levels and pictures of ppl exploring them. I did not go down and I probably never will. There were some adjoining rooms to the first Launch Bunker we did go into. they had very thick blast type doors. It was quite impressive but it had a lot of fire damage inside form asshole trashing the place over the years.This building would prove to be in the worst condition of the two I saw this day. Nearly all the roof was gone as well. My excitement for training possibilities went nuts, not just for this 1st Launch Bunker but the complex in general.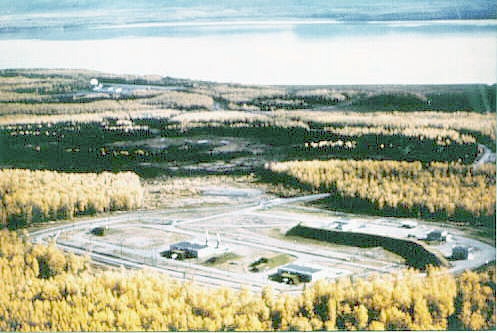 Moving on to Launch Bunker #2
This building was in MUCH better condition. I even wanted to go to the roof but I decided to save it for the return trip.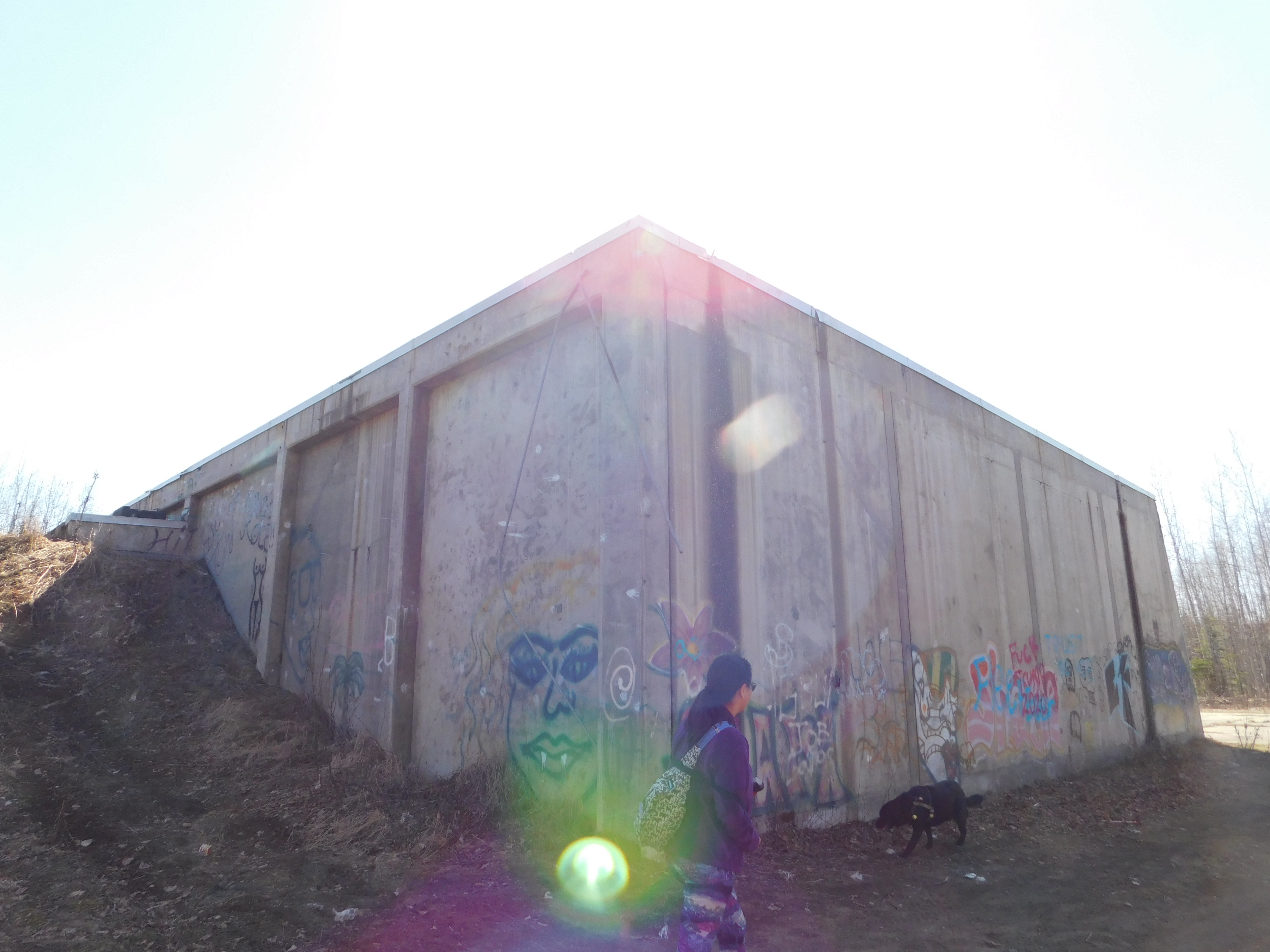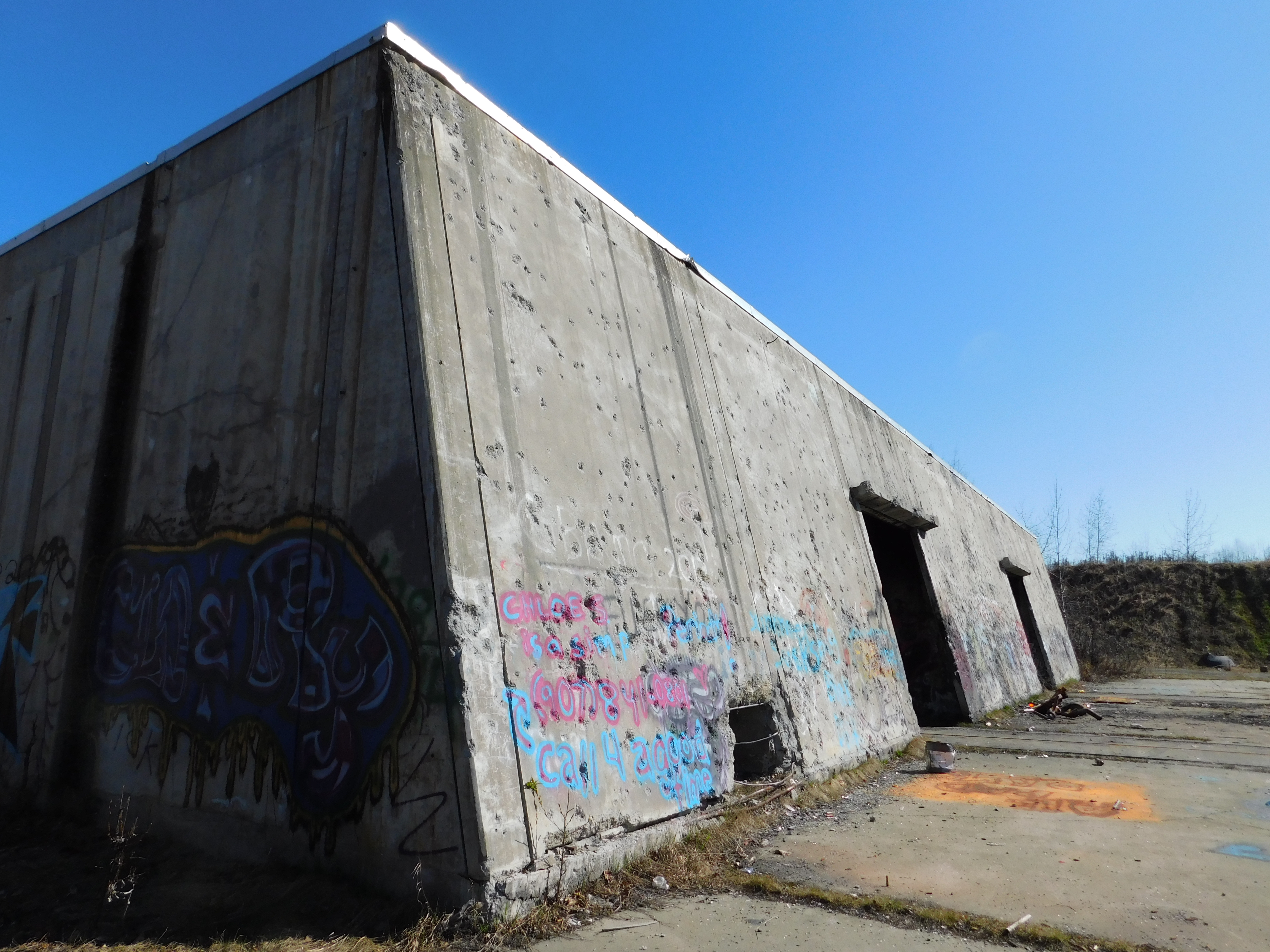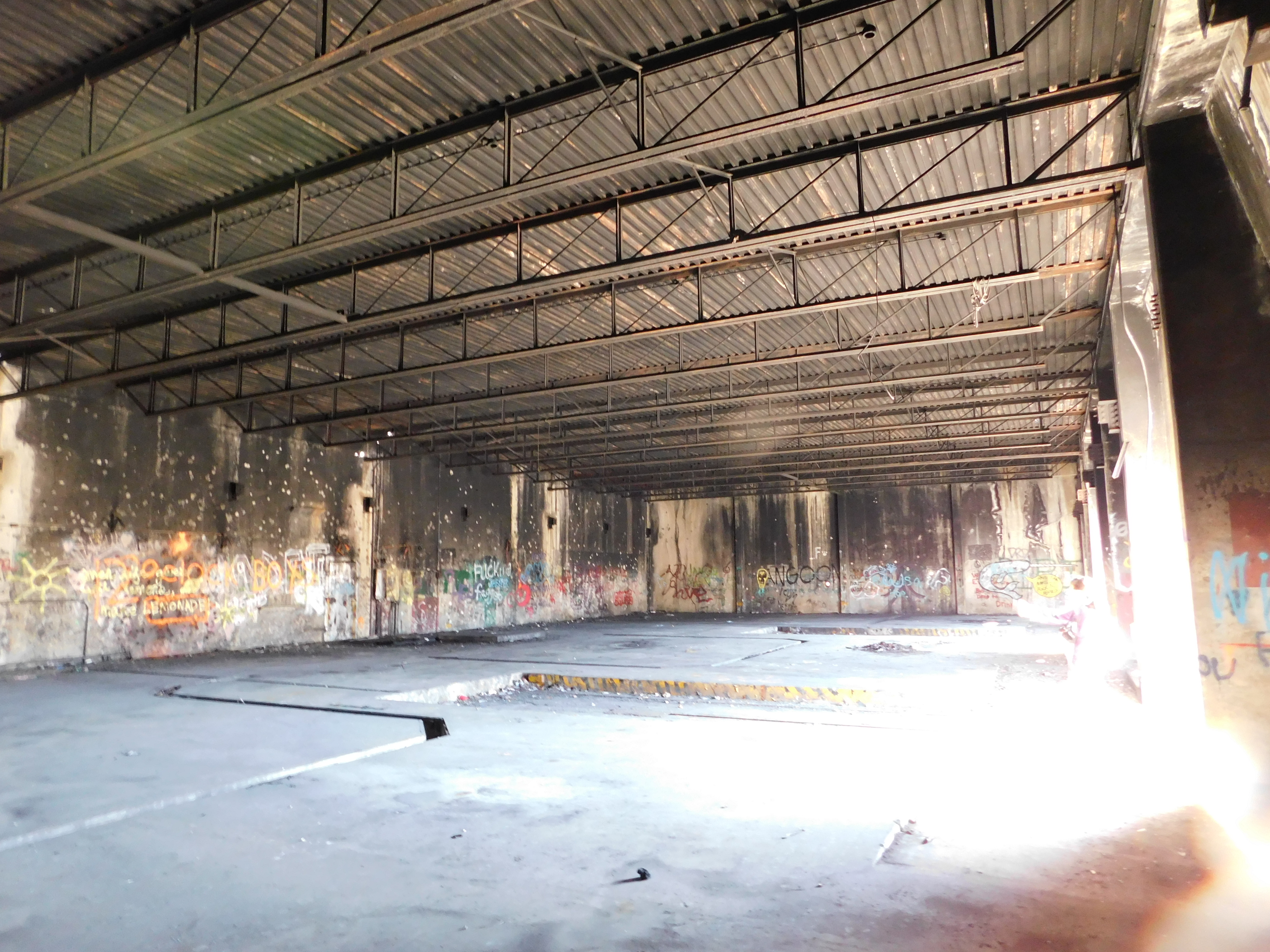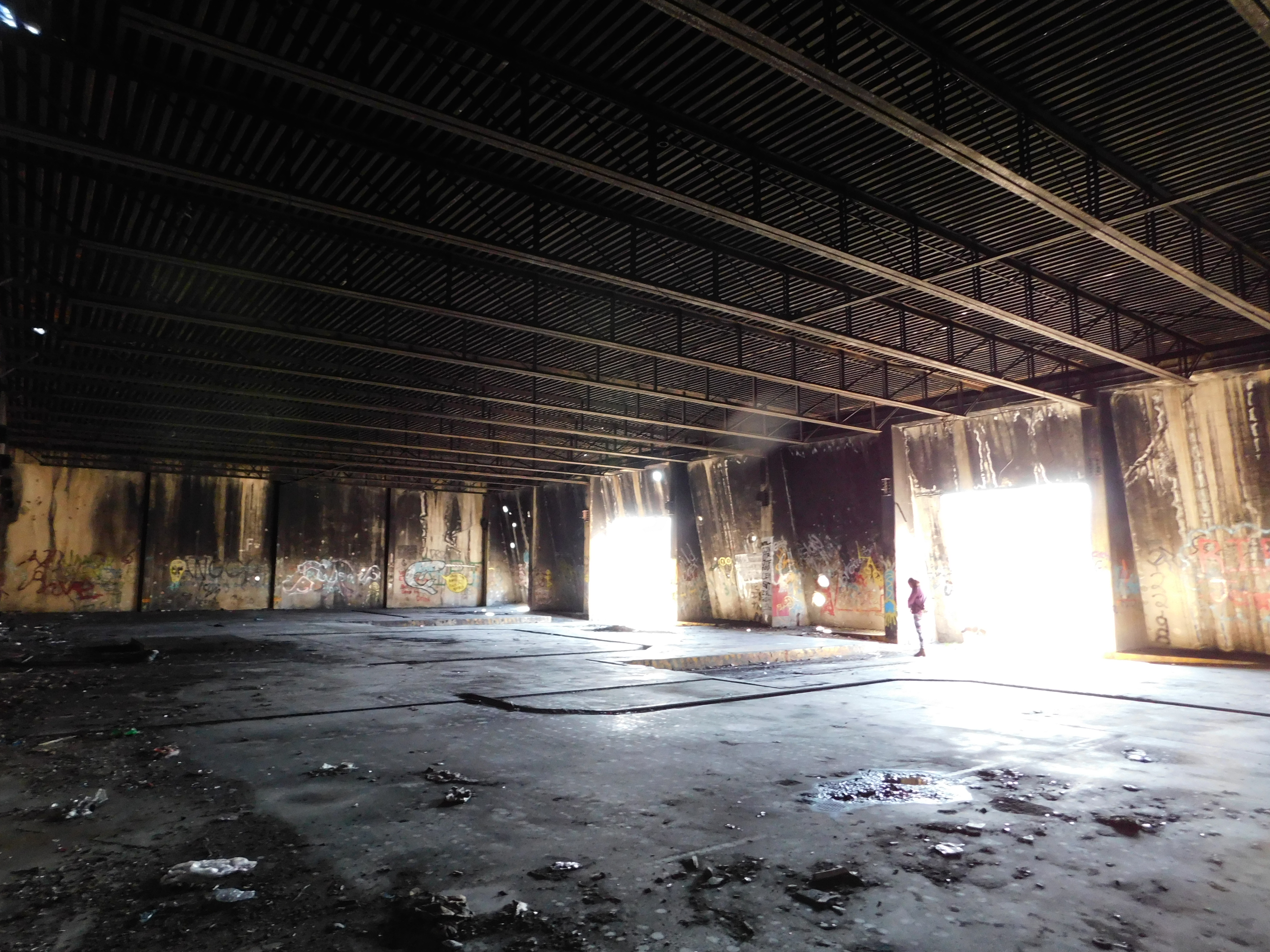 Below-
This door was identically located to the one in Bunker #1. Sadly it was welded closed. It looks like its taken a beating over the years from ppl trying to get it open to access the lower levels. One even looked like someone may have placed a small bomb to try to break the weld judging by the splash marks . I tugged the door but its didn't budge so I left it at that. I suspect this too goes into the lover level of this Launch Bunker and there is more to that i intend to share later in another Blog Post. My wife pointed out the fish-hook air vest in the field across from the launch bunkers. Ill make no attempt to gain access to the lower levels though I would love to see them one day.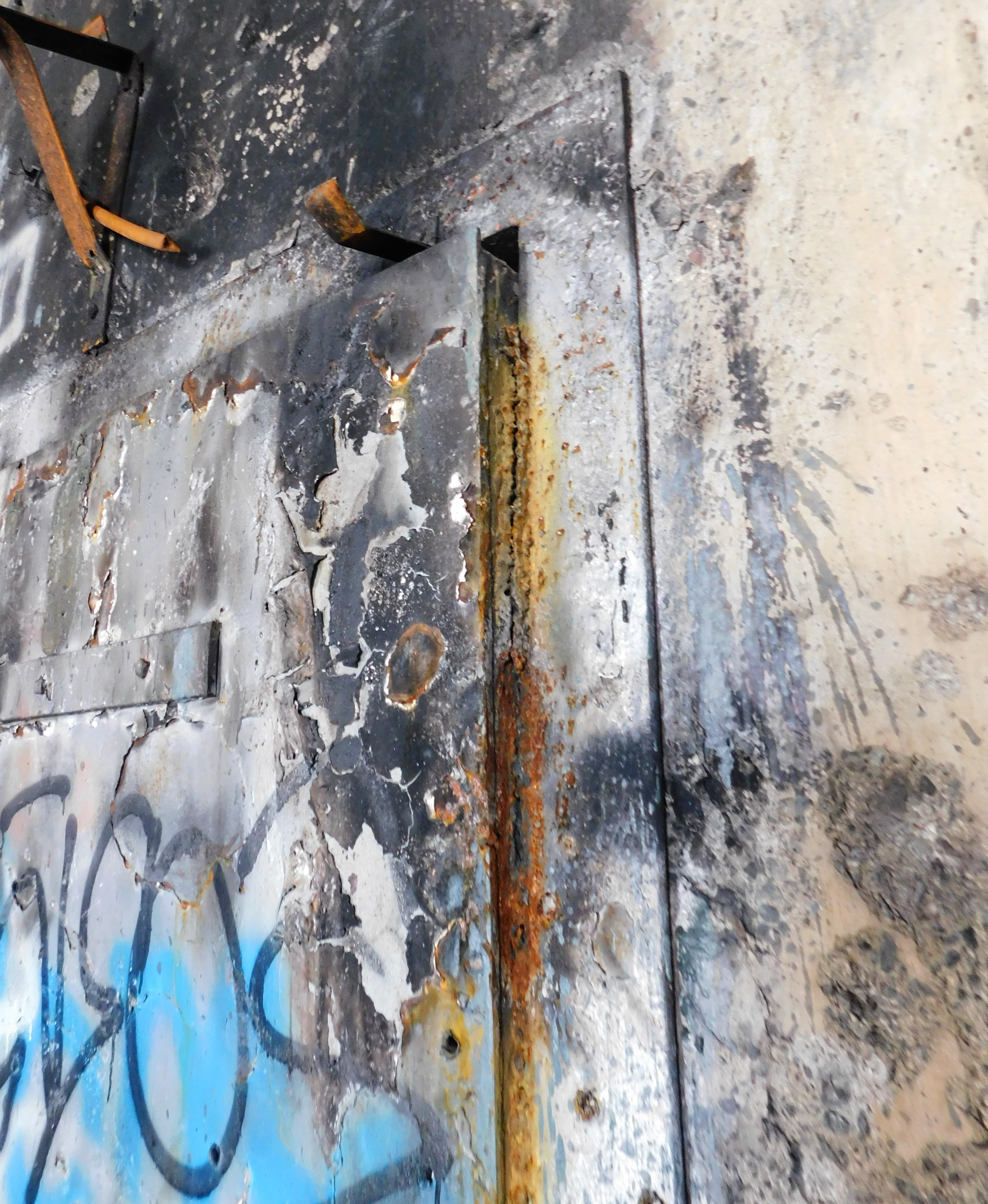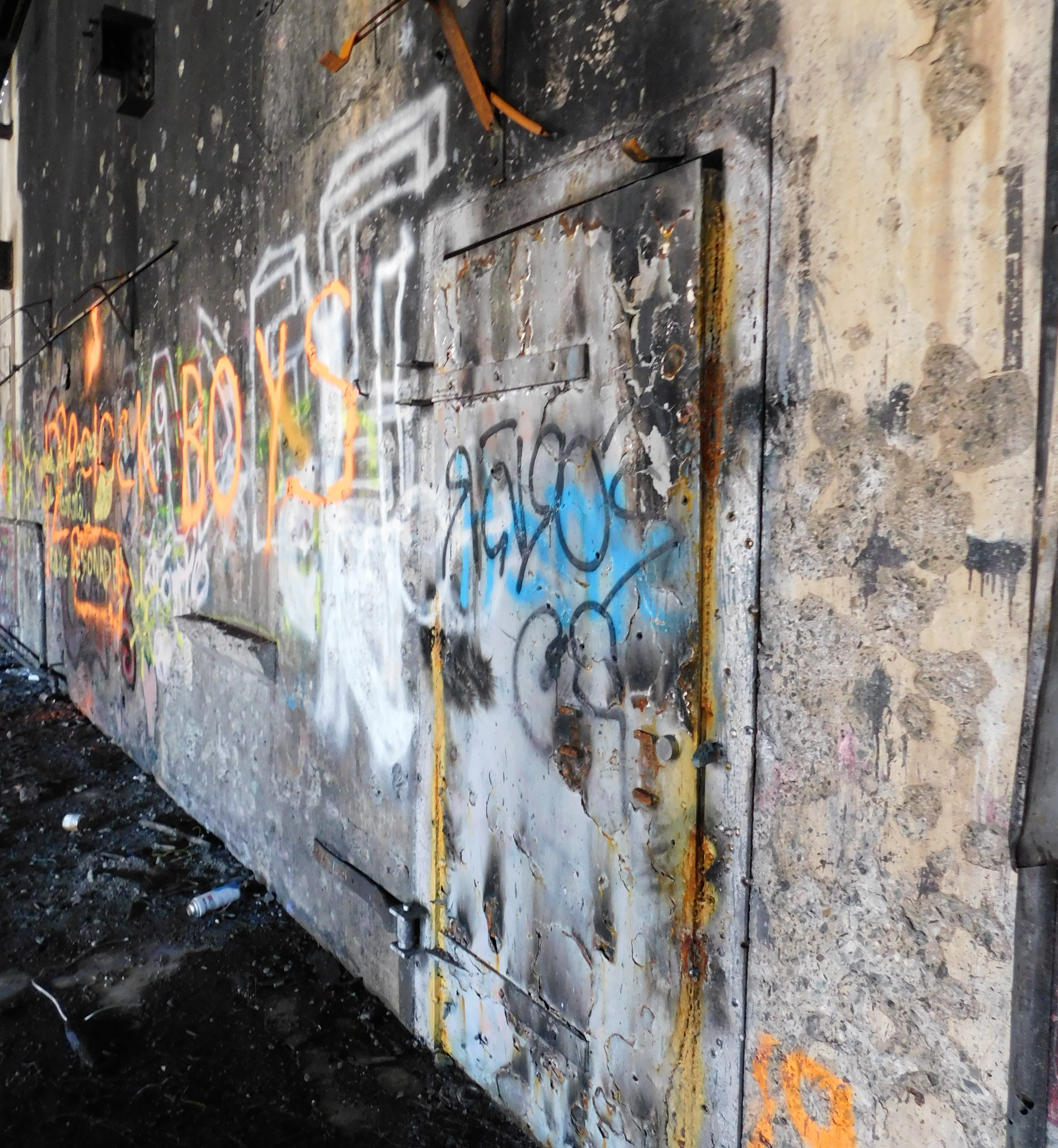 Moving on.....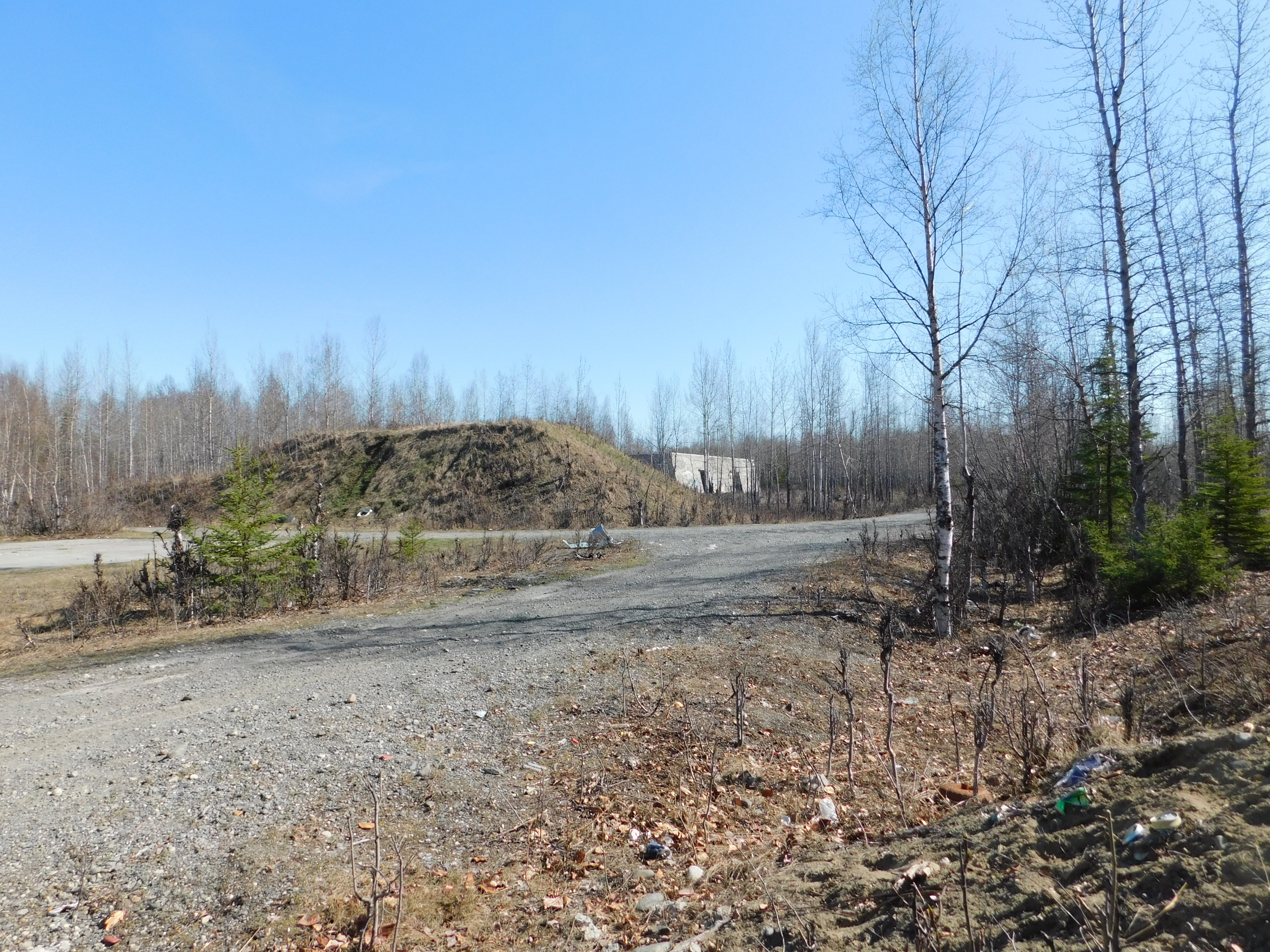 This is the view of Bunker #1 while standing in front of Bunker #2
The day grew hot and dusty and the naked trees offered no relief from the rising sun and temps. After the LONG HARD winter we had 60F feels like an East Coast Appalachia 100F without argument. The Olaf was about spent and I dare not bend by wife's tolerance to my need to explore any father then I already had. She was a great sport but I didn't wanna make her go any farther just because I asked... I had explored enough to know I wanted to know more. However I also wanted to save what I could to come back later. In closing I will say this place gets an A+ for training erection inducing- but will it keep it, that is the question..? Can TA:Moscow deliver?  I like the dash of urban elements and the wilderness combination i was feeling and I think it has a lot of potential for a myriad of uses. It will take some more Scouting to explore what else it has to offer. I plan to do just that very very soon.  It has a lot of useful features though I saw no sustainable water supplies anywhere unless you ventured into the swamps surrounding the area, but it seems to offer resources any wilderness in my area that I use offers.  I would also like to add the the forest in this area is more a kin to something Id see on the East Coast in terms of how the terrain is rolled out. Its more open and flowing with less wreck and ruin that I'm usually greeted with. I like that its open to the public in such a way as to say you can come here, but you have to earn it to see it.  Its been cleaned up nice as well and thats inviting to me.This are is very secluded.....

Thank you for your time.. 2020 is shaping up with a good Green season.. I HOPE.. I NEED IT..
Ivarr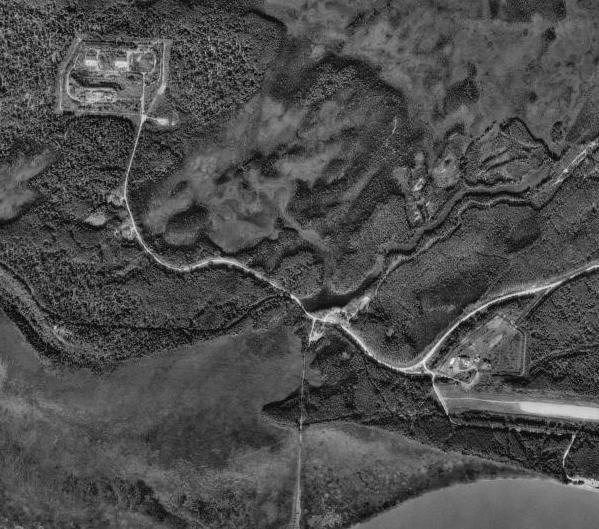 Categories: None