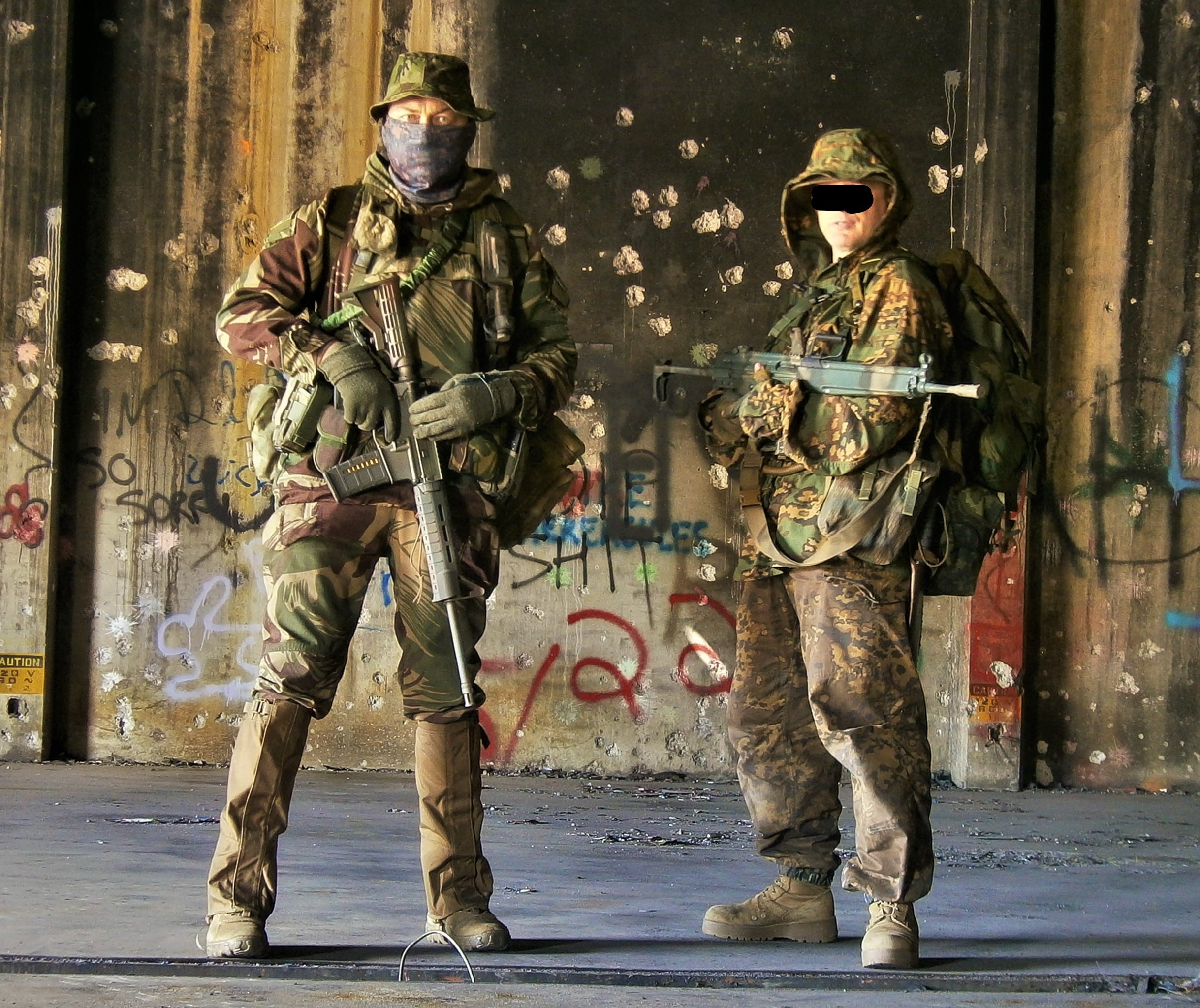 Drills will start in June so we needed one more scout of TA: Moscow and we hope to get in one more scout of TA: Rhodesian too. To kick off the GReen Season we have decided on a 3 day-2 night drills of varying tasks. The general plan is one night of a simply relaxed RON to plan the next two days and night but on the second night the plan is to do a tactical Hard Routine-RON after a day of varied tasks being conducted. However Scouting on this day we scouted " TA:Moscow" again.  Mrs. Bergmann was not with us. There will be 3! of us when drills start- Me, Bjorn and Huginn... On this scout my friend "Huggin" was with me. Ive known his about a year, he even attended my wedding with Mrs. Bergmann, and our lives finally aligned and we're able to get him into the field now.Bjorn was busy with life or it would have been a 3 man scout but 2 was fine.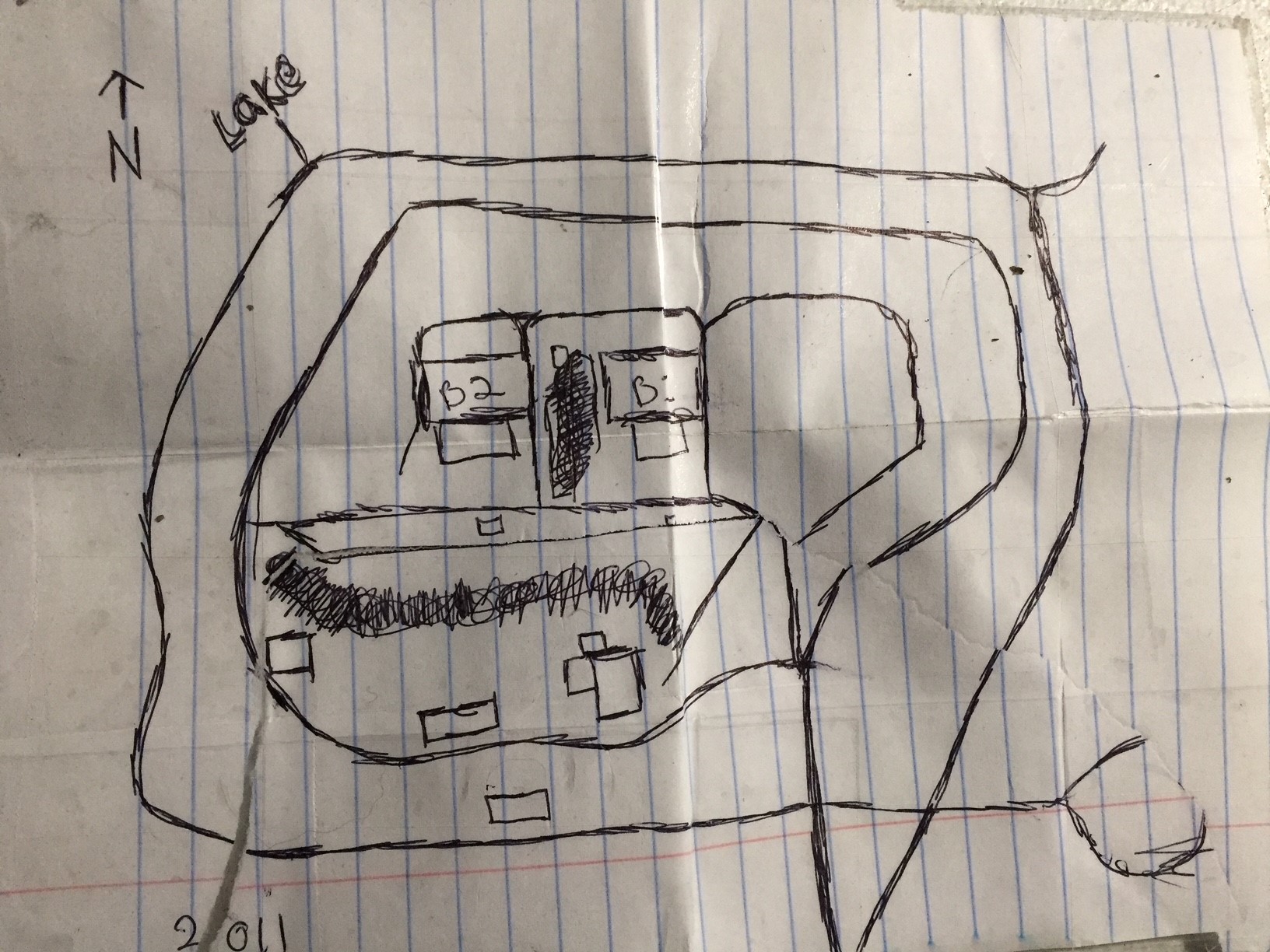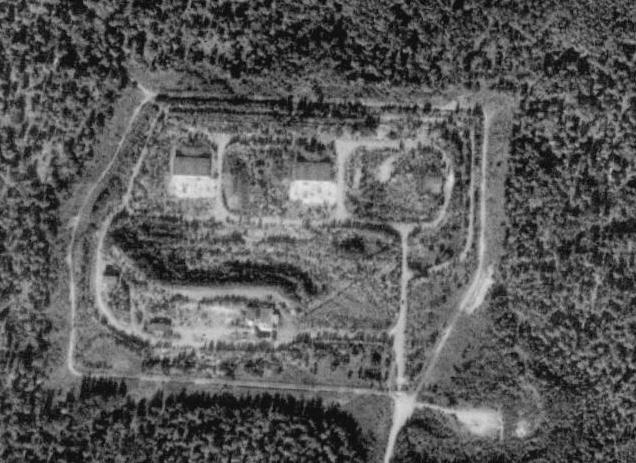 Simple sketch map I used. It was a big help..There we Sat pics from the 90s till 2018. I just stuck to the pronounced details otherwise the entire page would have been filled with all the changes from over the years. I was sad that the Admin and other building were there right up to 2012- I just missed them before the place was cleaned out. On my last trip there I made mental notes of the decent amount of marsh and other water sources. This is important because that place really is located in a vast forest. Its not like the other areas I have used with water water everywhere. Satellite pictures indicated it was basically surrounded by swamp and marsh inside a vast forested area- Being on the ground was a totally different view.
Some Kit we used..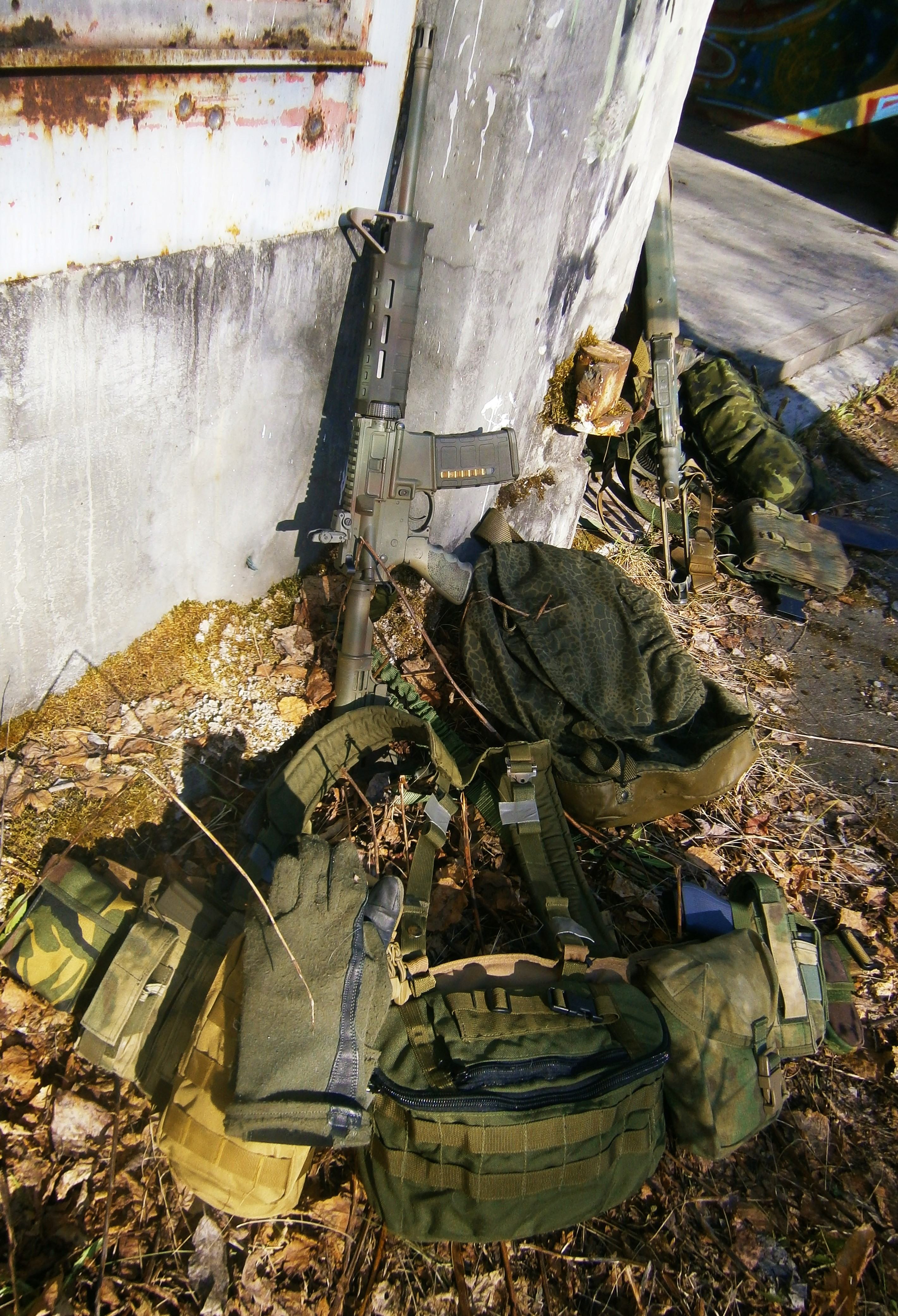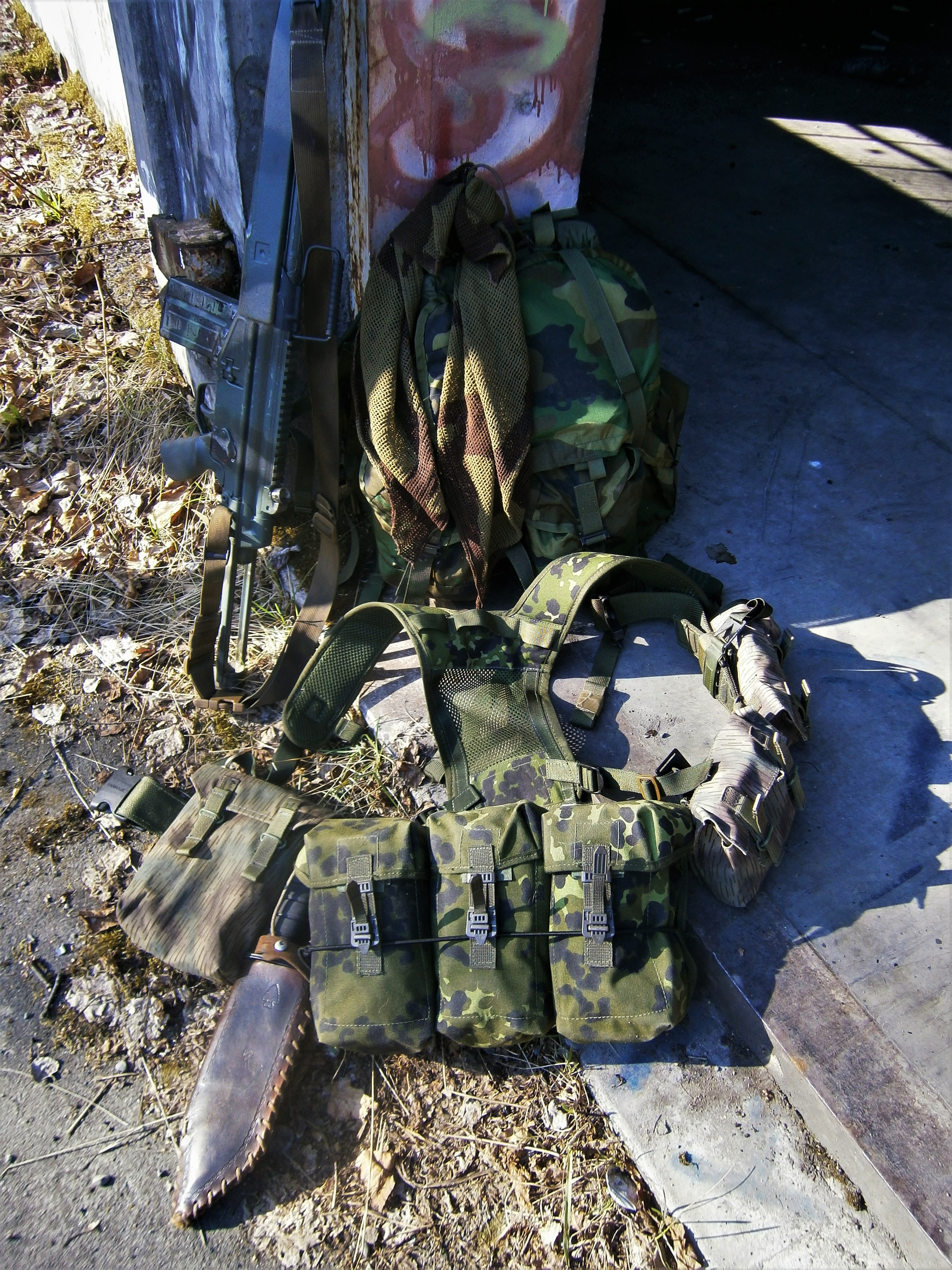 Kit was simple LBE rigs and day packs. Nothing special or high-end. Just kit. LBE, Day pack, Rifle, Pistol etc etc etc..
The Old Admin area...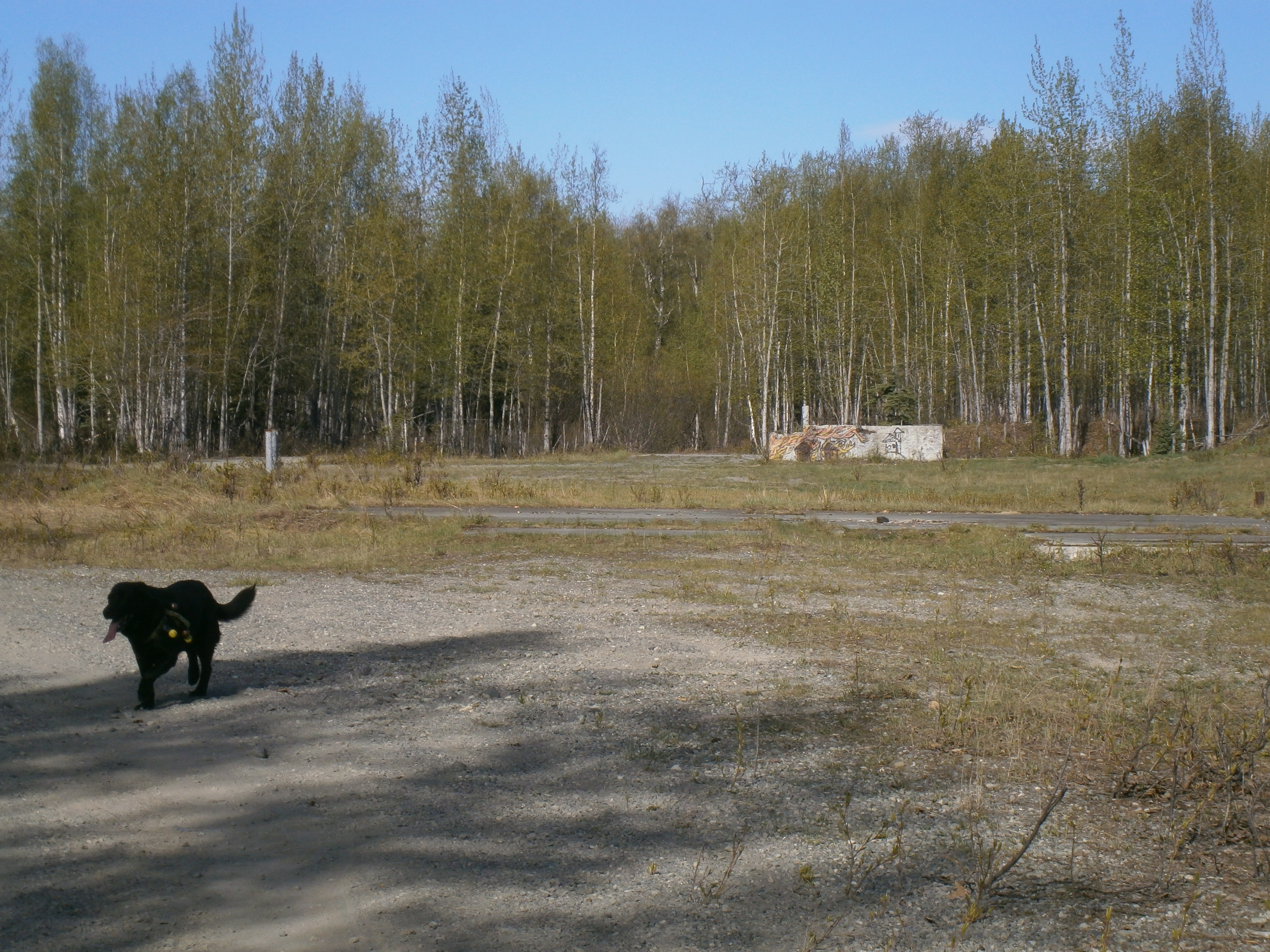 We checked out what was left of the Admin buildings- There wasn't much left and whats more is they were in a wide open field, or right off a maintenance road thus of little use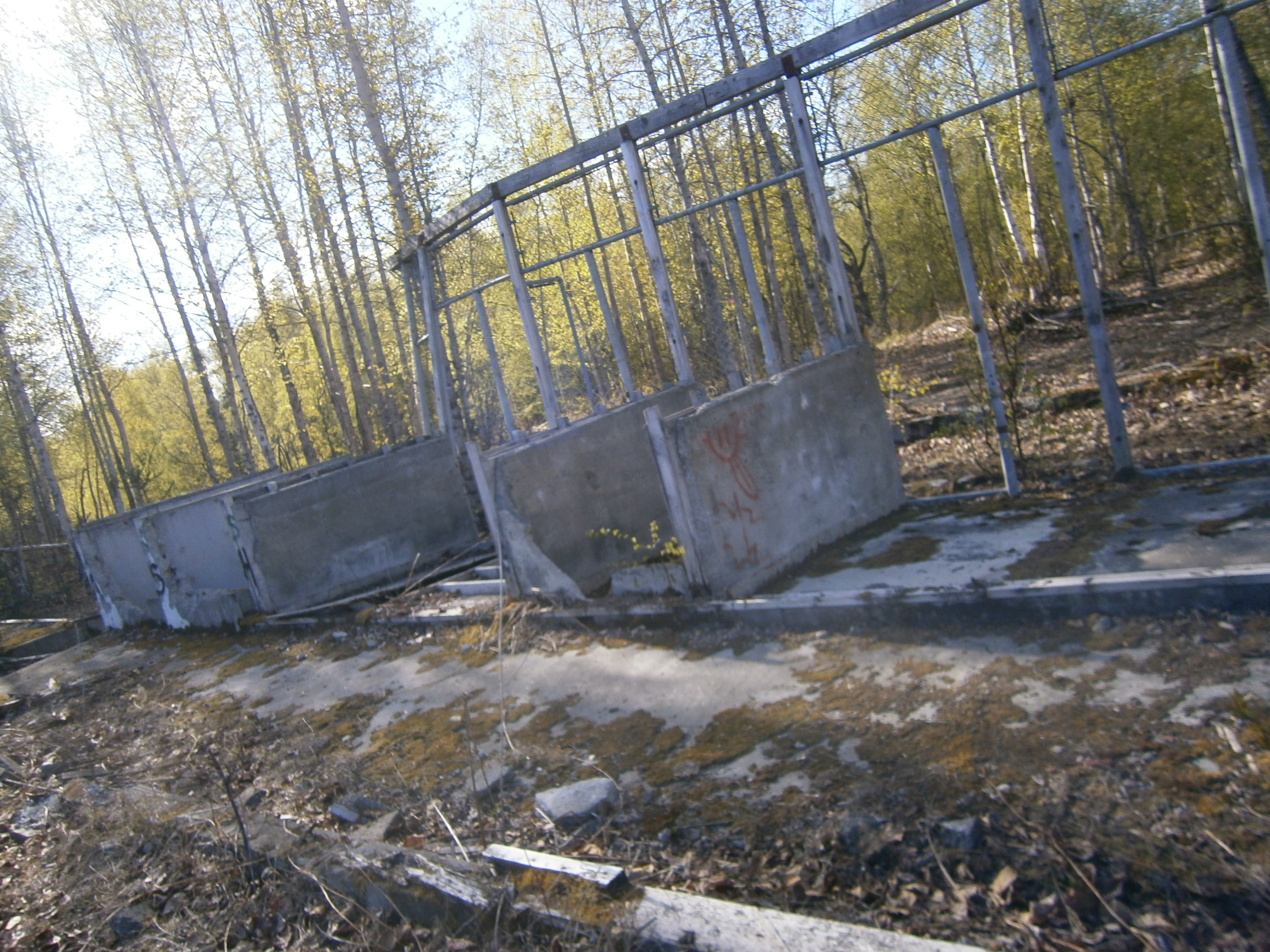 Old dog Kennels..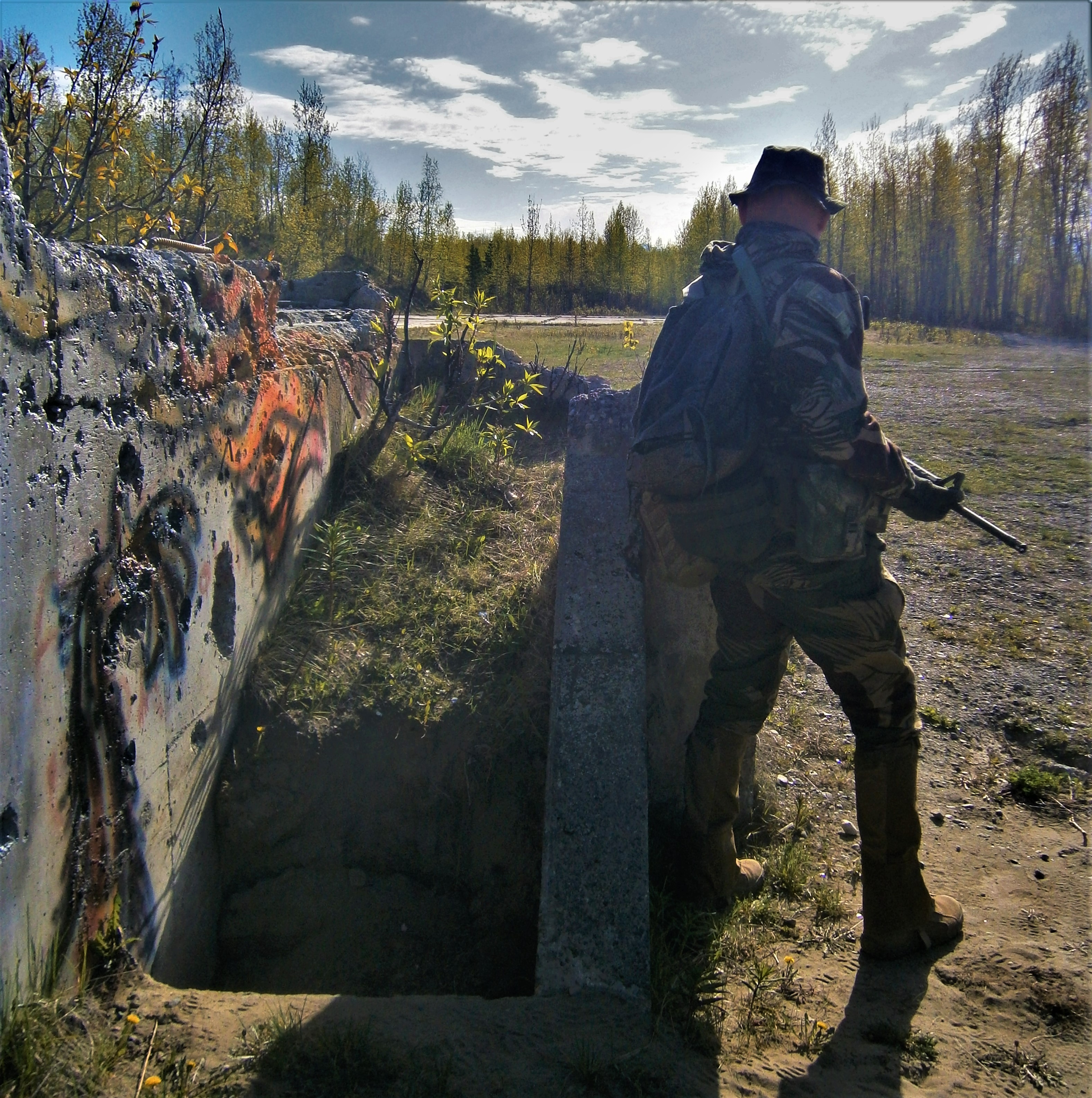 Huginn next to a buildings remains.. Looks like steps that went down..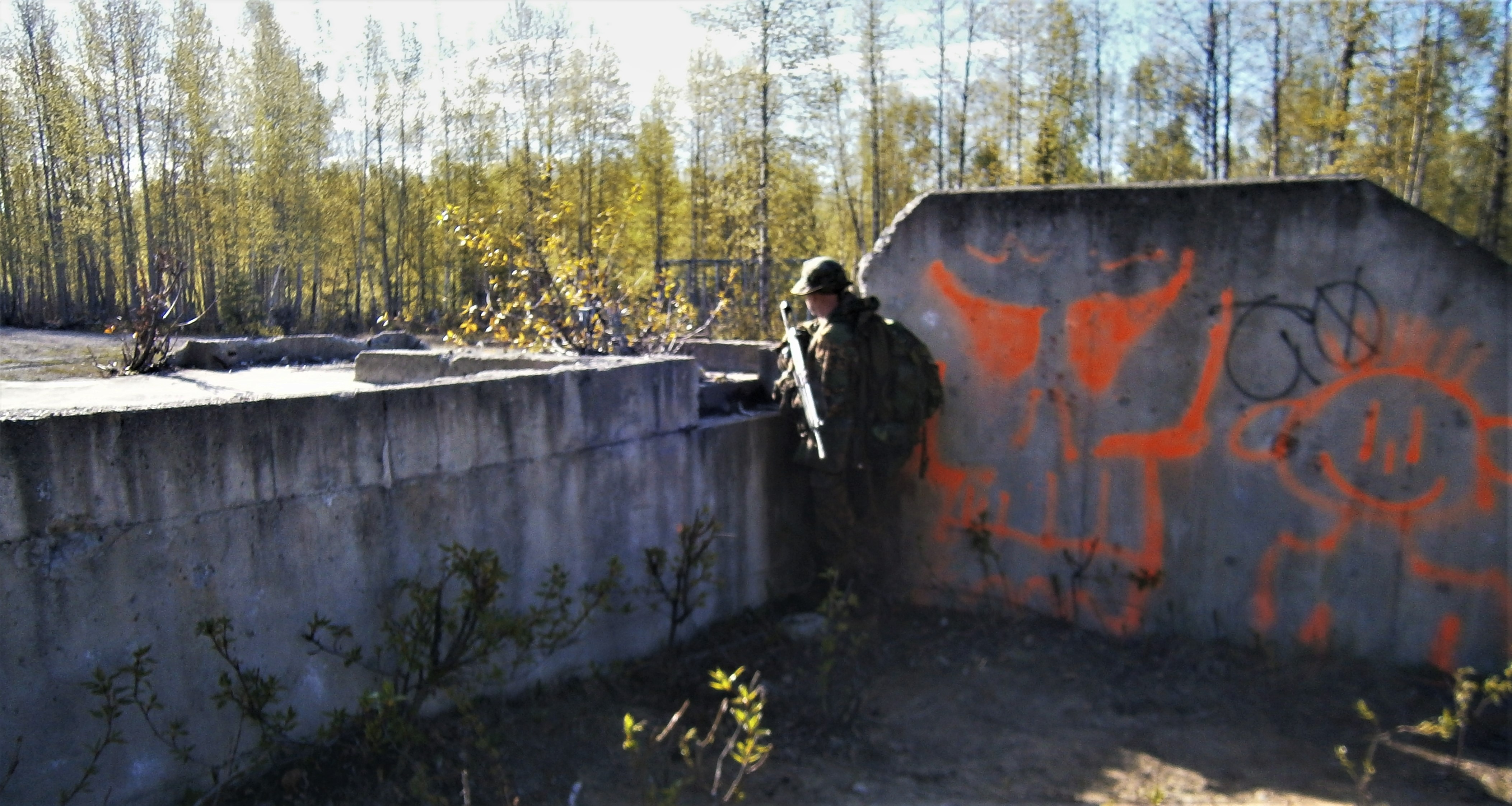 Me next to what remained of a bulding.. Its sad.. there were even towers here at one point...
The day was a productive one. We just strolled the roads occasionally cutting through forested areas around and inside the complex grounds. The lack of water in the area was very pronounced and a bit shocking. Last visit a week ago the place was sopping wet with small shallow marches and ponds everywhere. The up side was there were no mosquitoes but you cant drink mosquitoes... The plan of the day was to make it out to a lake a few miles away to see if that was fit for use. Experience tells me it was probably not. I was guessing it had dried up a lot and than shrunk putting the water in the center of a mud bog that was totally unreachable..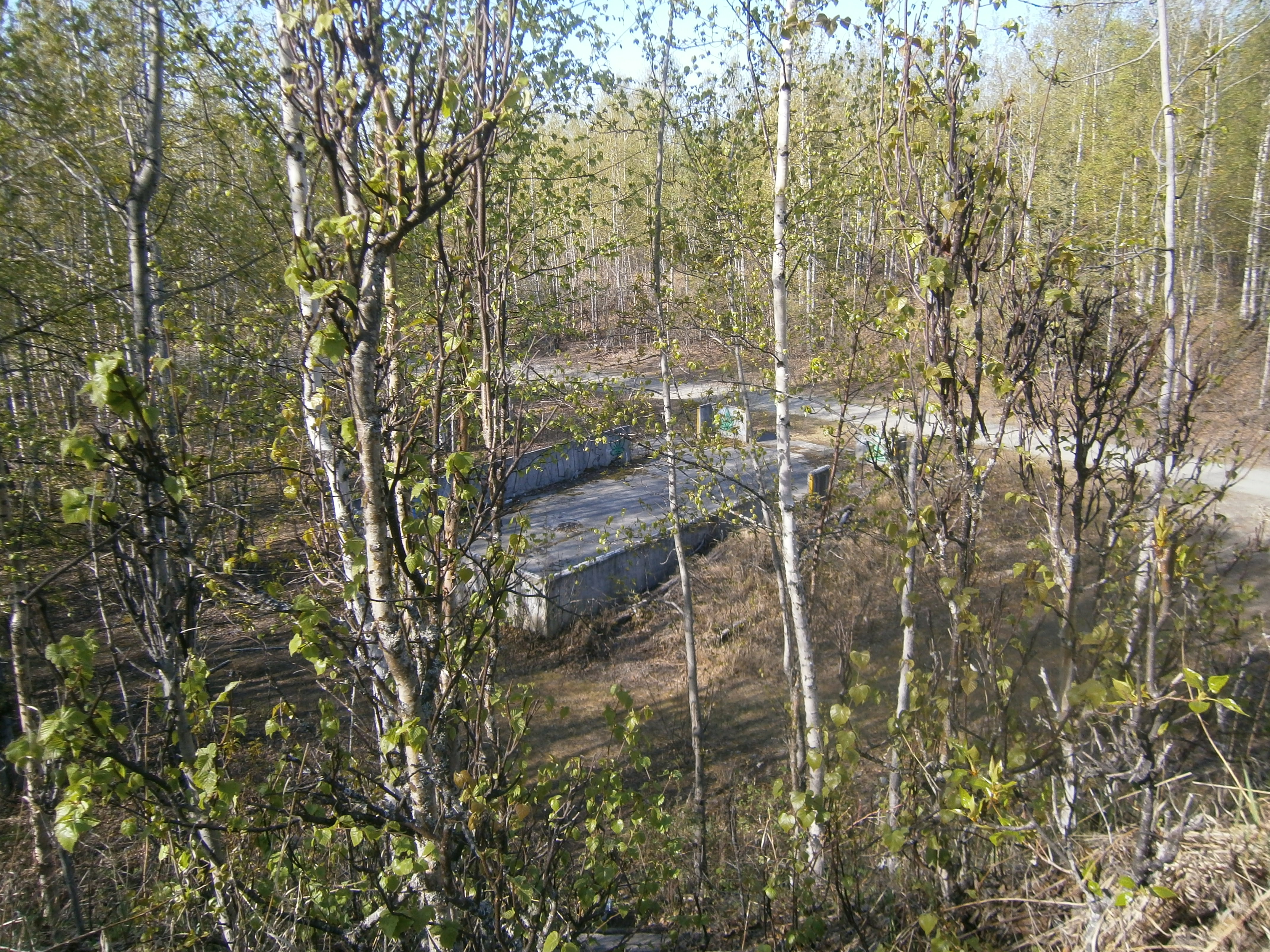 At one point we climbed up the berm that divided the compound to get a better view. Above is a view of another building skeleton. Looked like a vehicle garage at one time...Up there The Olaf decided to french kiss another porcupine so everything stopped while we used a Multi-tool to de-quill his face and inside his mouth. Wont you ever learn, Olaf? Id like to thank my friend for all the helpwith The Olaf when he tried to rape yet another porcupine..It was the worst yet. 5x worse then his last run in.. It was so bad there was luaghing or taking pics.. He needed help bad..Thank you Huginn!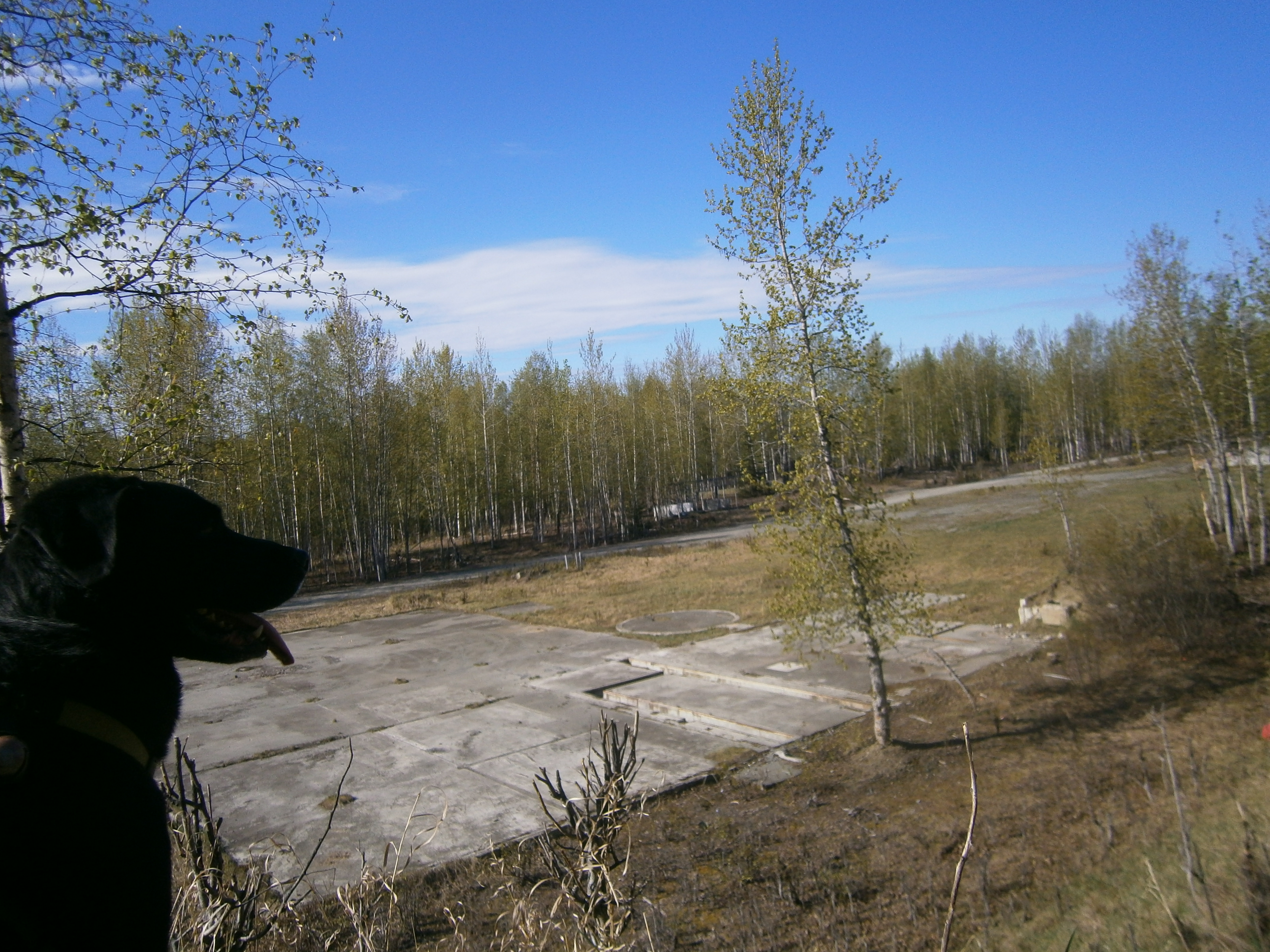 The Olaf was fine after we plucked his quills... I found more when we got home though..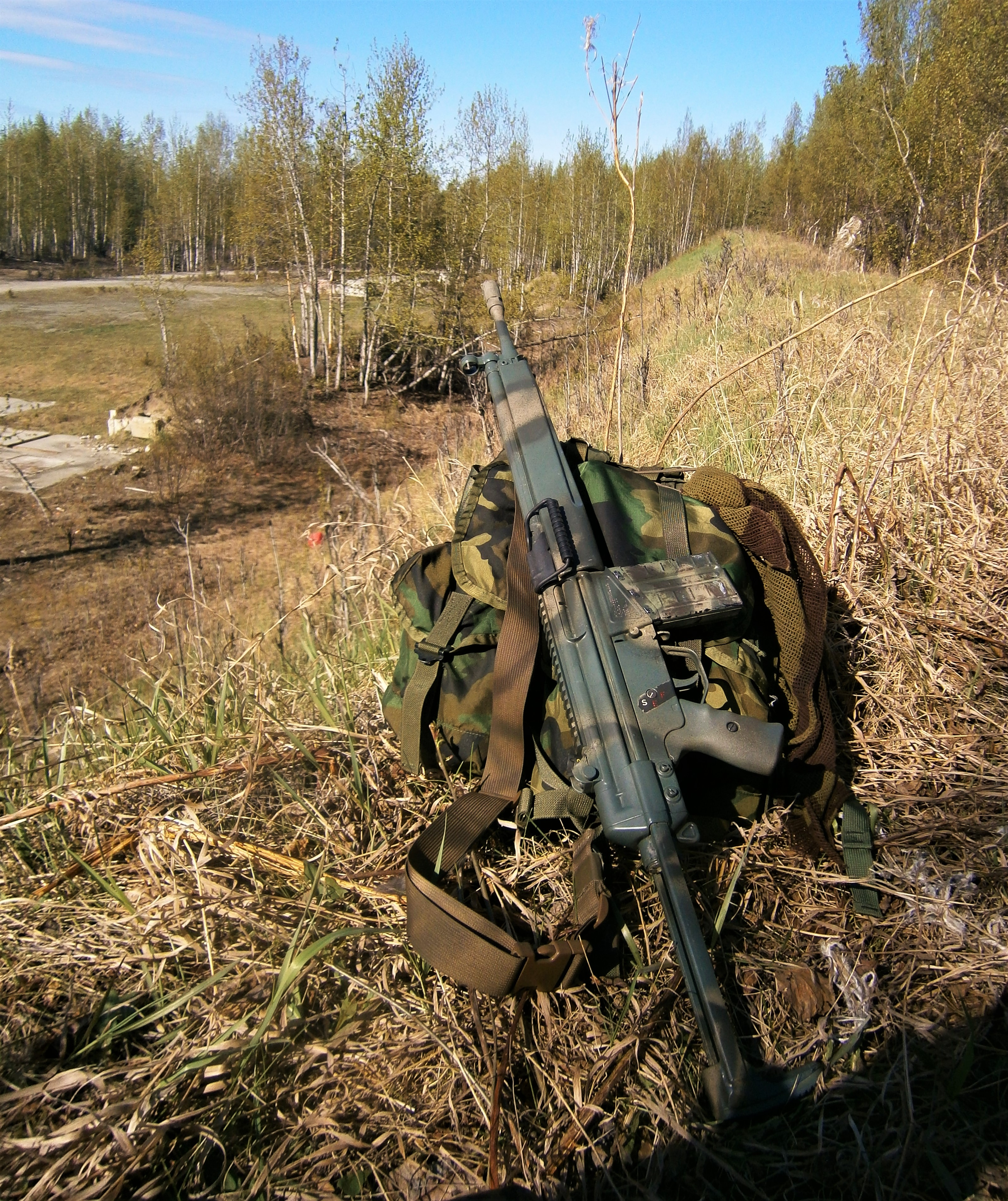 Moving on...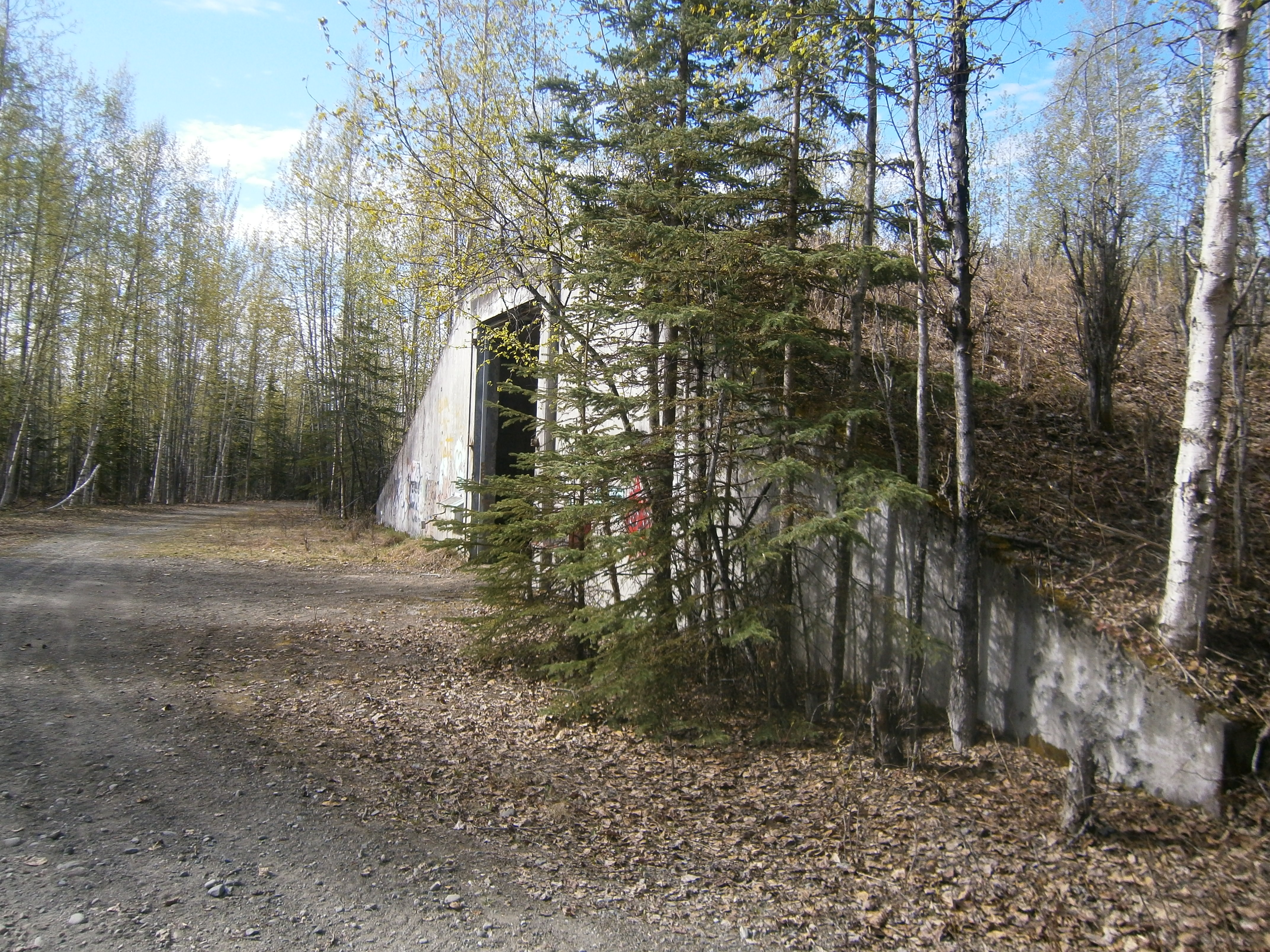 We discovered a Bunker at the far west corner I had not scene on the first scout. It was in good cover, very clean inside and surrounded by trees that would mask it nearly totally once the green filled in on the trees and vegetation. The road to it was unobstructed and you would get made very easy in one but it was noted regardless. I noted the inside was VERY cool and could be used in the event of someone going down with heat issues..Later we looked for a mirror bunker on the East side but there was none, or at least none I saw. I liked this bunker and I liked it location. If alone I would consider using it just to simply get a good night sleep with much less worry about bear. A simple tangle of bear alarms would suffice with one way in and out. Setting up alaram around the perimeter would give me a sound mind to get a good nights sleep.Tactically its a death trap for Evasion in most situations of active or even passive threats...
Later we reached the two main Missile bunkers. We checked out the roofs of both. Noth special was found though the roofs seems to be in great condition. The bunker missing its roof was odd in that the roof seems to have had the steel cut from i rather then it being destroyed by time or vandals.. We still just walked around checking this out. Its was smooth and low impact- and it WAS HOT. We decided to duck into Bunker2 for some lunch and discussion. It was cool and shaded in that bunker It was also dusty as fuk... My sweat soaked Partizan Smock started to make me shiver a bit. It must have been 10 degrees cooler in there... It was getting into the long part of the day. The sun was high and it was warming up. The Olaf ate pretty well. My Arctic MRE was a bag of shit I could get down my neck so I gave it to The Olaf and he also ate a whole can of Chili..The Olaf usually finds water on his own so I never pack him in any, but he found none and drank an entire canteen of mine. Its was OK though. He had a rough day and I know the excitement and panting drained him- He was dragging as at this point.
After summing up the situation water was the issue. The lake was over a mile away (1 way) and If we couldn't reach the water we would have serious issues. Judging by what I saw around me there was a huge risk of ending up with no water if we went. And this was just a scout. There was no pint in pushing it.  Water was the issue and in my experience of reading AK it would remain so for a long while with a chronic dry season seemingly here to stay.. On the way out we wanted to take a trail that cut through the forest that we suspected would take up to the main road but the prospect of it actually going another direction, up the way, discouraged that idea, otherwise we would end up bushwhacking with little to no water to drink. The safest route was to just sticking to the main road. We used the cleared area that use to be the outside fence perimeter to get to the main road. It was a good choice. While eating lunch we actually saw 2 adult males (NPC-OPFOR) on mountain bikes peddle past Bunker 2. They looked like they were coming in but saw me and promptly peddled off..
So in closing the lack of water posed a few challenges I think we can handle. This would make for a good practice drills for using the sun and earth to collect water using a few methods. It could also be dangerous so that needs to be taken into consideration. We pondered the idea of someone coming back with a Mountain bike to place water stashed or someone just doing a quick run back to the lake on a bike to check it out. We have options and there's a lot to think about. The other two are MUCH closer to this area then I am so it would be on them to do so. Otherwise we may just consider focusing on TA:Rhodesia for the three day-2 night drills when all scheduling and pre-drill time factors are considered with real life taking up peoples time in normal life. We have nearly a month to decide. We have to watch the weather patterns and weight all the options.. The water situation even effects our plans to fish for food by improvised means (yes you can fish in this area though its super far from me) in the next drill becuase if we cant reach the lake you cant fish! TA:Rhodesia suffers from the drought much less...
Anyhow thank you for your time.. look for the video coming out regarding the latest scouts for a real life view and not just stills.. Below are a few words from "Huginn"..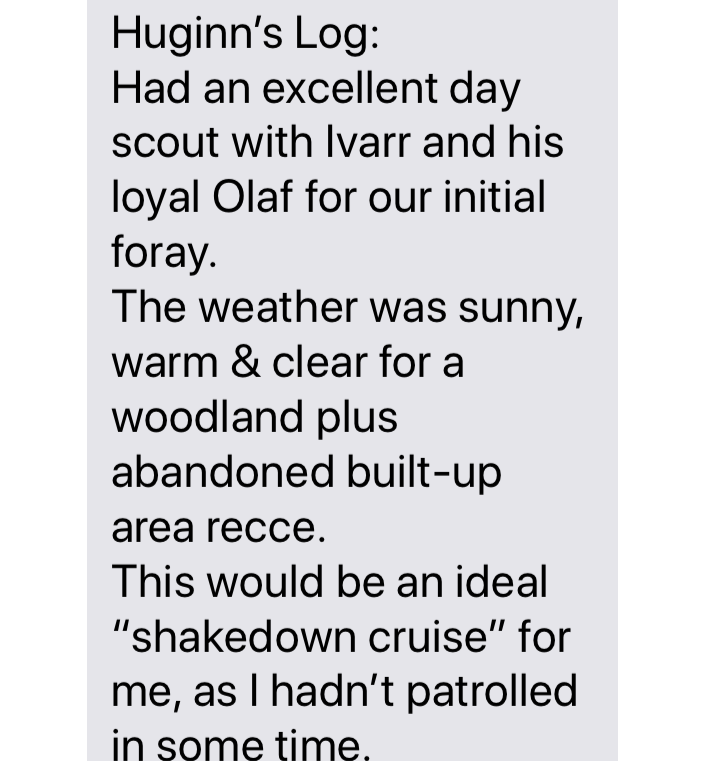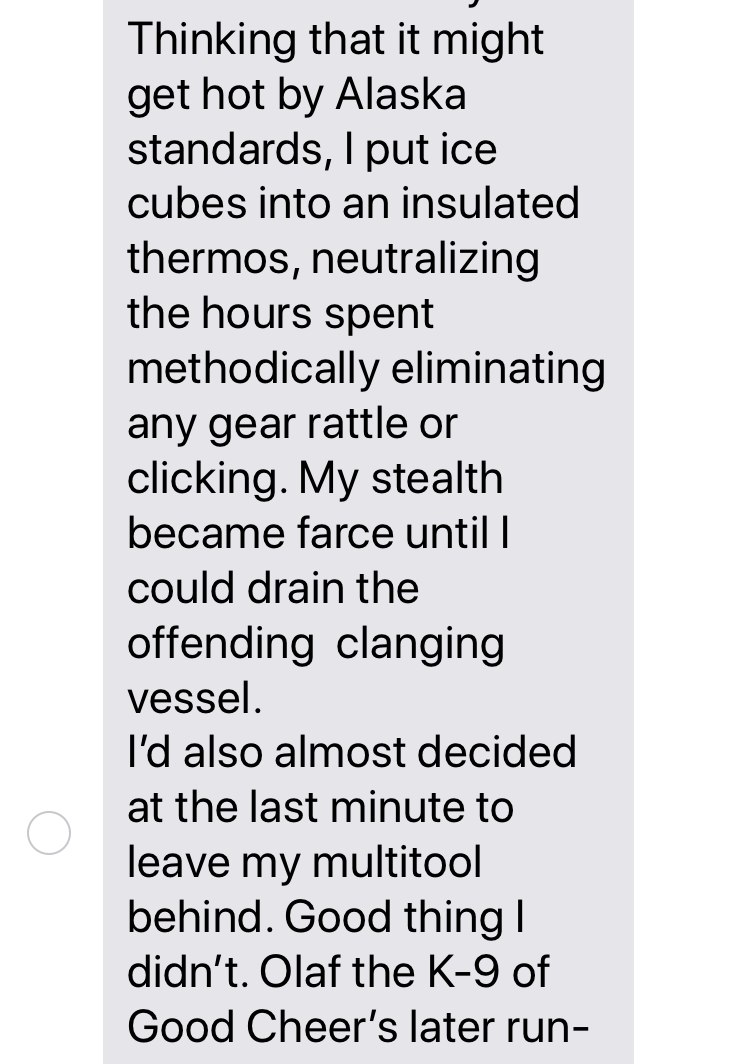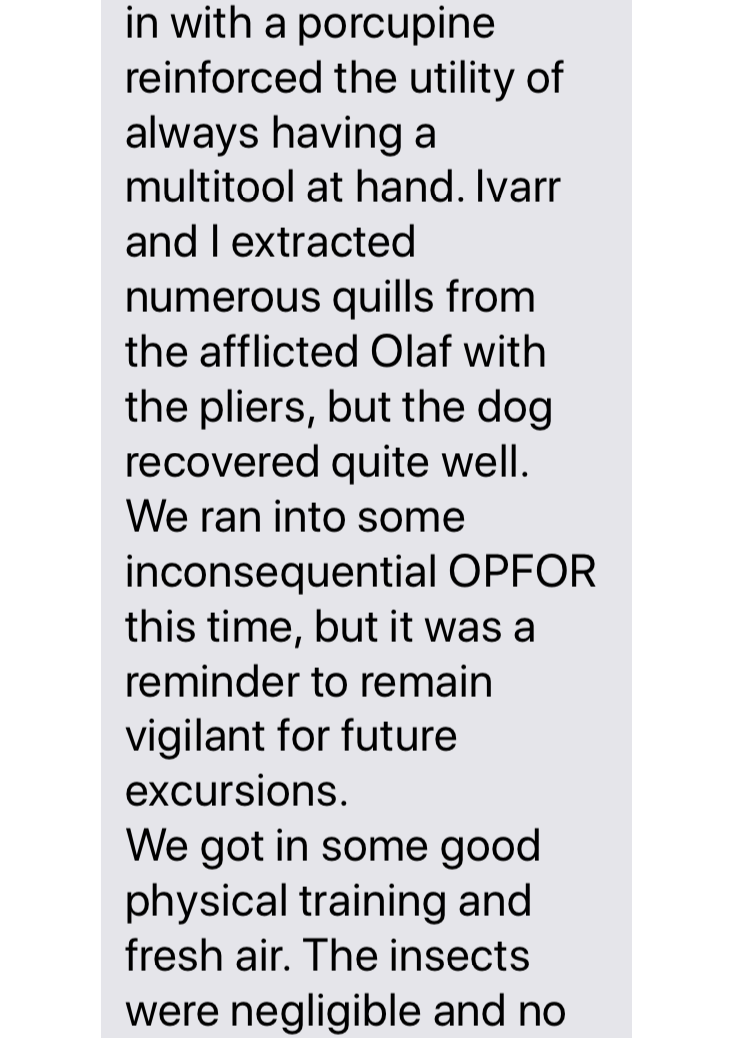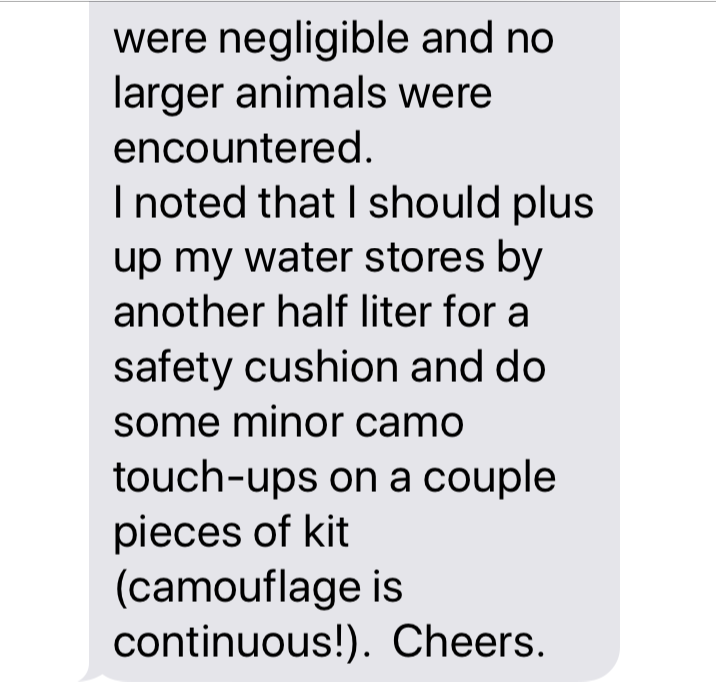 Ivarr..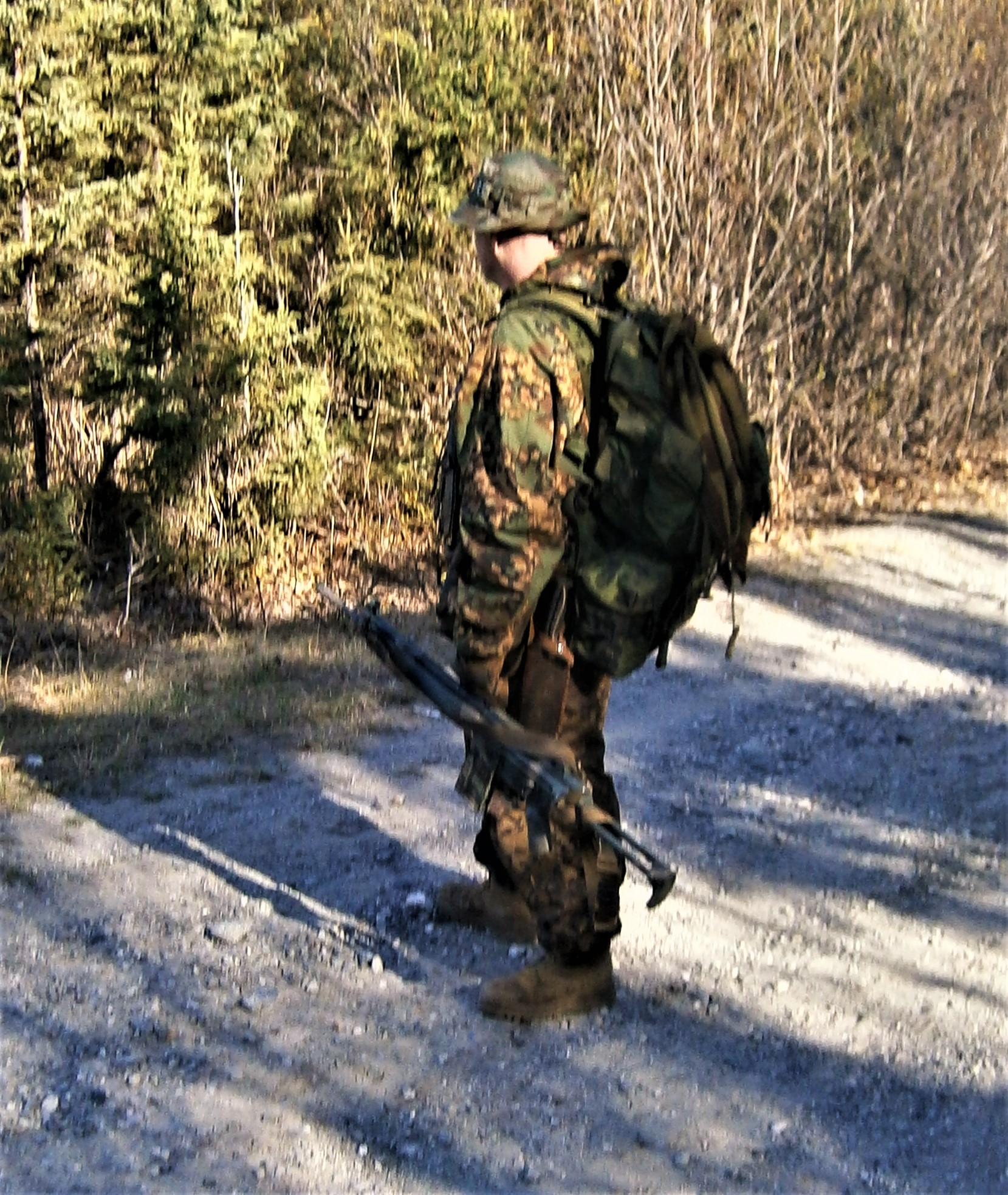 Categories: Kit Posts, Drill Posts, Shit I feel like talking about Post