First understand this is my plan and opinion that stands alone from those I train with and it doesn't represent anything they have conveyed to me. THIS IS MY TRAIN OF THOUGHT AND MINE ONLY. I have purposely left out the mention of the boys and operating with them after the hammer drops. They are not included in this because we have not had a conversation past Evasion survival. I cannot implicate them in my words- it's just not polite or safe.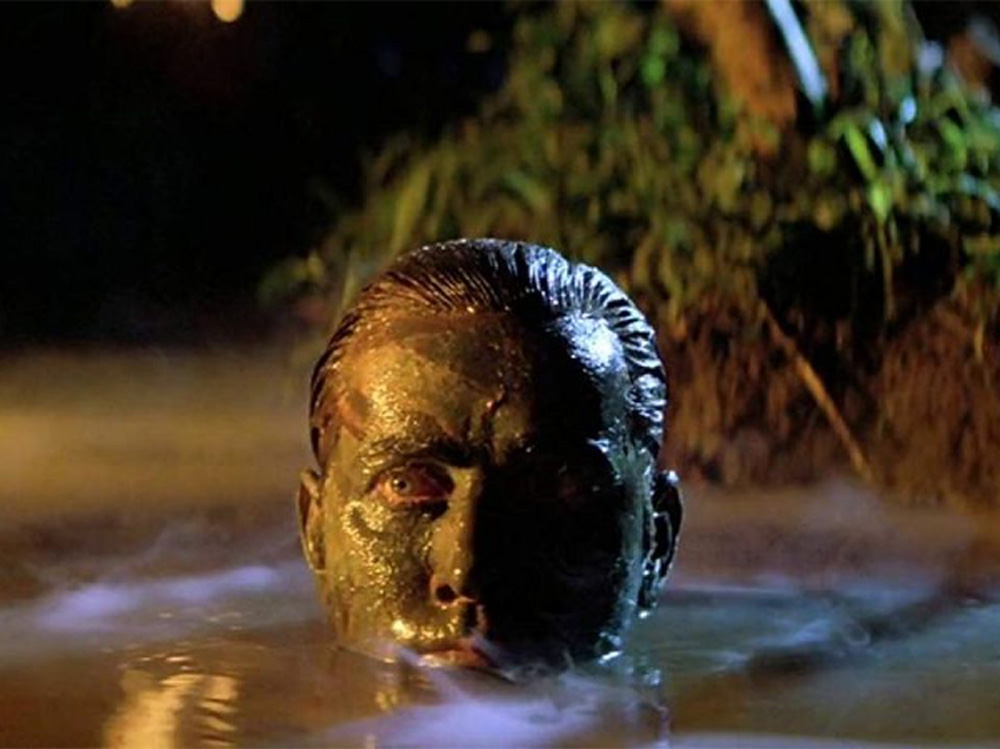 Sometimes the content and finances of one's existence will impact on their survival plans. Well, in ALL case your financial ability will impact your preparations- This is not to be confused with the falsehood that your finances enable you to buy your way out of preparing, training and foresight into what is to come with the fantacy purchase of an exemption- Even Amazon CEO Jeff Bezos is learning he cannot buy his way out of this mess since the mob stationed a guillotine outside his DC house today (FUK YOU-YOU DESERVE IT). Doing nothing produces nothing othen than misery and defeat, but pandering and kneeling just brings it faster. With the expansion of experience, finances and a new location after I got married, new options and tasks have presented themselves to my spiderweb plan. I have recently started to lay out a new Spider Web plan since I dismantled my old one last year in hopes for a new direction and plan- Then the King Wuhan attack hit in January and now we have an insurrection that's going on and it's pushing forward my plans to survive this coming mess into the double time. This has pitted my traditional thinking and the urge to just go with it as is against the obvious advantages that have presented themselves. Those older way were born from minimal fincases and location, but now it levitated towards a new direction with more options and reach that I hope to clearly lay out in this post to help others prepare. As always this is my plan for me here in Alaska. Take what you need from it for yourself and adjust and fit it to YOUR NEEDS and situation just like I have done for myself over the years.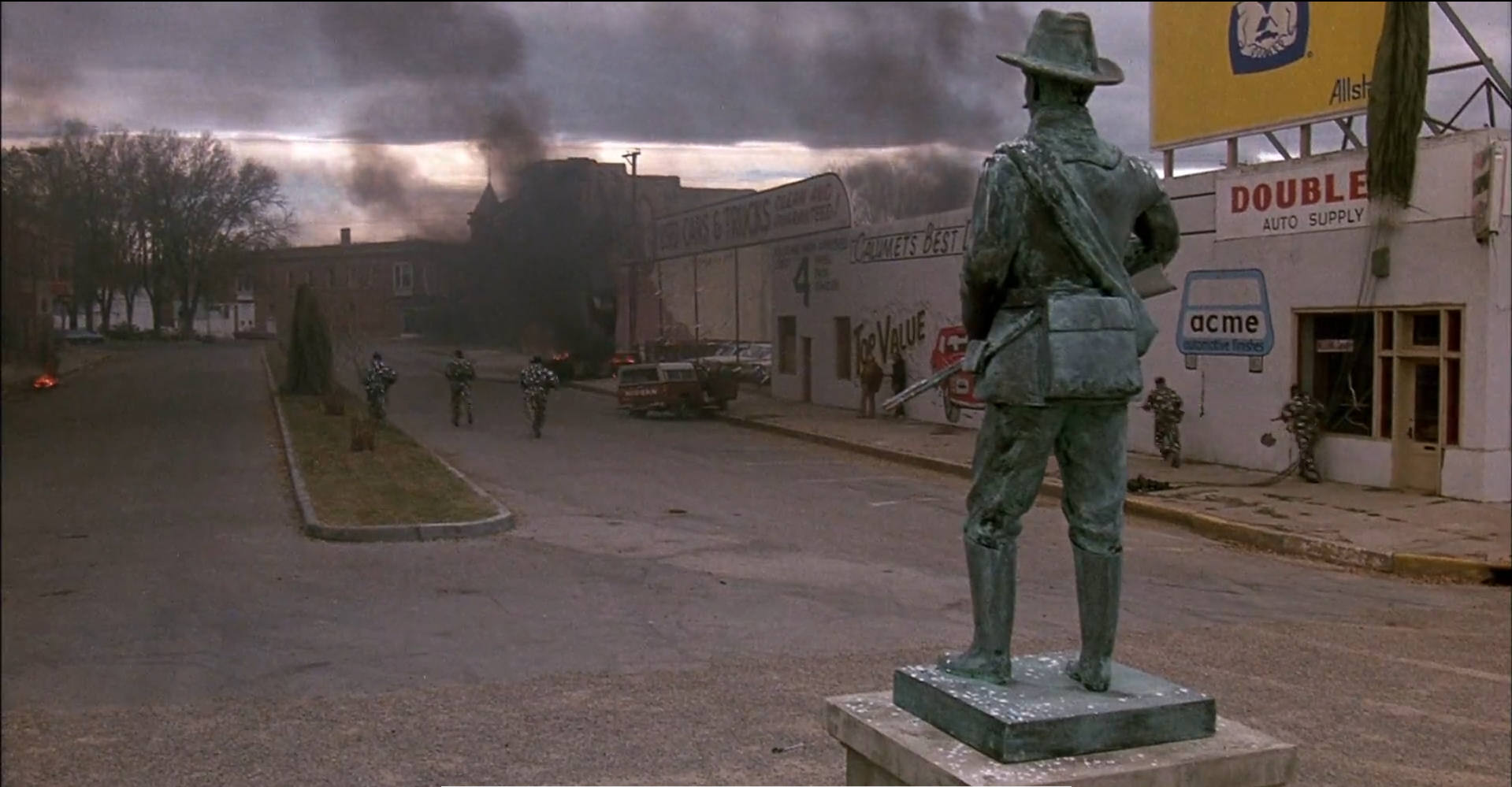 I've always condoned a large rucksack and an LBE set up for the Rural Evader. I still stand by this as it relates to my past situation, however situations change as I mentioned to you here.  For me it's always been one LBE and one Rucksack- and GO to the Wilds! This is and was fine for my past situation. However now I'm thinking about speed and the certain inevitability that I will be fighting my way to the wilderness to plan to do what I gotta do next. In the past I could not afford the gear I wanted so I went with what I could afford that would work properly and I fitted in where I could, as best I could to get the best use from it without overly naive expectations of the kit and my ability to use it. Sadly with the current asymmetrical threat situation we have now (EVEN HERE IN ALASKA) I know fighting will be inevitable from the start.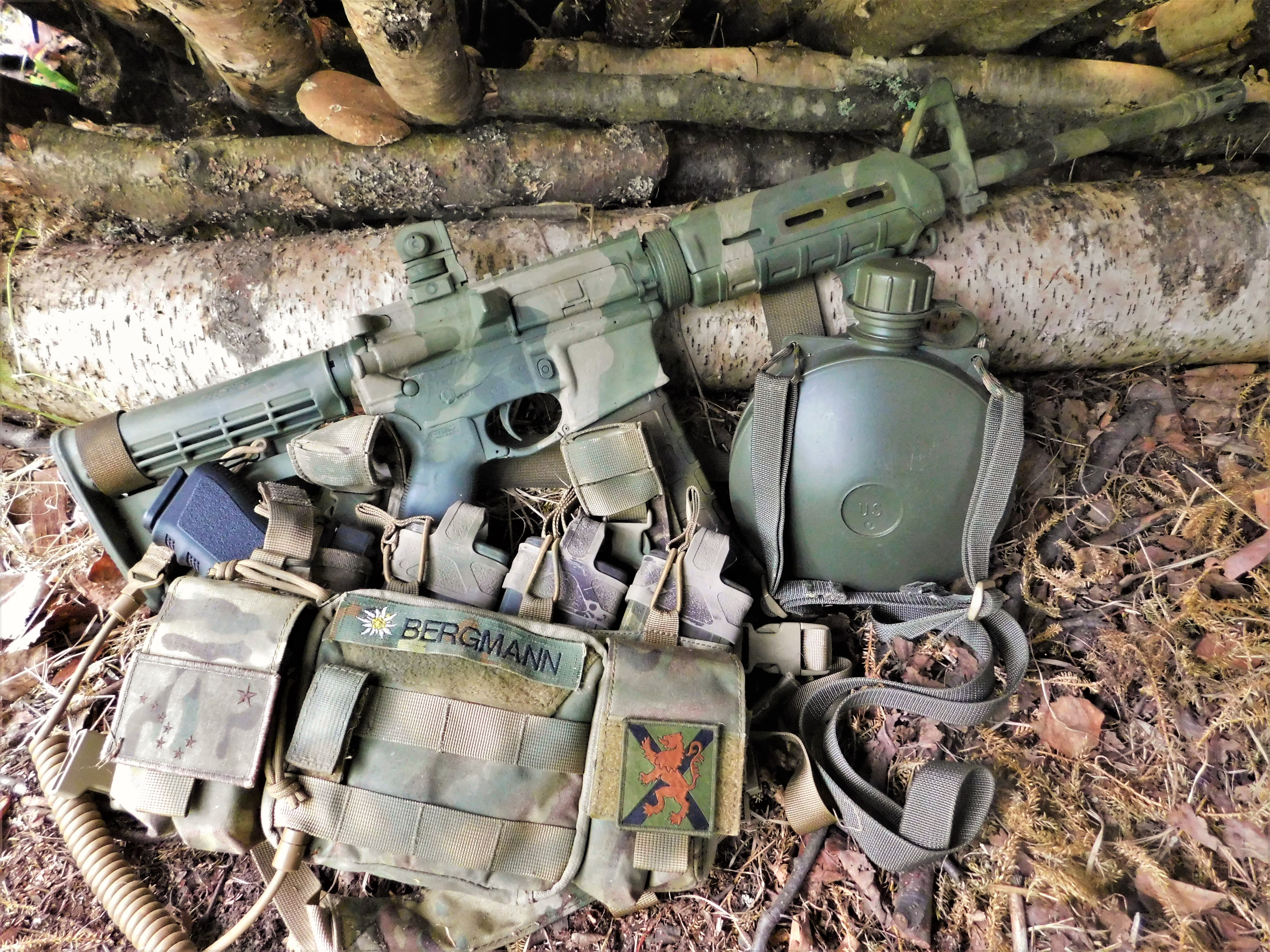 With my current location there is no way I'm going to Escape to the wilderness with a monster extstance Rucksack and a survival LBE as I was able to in the past, and thus fight from it and expect to move too and all the while making sure my wife is safe. She is a tough and capable Native woman but compared to my experience and ability she is but a toddler in a room full of angry snakes when compared..I didn't know I was already on the path to a solution- Yes I do this a lot- I think of thing to improve and just do it with an almost subconscious reason knowing they will fall into place later down the line. So last summer I decided to back up my load some and go in reverse with a lighter "Micro Battle Rig". I really really liked this rig set up but no matter what i did with it, it fell short of providing all the necessary kit to live from should I lose my rucksack or not be able to make it to the next shelter. If I upped its ability it negated its micro rig purpose and I ended up with a soup sandwich served in a tissue taco- It simply wasnt working. I was faster, more manuveable, more limber and flexible, I burned less energy and was able to go farther and faster with less issues dealing with the terrain but when it came to anything else it simply proved to me a mirco rig didnt stand up to a dedicated fighting as a survival rig- AND THIS STANDS TRUE.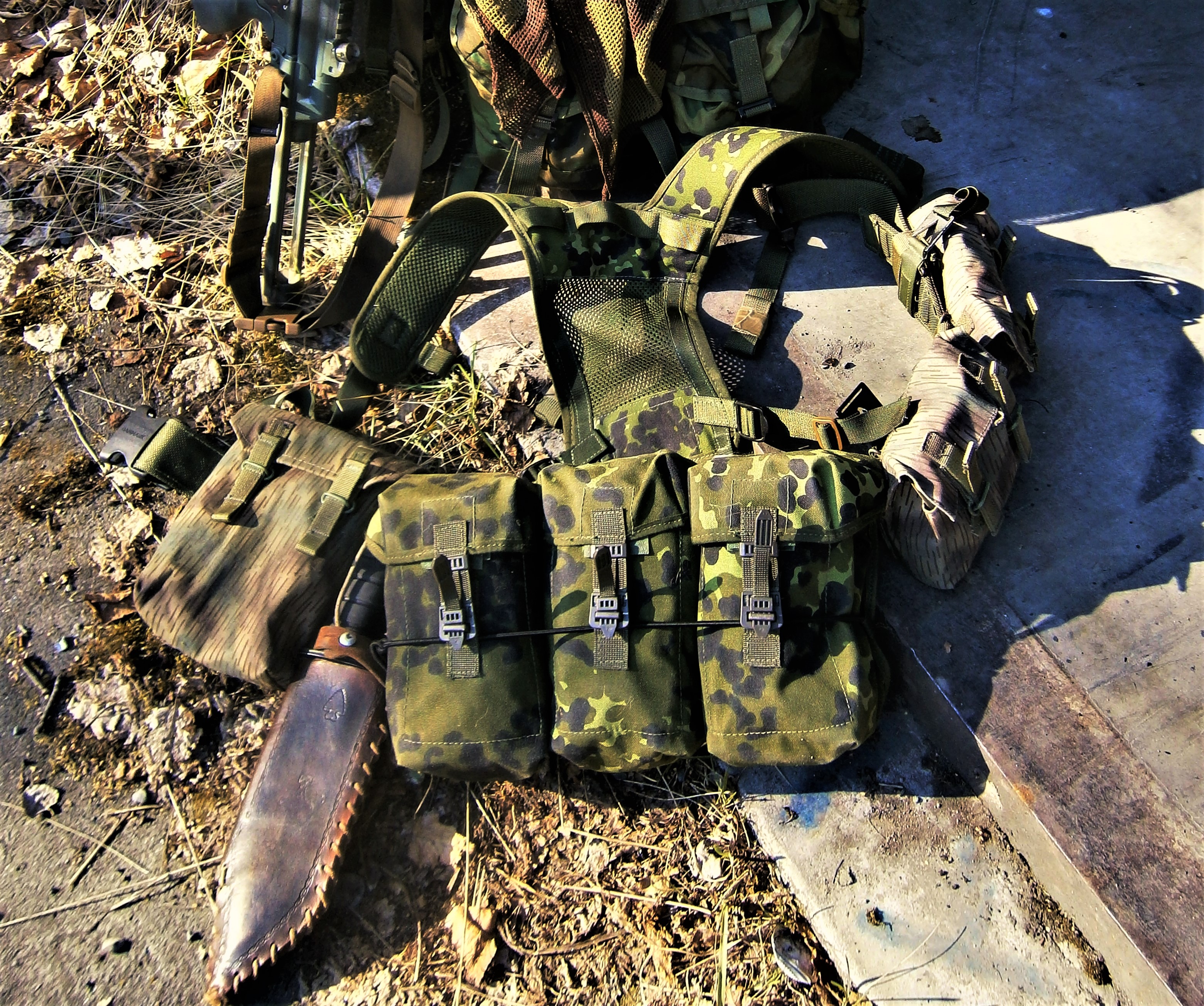 With all that being stated, it's clear to me that the Evaders Survival Rig to fight from when its needed is not the same as an Evaders Fighting Rig to survive from and vice versa. Though the two overlap in a great many ways but they will remain as different as they are the same thus serving different functions and purposes. I don't see a way to morph the two and get the best of both rigs in one without submerging either into the uselessness of liability and burden in the form of bulky overweight loads-Remember  Evader is not a soldier- you have to take what you need to survive with you ALL THE TIME and the support you have is the preps you stash before the HAMMER DROPS (IT HAS DROPPED) ..Much of the centric of the two issues can be solved with adding and moving kit to a rucksack or pockets, but only slightly, and it won't be enough in either spectrum to fight AND SURVIVE.. There must be separate rigs for separate uses for the situation I'm in now- and the situation will vary in callings of requirements. The above rig can and will still be used once the I penetrate Ft Wilderness but I know things will continue to change once the game begins but for now this will do and decrease the confusion and libility. But alone there is no way it's going to serve me fighting my way out of the area of Palmer Proper, deep in a developed community- even one as small as this. Nor will it serve me post-collapse when the HAMMER DROPS should I need to go on the offensive. I will purposely negate situations/tasks either will be used in. You know why.
The OPFOR has already made itself and their intentions known in this area with many followers willing to sell themselves and others out to the evil for the illusion of a free pass and safety- but I digress... In short I will be going back to micro rig and be retrieving my Survival LBE rig once I'm in Ft Wilderness and see how things go. This will mean stashing the Evder Survival Rig and all its accessories in the waiting.  I have a few sets of PLCE LBE with mirrored kit compliments so this will not be too hard- Keeping bear out will be the hardest task of all. This is a far cry from years of depending on one method of kit suspension for all tasks. Equally I see the stakes are now higher than they ever were in the past- talk has turned to action and ppl are dying and being arrested.. I thought i'd see things better after the collapse and I'm sure I will because this is FAR from over (and it's not going to stop until it's stopped)  but right now it's clear what is going on. Their racist end goal is equally clear, and with that so are the solutions for my own survival- Make no mistake I will have no issue turning Blue Helmets and trucks inside out and upside down. Self Defence is a human right...This is the future the OPFOR has chosen. It makes no difference whether they chose it later or now- the choice was made. When I saw an article the other day saying certain groups will deal with "Inter-racial relations" in their own way, things changed for me. My wife is Yupik and I am of European ancestry- Fuk you throughly. And dont worry, I'm not mad and out of control- I'm just ready and watching.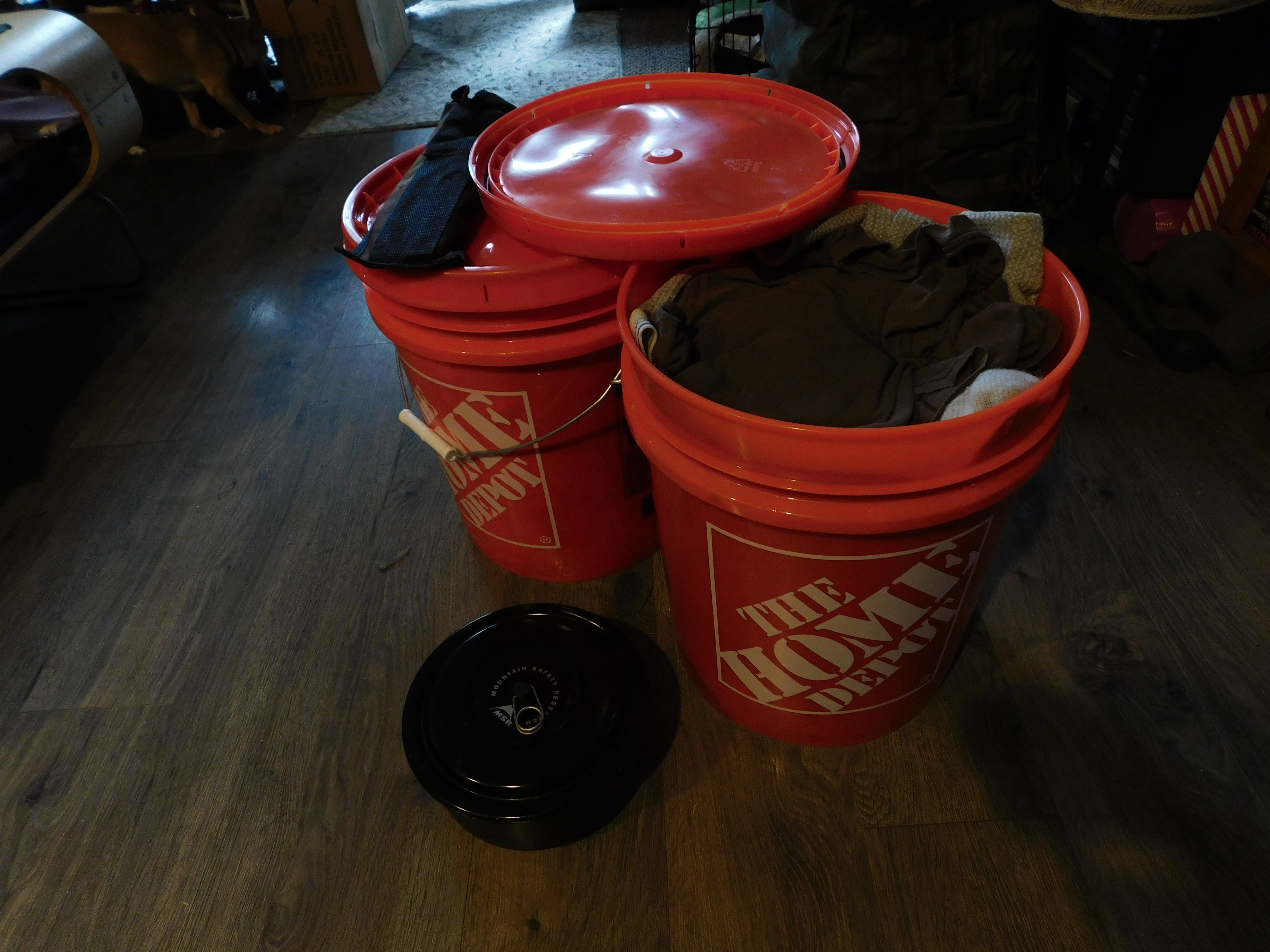 Recently I have started to purchase buckets from Home Depot for the new Spider Web. They run about 5$ and an extra $1.50 for lids with rubber gaskets that seal tight. Once the lid is applied and snaps into place it is there until you peel the side strip off that releases the snap apparatures. Then you will have a removable lid you can take off and put back on but until the side tab is peeled they are fixed tight and permanent..The above cans you see are storing two changes of all season clothes, fire kit,cooking kit, shelter sheet, and enough food for about 2 weeks of hard work/high calorie use. These pods will still be divided up into areas (on private lands) with different pods in different locations so I wont lose everything if one gets found out. One bucket will also hold a set of PLCE LBE and boots in my size. These buckets are super useful and a far far far cry from the detergent pod cans I used to use. So I will be updating my kit page to reflect the approach ill be using for the Evader "fighting load" LBE and Evader "Survival loads" LBE and their general uses and differences. Things will change but will also look familiar. That is until this page and my channel are shut down. I fully expect this any day now..
I hope you all are ready- Don't despair. We knew this was coming. Just like King Wuhan, this too isn't going away. Stay the course- We're not the first in history to see such days and we won't be the last. Much will be lost. Teach your children about REAL freedom so it's not forgotten. Warn them about the alibi of "freedom & Equality" that the totalitarians scream at the masses and tell them who brings nothing but death and misery.. Warn others and make no mistake they will come for them.. Re-enactors for all time periods, Opera and classical music, country music, perceived "cultural appropriation"or anything they see as 'White Supremacy". Whats more is that that word has nothing to do with KKK fuks, Nazi fuks or skin heads fuks and eveything to do with destroying white culture that has it roots in Europe. They literally almost lost the White House last week. if you don't think this is serious- you're not paying enough attention....I fully expect Blue Helmets and other "Militia" sometime very soon.... prepare.
Im looking for more Evaders... You will be screened for Cluster-B bullshit personality issues, dip-shittery fuk-wadness and a bad attitude. if this excludes you and you're interested contact me..
bootnknife@gmail.com

Ivarr Bergmann
Evasion Survival, Aalska.

Categories: Kit Posts, Drill Posts, Shit I feel like talking about Post